Last Updated on November 22, 2023 by Teemu Suomala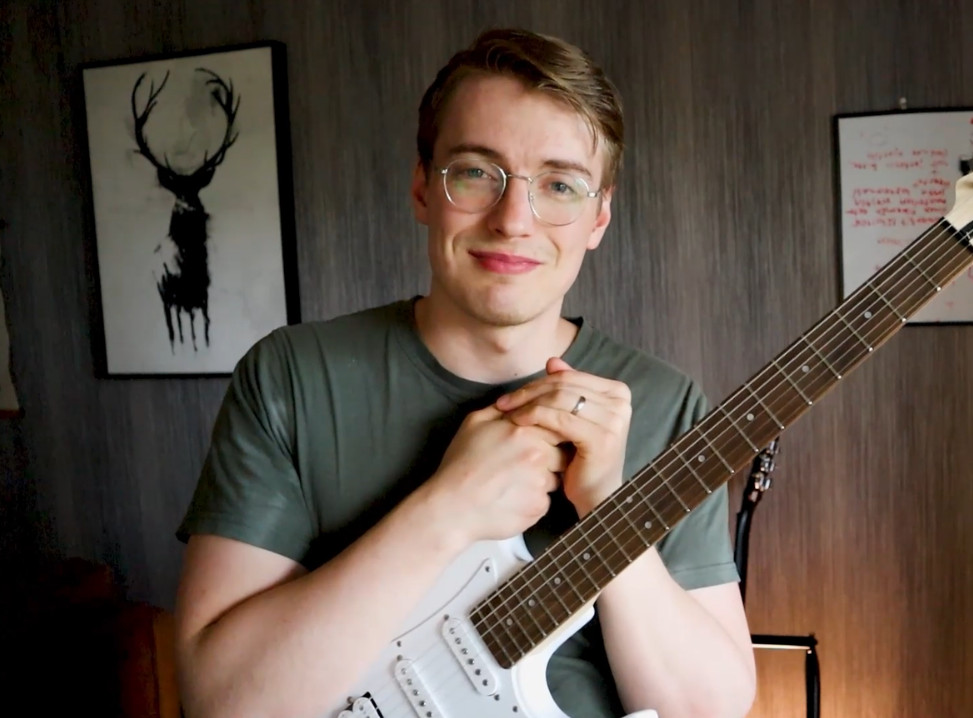 Author: Teemu Suomala
I first grabbed the guitar in 2009. I started this website in January 2020 because I couldn't do window installation anymore due to my health problems. I love guitars and have played dozens and dozens of different guitars through different amps and pedals over the years, and also, building a website interested me, so I decided to just go for it! I got lucky and managed to get awesome people to help me with my website.
I also got lucky because I have you visiting my website right now. Thank you. I do all this for you guys. If you have any recommendations, tips, or feedback, just leave a comment, I would love to chat with you. I have also been fortunate to produce content for several large guitar websites, such as Songsterr, Musicnotes, GuitarGuitar, and Ultimate Guitar.
I spend my spare time exercising and hanging out with my wife and crazy dog (I guess that went the right way…).
Hide The Rambling▲
---
Both have their own fans and purpose. Both are important. They look so similar that some folks have thought time figuring out the difference. But still, these two brothers are different from each other…
I thought that making this post was a piece of cake to write and I knew everything needed about the bass. But I was wrong. When I did research, the importance of bass really came clear to me.
I have played bass several times, but now, I want to own one. I just need to figure out how I'm going to tell my wife about this...
Now, let's find out how to tell the difference between bass and electric guitar. After reading this you can instantly tell which one is which! You will also learn other cool stuff, for example, "which one is harder to play" and "should you learn to play one before the other". Let's get started!
---
How to Tell The Difference
I also listed the differences to make things even clearer!
Key Differences
The Number of Strings
Bass guitars usually have 4 and sometimes 5 strings. Regular guitars usually have 6 strings, although 7 or even more strings are sometimes used. 12 string guitars are common too.
The Thickness of The Strings
Bass strings are a lot thicker than guitar strings. Usually, the highest strings (G) are 0.040 – 0.055 inches thick and the lowest strings (E) are 0.095 – 0.110 inches thick. The highest strings (E) of a guitar are usually 0.008-0.015 inches and the lowest (E) is 0.038-0.058 inches thick.
Length of The Neck
Bass guitars usually have a longer neck. There are some bass guitars with a shorter neck available, these have less string tension and can be a little bit easier to play for some people.
Scale Length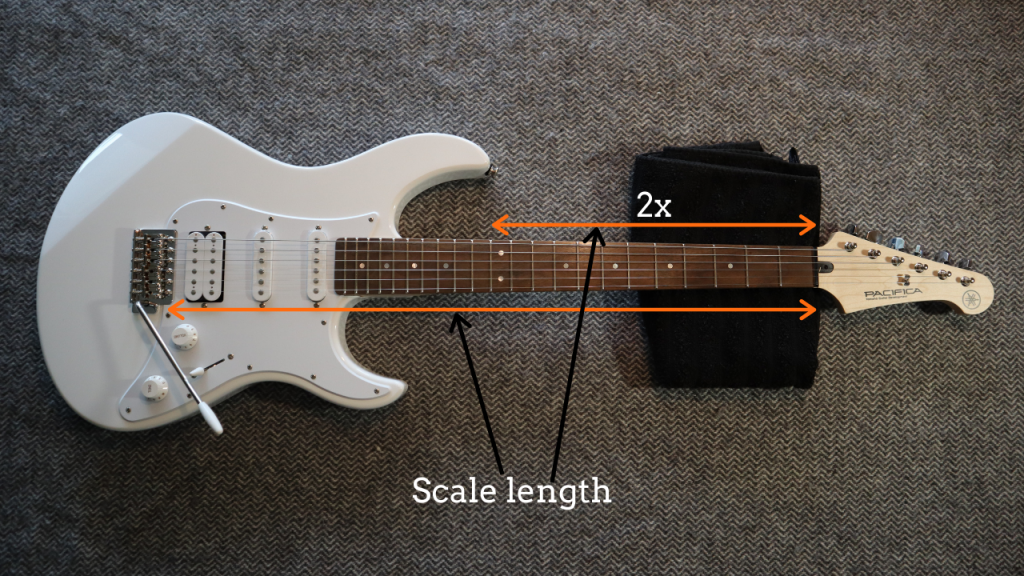 Scale length can be measured in two ways:
measure the distance from the nut to the middle of the Fret 12, multiplied by 2.

Measure the distance between the nut and the bridge.
The standard bass scale length is 33 inches '(86cm).
Standard guitar scale-length 25.5 inches(65cm).
Scale length affects the tension of the strings and the length of the neck. When the scale length is longer, strings have more tension and require more power to press down and bend.
Bass requires a little bit more power from your fingers because of the longer scale length. But at the same time, bass strings are not as sharp and hard as guitar strings because of their bigger size.
The Sound
4 lower strings of the guitar are tuned to the same notes as 4 strings of the bass guitar, E, A, D, G. But the strings of a bass guitar are tuned 1 octave lower than the strings of a regular guitar. That makes the sound of a bass guitar lower. This video reveals the clear difference:
Purpose
I would sum it like this: Bass connects different instruments (guitar, drums, vocals, etc.).
For example, if you listen to drums and guitar without the bass, you can notice the cap between these two. Bass connects this cap. Bass gives music more rhythm, harmony, and melody.
Music without bass is like a relationship without communication. Both can say pretty things, but you can definitely notice that one key element is missing.
So the bass is a really important instrument. The backbone of music. The foundation of music. The bass is the one instrument that makes you tap your foot. And almost every kind of music or band has a bassist or they fill the cap of the bass with some other instrument.
Bass helps to build the foundation of each 3 aspects of music:
Especially the foundation of the last two.
On the other hand, a regular guitar is usually used to play melodies (lead guitar) or rhythm. Guitar gives the music more harmony and can provide really clear and noticeable melodies.
That's why the guitar is often used to play classical music. Also, the guitar is more versatile than bass, one key reason being the larger number of strings.
These were the key differences between the bass and the guitar. If you want to tell which one is which quickly, look at how many strings the instrument has and how thick the strings are. This instantly reveals if it's a bass or guitar.
---
Is it Easier to Play Electric Guitar or Bass?
Some people can be a little bit sensitive about this question. But I'll give you my opinion.
I have played both, but I played the guitar first. That's why I felt that the bass was a little bit easier to start playing. I already knew how to use my hands and work with the guitar.
And many people are in a really similar situation. Guitar players who start to play bass say that bass is easier. And many bass players who start to play guitar say that guitar is easier.
If you start without any experience about bass or guitar there is not much difference.
You have to learn how to work with both hands. You need to get used to pressing strings with your fret hand. You need to learn chords. You need to learn scales. You need to learn where the different notes locate around the fretboard. Etc….
Same stuff. And the fact that bass has fewer strings doesn't make much difference. Maybe for some folks, it simplifies things a little bit, but not much.
If you want to learn either one, you can learn the basics and some songs pretty quickly, but mastering the instrument will take serious effort. And if you wondering which one you should learn, don't let the difficulty level matter. Pick the instrument you like more. That makes you pick it ups and practice.
Our Favorite Music Store in The World!
Why?
– Excellent Customer Service (4.7/5 Trustpilot Score)
– Fast & Free Shipping
– Gear is Inspected, Tested, & Ready to Play When it Arrives to You (We love this)
– Fair Prices
Visit Sweetwater:
---
Do You Have to Know The Guitar to Play Bass?
Absolutely no. If you really want to learn to play bass, I would see learning guitar first as a waste of time. Well, not a complete waste of time, but still a waste.
It's better to start with bass because that's what you really want to play.
Of course, if you have previously played guitar and now want to start with the bass, your guitar experience will give you a nice head start.
Should I Learn Guitar or Bass First
The answer is really simple: pick the instrument you like the most. That makes you play it and eventually, you will become really good at what you do.
Also, I advise you to pick one instrument to master at first. That helps you to progress faster.
Hint: If you want to play in a band, there are a lot more bassist spots open. So there is more demand for your skills if you master the bass.
Are Bassists Failed Guitarists?
This is a funny one! But not because it's true.
Bassists are not failed, guitarists. Although some people fell in love with bass after they played guitar for a while, it doesn't mean that they failed with a guitar. Guitar just worked as a stepping stone that helped the person to find their favorite instrument.
And most bassists still play other instruments, not just bass.
The reason why the sentence ''Bassists are failed guitarists''-exists is the fact that it's a funny joke. And you can find some truth behind that because many bass players played guitar first.
How Long Does it Take to Learn Bass Guitar?
As with the guitar, you can learn the basics of bass and some easy songs pretty quickly. In a couple of months, I would say (this depends on how hard you will practice of course).
Maybe after a year or two of practicing and playing almost every day, you can call yourself an intermediate player.
Mastering the bass usually takes several years of dedicated practice, and playing. So, like every skill, learning to play bass takes a real effort. But it's definitely worth it.
Check this cool post to find out more about how long learning guitar takes (applies to learning bass too).
---
Bass Guitar for Beginners
So, if you want to learn how to play bass, I recommend that you go and buy a good-quality bass starter pack. If you have a bigger budget, you can buy items separately to get even better quality.
And this post will get you started with bass: Complete Beginner's Guide to Playing Bass Guitar
You are not going to master the bass with that post, but it surely kickstarts your journey.
Check our other bass guides too:
If you decided that guitar is your thing, check this post out: How to Play Guitar?, it gets you started with guitar. I created it and it's ''the post I wish I had when I started''. It kickstarts your guitar career and also gives you directions to go after learning the basics.
If you are after your first electric guitar, these 2 guides will help you out:
Check our picks for the best acoustic guitars under $1000 and the best acoustic guitars under $500.
---
Conclusion
So, the bass and guitar share some similarities but have really different sound and role. And they also look different. But one thing is for sure, both are awesome instruments.
Writing this post really clarified the importance of the bass guitar for me. I'm still 100% guitar guy, but I appreciate bass and bass players even more now.
I hope that this post helped you out. I wish you all the best and keep rocking!
Teemu''The I like bass too''Suomala
---
You might also like:
We are sorry that this post was not useful for you!
Let us improve this post!
Tell us how we can improve this post?