Last Updated on November 23, 2023 by Justin Thomas
Ibanez GRGM21 Mikro – Best 3/4 Sized Electric Guitar for Metal
Sound
Playability
Overall Quality
Value for Money
Summary
Pros
-Really good for small and small-handed people(for kids too)
-Surprisingly versatile for the money
-Affordable
-Great value for the price
-Really easy to play(expect some frets below 15th are hard to hit with large fingertips)

Cons
-Tuning stability is only ok
-Slightly fuzzy sound with distortion
-You get what you pay for(if you spend $50 to a couple of hundred dollars more, you get a better guitar).
-Finish and build issues can be present
-Frets below 15th are hard to hit with large fingertips

Who is this for?

-A great starter option for kids and smaller persons who prefer warm humbucker tones and like metal.
-Good travel or project guitar for more experienced players too.

For Parents
For kids who are ready to start being guitar heroes, this Ibanez is a completely workable instrument. It will get the kiddo started. It's not a toy.

But after receiving the guitar, check it out carefully to see if it plays right, works properly, and if there are any serious flaws in construction. And this guitar usually needs some minor setup after receiving.

After that being said, I personally prefer regular-sized guitars. And if you really want a smaller guitar for you, Squier Mini Strat is a better option in most cases(unless you want to play metal).
How Ibanez GRGM21 Mikro sounds:
Check Today's Price on:
*Consider all links in this post to be affiliate links. If you purchase, at no additional cost to you, we may earn a small commission. It helps us to keep the lights on, thanks! 🙂
---
In my opinion, this GIO is one of the best cheap ¾ size electric guitars on the market. But it is still not the best option for everyone…let's dive deeper!
Ibanez GRGM21 Mikro specs:
Body type: Solidbody
Body wood: Poplar
Neck wood: Maple
Scale length: 22.2"
Truss rod: Yes
Fretboard material: Treated New Zealand Pine
Fretboard radius: 15.7"
Number of frets: 24 Medium frets
Nut width: 1.61" (41mm)
Pickups: Infinity R Humbucker neck pickup(Passive/Ceramic) and Infinity R Humbucker bridge pickup(Passive/Ceramic)
Pickup switch: 5-way (this adds tons of tone options on to your arsenal)
Bridge: Fixed Bridge
I had to pleasure to test this guitar at the hometown of my wife, Pori (Finland). Music store was called : Pihlajanmaan Musiikki.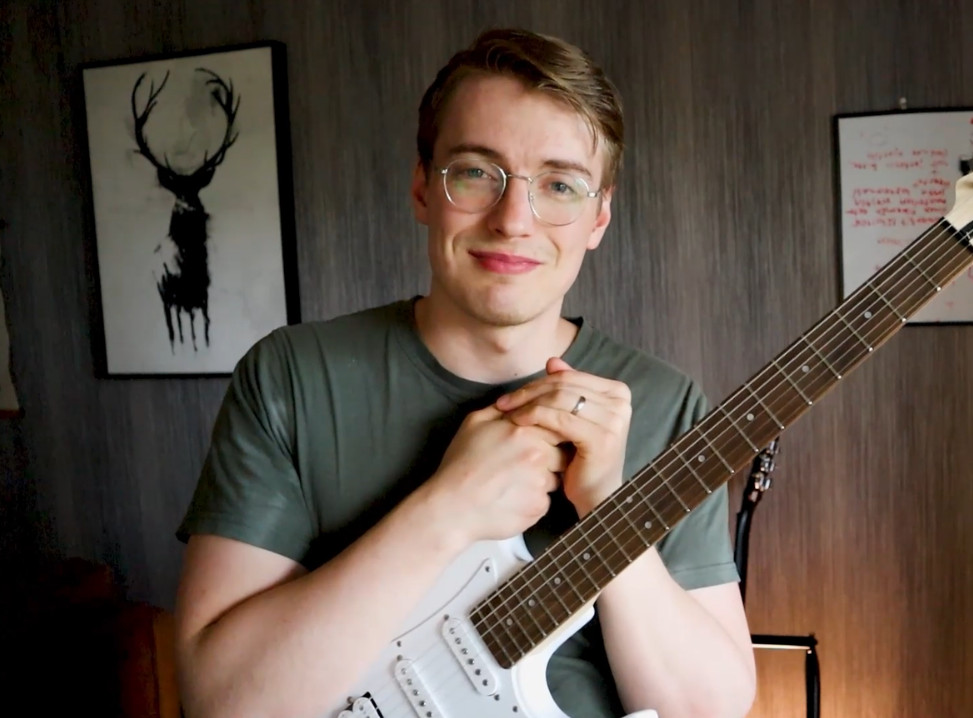 Author: Teemu Suomala
I first grabbed the guitar in 2009. I started this website in January 2020 because I couldn't do window installation anymore due to my health problems. I love guitars and have played dozens and dozens of different guitars through different amps and pedals over the years, and also, building a website interested me, so I decided to just go for it! I got lucky and managed to get awesome people to help me with my website.
I also got lucky because I have you visiting my website right now. Thank you. I do all this for you guys. If you have any recommendations, tips, or feedback, just leave a comment, I would love to chat with you. I have also been fortunate to produce content for several large guitar websites, such as Songsterr, Musicnotes, GuitarGuitar, and Ultimate Guitar.
I spend my spare time exercising and hanging out with my wife and crazy dog (I guess that went the right way…).
Hide The Rambling▲
---
Our Favorite Music Store in The World!
Why?
– Excellent Customer Service (4.7/5 Trustpilot Score)
– Fast & Free Shipping
– Gear is Inspected, Tested, & Ready to Play When it Arrives to You (We love this)
– Fair Prices
Visit Sweetwater:
The review
Sound
Neck and bridge Infinity Humbuckers provide quite well-balanced and controlled tones. But this axe doesn't give you that warmness and thickness some of us are used to with humbuckers. Tones are slightly brighter and fuzzier, but some of that humbucker magic still shines through.
Still, sound-wise, this guitar is quite versatile, especially for the price. The main reason for this is the 5-way switch, it adds a ton of tone options into your arsenal.
It gives you plenty of tone options, although some of those are not very good sounding. I would rate the tones of different pickups configurations like this:
Neck humbucker (my fav). Warm and full. Can sound too dull with some settings. 4.5/5
Other coil of the neck Humbucker. Weak and no clarity, some cleans go just fine. 2/5
Both humbuckers on(Middle). Balanced but bit of dull. 3/5
1 Coil from both pickups. Really gentle, but weak. 2/5
Bridge Humbucker. Has some nice attack. Quite spanky and sounds fuzzy too easily. 3/5
My Ibanez GRX70QA has these same Inifiny Humbuckers, so I'm really familiar with them. I especially like the meaty tones of the neck humbucker.
This is a good guitar for metal and rock, but clean tones are still nicely soft. Sometimes sounds can be a little bit fuzzy or tinny, but again, when I look at the price tag, it makes sense.
But still, there's just no way that I could say that this guitar sounds bad. For the price, the tones are actually pretty good in my opinion.
Hear how this one sounds:
Playability
Solid string action and 22-1/5″ scale make strings very easy to press down. Strings don't have much tension and especially for beginners and kids, this is a huge plus. Playing this guitar doesn't require much finger strength, and causes less headache because of that.
You can pull crazy bends with this (the downside is that those ''crazy bends'' can sometimes make this guitar out of tune).
The nut width is 41mm(1.61 inches). It's really easy to access every corner of the fretboard with this neck and you definitely don't need the hands of the basketball player to play very fast with this.
If you got really thick fingers, this guitar might not be the best option for you. Especially frets below 15th are really tiny, so there is not much room for large hands.
If you got short fingers, small hands, and your fingers are not super thick, this axe might be a good budget option for you when we look at playability.
The feel of the neck is what I would expect from this price range. Not great, but didn't ruin my jamming session with this guitar. The slim shape itself is great for me, but fret edges are a bit rough. It feels cheap if you are used to more expensive models bus as a starter model or travel axe, this guitar passes when it comes to playability.
Quality
Quality is ok. We have to remember that this one is a starter guitar in good and bad. So all the details in the overall finish are not good as with hundreds of dollars more expensive guitars.
My biggest issue with quality:
Staying in tune. In some cases, this is not a problem, but a little bit too often I found users complaining about staying in tune. Maybe this is not a problem if you end up buying this axe, but be ready for some issues with tuning.
When I played this, I could notice this guitar going out of tune a little, but it was not too bad.
Also, stuff like
sharp fret edges
minor scratches and blemishes
can be present. But most of the time, the quality is ok. And if there are really bad issues, you can usually return the guitar for a refund.
The paint job overall is pretty great due to my experience and reserach.
What about out-of-the-box setup?
I tested this guitar in a music store, so playability was obviously spot-on…
But I have done my research. And the setup after receiving this guitar is about average. For experienced players, everything is usually good after receiving. Minor adjustments are piece of cake for you guys.
But if we look a the situation where a parent who is not a guitar player, buys the first guitar for a kid. Setup issues of a guitar can be annoying. What you can do in these cases?
Take guitar to a local music store for setup(shouldn't be too expensive)
Watch couple Youtube videos and do it yourself
Maybe you have a friend who can help you out
The great thing is that in most of cases, guitars and these Ibanez's too, are playable out of the box.
Looks
This guitar is cute. As I said, it lacks some high-quality finish, but on the other hand, this is a budget guitar for beginners. When I keep that in mind and look at this axe, I'm satisfied with the looks of it. Especially the black-colored one absolutely rocks in my opinion.
Summary
Pros
Really good for small and small-handed people(for kids too)

Surprisingly versatile for the money

Affordable

Great value for the price

Really easy to play
Cons
Tuning stability is only ok

Slightly fuzzy sound

with distortion(with some settings)

You get what you pay for(if you spend a couple hundred more, you get a lot better guitar).

Finish and build issues can be present
Frets below 15th are hard to hit with large fingertips
This guitar is a great option for those who are searching for small, easy to play, and versatile guitar at a budget price. It lacks some quality(tuning issues, rough fret edges), but for the price, it's a solid choice.
Ideally, I see this guitar as a beginner model for kids or as a portable practice guitar for more experienced players.
Compare prices:
---
What Others Have Been Saying?
Things above were mostly my experiences and opinions. But what owners around the world have been saying?
I went through Youtube reviews and reviews posted in the most popular online music stores. Here are the common things I found:
Pros
Great sound
Looks beautiful
Plays well
Playing fast is easy
Can handle distortion
Great for beginners and kids
Nice travel guitar
Upgradable
Cons
Bad setup
Doesn't stay in tune
Sharp fret edges
Not playable out of the box
Really bad intonation
Neck feels really cheap
Overall, the most common problem is bad setup. This is no deal-breaker. It's easy to fix these problems yourself and it's not too expensive to let professionals handle the setup either.
This cheap electric guitar has more quality complaints than Squier Mini Stratocaster, but after checking user reviews, I wouldn't call this guitar a NO-NO. Just buy it from the place where you can return it for a refund if problems arise(this is wise with every guitar you buy).
Alternatives
Best Overall Mini Guitar – Squier Mini Stratocaster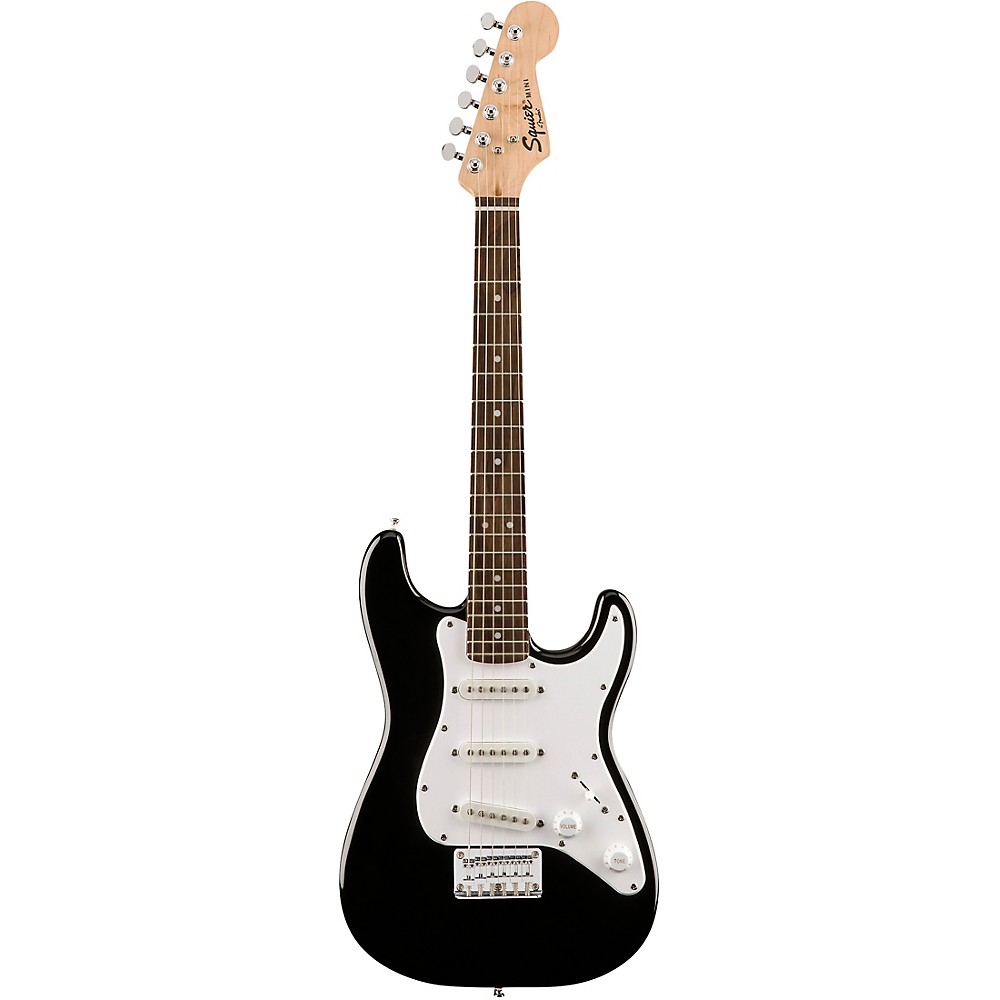 My childhood friend owned this axe back in the day, and it was so easy to play, plus it provides a great variety of different tones.
You can read the full review about this guitar here: Squier Mini Strat Review – Before You Buy.
This is, in my opinion, the best Mini and 3/4-sized guitar on the market. If you are a smaller guy or gal or just have small hands, this is a great axe to get started with.
Tones are great for rock, punk, jazz, and blues. But if you are into metal, Ibanez GRGM21 Mikro provides better distorted tones with its 2 humbucker pickups.
---
Regular-Sized Option – Ibanez GRX70QA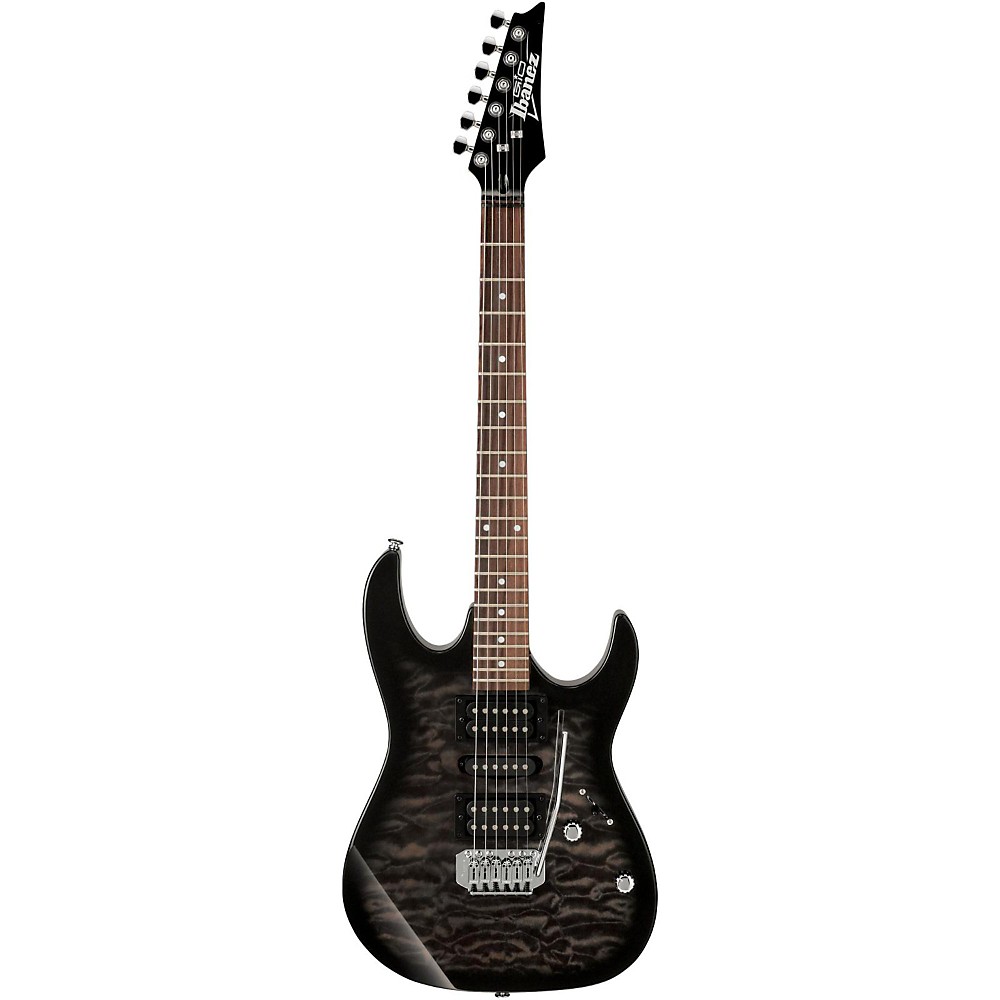 My favorite guitar for under $200, and the best pick for beginners or players on a budget and who want versatile tones and easy playability. Can handle music from jazz to metal.
But of course, this axe has some budget guitar issues, frett buzz/uneven frets, and sharp fret edges. But still, the value for money is really high. And you can't expect the perfect guitar for under $200.
If you think that you can handle regular-sized guitar, this is a great option!
You can read my full review of this guitar here: Ibanez GRX70QA Review
---
Best Guitar For Small Hands – Fender Mustang 90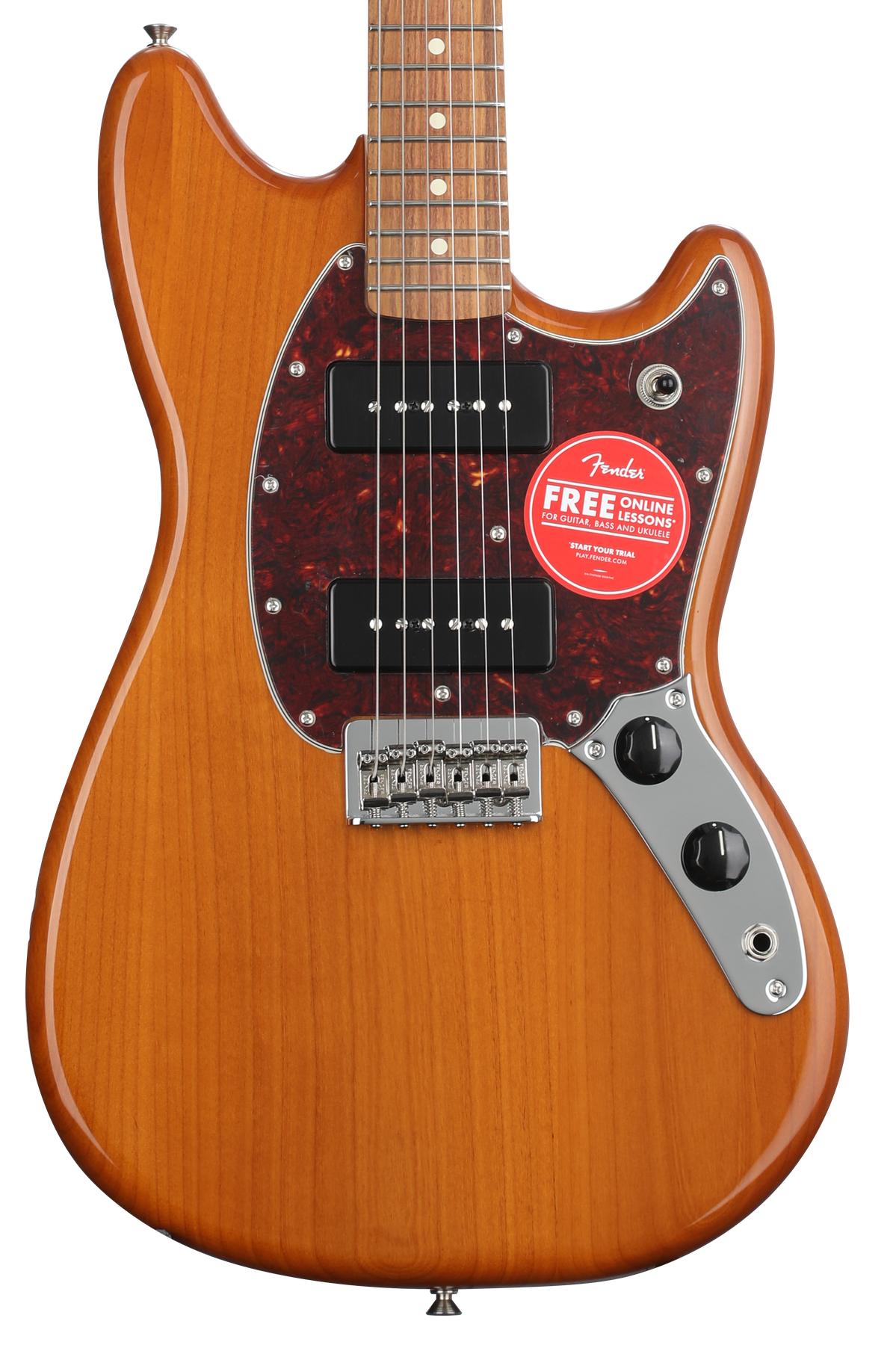 Fender Mustang 90 is an excellent instrument in my opinion. It offers you different looks and tones, and that's why you either like it or don't. Personally, I like it. A great option, especially if you love punk.
And if you have small hands, this axe is the best option in my opinion. It has a comfortable, narrow, and thin C-shaped neck. It also has a shorter scale length (24") than most regular-sized electric guitars, this lowers the string tension and makes strings easier to press down.
You can read my full review of this guitar here: Fender Mustang 90 Review – Before You Buy.
---
FAQ
Where Ibanez GRGM21 Mikro's Are Made?
At the back of the headstock is stated: "Made in China"
---
Conclusion
If you are on a tight budget, are looking for an electric guitar for small hands, or are a smaller person who wants an easy-to-play guitar, this is a good option. It's versatile and easy to play.
I think that Squier Mini Strat is an even better choice overall, but it's not so good with heavier stuff, so pick the one that fits your musical taste better. But personally, I would pick Squier Mini Strat 7 times out of 10 over the Ibanez GRGM21 Mikro. Also, check out the other alternative options I mentioned above.
I hope that this review helped you out! If you have any questions, leave a comment down below. Feel free to share this post too.
I wish you all the best and keep rocking!
You might also like:
We are sorry that this post was not useful for you!
Let us improve this post!
Tell us how we can improve this post?