Last Updated on November 22, 2023 by Teemu Suomala
All budget guitars are not good. That's the truth in my opinion…and all good budget guitars are not the right options for everyone.
This article helps you to decide if the Ibanez GRX70QA is the right option for you. This Ibanez GRX70QA review is a result of me playing this electric guitar for over 30 hours and doing research about it for another 10 hours.
And for starters, I can reveal that this Ibanez definitely belongs in the "good budget guitars"-category.
And that makes it a great pick for many players. So, let's dive deep and see what this Ibanez Gio can offer to us!
Note: I also recommend that you check out my results after testing the 5 Best Electric Guitars under $200, this Ibanez is featured there too!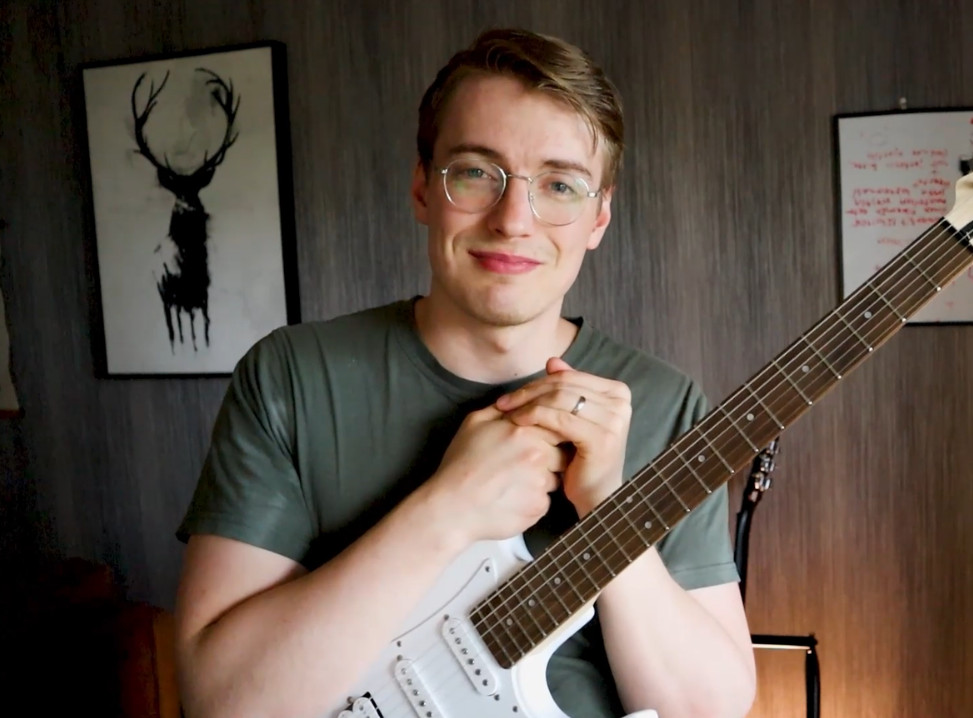 Author: Teemu Suomala
I first grabbed the guitar in 2009. I started this website in January 2020 because I couldn't do window installation anymore due to my health problems. I love guitars and have played dozens and dozens of different guitars through different amps and pedals over the years, and also, building a website interested me, so I decided to just go for it! I got lucky and managed to get awesome people to help me with my website.
I also got lucky because I have you visiting my website right now. Thank you. I do all this for you guys. If you have any recommendations, tips, or feedback, just leave a comment, I would love to chat with you. I have also been fortunate to produce content for several large guitar websites, such as Songsterr, Musicnotes, GuitarGuitar, and Ultimate Guitar.
I spend my spare time exercising and hanging out with my wife and crazy dog (I guess that went the right way…).
Hide The Rambling▲
---
The Review
Summary(If you are in a hurry)
Ibanez GRX70QA is my favorite electric guitar under $200 (to this date, 23. April 2023, I haven't found anything better for this price!). It's the best pick for beginners or players on a budget that want versatile tones and easy playability. It can handle music from jazz to metal.
But of course, this axe can have some budget guitar issues, frett buzz/uneven frets, and sharp fret edges, but still, the value for money is really high. And you can't expect the perfect guitar with this affordable price tag.
If you like to play all sorts of music, but rock and metal are your favorite genres and you also want smooth playability, this Ibanez is a great option for you!
Check Today's Price on:
*Consider all links in this post to be affiliate links. If you purchase, at no additional cost to you, we may earn a small commission. It helps us to keep the lights on, thanks! 🙂
---
Feel free to check my in-depth video review of this guitar:
Our Favorite Music Store in The World!
Why?
– Excellent Customer Service (4.7/5 Trustpilot Score)
– Fast & Free Shipping
– Gear is Inspected, Tested, & Ready to Play When it Arrives to You (We love this)
– Fair Prices
Visit Sweetwater:
Ibanez Gio GRX70QA Specs:
| | |
| --- | --- |
| Body type | Solidbody |
| Body shape | Modern Stratocaster |
| Body wood | Quilted Maple Art Grain top/Poplar body |
| Neck material | Maple |
| Neck shape | "GRX" shape (close to slim-D in my opinion) |
| Scale length | 25.5 inches |
| Nut width | 1.650 inches (42mm) |
| Nut | Plastic |
| Fretboard material | Bound Purpleheart |
| Fretboard radius | 12 inches (305mm) |
| Number of frets & fret size | 22 Medium |
| Pickups | Bridge- Infinity R (H) bridge pickup(Passive/Ceramic); Neck-Infinity R (H) neck pickup(Passive/Ceramic); Middle- Infinity RS (S) middle pickup(Passive/Ceramic) |
| Bridge | T106 tremolo bridge (Tremolo bar/Whammy bar included) |
| String spacing (from the bridge, E to e) | 52.5mm |
| Controls | Volume and tone, 5-way switch |
| Tuners | ? |
---
Looks
One of the key qualities of this Gio is the Quilted Maple-top looks. And as always, this comes down to whether you like the wood pattern of Quilted Maple.
Personally, I love Quilted Maple-looks. But, at the same time, this Ibanez doesn't have to most appealing color options for me. This "Transparent Black Sunburst" was the best looking for me, but there are 5 other color options to choose from.
"Transparent Blue Burst" was my second favorite option, but this less bright version took the edge for me.
The look of the neck and fretboard combined is one of my favorite cosmetic things with this electric guitar. Maple neck with satin finish looks like it's from a couple of hundred dollars more expensive guitars. And same applies to the purpleheart fretboard.
The shape of the headstock is not my favorite, but it didn't stick into my eye too badly(in any way).
The black coloring of it plus the "Ibanez Gio"-logo is cheap looking, but hey, this is a budget guitar!
One other thing that is not one of my "favorite design choices", is the look the "just screws to the body"-type bolted neck:
I like the bolted neck where the hardware-plate (with the brand's logo for example) is used between the screws and the body a lot more. But again, only a small minus for me.
Overall, there are better-looking options available for under $200(Epiphone Les Paul Special VE and Jackson JS22 Dinky for example), but when I look at the price tag and the other great qualities of this Ibanez, these small cosmetic cons don't really bother me too much.
Hardware
There is nothing big to complain about, when I look at the hardware of this Gio.
Tremolo block is one thing where I pay some attention with these budget guitars, because I managed to break my first electric guitars tremolo block a little bit too easily when I started out with the guitar in 2009(partly my own fault for sure). But with this everything seemed to be fine, no cracks or anything like that. As long as you don't overtighten it, all should be fine.
The 6-saddle bridge is looking and working well. I had to do some adjustments to it, and everything went smoothly. This same applies to truss-rod too.
Control-knobs and strap-locks are solid and fit the color of the guitar well. And lastly the tuners…
You can get better tuners for this price, for example ESP LTD EC-10 and Jackson JS22 Dinky had more stable tuners in my opinion. But at the same time, you can get worse tuners too, for example with Epiphone Les Paul Special VE.
So the tuners are solid and still good for the price for sure. I had no real problems with these. But when you take this axe out of the box, give it some time, because strings have to stretch before the guitar really starts to stay in tune.
And I noticed that with these under $200 electric guitars, I had to give strings a little bit more time to stretch than with more expensive guitars.
But overall, the hardware is really good for the price.
Electronics
All the job with the electronics was really good for the price, and the job with the wires was maybe the cleanest from all 5 electric guitars under $200's that I have tested recently.
Solderings look as should and wires are well attached. Plus there is some extra length on the wires, in case you have to change something in the future.
When I look at the overall finish quality, I assume that I'm not going to face any problems with the electronics anytime soon.
Then the pickups…
These Ibanez Infinity pickups are one of the Ibanez'es cheapest pickups, there is no way around it, and the quality is not super-high. But hopefully these will last for quite a while.
At least for now, everything is working well, so no unwanted hum or hiss is present. I'll tell you about the tones of these pickups in the "Sound"-section.
I measured the resistance of these pickups too. This gives us an indication of the output of the pickups(how "hot" or "cold the pickups are).
Here's how these outputs compare to other similar electric guitars on this price range:
---
Build/Finish
Check the unboxing:
I will start with the cons.
There are some uneven frets. On this my copy, 1st and 3rd fret are a lot higher than 2nd fret, and this caused most of the buzz out of the box. I managed to fix this by adjusting the individual saddles and truss rod. This is a really common issue with budget guitars, 5/5 out of these under $200 electric guitars had uneven frets, but only 3/5 had frett buzz out of the box.
Sharp fret edges. I had to smoothen these with sandpaper to make this axe really comfortable to play. Again really common with these cheap guitars, but this Gio had one of the sharpest fret edges of these 5 guitars that I have tested recently.
Otherwise, both the overall build and finish are great for the price.
No issues with the paint-job
Good job with the bolted-neck
No scratches
Maple neck is smooth
So basically, build and finish are the worst aspects of this guitar with uneven and sharp frets and frett buzz, but these definitely don't ruin this guitar. Also, these flaws are also quite easy to fix.
Playability
The only con with the playability is those sharp fret edges, but when I skimmed through customer reviews of this Gio, there were surprisingly few people complaining about this issue. So there might be a chance that the fret buzz issue only bothered this my copy.
But otherwise, the playability of this guitar is amazing for the price in my opinion. These are the main reasons for that:
GRX- neck shape, this kind of comes close to really slim-D shape. Reaching all the frets is really easy, and making fast shifts is effortless.
Comfortable maple neck. This smooth neck makes moving your hand around it very comfortable.
Combination of medium frets and low string action. This makes hitting the notes and pressing the strings really easy. Playing this electric guitar doesn't require a huge amount of finger strength.
Wide string-spacing. This makes hitting the right strings easier, and even tho that I have tiny hands, strings were definitely not too far from each other. Also, the fingerpicking is a little bit easier with wider string-spacing.
Hopefully, I don't sound like I'm over-hyping this axe… You definitely get a nicer feel and smoother fretboard- and fret-edges if you spend more, but for this price, the playability of this Ibanez is hard to beat.
Also, I want to add that the contour on the guitar's body makes it overall nice to hold on your lap, and connects you with the instrument. I wish I had a guitar like this when I started playing guitar.
Sound
Check the full no-talk sound demo:
With the playability, the huge variety of different tones that you can get out from this guitar is by far the 2 best things about this axe.
Here's what the pickups and the 5-way switch of this guitar can offer to you:
Bridge position: With bridge humbucker, you can dial in "in your face"- type of tones, and also play lead sections that are really crispy, but still thick sounding. But tones can sometimes get a little bit too fuzzy with this humbucker, but overall the tones of it are great.
Other coil of the bridge humbucker and middle single-coil position: Balanced tones, that are great for playing more melodic and not so fast lead sections.
Middle position: This Single-coil adds a huge amount of variety to the tones of this guitar. You can get better-sounding single-coil pickups for the money, but the HSH combination if this Gio is hard to beat. Great for spanky funk-type tones, or bright and sparkling rock tones.
Middle single-coil and other coil of the neck humbucker position: Again really balanced tones, but more rounder, warm and mellow. Great for fingerpicking in my opinion.
Neck position: This neck humbucker is my favorite pickup of this guitar and I use it the most. Great for a wide variety of clean and crunch tones. Works well with distortion too, but can sound too dull with some settings.
Here's a graph that compares the pickup tone versatility against the other electric guitars at this price range:
Electric guitar tonewoods won't affect the plugged-in tones at all but affect the weight and acoustic sound. Take a look at this Ibanez's tonewoods:
But what kind of music you can play with the Ibanez GRX70?
It handles almost everything in my opinion…the most versatile guitar under $200 in my opinion.
But it's still best with rock and metal music, fast riffs and solos are the bread and butter of this guitar.
I especially enjoyed playing thick distorted riffs with the neck pickup and then switching to the bridge pickup for solos.
Also, I have spent a lot of time playing clean's with this guitar, again, the neck pickup is my favorite with these too, but it's nice to dial in some spanky funk tones with the middle single-coil once in a while.
Here's a little graph that reveals you more about the songs, music, and genres this Ibanez can handle: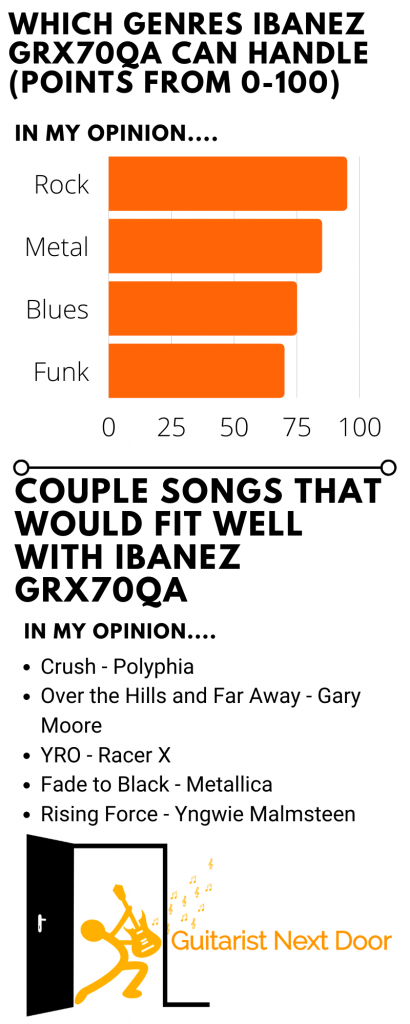 Only if you are heavily focused on metal, Jackson JS22 Dinky is probably tonally better option for you.
So overall, this Ibanez is a super-versatile and great-sounding guitar for the money. But that being said, it does have cheap pickups, so don't expect premium level tones from it.
Value for Money
So the things that decrease the value are the sharp fretboard edges and the fact that you can get better tuners for the same amount of money. Uneven frets are what you get with every one of these under $200 electric guitars, there is no way around that.
But the good qualities of this electric guitar still make the bang for the buck pretty amazing.
Final Verdict on Ibanez GRX70QA
Pros
Super versatile…
…and also sounds good!
Really effortless to play
Really high value for the money
5-way switch and tremolo add a tons of different options
Solid tuners and hardware
Cons
Some rough fret edges
Not the most attractive option for under $200 (subjective)
Not the best tuners under $200
Fret buzz out of the box
Based on hours of playing this Ibanez electric guitar, I'll give it a rating of 4.3/5.
If you want to explore lots of different genres with your budget guitar and still sound great, plus you want easy playability under $200, there is no better option available than this Ibanez GRX70QA in my opinion.
This is the best guitar overall under $200 for me. It's not perfect, it had some buzz/uneven frets, sharp fret edges and you can get better tuners for this price, but the playability and tone-wise this is hard to beat.
If these sound good to you, this might be the right guitar for you!
Check Price on:
---
What Others Are Saying About Ibanez GRX70QA
I went through quite a few customer reviews of this guitar and here are a couple of key things that I found:
Pros
Lot's of people praised the value for the money with this guitar
The versatility of this guitar was definitely noticed by other users too
Some people really liked the single-coil pickup
Several users said that the tuning is really stable
Smooth maple neck
Cons
Sometimes adjustments need to be made out of the box
Everyone is not pleased with out of the box string quality
Some users received a lemon but managed usually get a new axe for free
Most of the time users think that Ibanez GRX70QA is a great affordable electric guitar.
---
Compared to Other Guitars
If you compare these 2 beginner guitars, they both have their own strengths.
First the Bullet Start:
You get better single-coil tones with Squier Bullet Strat
Squier Bullet Start has better-looking color options available
Squier Bullet Star is better for small hands in my opinion
Ibanez:
Has better quality
More versatile and better humbuckers
Is easier to play overall
I think that none of these is a bad option, but for ultimate versatility, metal, and as a better guitar overall, the Ibanez takes the edge.
But if you want some Fender-magic and great single-coil tones, then Squier Bullet Start is a better option.
Check Price on:
---
When you compare these 2 Ibanez-axes, it's nice to notice that if you can spend more, you really get value for money with Ibanez.
Both of these share easy playability, but with a smoother overall finish around the fretboard, RG470 takes the edge.
And pickup-wise, you get better quality with the more expensive one, but in my opinion, the RG470 tones go even more towards the metal-music.
So basically, if I was trying to decide between these 2… if I can afford the RG470 that's a better instrument for sure. Only if I couldn't afford it or if I would want to stay away from Floyd-rose bridges the GRX70QA would be my choice.
But GRX70QA is definitely not bad when it's compared to this more expensive Ibanez.
Check latest prices on:
---
Alternatives
Jackson JS22 Dinky
The JS22 Dinky is my favorite metal guitar under $200. It can take a lot of crunch and is truly designed for playing heavy metal. (This Jackson was also chosen as the best metal guitar for beginners.)
Its build quality is a little bit better compared to this Ibanez(better tuners for example), but the Ibanez can arguably do more overall.
You can read my review about this axe here.
Check Price on:
---
Epiphone Les Paul Special VE
Actually tone-wise it's quite close with these Ibanez and Epiphone, both are one of the most versatile guitars for this price. But this Les Paul has some thick rock and blues tones that the Ibanez cant' offer.
Ibanez is easier to play and better for modern rock and metal.
But the main reason I would pick the Ibanez over Epiphone here, are the tuners. Epiphone Les Paul Special VE's tuners are the worst of the 5 under $200 electric guitars that I have tested and caused some trouble for me.
Tuners don't ruin this guitar, but are still the worst for this price.
But this Epi is still the best traditional Les Paul for this price range in my opinion.
You can read my review about this axe here.
Check Price on:
---
FAQ
Are cheap Ibanez guitars good?
My experiences with cheap Ibanez Electric guitars have been really good. So yes, cheap Ibanez guitars are good for the price in my opinion. They are great affordable electric guitars.
Of course, you can't expect for perfect instrument, and you can get frett buzz, sharp fret edges, and other budget guitar problems. But the value for money has been always high when I have laid my hands on a cheap Ibanez.
I have been playing guitar since 2009, and cheap Ibanez guitars are one of the best beginner/cheap guitars I have tried.
I recently write an entire article about this topic, you can check it out here.
Is Ibanez GIO guitars any good?
At least under $200 and $300, Gio's have been really great for the money for me. Versatile tones overall, but the focus is on the rock and metal tones.
Playability has always been comfortable in my opinion, with Gio's. But of course, some budget guitar problems can be present with Gio's too(frett buzz, uneven frets, low quality-strings out of the box, etc.)
I wrote a whole article about GIO guitars, check it out: Are Ibanez Gio Guitars Good? – Owners Perspective
Good Ibanez GRX70QA Upgrade Ideas?
Here are my top 3 upgrades for Ibanez GRX70QA:
1. Pickups (maybe just middle and bridge pickups), I would especially like to get a bridge pickup that handles distorted riffs better and wouldn't be fuzzy so easily. And at the end of the day, this Ibanez has cheap pickups, even though these provide solid tones.

2. Nut (Plastic to bone or Tusq), this should improve tone and sustain.

3. Tuners, I would change the originals to high-quality locking tuners. This is not a super important upgrade but it would make using this guitar a little bit easier.
Best Ibanez GRX70QA replacement pickups?
Here's my top favorite replacement for each pickup of Ibanez GRX70QA:
Neck: Seymour Duncan SH2N-4C BLK, should offer clear jazz- and rock tones.
Middle: Seymour Duncan SSL-1 WH/RP, should offer clear old start tones(Texas-blues-type), great for classic rock and blues.
Bridge: Seymour Duncan TB-4 BLK, really articulate high-output rock pickups.
PS. I'm not a Seymor Duncan fanboy or frequent pickup changer, but these were the most interesting options I could find.
---
Conclusion
I had a really fun time reviewing Ibanez GRX70QA and all the other guitars in this same price range. In the end, this Ibanez was a winner. It's one of the best value-for-the-money guitars that I have laid my hands on during my guitar playing journey, it's also a really great beginner guitar.
I also learned a lot and hopefully, I managed to reveal helpful info about this Ibanez for you too! If you have any questions, just ask in the comments! I wish you all the best!
Teemu Suomala
---
You might also like:
We are sorry that this post was not useful for you!
Let us improve this post!
Tell us how we can improve this post?