If you want to be a guitar virtuoso, you have to start at a young age right? Well, based on the starting ages of guitar legends, that usually seems to be the case (not a rule though).
But for example, Jimi Hendrix started at the age of 15 years and only played for 12 years before he passed away. And still, many people consider him to be the best guitar player of all time. So that at least reveals that you don't have to spend decades playing guitar in order to become amazing. And personally, I believe that you can become a virtuoso even if you start playing after the age of 20.
Let's look at the cool infographic that reveals more, plus we will take a quick look to origins of 4 Key Guitar Players featured in this research.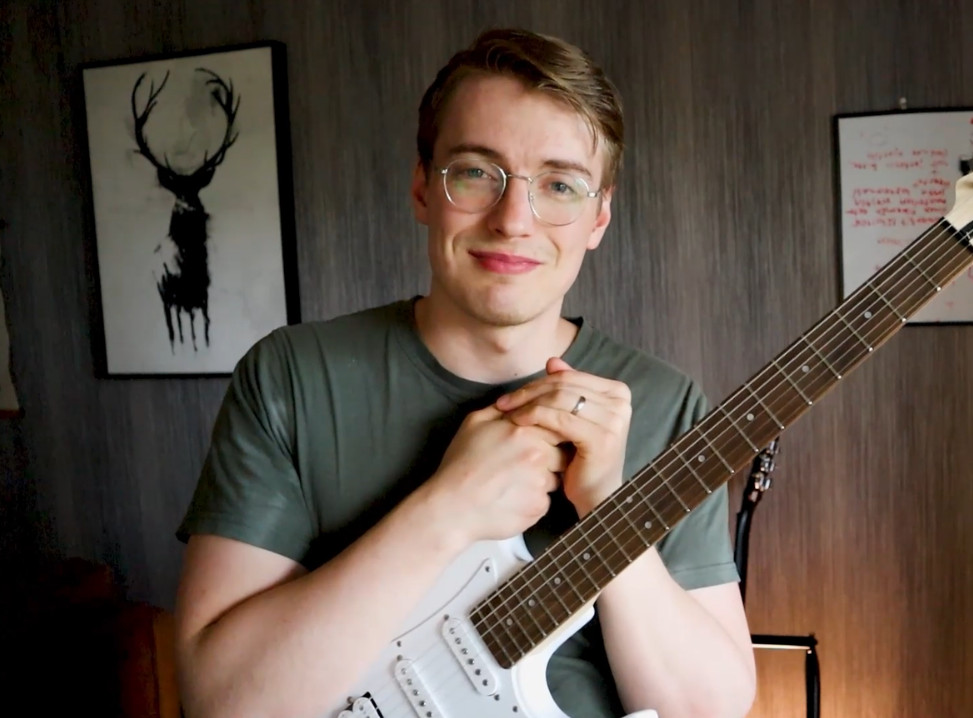 Author: Teemu Suomala
I first grabbed the guitar in 2009. I started this website in January 2020 because I couldn't do window installation anymore due to my health problems. I also noticed that most guitar websites don't do a really good job, so I decided to just go for it! I got lucky and managed to get awesome people to help me with my website. I also got lucky because I have you visiting my website right now. Thank you. I do all this for you guys. If you have any recommendations, tips, or feedback, just leave a comment, I would love to chat with you. I have been fortunate to produce content for several large guitar websites, such as Songsterr, Musicnotes, GuitarGuitar, and Ultimate Guitar. I spend my spare time exercising and hanging out with my wife and crazy dog(I guess that went the right way…).
---
In What Age Did Famous Guitarists Start Playing?
Check this cool infographic we made:
---
4 Key Players
To me, these 4 players are the most influential guitarist featured in this article. Each of them had a huge impact on guitar players all over the world, to this day. Let's take a quick look at the start of their guitar journeys.
Our Favorite Music Store in The World!
Why?
– Excellent Customer Service (4.7/5 Trustpilot Score)
– Fast & Free Shipping
– Gear is Inspected, Tested, & Ready to Play When it Arrives to You (We love this)
– Fair Prices
Visit Sweetwater:
Jimi Hendrix
Starting age: 15
The book "Jimi Hendrix: A Brother's Story" reveals that Hendrix first stringed instrument was Ukulele he found that only had 1 string. Hendrix bought his first guitar (acoustic) from his friend for $5 in the summer of 1958, he was 15 years old. He was left-handed, but the guitar was made for right-handed people. Hendrix flipped the guitar upside down and the rest is history.
Hendrix is notorious for being featured at the top of "best guitarists lists". Check Rolling Stones and Really Simple Guitar's excellent guitarists round-ups for example.
---
Jimmy Page
Starting age: 12
Other guitarists form Page's school taught Page the first chords. Page also took some traditional guitar lessons, but he is mostly self-taught. Jimmy Pages Definitive Biography also reveals that one of his key learning methods was to listen to records and learn from there. Page and Skiffle group/band he was part of appeared in a "All Your Own" TV show in 1957, Page was only 13 years old. This young Skiffle group featured on the show had reshersals on Page's house once a week. On that show Page revealed that the Spanish guitar was a one styles he liked to play.
---
Eric Clapton
Starting age: 13
Clapton got an acoustic Hoyer for his 13th birthday. But this budget guitar was really hard to play and Clapton briefly lost interest in guitar playing. But it's awesome that he eventually grabber the guitar again.
Clapton's Autobiography reveals that the first electric guitar the Slowhand got was double-cutaway semi-hollow Kaye. The same model his idol Alexis Korner played. It's claimed that it was purchased for 100 pounds with his grandparents assistance.
---
Eddie Van Halen
Starting age: 11
In 1966 parents of the Van Halen's bought Eddie a drum kit and his brother Alex a flamenco guitar. But Alex mastery over the drums, turned Eddie down and he started learning the guitar(I think we all are grateful that he did). Eddie was only 11 years old back then. At the age of 12 Eddie got his first electric guitar, $100 Teisco Del Rey. This allowed him to play the music he loved and was definitely 1 important milestone that helped him to become the guitar virtuoso he was.
---
FAQ
How I Identified The Starting Ages of These Famous Guitarists?
By doing research. I mostly used Wikipedia, but I did check the sources of each fact presented on Wikipedia. With some guitarists, there was an exact starting year or age revealed, and with some, there was an age or year when they got their first guitar. I accepted both of these as the starting year of their guitar journey.
When Did Famous Guitarists Usually Start Playing?
Usually they start playing early in their life. If we look a the 18 famous players we included in this article, the average starting age is only 11,2 years. So they were young when they started. None of them was over 20.
Yngwie Malmsteen started the youngest, he was only 5 years old.
Jimi Hendrix and Mark Knopfler were the oldest, both were 15 years old when they started playing.
Did Any Famous Guitarists Started Playing Late?
Actually some of them did, but very few. I want to point out one guitarist, James Lewis Carter Ford aka. "T-Model Ford". He started playing at the age of 58. Check he ripping out some blues:
What We Can Learn From This?
Super simple. The younger you start playing guitar the better. It would be amazing if you could start when being just a kid. But the second-best time to start guitar playing is right now.
If you want ot start guitar playing, check this article I created How to Play Guitar? Get Started Fast and Free!
---
Conlusion
It was really fun to investigate the origins of these famous guitarists. Each of them possesses tremendous skills, and also, started playing when young. But still, no matter what your age is, if guitar playing interests you, just get started. The best time you have is right now.
If you have any questions or thoughts, just leave a comment. I wish you all the best and keep rocking!
---
Here's Our Favorite Gear Right Now!
Our Favorite Guitars:
Consider all links in this post to be affiliate links. If you purchase, at no additional cost to you, we may earn a small commission. It helps us to keep the lights on, thanks! 🙂
Electric guitars:
For beginners and tight-budget guitarists, Ibanez GRX70QA was the winner after hours of testing. If you are a metalhead, Jackson JS22 Dinky is our favorite.
If you have more room on your budget, Yamaha Pacifica 112V gives you a great bang for your buck, and Fender Player Telecaster HH will serve intermediate Players well.
Our favorite Electric guitar of 2021 was the PRS SE Custom 24-08. It gives so much versatility, comfort, and good tones that it's impossible to ignore.
Acoustic guitars:
For beginners, Yamaha FG800 is our go-to guitar. It offers more than any other guitar in the same price range.
For intermediate and beginners with bigger wallets, Gretsch G5024E Rancher offers so clear and detailed tones, plus easy playability that I had to include it here.
Seagull S6 Original is the best acoustic around the $500 mark. It has the construction, sound, and feel that many more expensive guitars don't achieve.
Our Favorite Amps:
For beginners, Fender Mustang LT25 offers the most. It's versatile, sounds good, and is simple to use.
For most home players, Boss Katana 50MKii is the amp that serves you in any situation. From country to metal.
If you are searching for a tube amp for home use, Blackstar HT-5R MKii is my go-to option because it sounds so good, and you can adjust the wattage(power).
When it comes to acoustic guitar amps, Fender Acoustasonic 40 will serve most people really well. But our favorite is Fishman Loudbox Mini BT. It offers a professional level tone and volume with a price most people can afford.