Last Updated on November 25, 2022 by Teemu Suomala
I'm always on the lookout for the next greatest shred machine I can add to my collection. And after checking out the JS22 Dinky from Jackson, I think I've found the best metal guitar under $200.
I know that sometimes when a low-cost guitar looks as "metal" as this one (with its matte black finish and evilly-pointed headstock) you might wonder if it's a gimmick.
Its looks talk the talk, but can it walk the walk? Is it all bark and no bite? Dark looks but no grind?
Basically, is the Jackson JS22 Dinky any good?
I've answered these questions and more in this Jackson JS22 Dinky review, so let's see why I think this is one of the best electric guitars under $200.
Note: I also recommend that you check out my results after testing the 5 Best Electric Guitars under $200, this Jackson is featured there too!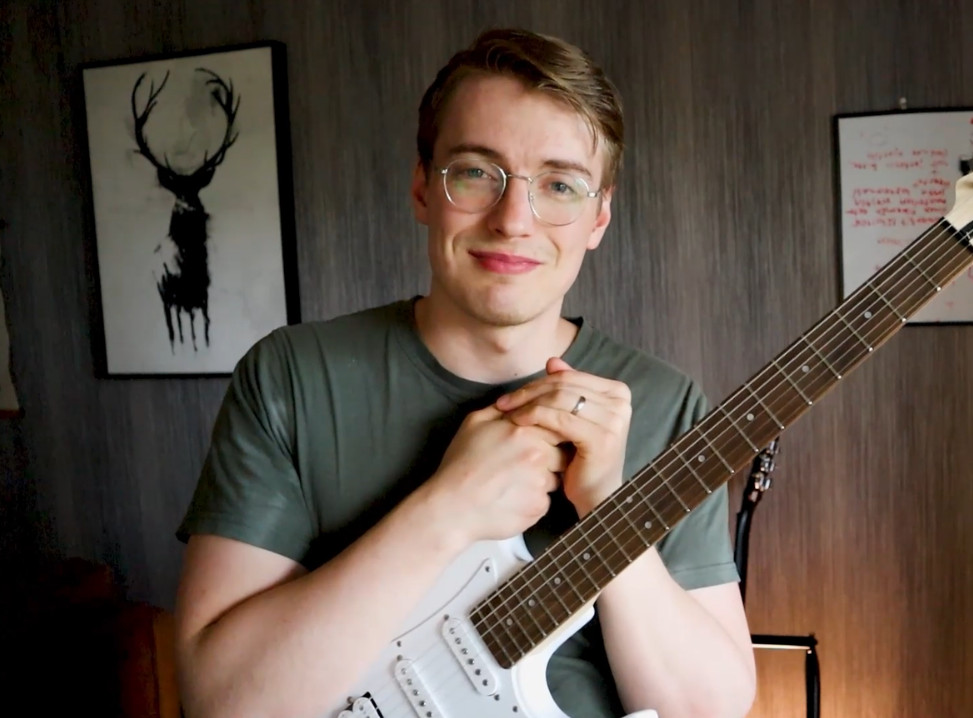 Author: Teemu Suomala
I first grabbed the guitar in 2009. I started this website in January 2020 because I couldn't do window installation anymore due to my health problems. I also noticed that most guitar websites don't do a really good job, so I decided to just go for it! I got lucky and managed to get awesome people to help me with my website. I also got lucky because I have you visiting my website right now. Thank you. I do all this for you guys. If you have any recommendations, tips, or feedback, just leave a comment, I would love to chat with you. I have been fortunate to produce content for several large guitar websites, such as Songsterr, Musicnotes, GuitarGuitar, and Ultimate Guitar. I spend my spare time exercising and hanging out with my wife and crazy dog(I guess that went the right way…).
---
Jackson JS22 Dinky Review
Summary (if you are in a hurry)
Some minor finish issues can be present, but al-in-all this Jackson JS22 Dinky is smooth playing and mean-sounding budget guitar. A great option if you crave metal tones with affordable price and comfortable playability. JS22 Dinky is really upgradeable guitar too.
Check Today's Price on:
*Consider all links in this post to be affiliate links. If you purchase, at no additional cost to you, we may earn a small commission. It helps us to keep the lights on, thanks! 🙂
---
You can also watch my full in-depth video review of this Jackson!
---
About Jackson Guitars
Jackson Guitars is intrinsically linked to heavy metal history. It all started when Randy Rhoads came into Grover Jackson's Charvel shop in the early 80s requesting a mean-looking custom-built electric.
Grover and Rhoads worked together to produce the first-ever Jackson-branded guitar, the Rhoads Concorde.
In the hands of the Black Sabbath legend, Jackson Guitars roared to fame in the metal community. Throughout the 80s, the company designed several popular models, including the King V, the Soloist, and of course, the Dinky.
Since then, Jackson's devilish electric guitars have remained an axe of choice among metal masters. You've seen them in the hands of Eddie Van Halen, Kirk Hammett, Steve Vai, Corey Beaulieu, and many more.
And now with their entry-level JS22 Dinky, you can see for yourself what makes Jackson models such renowned six-string shred machines.
Our Favorite Music Store in The World!
Why?
– Excellent Customer Service (4.7/5 Trustpilot Score)
– Fast & Free Shipping
– Gear is Inspected, Tested, & Ready to Play When it Arrives to You (We love this)
– Fair Prices
Visit Sweetwater:
Jackson JS22 Dinky Specs:
Body type
Solidbody
Body shape

Dinky

Arch Top
Body wood

Poplar

Neck wood
Maple (bolted)
Neck shape

Dinky Speed

Scale length
25.5 inches
Nut width

1.6875 inches (42.86mm)

Nut
Plastic
Fretboard material

Amaranth

Fretboard radius

12"-16" Compound Radius (304.8mm-406.4mm)

Number of frets

24

Jumbo
Pickups

2 x Jackson High-Output Humbuckers

(Ceramic magnets)
Bridge

2-Point Fulcrum Tremolo

Controls
Volume and tone, 3-way switch
Tuners

Jackson Sealed Die-Cast
---
Things to Consider Before Buying a Jackson JS22 Dinky
The JS22 beats most other guitars in this price category in terms of hardcore, high-gain performance. For the most part, I like this axe a lot—especially for playing my favorite heavy songs.
If you're a big fan of heavier styles like metal or hard rock, the JS22 Dinky can be a good choice, even for your first guitar.
It's not perfect (no guitar at this price is), but there aren't any huge flaws that would give you trouble as a beginner.
If you've got shorter fingers like me, you might have a hard time learning the basic chord shapes because of how wide and flat the neck is. This will present an extra challenge in your early days, but it shouldn't be a deal-breaker in most cases.
Otherwise, because its body is slightly smaller and a good deal lighter than most other electrics it can be a comfortable guitar to get started with.
Now if you're no newcomer to the guitar, you'll probably appreciate this neck shape for what it is. It's really made for lightning-fast metal and super heavy chugs.
Just know that the JS22 Dinky isn't the best option for all genres.
The sharpness of its tone doesn't deliver the full, resonant kind of voice you'll want for genres like blues or country.
While the Dinky's more well-rounded than guitars like the ESP LTD EC-10, more-versatile electrics like Epiphone's Les Paul Special Vintage Edition could be better for you if you're not a huge metalhead.
If you want to see more great electric guitars under $200, check this article out: 5 Best Electric Guitars Under $200 in 2022 – Buyer's Guide – Owned & Tested

It includes a sound comparison of all 5 too!
Looks
Jackson's looks are pretty much directly inspired by Randy Rhoads' desire to have a killer-looking axe. This meant sharper angles, deeper horns, and their trademark pointy headstock.
Just one look at this JS22 and you can tell it was built with metal in mind.
You don't need to hear me say it again, but—as always—I think you can't go wrong with a satin black electric.
I think the black hardware was a good choice, while the white fretboard edges and satin neck finish do a good job of accenting the otherwise dark body.
Its sculpting and contours, aside from adding to playability, give it an overall sleek look. I'm not a huge fan of the Jackson headstock shape, but I wouldn't say that's an important thing to focus on.
The only issue with the Dinky's looks, at least in the one I played, was a bit of fretboard discoloration. In a couple spots, the fretboard looks worn and faded.
These aren't noticeable from a distance and likely aren't present on every model. All things considered, the JS22 ranks almost perfect in the looks department.
Hardware
Metal musicians can be hard on their guitars, so Jackson equipped the JS22 Dinky with some of the best guitar hardware you can find in an entry-level electric guitar.
From top to bottom, pretty much every piece of machinery is perfect on this axe.
Its tuners are great. They help pitch for my entire jam session, even after some intensive whammy bar work.
The tremolo bridge is surprisingly good for an under $200 guitar. It's not as stable or responsive as a top-dollar Floyd Rose system, but it's great for the cost.
I'd always like a bone nut, but that's not usually a reasonable expectation on these low-cost guitars.
Really, the JS22 Dinky's only hardware flaw is not even a flaw at all.
The strap buttons are a bit broader than many other guitars', so you might have a slightly harder time putting on and removing your guitar strap.
Of course, this means that your strap is less likely to come off mid-performance, so in a way, this is a plus.
Electronics
Even though the JS22 Dinky comes from Jackson's outsourced factories in Asia, the wiring quality is on par with their more-expensive American-made models.
As far as I could tell from inspecting the backplate, everything is solid in the electronics assembly.
The cables are nicely organized, the soldering connections are clean, and they've left just enough extra wire to let you customize your axe with new knobs.
The pickups themselves are serious tone monsters. The JS22's bridge pickup has by far the highest output of any of the other guitars I've tested in this series. In tandem with its neck twin, you get some grueling metal screams from this low-cost Dinky.
Build
Aside from the minor blemish I mentioned earlier on the fretboard, there's hardly anything problematic with this axe at all. Which, considering its affordable price, is saying a lot.
You can see the minor blemish here:
My only other complaints with the JS22's build quality are a few uneven frets and misplaced strap button padding.
It took a close inspection to notice these issues. Neither of them affects the guitar's tone or playability, which is what I think matters most.
I'm sure the quality control team probably noticed these too, but they're such small problems that they let the guitar ship anyway.
Guitars at this price point are usually made by assembly line. They're put together real fast and there's a lot that can go wrong, so overall I'm happy with the build quality of this Jackson.
And just remember, if you get a guitar with more construction issues than you're satisfied with, you can always send it back for a refund.
Here you can watch the unboxing of this axe and how it looks out of the box!
Playability
Playability is always really subjective. Whether or not a guitar's playability is good for you depends a lot on your hand size, finger length, and playing style.
For me, I think the Jackson JS22 plays great in nearly every way.
Its body contours and light weight make it comfortable to hold. Special sculpting in the horns makes reaching its highest frets really easy, too.
You can see it's actually carved out slightly on both the front and back of the cutaways. Basically, they've removed any body bulk that could stand in the way of your upper-fret shredding.
A compound radius works really well for me. I love it. The slight curve toward the nut makes playing chords comfortable and strain-free. Then when you hit the higher frets, the fingerboard flattens to make fast riffs a breeze.
Having compounding radius in a guitar is like power steering in a car really.
It makes using the instrument a lot smoother and easier in different situations.
I have a little bit of trouble playing barre chords down in the lowest frets, but then again, I have fairly short fingers.
With this wide, flat neck shape, barre chords take more stretching than I'm used to, but they're definitely still manageable.
When you add everything together—the Speed neck profile, the jumbo frets, the compound radius, and the smooth amaranth fingerboard—you get an axe that takes very little effort to play lightning fast on.
It's easy to see why shred-legends like Steve Vai got started on Jackson's fast-playing electrics.
Sound
Watch the full no-talk sound demo:
Now for the moment that matters the most, the sound test.
The high-output humbuckers of the JS22 Dinky do a great job of churning out mean, raunchy distortion.
Each note cuts through with the clarity and precision you need for speed metal. Even at the highest levels of gain, you can still hear a clear distinction in your lick.
Amaranth isn't exactly a popular fingerboard choice, but judging from the snap and sustain it adds to the Dinky's tone, I think it's put to good use here.
Because of the JS22's poplar body, you don't have a lot of harmonic content in your sound. This is part of what keeps it from being a very versatile axe.
For genres like blues, soft rock, jazz, and country, you typically want more overtones in your guitar than the Dinky offers. Otherwise, your songs can sound dull and flat.
Here's a little graph that reveals you more about the songs, music, and genres this Jackson can handle:
But when you fill your guitar's voice out with distortion, this isn't a problem. As a matter of fact, it's a bonus that keeps your metal from sounding too muddy.
Don't get me wrong—you can play softer, cleaner genres with the JS22. If you're a beginner, you can totally learn just about everything there is to learn on this axe.
But, when it comes time for you to hit the stage, you probably won't want to use the Dinky to play for country fans. Save this axe for your headbangers, and it's sure to be a crowd-pleaser.
This axe is made for metal. And in my opinion, it would be shame to not use this with metal.
Tones that the pickups offer in my opinion:
Tones that the tonewoods offer in my opinion(note that the woods of electric guitars don't affect the plugged-in tones):
Find more beginner metal guitars here.
---
Final Verdict
Ratings:
Pros
More versatile than other low-cost metal guitars
Stellar hardcore looks
High-quality hardware
Powerful crunch and grind – Great metal tones
Great cost-to-value ratio
Comfortable and fast playing
Stable tuning machines hold pitch
Cons
Flaws can be present in the finish or overall construction
Neck shape and width add some difficulty to low-end barre chords
Best suited for heavy genres; not extremely versatile
Better options for different styles in the same price range
So, my overall opinion of this guitar?
This is a great guitar for all you metalheads out there. If you're looking for a new affordable axe to add to your arsenal, I don't think the JS22 will let you down in any way.
Its playability and sound are both super solid for their intended purpose—which, again, is metal.
You can put the JS22 to use in basically every hard genre and expect a good outcome. Even for your clean pieces in the middle of a metal thrasher, the Jackson High-Output humbuckers come through.
But even though this is perhaps the best electric guitar for metal under $200, its lack of versatility might not make it the first choice for every player.
If your tastes, like mine, include a wider variety of musical styles than the heavy, be sure to check out other options like the Epiphone Les Paul Special Vintage Edition or Ibanez GIO.
I've said it before and I'll say it again, the secret to choosing the best guitar is to pick the guitar that lets you play the music you love.
If you love heavy metal, Jackson's JS22 Dinky could be a great budget guitar for you.
Check Price on:
---
FAQ
What Others Are Saying About Jackson JS22 Dinky?
It seems that most people that buy the JS22 Dinky know what to expect from such a low-price guitar. So, you don't see a lot of complaints about its lack of versatility or much else.
I have noticed that minor finish flaws seem to be common. They occur in different spots and are never major or hugely noticeable, but this is one area where Jackson's quality control could improve.
What Does Jackson JS Dinky Mean?
Guitar model names can be confusing. What is the Jackson JS series? What does Jackson Dinky mean? To break apart the name of this guitar:
Jackson – The founder of Jackson Guitars is Grover Jackson, hence the name
JS – The JS series is comprised of Jackson's most affordable models. JS here is simply from JackSon.
Dinky – Dinky means "small", and in the case of this guitar, refers to the body, which is 7/8 the size of a standard Superstrat body.
And finally, the 22 is a simple model number. The upgraded version of the JS22 Dinky is the Jackson JS32, which is similar in many ways but features a Floyd Rose tremolo.
Is Jackson Owned by Fender?
Jackson is, in fact, owned by Fender Musical Instruments Corporation. It's actually gone through several changes of ownership over its history.
It started as a small shop called Charvel's Guitar Repair, opened by Wayne Charvel. Grover Jackson worked there as a tech and designer, then bought Charvel's shop in 1978.
However, Jackson Guitars didn't officially start until Randy Rhoads ordered his custom model. Grover Jackson maintained ownership until 1989 when he sold his company to IMC.
IMC held onto Jackson Guitars until 2002, which is when Fender bought it. To this day, Fender is Jackson's parent company and runs its main production from its Coronado and Ensenada factories.
---
How Does the Jackson JS22 Dinky Compare to a Similar Guitar?
Jackson JS22 Dinky vs. Jackson JS32Q Dinky
If you're sold on the Jackson brand but want to do better for yourself than an entry-level axe, the JS32Q could be the guitar for you.
Like the JS22, the Dinky JS32Q has a 7/8 Superstrat-style body, 24 frets, a compound radius fretboard, and dual Jackson High-Output Humbucking pickups.
But with the JS32Q, you get a couple cool upgrades.
The most apparent is that the JS32Q comes with a Quilted Maple body cap. The main wood, poplar, is still the same, but this maple top adds both beauty and brightness to your guitar.
Now, if you're dying to learn all the tremolo tricks you can, you'll really like the bridge of the JS32Q.
A big jump up from the JS22's basic 2-point fulcrum tremolo, the JS32Q provides a Floyd Rose Licensed Jackson Double-Locking trem. With a bridge like that, you'll stay in tune much longer while doing dive bombs and Dime-squeals.
Of course, these upgrades don't come free, and you'll be paying around $200 more for the JS32Q Dinky.
Check Price of JS32Q:
---
Alternatives
ESP LTD EC-10
Another good option for a cheap metal guitar is the ESP LTD EC-10. My detailed breakdown of the LTD EC-10 is here, but I'll give you a quick rundown between the two axes.
The ESP's pickups do a fine job of sending out heavy metal crunch and can handle overdrive really well (for the price), but they're not really as powerful as the Dinky's High-Output humbuckers.
The basswood body of the EC-10 might deliver a bit more low-end than the Jackson, but overall I think Jackson's tone is much better.
Their necks are similarly shaped, but I like the curve of both the neck and fretboard more in the JS22.
I might recommend the LTD EC-10 over the Jackson Dinky for two reasons:
First, the EC-10 comes with a gig bag. Honestly, this isn't something that should sway your opinion that much. It'll protect from scratches, but nothing more. To find a quality gig bag on a budget, you should check out our review of the best electric guitar gig bags under $100.
The only real benefit I can see to the ESP is that it has a simple Tune-O-Matic bridge. Changing strings can be a bit harder with a tremolo bridge like the Jackson has, and for some players this really is a deal-breaker. String changes on the ESP are easier.
But, in all other ways, I prefer the JS22 Dinky and think it's a superior guitar for the price.
Check Price on:
---
Epiphone Les Paul Special VE
If you're not such a huge fan of metal, the Epiphone Les Paul Special Vintage Edition is a much more versatile guitar than the JS22.
Although their body woods are the same, the Epiphone's 650R and 700T humbuckers are quite a lot warmer than the Jack High-Outputs.
It sounds a lot better clean and can be used, in my opinion, in a much wider range of genres. But, it really doesn't compare to the JS22 when it comes to heavy metal.
The playability of the two guitars is quite different. The Epiphone uses a more traditional 60s SlimTaper D neck and a rosewood fingerboard. Its 14-inch fretboard radius makes it more comfortable for chording, but does take away some of the shredability.
For my own musical preferences, I'd be more inclined to choose the Les Paul over the Jackson, and I think it might be the better option for beginners overall. You can see my full Epiphone LP Special VE review here.
Though if metal truly is your passion, the Dinky is probably your better bet between the two.
Check Price on:
---
Conclusion on Jackson JS22 Dinky Review
After playing the JS22, I definitely get why Jacksons are considered some of history's best electric guitars for metal.
If you want to crank your distortion to the max and tear your way through speed metal solos and soul-crushing breakdowns, I think this JS series Dinky can be your best friend. And
By any measure, it's a great cheap guitar. With an ultimate rating of 4.8 out of 5 stars, I've got to say the Jackson JS22 Dinky is one of my top recommendations for the best metal guitar under $200.