Last Updated on April 28, 2023 by Teemu Suomala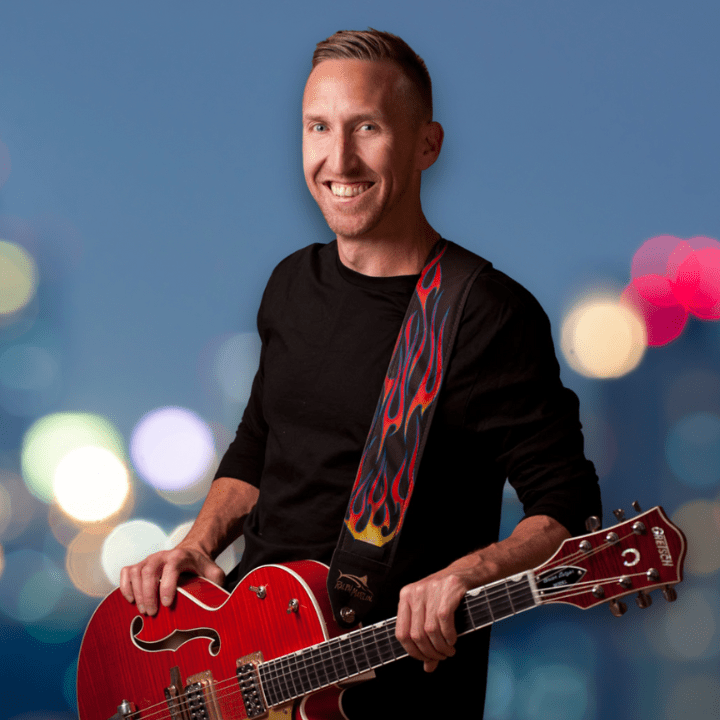 Author: Wesley Severson
Wes is a freelance writer and 2x Emmy Award-winning TV news journalist who has been surrounded by guitars since the day he was born. His father, Rich Severson, is an elite jazz guitarist and world-renowned guitar instructor. Wes has been creating video lessons, guitar reviews, and other content with his dad for more than 2 decades and is currently the manager of Rich Severson's popular YouTube channel. Wes has been playing guitar, singing, and songwriting for almost 30 years and has recorded dozens of songs with various bands and as a solo artist.
Expertise: music industry, recording, journalism, acoustic & electric guitars, jazz guitars
Hide The Rambling▲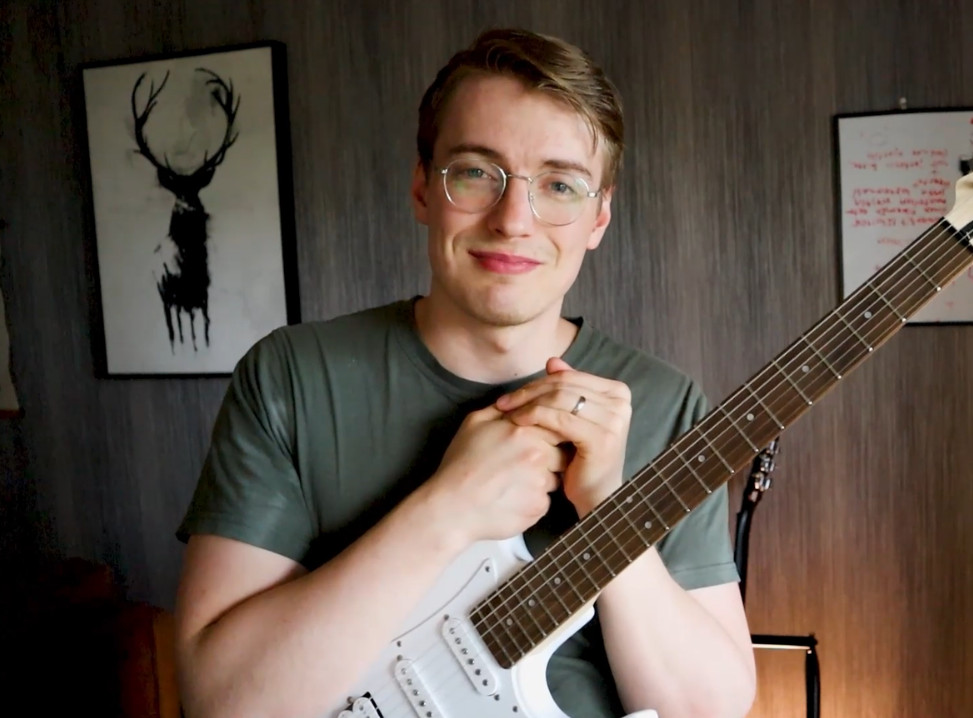 Editing & Research: Teemu Suomala
I first grabbed the guitar in 2009. I started this website in January 2020 because I couldn't do window installation anymore due to my health problems. I love guitars and have played dozens and dozens of different guitars through different amps and pedals over the years, and also, building a website interested me, so I decided to just go for it! I got lucky and managed to get awesome people to help me with my website.
I also got lucky because I have you visiting my website right now. Thank you. I do all this for you guys. If you have any recommendations, tips, or feedback, just leave a comment, I would love to chat with you. I have also been fortunate to produce content for several large guitar websites, such as Songsterr, Musicnotes, GuitarGuitar, and Ultimate Guitar.
I spend my spare time exercising and hanging out with my wife and crazy dog (I guess that went the right way…).
Hide The Rambling▲
---
Wood is everything when it comes to an acoustic guitar, and we're not just talking about what type of tonewood it's made from. Whether it's spruce, mahogany, cedar, or something else (check our full tonewood guide here), a huge factor that impacts the sound and the price of a dreadnought, parlor, concert, or any-style acoustic guitar is whether it's made from laminate or solid wood.
With so many choices out there, how do you know which one is better for you? The best way to answer that question is to educate yourself on options. There are many things to consider, and our in-depth guide on how to choose between laminate and solid wood acoustic guitars will help you navigate the saturated market.
Laminate vs. Solid Wood Acoustic Guitars
All Laminate Wood Acoustic Guitars
Laminate wood is sheets of wood created by using thin layers of wood that are glued together to form a desired thickness. Laminate wood is typically veneered, which means the top layer is usually a nice-looking, decorative sheet of wood that gives it a pleasing aesthetic.
When a guitar is made entirely from laminate wood, that means that the body of the guitar, which includes the top of the acoustic where the sound hole sits, along with the sides and back of the body, is made from these manufactured, glued-together pieces of wood.
Laminate wood was originally created because using it to build things is generally more affordable and budget-friendly than using solid wood. That means acoustic guitars made entirely from laminate wood, like the Gretsch G9500 Jim Dandy Flat Top or the Yamaha C40II, will be hundreds, sometimes thousands of dollars, cheaper than a guitar made from all solid wood, like the Eastman AC622CE or a Martin SC-10E.
Check the best Martin acoustic guitars here.
Another benefit of using a laminate acoustic guitar is that it handles changes in temperature and humidity better than a solid wood guitar (info about ideal guitar humidity here). When the air is too humid or too dry, the laminate can expand and contract, which can cause the guitar to go out of tune or cause the distance between the strings and the fretboard to increase, making them harder to play.
Pros of All Laminate Wood Acoustic Guitars
Affordable
Handles changes in temperature and humidity better than a solid wood guitar
Because it is glued, a guitar made from laminate wood is stronger than one that is made totally from solid wood.
Cons of All Laminate Wood Acoustic Guitars
Tone quality is lower than with solid wood acoustics
Less resonance and sustain and often have a brighter and more textured sound compared to a smoother, warmer sound that usually comes from an all-solid acoustic guitar.
All laminate guitars are also notoriously quieter than all solid wood guitars
Sound doesn't improve over the years
Who Are All Lamiante Acoustic Guitars Good For?
If you want a cheap acoustic for beginners, a guitar with all-laminate construction will probably be more geared toward your lower price point. Also, if you're living in an area that experiences big climate swings and changes in humidity, a laminate acoustic might be the better choice because it will handle those changes better and will need less adjusting to compensate for them.
Who Are All Lamiante Acoustic Guitars Not For?
More experienced players, especially those using acoustic guitars to record, will probably want to stray away from an all-laminate guitar. Players who pride themselves on specific tones and have money to shell out to find their desired tone should probably steer clear of all laminate guitars.
---
Solid Top & Laminated Back and Sides Acoustic Guitars
An acoustic guitar that has a solid top and laminated sides and back is a great option when it comes to splitting the difference between price and tone. They feature a piece of solid wood on the top, where most of the tone quality of the guitar comes from. To save money, guitar makers use laminate wood for the sides and the back to save money, allow for added strength, and to lessen the impact of changing weather conditions. A solid example of this type of guitar is the Taylor 214ce DLX, which has a solid spruce top and layered rosewood sides and back. The price tag is in the middle of the road at $1,599.
Check the best Taylor acoustic guitars here.
Pros of Acoustic Guitars with Solid Top & Laminated Back and Sides
More affordable than an all-solid acoustic guitar while still being able to put out a comparable sound.
All-around good sound
They are more durable due to the strength of the laminate sides and back and also handle temperature and humidity changes better than a solid wood guitar.
Cons of Acoustic Guitars with Solid Top & Laminated Back and Sides
Even though the price is usually not as high as an all-solid wood acoustic, it might be too high for a beginner who wants to spend a couple of hundred dollars at max on their first guitar.
The guitar also may not have the same amount of sustain and resonance as an all-solid wood guitar due to the laminate wood used on the sides and the back.
Solid top is more sensitive to humidity and temperature changes than laminate top
Who Are Solid Top & Laminated Back and Sides Acoustic Guitars Good For?
These guitars are great for beginners who have made the decision to stick with playing guitar and want to upgrade their setup to an acoustic guitar that has better craftsmanship and a better sound. These are great for people looking to spend more money on a guitar but not make a huge monetary investment in their instrument.
Who Are Solid Top & Laminated Back and Sides Acoustic Guitars Not For?
These guitars are not the best investment for a beginner still on the fence about playing guitar since they can generally run from $229 to $1,800. These guitars are also not a great pick for advanced players looking for the ultimate quality and tone and who only want the best craftsmanship.
---
All Solid Wood Acoustic Guitars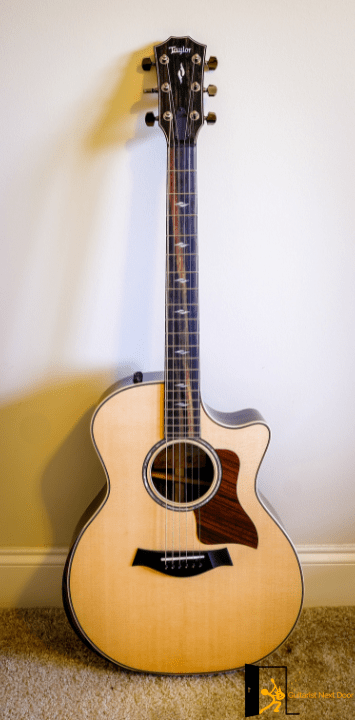 A guitar that uses all solid wood means that each part of the guitar's body has been thinly cut from a single piece of wood. That means the components that make up the top, back, and sides of the guitar are all made from solid wood. The pieces of wood have been carved and shaped to form the guitar's body. No pieces of wood contain thin sheets of wood that are glued together.
A quick way to tell if a guitar is made from solid or laminate wood is by looking at the edge of the soundhole. If it has a solid top, you'll be able to see the grain of the wood continue onto the edge of the sound hole. If you can't see the grain continue onto the edge of the soundhole, then the guitar is made with laminate.
Pros of All Solid Wood Acoustic Guitars
Solid wood acoustics often have a warmer sound, and the notes have more depth, resonance, and sustain, which makes them a little louder and more pleasing to the ear.
They are generally a better choice when tone quality is a major factor, like in a recording studio or on a stage using high-end microphones.
Most high-end acoustic guitars made from solid wood also typically sound better as the wood ages. That factor also contributes to their value.
A solid wood acoustic will typically increase in value the older it gets because the wood ages, adding to the tone's richness.
Cons of All Solid Wood Acoustic Guitars
The biggest disadvantage to all solid wood acoustics is the price. They can be much higher than a laminate acoustic.
They are also much more susceptible to hotter climates and humidity changes, so they may need more adjusting to keep them playing well, depending on where you live.
Who Are All Solid Wood Acoustic Guitars Good For?
All solid wood guitars are for intermediate or advanced players who are familiar with tone and who have enough experience to know what sound they want to achieve. They are also good for players with some experience working on guitars, so they can make the adjustments needed if the weather starts to impact the wood.
Who Are All Solid Wood Acoustic Guitars Not For?
An all-solid wood design is probably not an ideal choice for an acoustic guitar for beginners who are just starting out and unsure if they will make the guitar a long-term hobby. They are not a good pick for a player with little money to invest in a guitar and wants something cheap enough to stay within their budget.
---
Which is Better for an Acoustic Guitar, Laminate or Solid Wood?
At the end of the day, a solid wood acoustic guitar will be better than a laminate, mainly due to its craftsmanship and tone. The manufacturers of solid wood acoustics try to use the best pieces of wood they can find to carve out the components and spend more time meticulously putting these high-end acoustics together.
---
FAQs
Can Laminate Guitars Crack?
It doesn't matter if it is solid or laminate. All acoustic guitar body types can experience cracking if too much pressure is applied to the wood or it is dropped or hits something. An acoustic guitar made of laminate tends to crack when the glue used to hold the layers together starts breaking down, making the wood weak and vulnerable. The best solution is to take care of your acoustic guitar and keep it in a case and keep it at an ideal humidity by using a humidifier as much as possible.
Are Laminate Guitars Affected by Humidity?
Yes, laminate guitars are susceptible to changes in humidity, but not to the degree of solid wood guitars. The problem with laminate guitars is that if the air is too dry, it can shrink the wood, causing the glue that holds it together to loosen. On the opposite end of the spectrum, if the air is too humid, the wood can swell and weaken due to wetness and mildew.
Check our full guitar storage guide here.
How to Tell if An Acoustic Guitar Has Solid or Laminate Woods?
Looking at the edge of the soundhole of your acoustic. If you can see grain cross-sections on that edge and follow it through the edge of a soundboard, the acoustic is made from a solid piece of wood. If there appears to be no cross-section of the grain, then the top is made from a piece of laminate wood.
Are Layered and Laminate Wood for Guitar The Same Thing?
Sort of. Layered wood and laminate wood are based on the same concept. However, some companies that manufacture laminate wood add materials other than wood between the layers. Layered wood has layers that are only made of wood. Essentially, the concept is the same but what is in the actual layers may differ.
What Does Bookmatched Wood on Guitars Mean?
According to Sweetwater, "bookmatching refers to the cutting of the wood used to make a guitar top or back. When wood is bookmatched, two pieces for the body are cut from the same piece of wood and then placed in a manner that creates mirror image grain on either side of the instrument."
Should A Beginner Buy A Laminate Top or Solid Top Acoustic Guitar?
There are no rules to what a beginner should or shouldn't buy. If a beginner has the money to afford a high-end acoustic that is made completely of solid wood, then they should buy it. Generally speaking, a beginner isn't usually sure they will stick with guitar as a hobby, so it doesn't make a lot of sense to invest $1,000 to $6,000 on an acoustic. It would make more sense for a beginner to shell out a couple of hundred dollars for an all-laminate acoustic to ensure they enjoy the guitar and want to maintain it as a hobby.
What's The Cheapest All Solid Wood Acoustic Guitar?
Martin DJR-10 is one of the cheapest all-solid wood guitars and we highly recommend it. Learn more from our Best Acoustic Guitars Under $500 guide.
---
Conclusion on Laminate vs. Solid Wood Acoustic Guitars
As you can see, there are several advantages and disadvantages to both types of acoustic guitars, depending on your skill level, preference, and budget. A solid wood acoustic is always going to beat an all-laminate acoustic in sound quality and craftsmanship. Budget is always going to play a huge role in any guitar purchase. if you're able to afford a solid wood guitar, then go for it. If you can't afford one, an all-laminate acoustic will still provide you with a nicely-crafted instrument that will still bring you joy to play.
If you have any questions, leave a comment down below. Keep rocking!
You might also like:
We are sorry that this post was not useful for you!
Let us improve this post!
Tell us how we can improve this post?