Last Updated on June 2, 2023 by Teemu Suomala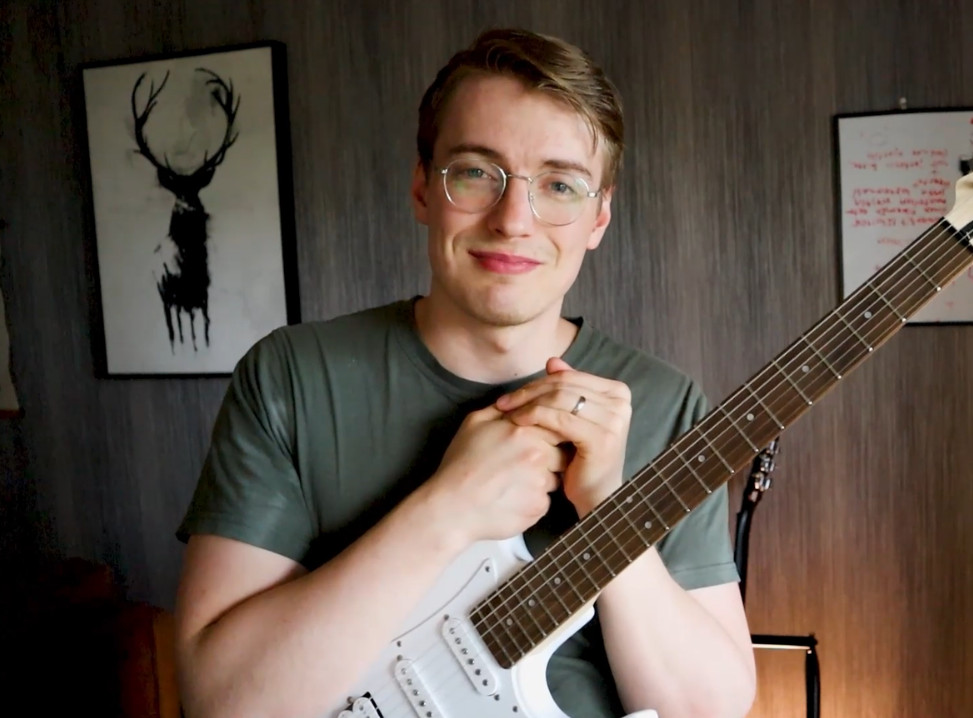 Author: Teemu Suomala
I first grabbed the guitar in 2009. I started this website in January 2020 because I couldn't do window installation anymore due to my health problems. I love guitars and have played dozens and dozens of different guitars through different amps and pedals over the years, and also, building a website interested me, so I decided to just go for it! I got lucky and managed to get awesome people to help me with my website.
I also got lucky because I have you visiting my website right now. Thank you. I do all this for you guys. If you have any recommendations, tips, or feedback, just leave a comment, I would love to chat with you. I have also been fortunate to produce content for several large guitar websites, such as Songsterr, Musicnotes, GuitarGuitar, and Ultimate Guitar.
I spend my spare time exercising and hanging out with my wife and crazy dog (I guess that went the right way…).
Hide The Rambling▲
---
Taking good care of your instrument is crucial. And one of the most essential parts of guitar maintenance is cleaning and conditioning your fretboard. It is the contact point between your fingers and the strings after all…
But what kind of oil or cleaner should you use for your fretboard? And does it matter what type of wood your fretboard is made of?
The answer is yes, it does matter. Different types of woods and finishes may require different products to avoid damaging them or affecting their tone and feel.
One of the most common questions that guitarists have is whether they can use lemon oil for their maple fretboard. Lemon oil is a popular choice for many guitarists because it leaves a nice look on some materials, smells nice, it's cheap, and it's easy to find.
But is it safe and effective for maple fretboards?
Read our full guitar cleaning guide here.
Can Lemon Oil Be Used for Maple Fretboard?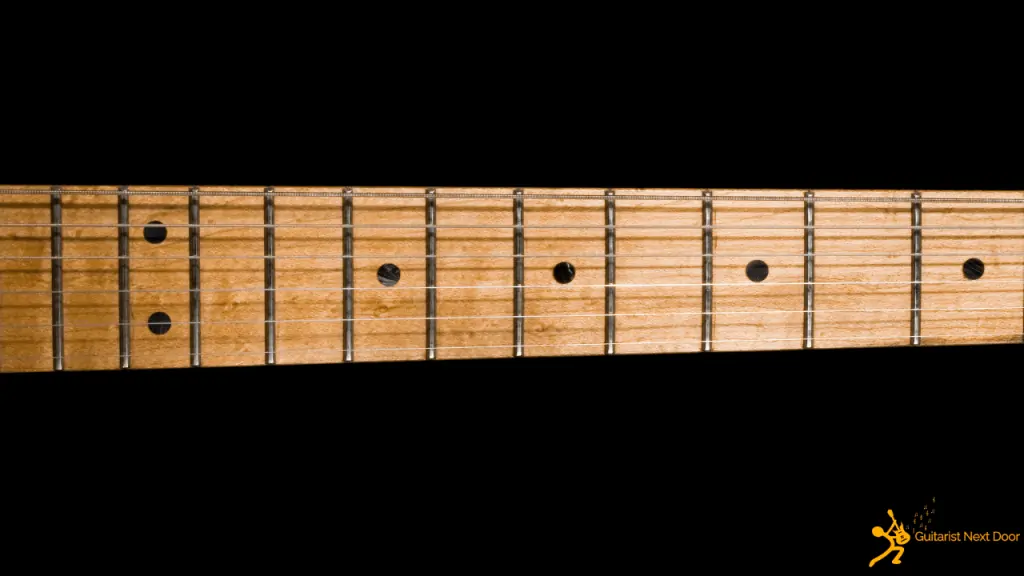 The short answer is no, it's not. Lemon oil should not be used on maple fretboards or any other finished woods.
Why not?
Because lemon oil is acidic and can strip away the protective layer of lacquer or polyurethane that covers most maple fretboards. This can cause discoloration, dullness, or even damage to the wood in the worst-case scenario. From these, discoloration is the most common one.
Lemon oil can also leave a sticky residue that can attract more dirt and dust and make your fretboard harder to clean in the future.
Check our full list of great guitars with maple fretboards here.
What about unfinished maple fretboards and lemon oil?
There's a really high change of lemon oil discoloring your unfinished maple fretboard. So it's not recommended to apply lemon oil for untreated or unfinished maple fretboards either.
That being said, I have shocking news for you…
Lemon Oil Used for Guitars Is Not Really Lemon Oil
The truth is, most of the products that are marketed as "lemon oil" for guitars are not actually lemon oil. They are usually mineral oil with a lemon scent or color added to them. Other lemon oils such as d'Andreas lemon oil I use, have a lot of petroleum distillates in them and not much actual lemon oil. Some of them may not even have any lemon oil at all in them!
But why?
Because real pure lemon oil, which is extracted from the peels of lemons, is acidic and would damage almost any fretboard wood and any finish type. It would strip away the protective finish of your fretboard, always cause discoloration, dry out the wood, break down the adhesives that hold the frets and the binding, and could even corrode the metal parts of your guitar.
That's why the toned-down version of lemon oil is sold for our guitar maintenance needs.
But if guitar lemon oil is not pure lemon oil, can it be used for Maple fretboard?
It's not recommended, since guitar lemon oils still usually contain some amount of lemon oil that will either discolor the maple fretboard or damage its finish.
Alternatives to Lemon Oil
The best option for maple fretboards or any other finished woods is to use a gentle and non-abrasive guitar cleaner that is specially formulated for this purpose.
Check our picks for the best guitar cleaning kits here.
These products will not only clean your fretboard but also polish and protect it from moisture and dirt. They will also enhance the natural beauty and shine of the wood without altering its tone or feel.
How to use them?
It's very simple. Just follow these steps:
Remove or loosen the strings from your guitar to access the entire fretboard.
Spray a small amount of guitar cleaner onto a soft, lint-free microfiber cloth and wipe the fretboard gently up and down.
Use a dry part of the cloth to buff out any excess cleaner or polish.
Restring your guitar and tune it up.
Check our full fretboard cleaning guide here.
That's it! You have successfully cleaned and conditioned your maple fretboard.
How often should you do it?
It depends on how often you play your guitar and how dirty your fretboard gets. But as a general rule, you should clean your guitar fretboard every six months, or whenever you notice a buildup of dirt, grime, or residue. This will keep your fretboard in tip-top shape and prolong the life of your guitar.
---
Conclusion on Lemon Oil and Maple Fretboard
Lemon oil should not be used on maple fretboards or any other finished woods. It can damage the finish and cause discoloration or dullness to the wood.
Instead, you should use a gentle and non-abrasive guitar cleaner that is specially formulated for finished woods. This will clean, polish, and protect your fretboard without altering its tone or feel.
If you have any questions, just leave a comment, we are here for you!
Keep rocking!
---
You might also like:
We are sorry that this post was not useful for you!
Let us improve this post!
Tell us how we can improve this post?