Last Updated on December 1, 2023 by Justin Thomas
Want to go all crazy with effects and presets? Then this Line 6 Spider V 60 Review is for you.
The Spider V is not a new name in the world of guitar amps, but they've always fallen short of competing with the likes of Fenders and Bosses and Marshalls.
So, is the latest evolution in the Spider V MkII the answer to that?
Let's find out!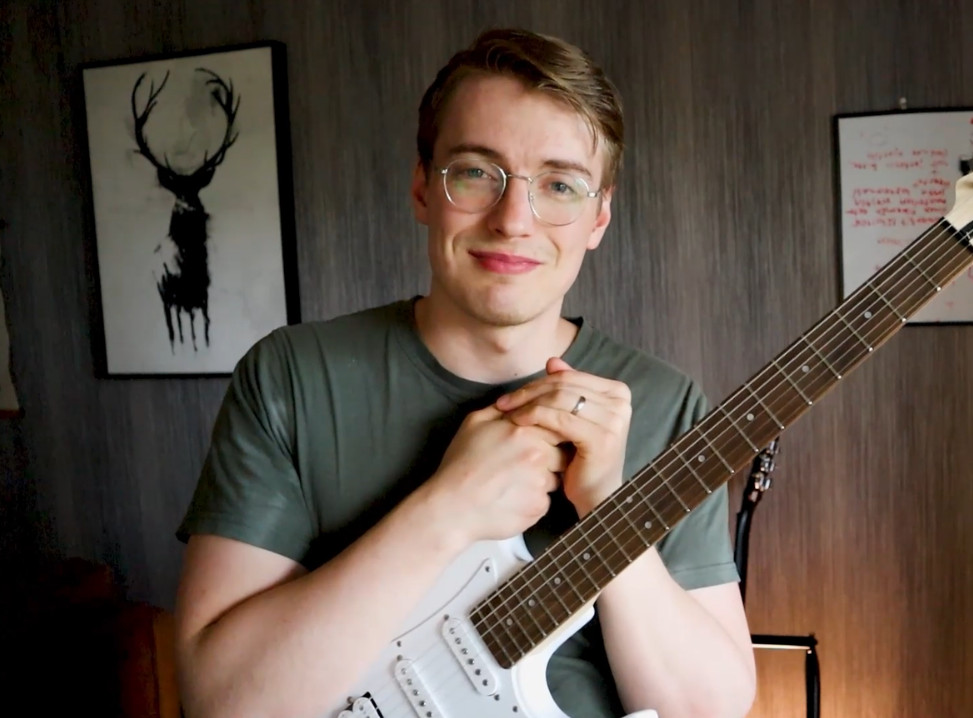 Author: Teemu Suomala
I first grabbed the guitar in 2009. I started this website in January 2020 because I couldn't do window installation anymore due to my health problems. I love guitars and have played dozens and dozens of different guitars through different amps and pedals over the years, and also, building a website interested me, so I decided to just go for it! I got lucky and managed to get awesome people to help me with my website.
I also got lucky because I have you visiting my website right now. Thank you. I do all this for you guys. If you have any recommendations, tips, or feedback, just leave a comment, I would love to chat with you. I have also been fortunate to produce content for several large guitar websites, such as Songsterr, Musicnotes, GuitarGuitar, and Ultimate Guitar.
I spend my spare time exercising and hanging out with my wife and crazy dog (I guess that went the right way…).
Hide The Rambling▲
---
The Review
Summary (If you are in a hurry)
The Line 6 Spider V 60 is a feature-rich practice amp for beginners and more experienced players too. The vast collection of presets and a built-in looper make it stand out among the crowd.
The drum and riff loops make it a great practice/jamming buddy, and endless presets make it well-equipped for handling various genres.
Overall, if you need a powerful and super fun-to-use guitar amplifier, the Spider V is certainly worth considering.
Check Today's Price on
---
Watch the full review:
Our Favorite Music Store in The World!
Why?
– Excellent Customer Service (4.7/5 Trustpilot Score)
– Fast & Free Shipping
– Gear is Inspected, Tested, & Ready to Play When it Arrives to You (We love this)
– Fair Prices
Visit Sweetwater:
Line 6 Spider V 60 MkII Spe1cs and Dimensions
| | |
| --- | --- |
| Power: | 60 Watts |
| Amplifier-type: | Solid-State with Modeling |
| Speaker: | 1 x 10″ Woofer, 1 x Tweeter |
| Channels: | 1 |
| Controls: | Tuner, Metronome, 60-second looper, Relay wireless receiver |
| Effects: | Over 100 Effects Models including Wahs, Modulations, Delay, Reverb, Distortions, Filters, Synths, etc. |
| Inputs: | 1 x 1/4″, 1 x 1/8″ (aux in), 2 x USB Ports, Footswitch Pedal, AC Adapter in |
| Outputs: | 1 x 1/8″ headphones |
| Weight: | 20.5lbs (9.3kg) |
---
Look, Feel, and Build Quality
The Spider V looks fantastic right off the bat!
You're bound to fall in love with the high-quality cabinet coverings all around and sleek vinyl on top.
It feels sturdy and is bound to trick you into believing that it's a much more expensive amp.
In my opinion, the Spider V looks even better than some of the other electric guitar amps I've reviewed such as Fender LT25 and Katana 50. It's also slightly larger than them.
A guitar amp this size must have a solid handle. The handle on the Spider V is large and feels firm when you hold or lift the amp.
At over 20 pounds, it's not meant to be a portable amp, but having great construction and a sturdy handle is always a plus.
Flip the amp to its backside and you see a chock-full of I/O ports. Again, you'll find that the ports and buttons are arranged nicely and add to the modern look of this amp.
Unboxing:
Features
There's a lot to talk about here, so I'll split the main features of this amp into three sections:
control panel,
looper,
presets,
and Spider V Remote
Control Panel
Line 6 has kept the appointments to a minimum, and I really liked the approach.
All the tone-shaping and FX is done through 5 knobs. To toggle between the amp and effects settings, simply press the AMP & FX buttons besides the display.
In the amp mode, these knobs control:
Bass
Mids
Treble
Volume
Once you activate the FX mode, you can use the same knobs to control various effects.
The best part is that you can change the pedals assigned to these knobs, simply by clicking the Edit button provided.
You get to choose from loads of different effects, including delay, distortion, compressor, wah, modulation, etc.
This by itself is enough to keep you hooked for hours on end. I'm sure you'll have a lot of fun fiddling with the effects.
Looper
Let's talk about my favorite thing about this amp – the looper!
The 60-second looper works exactly as you would expect, but we do have a bit more going on here.
You get three modes: Demo loops, Drum loops, and finally, a Manual looper.
The demo riffs and drum loops come preprogrammed, and you can choose from 4 demo riffs and a bunch of drum loops sorted by genre.
But the manual mode is where it gets really funky!
To start the loop, you press the loop button and the amp will record the section you play. Once you finish playing the looping part, press the play/pause button to loop the segment.
You can also press the loop button once again to overdub, or twice to stop looping.
Quite simple, isn't it?
It is, however, it might take a few tries before you can get the timing right with the controls. If you've used a looper before this shouldn't be a problem.
Presets
The Spider V really has hundreds of presets. To make things easier, all navigation is done through a single Rotary/Push Button knob in the center of the front panel.
Not only that, you can modify every single preset provided, just like the FX. Simply press the Edit button and it'll open endless possibilities for your sound.
The presets range from basic ones like Clean, Crunch, and Brit J's to dozens of funky modulated sounds to finally, artist presets.
So, if you want to sound like:
Jeff Loomis
Bill Kelliher
Vernon Reid
You know the amp to look out for!
Have look at the complete out of the box presets list:
But don't fall into the marketing trap. Apart from a severak good ones, there are lots of presets that are simply useless. They don't get much play time for me, and I don't think they're of use to most other players either (unless you want to sound like an alien invasion).
Still, having some great done-for-you sound options is nice. Plus, you get even more sounds and customizability with the Spider V Remote app that's included with the amp.
Connectivity of the amp: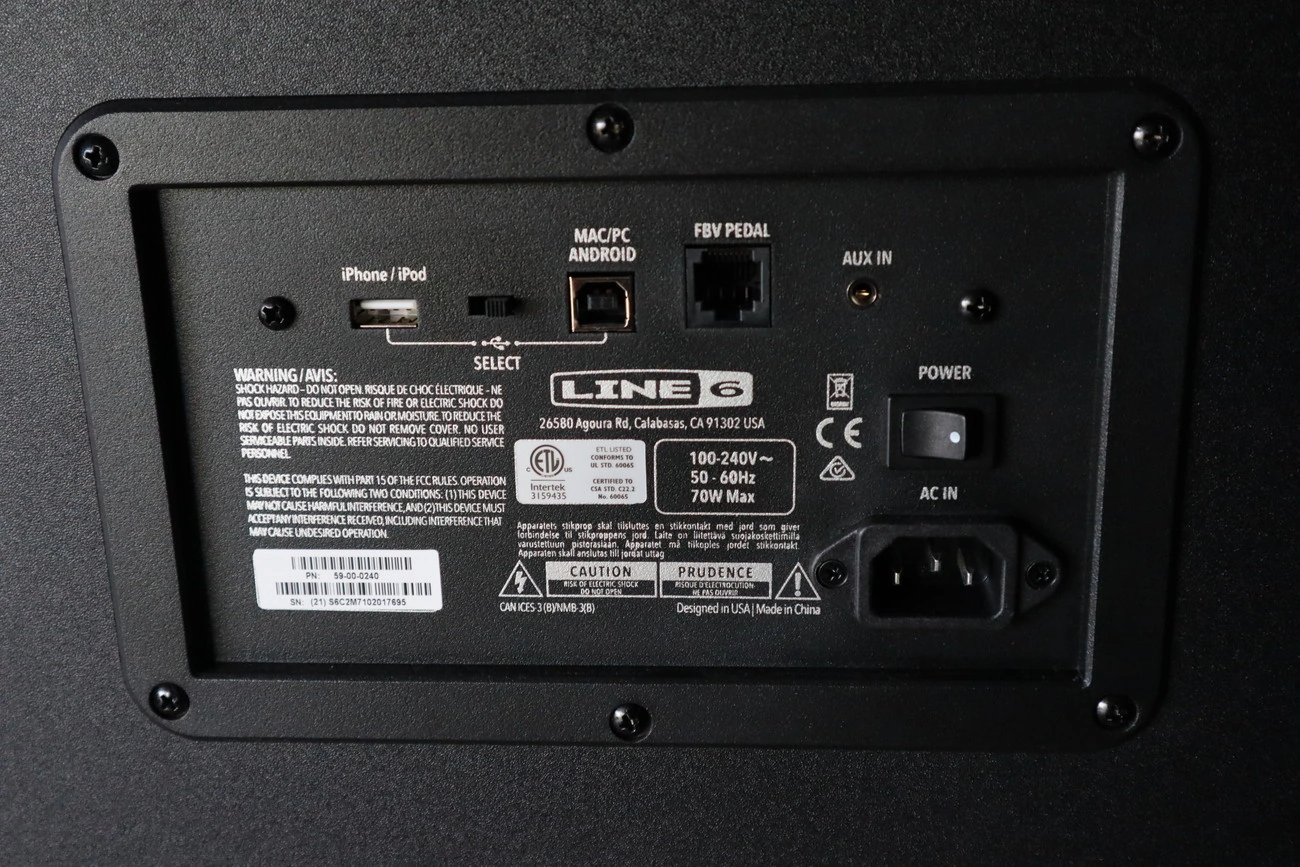 Spider V Remote
There is no denying that the Spider V Remote app is cool and makes things interesting. But how much you should let the amp affect your decision?
First, a couple of photos:
There is a ton of different amps and pedals to choose from. I can't deny that you can customize your tone a lot. And it's actually quite fun.
Amp is easy to use and works well especially with PC. Everything worked smoothly for me.
I personally like that there is no Bluetooth connection. I've had Line 6 Amplifi for 8 years and its Bluetooth connection has not been very reliable. Of course, the Bluetooth connection of amps nowadays is a bit more reliable than with my 8-year-old amp, but not amazing.
You can also save your own tones, and search the done-for-you presets from the cloud. This enables you to search presets made for specific songs or genres for example. And for me, this has been gold. Some presets made by others are really good.
Is the app perfect?
No. Some amps and pedals don't bring much to the table. They
sound really close to each other
don't sound good(subjective)
don't sound like the gear they should be modeling.
And also a huge selection of gear can make things a bit overwhelming, and most of the gear will probably go unused for the majority of the users.
But still, Spider V Remote is really workable tool.
It can make practicing more fun
there is tons of different gear to choose from
it enables you to craft good-sounding tones
the done for you presets in the Cloud make playing your favorite songs fun.
You can also use it with a phone/tablet app, but you need to use cable with that method too.
I would rate the Spider V Remote app 4/5.
Usability
For an amp that's loaded with so many features, the Spider V is actually relatively simple to use.
And the reason for that is clear:
Color-coded 5-knob setup that controls all the amp types and effects.
Straightforward looper controls.
Good-sized LED display to guide your way through all the settings and presets.
A copy of Cubase AI is included with the amp for out-of-the-box recording capability.
You can't make it simpler than that.
Of course, it'll take more time to get used to than other amps that don't have tons of presets or fancy looper features. But it's still beginner-friendly in my opinion.
One little problem I've found is that the power switch at the back can be a minor inconvenience. Why couldn't have they put it in the front? Or maybe I'm just lazy.
Sound
Check the sound demo:
After reading all the praise about the features, you must be expecting the same for the sound.
I'd like to break it to you, but sound is not this amp's strong point. But when I say 'not strong' I don't mean weak.
First, let's talk about the Clean tones.
The cleans on this amp sound okay. I did notice a lack of fullness and richness in the cleans.
If you watch my video comparing this amp with the Mustang LT25 and Boss Katana 50, you can definitely hear that both the Fender and Katana 50 sound much more natural and full.
This might be the result of too much processing and digital modulation going on in the Spider V.
I don't think the cleans are bad. Some of the clean presets are quite beautiful and can really spice up your playing.
But the good bits end as soon as you enter the distorted territories.
I found the crunch and heavy gain tones to be lackluster, a bit over-modeled to be precise.
There's a distinct lack of clarity and too much compression. To me, it sounds almost as if I'm listening to a digital recording or an old tape.
Again, the Boss Katana and Mustang LT25 blow this amp out of the waters when it comes to high-gain sounds.
Except for a few artist presets, the distorted sounds are average at best for this price point.
Overall, if you're looking to buy an amp for its sound, I don't think this is the best option for you. I'd only recommend the Spider V for people who need a massive pile of presets that are also customizable, or if you like the digital-sounding tones of it.
Here's a graph that reveals what this amp can handle in my opinion:
Value for Money
Line 6 has priced this amp just above $300, which makes it quite a bit more expensive than amps like Boss Katana 50 and Fender Mustang LT25.
But is the extra cost worth it?
Let's see:
Amazing build quality with probably the most attractive looks of the bunch.
A looper with pre-built drum loops and demo riffs that you won't find on most other amps in this budget (these make it a perfect standalone practice amp).
Insane amounts of presets and effects for plug-and-play functionality.
Easy access via smartphone/PC with the Spider Remote app.
Good, but not great sound (although the presets and effects make it fun to use).
I think the price is absolutely justified!
Overall, the Line 6 Spider V gets a double thumbs-up for its features. The presets, metronome, visual tuner, and looper are fantastic inclusions.
Purists who need the 'cleanest' cleans and 'dirtiest' distorted tones will find better value alternatives at a similar and even lesser price.
But apart from that, it's hard to find faults with this amp. I think the amp is easily worth $300 for the right person.
Verdict
The Line 6 Spider V is not an amp for purists. It just sounds too digital to my liking.
If you need the best tones out of your amp, you'll be better off investing your money elsewhere.
Not to say that it's bad, but you can certainly get better sounding amps at lower prices.
Where this amp does shine, though, is definitely the features and the colossal collection of presets.
If you care about having a built-in looper, metronome, and endless tone-shaping possibilities, then this Line 6 amp is ideal for you.
Think about it, no additional looper pedals required, no digital software needed for presets, no drummer buddy needed to jam with (Ok, I'll stop now!).
But unless you care about all the bells and whistles on the Spider V, I'd suggest checking out the alternatives discussed below.
Check Price on:
---
FAQs
Are Line 6 Spider Amps Good?
Line 6 amps don't sound the best, but they're feature-rich and built extremely well. However, the additional features do come with added cost, which might not make them the best value for everyone.
If you're a new player looking for a solid practice amp and don't care much about having the absolute best sound, Line 6 Spider amps will be a great option for you.
Is Line 6 Spider V a Solid State Amp?
Yes, the Line 6 Spider V's are solid-state modeling combo amplifiers.
How do I Connect Line 6 Spider V to my Computer?
With the Line 6 Spider V, you can connect your PC via the USB port provided at the back. Keep in mind that it's an older USB 2.0 Type-B port so you'll need the appropriate cable.
The same port will be used to connect Android phones and Mac devices. For iPhone and iPad, a Type-A USB port is provided, which is more convenient.
How do you Record on Line 6 Spider V?
Recording with the Line 6 Spider V is easy. Simply connect your Spider V to your Mac/PC/smartphone via USB and the amp will act like a soundcard. You can then use any recording software or DAW to record and shape the sound.
Not only that, if you get the Spider V 120 or above, you can use the direct output to use studio monitors or other speakers.
---
Alternatives
Fender Mustang LT25 – Best Beginner Amp Under $200
If you're a little tight on budget, then close your eyes and blindly (not literally!) go for the Fender Mustang LT25.
Seriously, I mean it!
For almost half the price of the Spider V, you get a MUCH better sound, which is quite surprising.
It's also easier to use, with lesser effects and presets (most of which are great). If you need more tone options, you always have the Fender Tone app which I really like.
Sure, it might not look as fancy as some other amps, but there's nothing coming close to this Mustang as far as sound is concerned.
Check my Fender Mustang LT25 Review here.
Check the latest prices on:
---
Boss Katana 50 MkII – Best For Most Players
Boss Katana 50 MKii was used in this video.
Boss Katana 50 is an even better option than the Fender LT25 for those who have a little more cash to spend.
This amp offers:
Beginner-friendly usability
Loud, rich, and room-filling open-back sound
Powerful distorted sounds for heavy metal
In fact, I can easily recommend this amp to most beginner/intermediate players.
It's an extremely versatile amp, with phenomenal sounds ranging from acoustic-electrics to modern high-gain tones.
Check the latest prices on:
---
VOX Adio Air GT – Best Desktop Amp From Same Price range
Now if you're looking for a stylish and portable desktop amp that also sounds great, look no further than the VOX Adio Air GT.
In my opinion, it's incredibly versatile thanks to 11 different amp models and the massive 50-Watts of power.
Besides that, you also get:
Stereo speakers (3") and impressive power (50W) for its size
Bluetooth connectivity for wireless playback
Battery-powered operation
Good amount of effects: Phaser, Chorus, Tremolo, Reverb, etc.
It's definitely not a perfect amp. You will compromise on some sound quality to make up for the power, portability and features.
Other than that, the Adio Air GT is a solid choice if you want to show off your skills during a vacation trip or need a portable amp to take with you wherever you go. It's an excellent small modeling amp.
Check the latest prices on:
---
Conclusion
This brings my Line 6 Spider V review to a close. We talked about it's sound, features, looks and the overall value for money.
We also discussed who this amp is best for. So hopefully, you've decided if you want to go with this amp or not.
If you do, don't forget to let me know how it turns out.
Thanks for reading!
You might also like:
We are sorry that this post was not useful for you!
Let us improve this post!
Tell us how we can improve this post?