Last Updated on April 29, 2023 by Teemu Suomala
Marshall's MG series sells in big numbers and these amps are a really popular choice for beginners. But that's not enough reason for YOU to buy it.
That's why I bought this amp at the start of 2021 and tested it for 20+ hours to find out whether this budget amp is worth your money.
I played every clean and distorted tone Marshall had squeezed in it, messed around with all the effects, and even broke my amp in the process (Sigh!).
Here's everything I found out summarized in this Marshall MG15FX review.
Check the results of my under $200 electric guitar amplifier test here.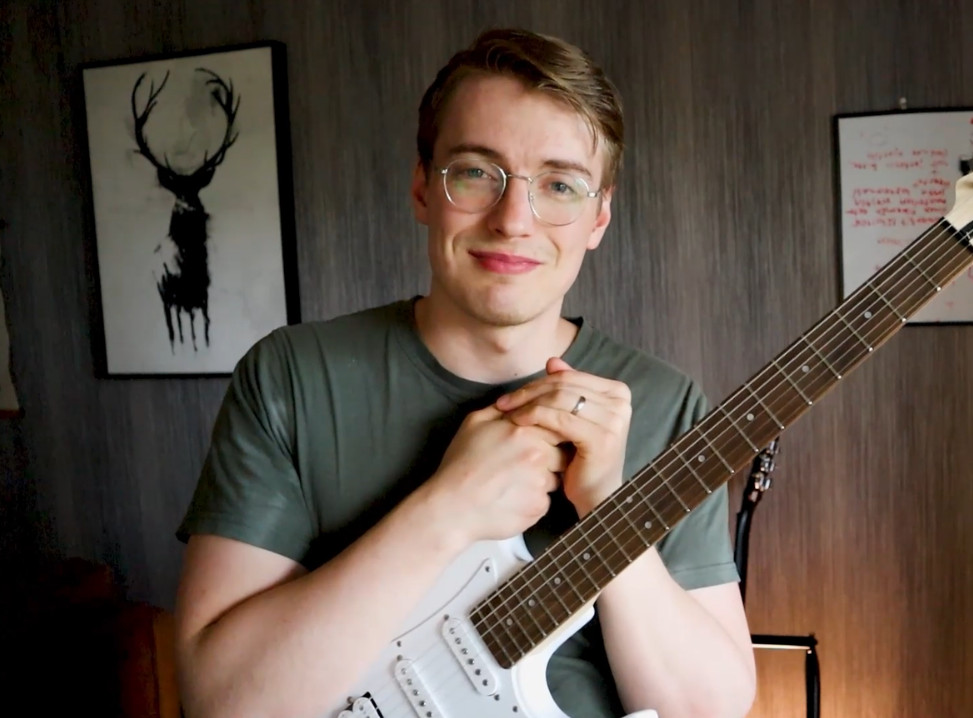 Author: Teemu Suomala
I first grabbed the guitar in 2009. I started this website in January 2020 because I couldn't do window installation anymore due to my health problems. I love guitars and have played dozens and dozens of different guitars through different amps and pedals over the years, and also, building a website interested me, so I decided to just go for it! I got lucky and managed to get awesome people to help me with my website.
I also got lucky because I have you visiting my website right now. Thank you. I do all this for you guys. If you have any recommendations, tips, or feedback, just leave a comment, I would love to chat with you. I have also been fortunate to produce content for several large guitar websites, such as Songsterr, Musicnotes, GuitarGuitar, and Ultimate Guitar.
I spend my spare time exercising and hanging out with my wife and crazy dog (I guess that went the right way…).
Hide The Rambling▲
---
Marshall MG15FX Review
Summary(If you are in a hurry)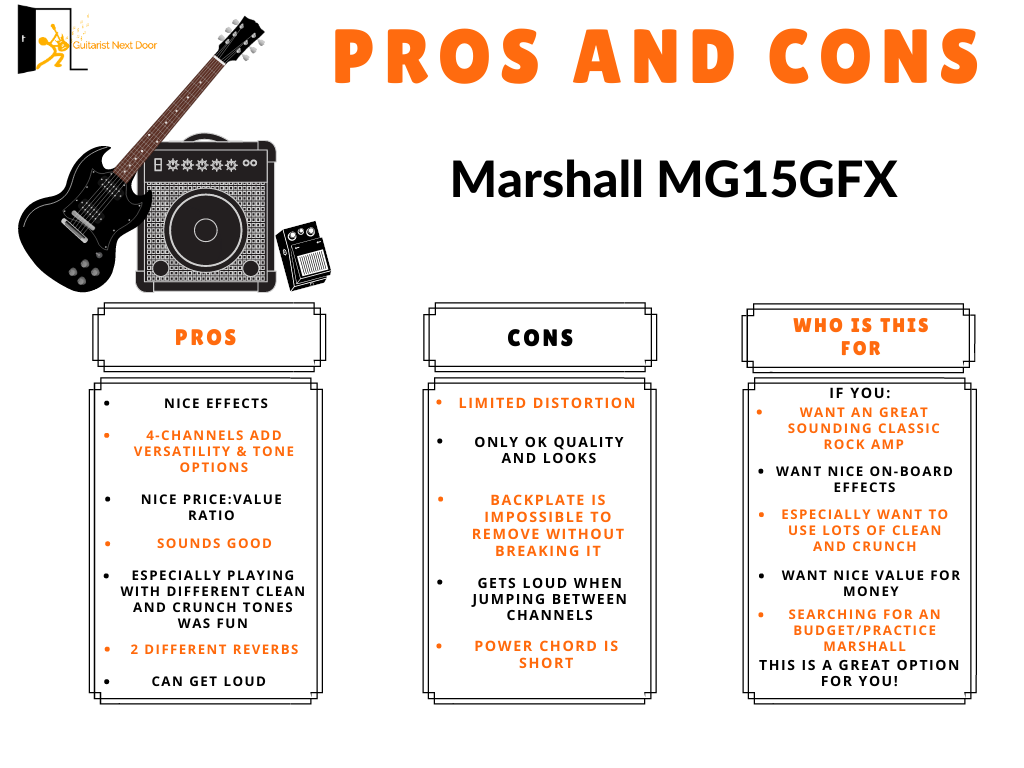 The Marshall MG15FX is a great budget amp for classic rock. It can handle clean and crunch tones well, heavy distortion not so much.
It's not the best-looking amp at this price, but it has plenty of features and straightforward usability to compensate for that.
So overall,
Great features for a budget solid-state amp
Easy-to-use effects make it a solid beginner/practice amp
Excellent value for money
Well-equipped for Marshall fans.
Check Today's Price on
*Consider all links in this post to be affiliate links. If you purchase, at no additional cost to you, we may earn a small commission. It helps us to keep the lights on, thanks! 🙂
---
You can watch my full in-depth video review of Marshall MG15FX too:
Our Favorite Music Store in The World!
Why?
– Excellent Customer Service (4.7/5 Trustpilot Score)
– Fast & Free Shipping
– Gear is Inspected, Tested, & Ready to Play When it Arrives to You (We love this)
– Fair Prices
Visit Sweetwater:
Marshall MG15FX Specs and Dimensions
| | |
| --- | --- |
| Power: | 15 Watts |
| Amplifier-type: | Solid-State |
| Speaker: | 1 x 8″ Custom Speaker |
| Channels: | 4 (Clean/Crunch and Overdrive 1/Overdrive 2) |
| Controls: | Gain, Treble, Middle, Bass, Volume, Master, Reverb (Studio & Spring), Tuner |
| Effects: | Reverb, Chorus, Phaser, Flanger, Delay, and Octave |
| Inputs: | 1/4″ Instrument Cable, 1/4″ Footswitch Jack, 1/8″ AUX-Cable, |
| Outputs: | 1/8″ Headphone-output |
| Weight (I measured this): | 15.87lbs (7.2kg) |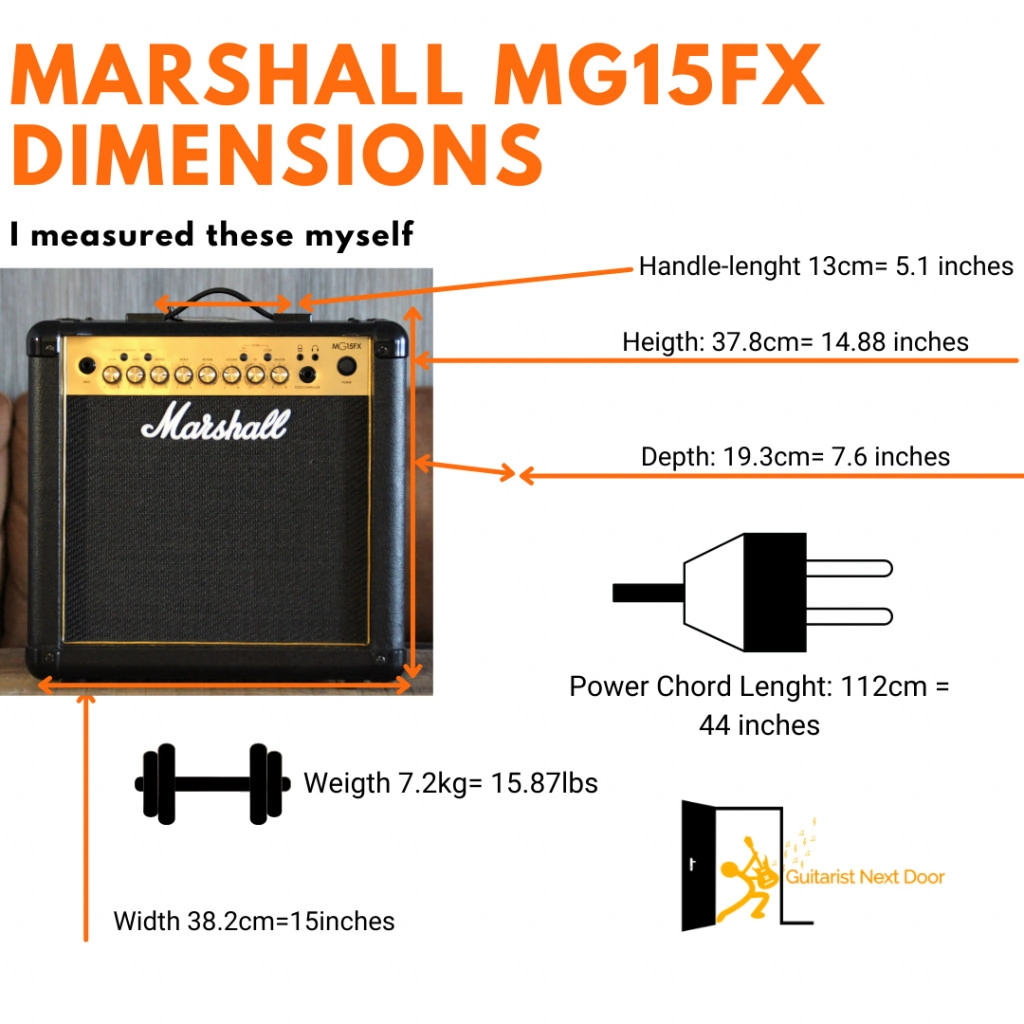 ---
Look, Feel, and Build Quality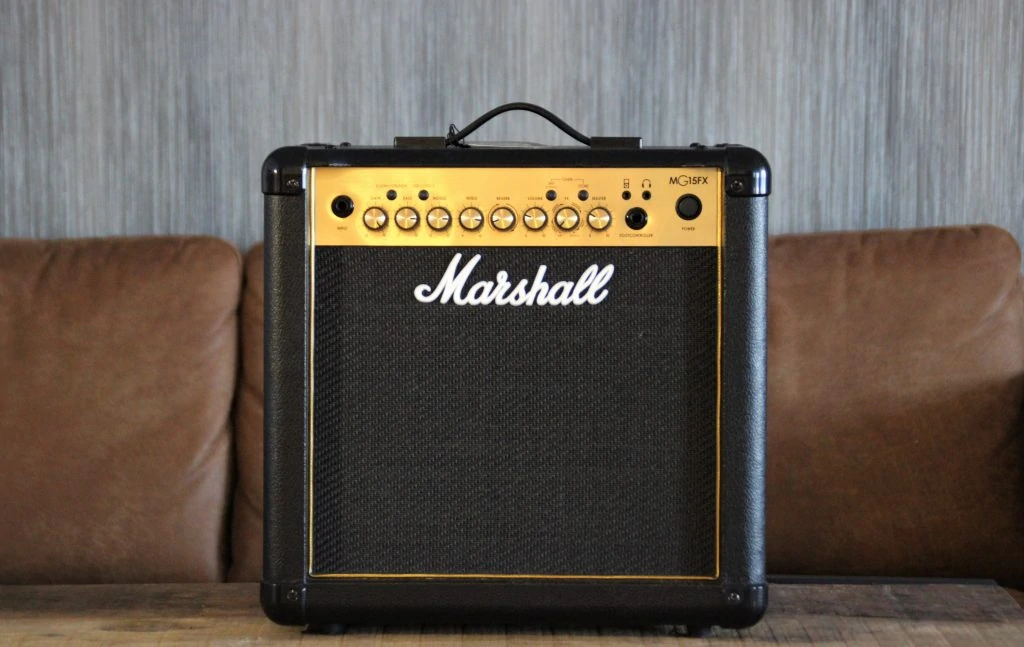 Marshall went for a "function over form" approach with this one.
The MG15FX won't win any awards for its looks, but it's a basic design that should work for most people.
The overall build of the cabinet itself reminds me of the Fender Frontman 10G that I reviewed not long ago – you can find the full review here.
It's good but not great. Marshall has no intention of making it look like a 'more expensive amp,' which is totally fine.
The control panel is right at the forefront of the amp, however, looks gorgeous! It's certainly my favorite thing about this guitar amplifier in terms of looks. I wouldn't be surprised if Marshall borrowed the design from one of their premium amps.
But there's one place where it did feel cheap, at least during my testing.
The backplate is super-fragile and can barely take a hit or two. It literally chipped from where the power cord comes out when I tried to open the back of the amp. Some noticeable cost-cutting there. So replacing the power chord, for example, is probably impossible without breaking the backplate.
You'll find nicer-looking electric guitar amps under $200, but this Marshall is certainly not a bad one!
Features
Let's talk about all the features and functionality you get with this amp.
Beginning with the front panel itself, you have:
4 channels, but only two buttons for switching between them. One for the Clean & Crunch channels, and the other one packs Overdrive 1 & Overdrive 2.
A Gain knob to boost the signal before it enters the FX chain, followed by a 3-band EQ (bass, middle, and treble) to shape the tone as you like.
A dedicated reverb knob, a volume knob followed by the FX section (more on the FX later).
A tap-tempo button which also serves as the chromatic tuner.
Lastly, you have the option to store your favorite presets with a single button that sits right beside the tap-tempo button.
You get a slew of nice features for the price, so if you like to have different sorts of tones (clean, crunch, or dirty) within your reach, the amp can give that easily.
There is one minor drawback I noticed with its implementation, and you might have already noticed it.
All the effects are cramped into one single knob. This makes it difficult to dial in the FX in precise amounts.
But apart from that, I think the Marshall MG15FX has a strong feature set for a budget solid-state.
Talking about the inputs and outputs, the amps offers:
1 x 1/4″ instrument cable input
1 x 1/8″ headphone jack to have practice sessions without waking up your neighbors.
1 x 1/8″ Aux input to jam with your favorite songs or backing tracks
Option to plug in a foot controller.
Overall, the MG15FX has everything a beginner will need from this amp, and then some. I really liked the versatility of having four channels and the convenience of simple-to-use effects.
Effects of Marshall MG15GFX Explained
This little boy comes packed with a total of 6 effects, which is a great amenity for beginners who might need it.
You don't have a lot of options for tweaking & tinkering with the effects, but they're still nice to have in a lightweight amp like this. Here are all the effects you get:
Reverb
I'd almost certainly expect a dedicated reverb module on a $200 amp, and the MG15FX delivers the same.
You get two reverb modes on this one. Firstly, studio reverb, which is akin to what you get typically in most amps. A modern, dense sound that emulates an ambient character.
Secondly, the spring reverb gives a vintage-inflected 'twangy' sound. I do like both of them, but I tend to use the spring reverb more just because of its old '70s and '80s rock sound.
Chorus
Chorus creates multiple copies of the original signal and detunes them. It adds depth to the sound and really brings life to your playing.
I personally use chorus a lot, both with clean and crunch leads/chords. It just makes your playing more interesting than without it.
Phaser
Technically speaking, the phaser adds an out-of-phase signal on top of the original signal, creating a swirling effect and adding some movement to the sound.
But I don't think this amp did justice to the effect, it's very similar to the chorus. I couldn't tell the difference between them, but maybe you might notice it more.
Flanger
Flanger is again a combination of delay and modulation, but here the delay time changes continuously.
Due to this time variation, you get the same character as the chorus but with added movement to the sound (a "wobbly" effect as you can hear in the video).
The flanger effect is definitely noticeable as opposed to the phaser. It's nice to have, but I still mostly use the chorus during practice sessions.
Delay
Delay finds a lot of use for myself and many other players. It's basically echo, i.e. copies of the original signal played after short time intervals.
Since everything is jammed into one single knob, you don't get controls for time or the number of repetitions.
What you DO get is the Tap tempo button which you can use to set the delay time. Nothing fancy – but good enough to add some spice to your practice sessions.
Octave
Finally, you get the octave effect which lowers the pitch an octave, and plays that with the original signal.
This makes it sound like there's a second guitar or bass playing with you, and I find it extremely fun to use at times.
Again, you don't get to choose the direction of the shifting (up or down an octave), but that's asking for too much at this price.
Sound
Sound is where it gets a little complicated.
While having so many features and effects add lots of versatility, the overall tone itself of the amp is nothing exceptional.
It sounds too basic without the effects, even somewhat boring in my opinion, which kind of entails fiddling with effects all the time to get a good sound.
But it's definitely not unusable.
With some reverb and chorus, I think you can get some interesting clean tones out of it. Great cleans for jazz and rock.
I also liked the crunch channel for classic rock and blues. With a bit of gain and FX like reverb/delay, you can get it to a sweet spot for that energetic classic rock and exciting bluesy sound.
But is this the same Marshall sound that changed the sound of music?
Perhaps not.
What about distortion?
The Overdrive 2 is supposed to give you that dark growly metal texture, but I found it to be tolerable for OG metal or some '90s alt-rock at best.
Maybe some '80s Metallica would sound good on it, but anything newer or heavier it just couldn't push it to where I wanted to be no matter how much I cranked up the knobs.
So I decided to throw a Behringer Ultra Metal UM-300 into the mix to find out if you get some mean metal tones out of this amp.
THE RESULT???
Check the video out:
The distorted tones now enter the beginner-thrash-metal territory (is that a thing?), but it's nothing game-changing. But dare I take the gain too high, all I could hear was a "swarm of bumblebees."
It's a tiny margin to go from somewhat articulate to too fuzzy. If you plan to use the MG15FX as a metal amp, try not to push it beyond moderate distortion if you need a good lead metal sound.
Here's a graph that reveals what this amp can handle in my opinion:
Value for Money
I've tested a lot of budget amps, and I think the Marshall MG15FX packs just enough punch to justify its price tag.
I wouldn't say this amp is the BEST in any department, but it certainly is decent as an overall affordable beginner amp package.
You're getting:
A total of 6 built-in effects (including reverb) which are great for practicing and getting different clean, crunch, and distorted tones without much effort.
Four channels for more versatility
Great classic rock and blues tones
Chromatic tuner, and
True-and-tested Marshall quality and support
All of these definitely make this Marshall amplifier a good option for an affordable amp.
Verdict
You are getting a lot for the price with the Marshall MG15FX. But is this the best amp under $200?
Not really!
It struggles with heavy tones particularly, and even clean tones are not very exciting without the effects. But once you kick in the effects, you can get some cool classic rock and blues tones out of it.
If you're a beginner looking for some cool effects to fiddle with without having to spend hundreds of dollars on pedals, this amp is perfect for you.
At the end of the day, there are definitely better amps for the money. But features and effects are its saving grace in my opinion.
Check the latest prices on:
---
FAQs
Are Marshall MG Amps Good?
Marshall MG amps are good but not great in my opinion. They are meant to be decent solid-state amps for the money. But you can definitely find more versatile or better-looking amps than the MG series.
But they're reliable amps that sound good for the price. The clean channels are pretty good, different from others for sure. Besides that, you also get some nice digital chorus, reverb, delay, etc. effects on these amps.
Is the Marshall MG15FX Good for Metal?
You can get SOME classic metal tones out of it, especially if you throw in a cheap metal distortion pedal. But if you need an amp solely for metal, this won't cut it.
Heavy distortion tones on the MG15FX lack clarity and are too fuzzy, so don't expect this to hit those growly, mean metal territories very well.
How Do You Use the Tuner on a Marshall MG15FX?
The tuner on the Marshall MG15FX only functions if you get Marshall's optional footswitch.
Once you have the footswitch, press the "Tap/Manual" and "Store" buttons together and hold both of them until it activates the tuner. The LED light will turn green or red depending on whether you're in tune or not.
Alternatives
Fender Mustang LT25
The Fender Mustang LT25 is one of my favorite amps under $200, and is my go-to recommendation for beginners who need:
Amazing tones
Versatility while still being easy-to-use
30 out-of-the-box presets which are also user-customizable
Lots of effects, like A LOT! The LT25 offers 25 digital effects, and with the Fender app, the possibilities are almost limitless.
I often like to call it THE best amp under $200. It's just that good.
Check the full review here!
Check the latest prices on:
---
VOX Valvetronix VT20X
This little beauty from VOX is ideal for people looking for as close to authentic tube tones and endless tone choices with the VOX Tone Room Software.
It sounds pretty amazing, even comparable to much more expensive amps. Plus, I find it suitable for a variety of genres – Jazz, Hard Rock, Blues, Classic Rock, and even some Metal.
It's not the best option for a complete beginner due to the confusing settings in the VOX software. But if you're looking for some added versatility and complete control over your sound, the VT20X is a solid choice.
Check the latest prices on:
---
Orange Crush 20RT
And finally, my favorite amp for classic rock tones under $200. Even the cleans are great on this one.
I would recommend the 20RT if you:
Want a great solid-state alternative to the Marshall
Want an Orange amp
Like the rock tones of Orange more (I do)
Need simple usability.
If I had to pick just one between Orange and this Marshall, I'd personally go with the Orange.
Want to find out why? Check out my full review here.
Check the latest prices on:
---
Conclusion on Marshall MG15GFX Review
I'll give the Marshall MG15FX high marks for its feature-set and value for money.
It doesn't have a bunch of bells and whistles like the Fender Mustang, or the looks of VOX VT20X, but it's still a good practice amp with great clean and classic rock tones.
If you need a good feature-set, effects, and particularly a cheap solid-state amp, the Marshall MG15FX can be a great option. But if you need fancy looks or an amazing tone as is, look elsewhere.
And if you decide to buy this amp, be sure to let me know if you like it in my YouTube comments section.
Thanks for reading!
You might also like:
We are sorry that this post was not useful for you!
Let us improve this post!
Tell us how we can improve this post?