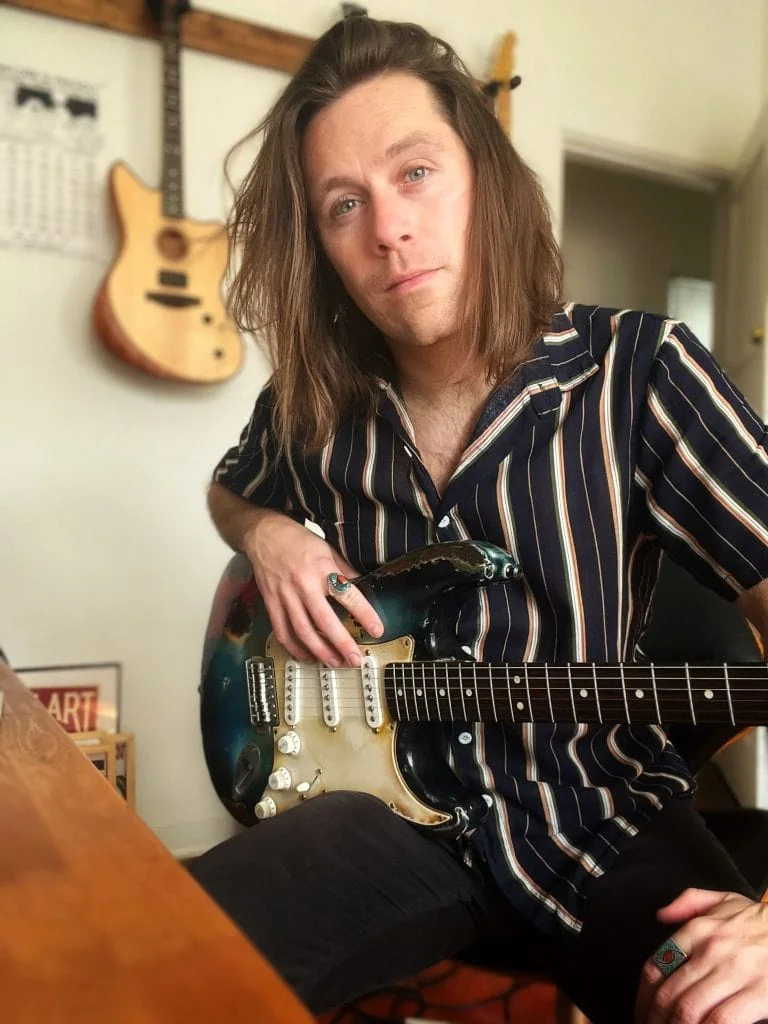 Tyler Connaghan
Title: Writing
Started Guitar Playing: 2005 (12 years old)
Writing About Guitars Since: 2019
Tyler Connaghan is a guitarist, singer, producer, composer & engineer based in Los Angeles, California. Tyler has been playing the guitar since 2007. In between writing for guitar publications, he produces music for film and television. His favorite axe is his custom Pelham Blue Fender Perfomer Stratocaster.
Expertise: music industry, producing, acoustic & electric guitars, songwriting
Bachelor of Science in Music Industry Studies, Music Industry
1. Highlights
Full-time writer, producer, and guitarist living in Los Angeles, CA
Bachelor's Degree in music from the University of Southern California in Los Angeles
Numerous music production credits in TV and film, including Disney, Vice, ESPN, and more.
2. Experience
I began touring and playing with various bands directly out of high school before attending the music program at the University of Southern California, where I learned everything about the music business.
It was around that time I discovered my love for music production, and after interning for various studios, including EastWest and Sony, I found myself at a boutique production studio in North Hollywood, CA, called Killingsworth Recording Company.
It was here that I'd plant my feet in the world of sync and create a career as a writer and music producer.
Beyond my work in TV and film, our studio developed DRAG: The Musical, which would turn into a month-long live show at the Bourbon Room in Los Angeles with stars such as Nick Adams, Joey McIntyre, and Alaska. The show, which I am one of the guitarists for, is set to travel abroad in the next year.
3. Education
Beyond my degree in music and my decade-long career as a producer and musician, I've long had a love for writing. I've written and developed content for several music and guitar websites, including eMastered, MusicRadar, Humbucker Soup, Mubert, Integraudio, and many more.
4. Favorite Gear and Current Guitars & Gear
Favorite Gear – Fender American Performer Stratocaster and Supro Keeley Custom 10
Current Guitars
Squier Classic Vibe 60s Thinline Telecaster
Gibson SG
Fender Acoustasonic
Fender Player Mustang Bass
Taylor 214ce Acoustic
Current Amps
Music Man Sixty-Five 212 Tube Amplifier
Kemper Profiler Stage
5. #1 Moment as a Guitar Player
Selling out opening night of the Bourbon Room for DRAG: The Musical in Los Angeles
6. Favorite Genres and Bands
Favorite Genres – Indie, Neo Soul, Country
Favorite Bands – Skinshape, Grizzly Bear, Skinshape, Emily King, Midland, The Beatles (DUH!)
7. Current and Past Projects & Bands
Current Projects –
Yukkon
Vinyl Motel
Joy Pageant
Past Projects & Bands
Tyler Playing:
Näytä tämä julkaisu Instagramissa
Tyler's Online Profiles and Websites:
---
Articles From Tyler Connaghan