Last Updated on August 18, 2023 by Justin Thomas
Comfortable and cool-looking body (usually smaller too ), paired with crisp & gnarly sounding P90s…sounds like a dream. That's how offset guitars with P90s are.
Because of my not-so-secret crush on offset guitars and P90 pickups, I was happy to gather the cream of the crop offset guitars with P90s into this article (unfortunately, there are not many of them). I also reveal the 2 best ones… and if you have any questions about these wonderful instruments or about guitars in general, check the FAQ section or leave a comment.
Let's get started!
By the way, about that Jazzmaster above…it doesn't actually have P90s…Here's the thing: Jazzmasters are usually not equipped with P90s. That's why you won't find any original-styled Jazzmasters from this article. I reveal some differnces between Jazzmaster single-coils and P90s later on this article!
You can find the top notch offest guitars with humbuckers from this article.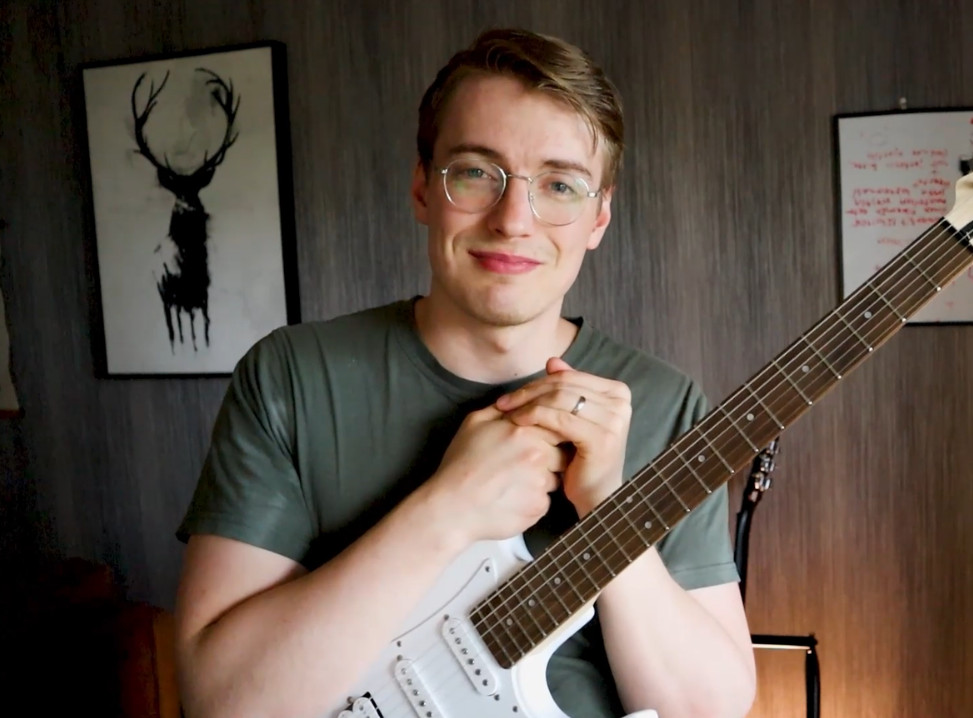 Author: Teemu Suomala
I first grabbed the guitar in 2009. I started this website in January 2020 because I couldn't do window installation anymore due to my health problems. I love guitars and have played dozens and dozens of different guitars through different amps and pedals over the years, and also, building a website interested me, so I decided to just go for it! I got lucky and managed to get awesome people to help me with my website.
I also got lucky because I have you visiting my website right now. Thank you. I do all this for you guys. If you have any recommendations, tips, or feedback, just leave a comment, I would love to chat with you. I have also been fortunate to produce content for several large guitar websites, such as Songsterr, Musicnotes, GuitarGuitar, and Ultimate Guitar.
I spend my spare time exercising and hanging out with my wife and crazy dog (I guess that went the right way…).
Hide The Rambling▲
---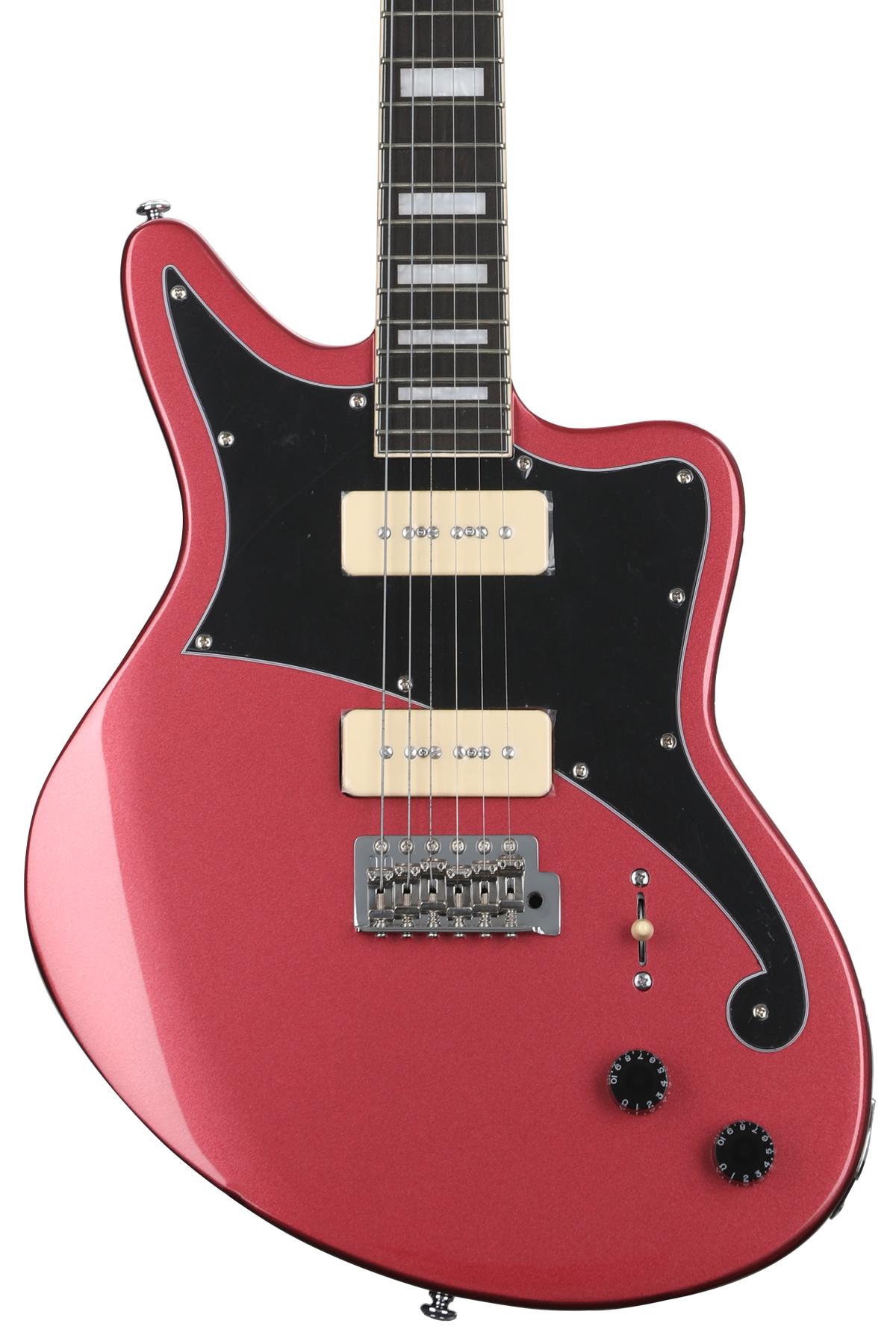 D'Angelico's Premier Bedford is one of the rare offset guitars with real P90s. Tonally it's a super versatile instrument, it's equipped with a comfortable C-chape neck, and the body shape fits most offset guitar lovers really well.
Note: Offset guitars with 2 x P90s are so rare, that I slipped 1 offset guitar with P90SP90 and 1 with P90H pickup configuration to this list in order to keep things interesting.
Price Range Icon Meanings:
$= $160-399
$$= $400-799
$$$= $800-1299
$$$$= $1300-1899
$$$$$= $1900-
*Consider all links in this post to be affiliate links. If you purchase, at no additional cost to you, we may earn a small commission. It helps us to keep the lights on, thanks! 🙂
| | | | | |
| --- | --- | --- | --- | --- |
| Model | Pickup | Body Style | Price Range | Check Current Price (affiliate links) |
| Harley Benton HB JA-60SB – Cheapest | 2 x Roswell JM AlNiCo-5 Vintage Style P90 Single Coils | Jazzmaster | $ | Thomann* |
| Harley Benton MR-Classic | 2 x Artec P-90 Alnico-5 vintage-style pickups | Strat-style | $ | Thomann |
| Fender Player Mustang 90 – Best Overall | 2 x Mustang P-90s | Mustang | $$ | Sweetwater – Thomann |
| Dangelico Premier Bedford | 2 x Duncan Designed P90-1 Single-coil | Dangelico Bedford | $$ | Sweetwater – Thomann |
| D'Angelico Premier Bob Weir Bedford | 2 x Seymour Duncan Designed Stacked P-90 Single-coil & 1 x Seymour Duncan Designed SC-101 Single-coil | Dangelico Bedford | $$$ | Sweetwater |
| ESP LTD Phoenix-1000 QM – Best Premium | 1 x Seymour Duncan Phat Cat Nickel P90 (has humbucker cover) & 1 x Seymour Duncan Custom Nickel Humbucker | Phoenix | $$$ | Sweetwater – Thomann |
| Suhr Classic JM S90 | 2 x Suhr S90 single coils (at least really close to P90s, doesn't have Jazzmaster single-coils) | Jazzmaster | $$$$$ | Thomann |
Our Favorite Music Store in The World!
Why?
– Excellent Customer Service (4.7/5 Trustpilot Score)
– Fast & Free Shipping
– Gear is Inspected, Tested, & Ready to Play When it Arrives to You (We love this)
– Fair Prices
Visit Sweetwater:
---
What About Jazzmasters?
Pickups of Jazzmasters look like P90s, but usually, they are not P90s. Most Jazzmasters are equipped with single coils designed to handle Jazz really well. Jazzmaster single-coils use weaker magnets than P90s, they don't have adjustable magnetic pole-pieces and the pickup itself is larger on the surface but shallower than P90. This thread post reveals more and this great video below by DylanTalksTone explains the differences between Jazzmaster single-coils and P90s:
---
2 Best Offset Guitars With P90s – My Favorites
Best Overall – Fender Mustang 90
What I like
Narrow nut width (1.65″), C-neck shape, and 24″ scale length make this axe really easy to play
Gnarly and hot P90 sound
Good quality electronics
The neck is really comfortable (especially good for short fingers and small hands)
Offers versatile and unique tones
Great axe for rock and punk music
Classic looks
What I don't like
Some action adjustments might be needed
Synthetic bone nut
Doesn't offer you either warm humbucker or spanky single-coil tones
Not my favorite option for metal
Who is it for?
If you are after high-value offset guitar with small & comfy body, versatile P90s, and solid quality, Fender Mustang 90 is a top-notch choice. It offers the best tonal qualities of P90s, is easy to handle for most players, and doesn't cost that much. The best guitar with P90s in my opinion.
Read the review here: Fender Mustang 90 Review
Fender Mustang 90 was recently selected as the best guitar with P90.
Check Today's Price on
---
Best Premium – ESP LTD Phoenix-1000 QM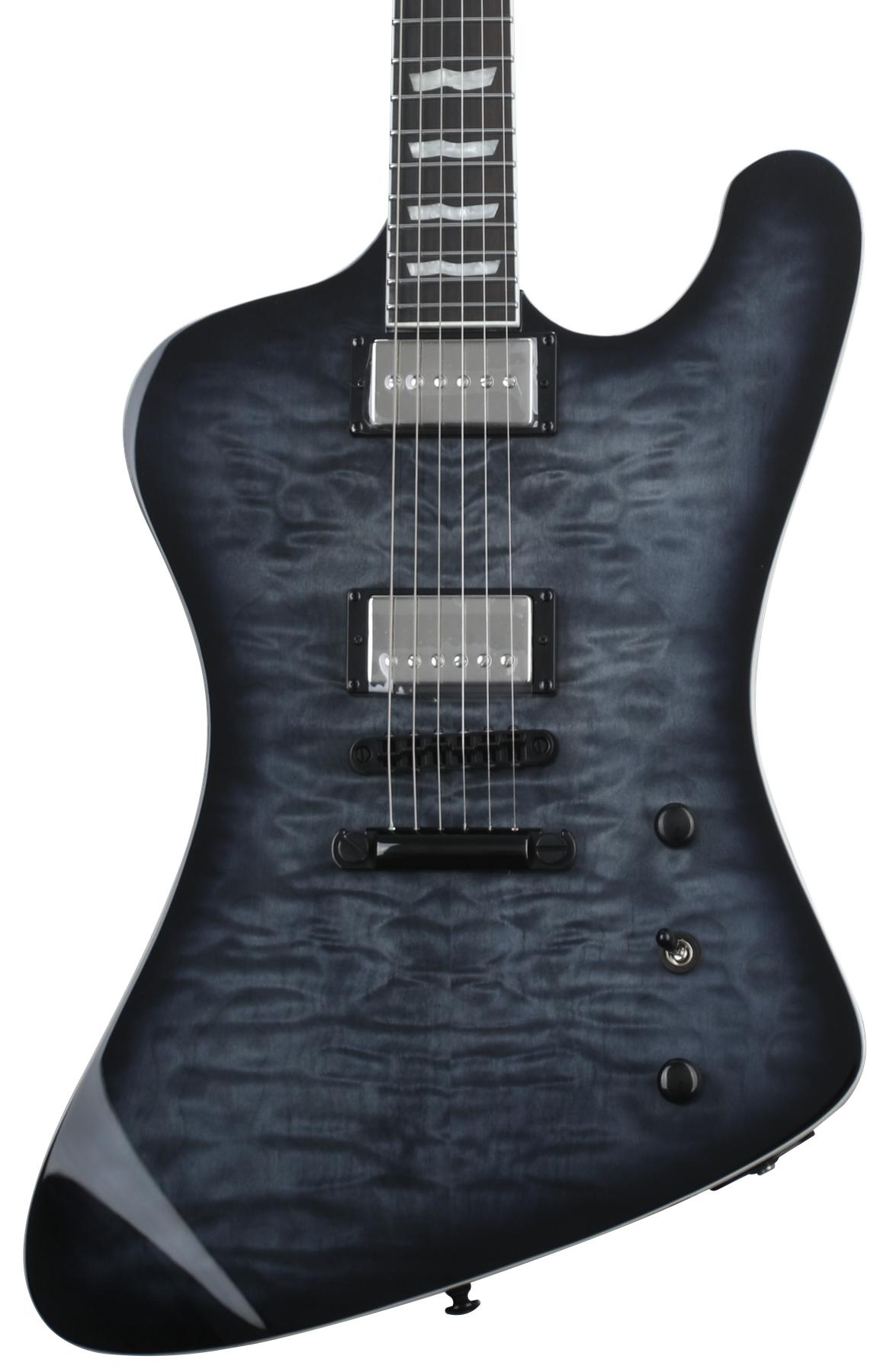 What I like
Seymor Duncan pickups offer mean, but still versatile sound
LTD Locking tuners hold the tune
Thin U neck is smooth to shred (my ESP LTD MH-400 has the same shape, it's great)
Premium quality finish and feel
What I don't like
Molded Plastic nut feels cheap for this price
Who is it for?
If you are after a premium-level offset guitar with a mean sound, versatility, and cool looks, ESP LTD Phoenix-1000 QM is a great option. The molded plastic nut is a bummer since it can decrease sustain and value (at least psychological). But if you replace that with Tusq or real bone nut, you got a real premium instrument in your hands. And even with the plastic nut, this is an excellent instrument. Its P90 pickup offers really hot tones and the bridge humbucker gives you a more balanced but still mean sound.
Check Today's Price on
---
FAQ
What Is An Offset Guitar?
Asymmetrical= having two sides or halves that are not the same : not symmetrical

Symmetrical=having, involving, or exhibiting symmetry
Offset guitars have asymmetrical body shapes. Typically offset guitars have an asymmetrical shape from the cutaways, to the waist, to the bottom end of the guitar's body.
Usually double-cut guitars, where the "horns" and cutaways have different sizes, are not enough to make the guitar an offset guitar.
Are Offset Guitars Easier to Play?
Offset guitars can be easier to play, but there is no such rule that offset guitars are always easier to play for everyone. The reality is that you have to test offset guitars to find out if the playability fits you.
But here's something that can also help you to decide…The pros and cons of the playability of the offset guitars below!
Pros
Most offset guitars have shorter scale length which reduces string tension and makes strings easier to press down.
Offset shape just fits some players(you have to test to find out).
Some offset guitars have a smaller body size that fits especially smaller players really well.
Cons
Offest shapes can feel alien to people used to playing guitars with more symmetrical bodies.
Short scale length and reduced string tension don't fit everyone(again, you have to test to find out).
Is A Stratocaster An Offset Guitar?
Even though Stratocasters have different-sized "horns" and cutaways, the body is otherwise really symmetrical from the waist to the bottom of the body. This is why Stratocaster is not considered to be an offset guitar.
Is The Gibson Explorer An Offset Guitar?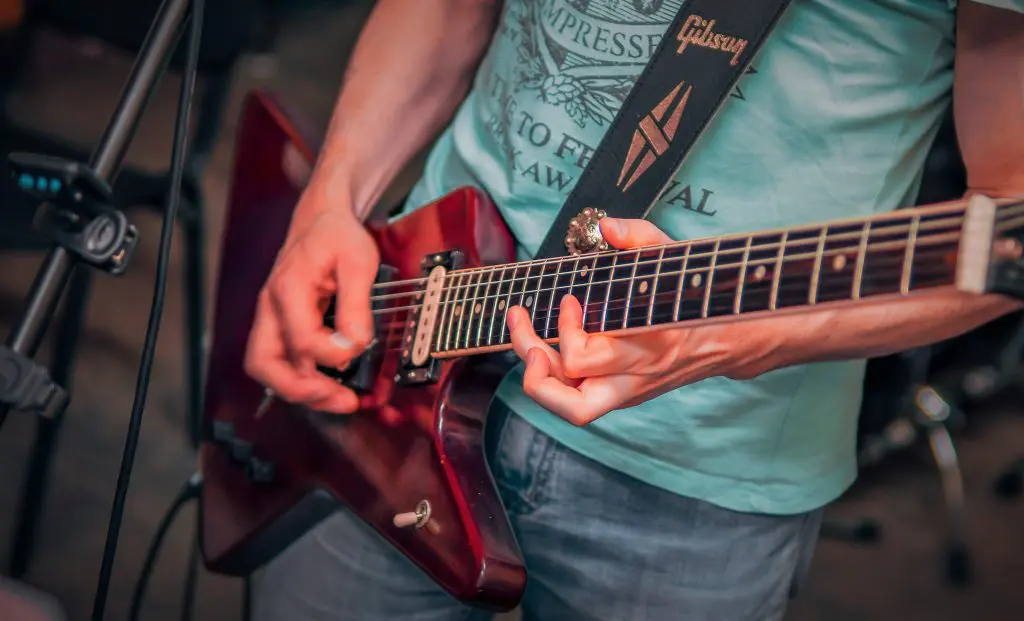 Gibson Explorer has an asymmetrical body shape from the top to the bottom. That's why it's considered to be an offset guitar.
Typical Offset and Non-Offset Guitar Shapes
Offset
Explorer
Firebird
Jazzmaster
Jagstang
Mustang
Jaguar
Non-Offset
Stratocaster
Les-Paul
Telecaster
SG
Flying V
ES-330
---
Conclusion on Offset Guitars With P90s
Offset guitars…oh I like them. Shorter scale length that they usually possess…and the offset shape…so comfortable and fun to play. And hit smooth playing offset guitar with P90s…that's just awesome. This article included some of the best guitars out there…there's always room for another offset guitar…
I hope this article helped you out, and maybe you even decided to get one of the guitars featured. If you have any questions, leave a comment, I and the GND team are here for you.
Now go, my son, and Rock!
You might also like:
We are sorry that this post was not useful for you!
Let us improve this post!
Tell us how we can improve this post?