Last Updated on April 29, 2023 by Teemu Suomala
Want to achieve amazing Orange tones on a budget?
Look, lots of super-successful artists use Orange to hit the jackpot with their tone. Artists like:
Steve Harris(Iron Maiden)
Jim Root (Slipknot)
Jimmy Page (Led Zeppelin)
Brent Hinds (Mastodon)
They have chosen Orange amps….but should you?
I bought Orange Crush 20RT a while back and spent several weeks with it. Played with. Tested the cleans, the crunch, and the distortion.
This post reveals all that I found out about this budget Orange amp.
Let's find out if Orange Crush 20RT is the right amp for you!
Check my full under $200 guitar amps test here.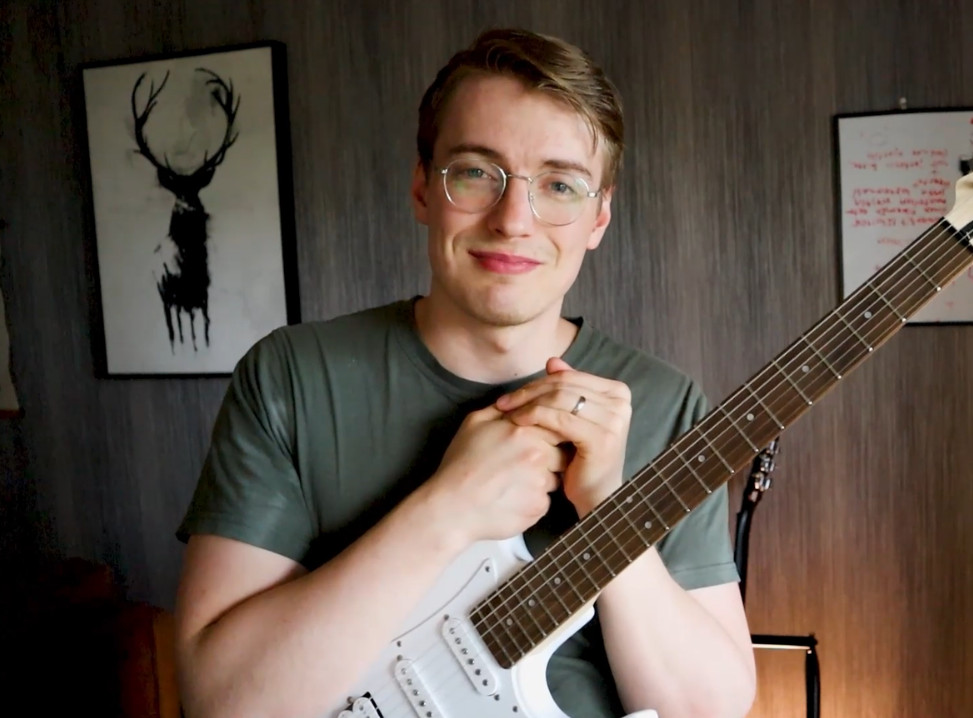 Author: Teemu Suomala
I first grabbed the guitar in 2009. I started this website in January 2020 because I couldn't do window installation anymore due to my health problems. I love guitars and have played dozens and dozens of different guitars through different amps and pedals over the years, and also, building a website interested me, so I decided to just go for it! I got lucky and managed to get awesome people to help me with my website.
I also got lucky because I have you visiting my website right now. Thank you. I do all this for you guys. If you have any recommendations, tips, or feedback, just leave a comment, I would love to chat with you. I have also been fortunate to produce content for several large guitar websites, such as Songsterr, Musicnotes, GuitarGuitar, and Ultimate Guitar.
I spend my spare time exercising and hanging out with my wife and crazy dog (I guess that went the right way…).
Hide The Rambling▲
---
Orange Crush 20RT Review
Summary(If you are in a hurry)
One of the best rock amps under $200 in my opinion and my favorite solid-state for this price range. Great from classic-, to modern rock.
Enough features, simple to use, and everything sounds at least solid. Good option for
Orange fans
Players looking for a budget orange-amp
Players looking for a budget amp
Beginners
Check Today's Price on
*Consider all links in this post to be affiliate links. If you purchase, at no additional cost to you, we may earn a small commission. It helps us to keep the lights on, thanks! 🙂
---
You can watch my full in-depth video review of Orange Crush 20RT too:
Our Favorite Music Store in The World!
Why?
– Excellent Customer Service (4.7/5 Trustpilot Score)
– Fast & Free Shipping
– Gear is Inspected, Tested, & Ready to Play When it Arrives to You (We love this)
– Fair Prices
Visit Sweetwater:
Orange Crush 20RT Specs and Dimensions
| | |
| --- | --- |
| Power: | 20 Watts |
| Amplifier-type: | Solid State |
| Speaker: | 8″ Voice Of The World |
| Channels: | 2 |
| Controls: | Gain, Overdrive Select Switch, 2xVolume(for clean and dirty channel separately), Treble, Middle, Bass, Reverb, Tuner On/Off |
| Effects: | Reverb |
| Inputs: | 1/4 Instrument Cable, 1/4 Footswitch Jack, 1/8 AUX-Cable (aux in), |
| Outputs: | 1/4 Headphone-output |
| Weight (I measured this): | 15lbs (6.8kg) |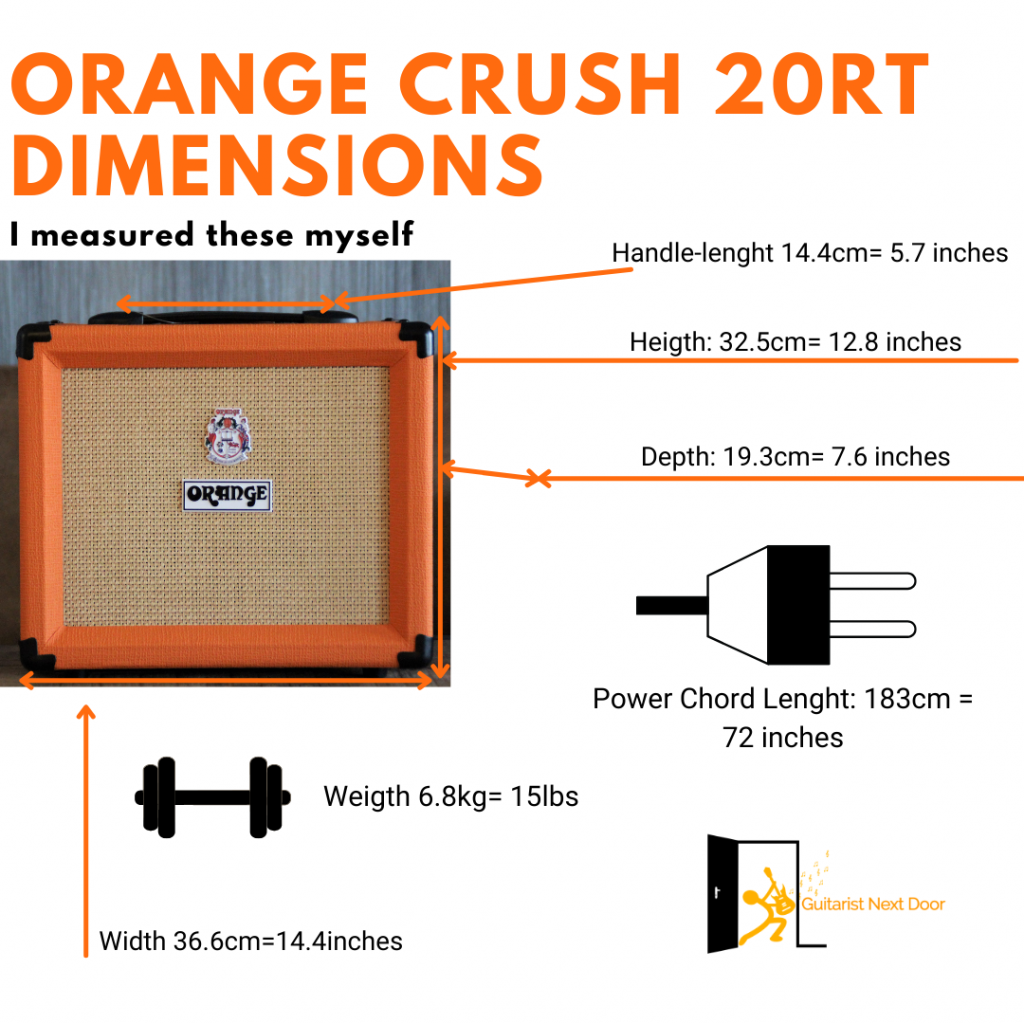 Overall Look, Feel, ad Quality
In this department, this 20RT really shines!
Basket weave vinyl of the amp itself and woven speaker cloth that covers the speaker look stunning in my opinion.
In a matter of fact, all aspects of this amp look/feel great:
control-knobs
hieroglyphs of the control panel
logo
and even the backside
Look at this yourself!
Of course, if you don't really like the looks of Orange-amps, the cosmetic side of this amp might not be for you.
But overall, the feel and look of this amp are something that I would wait from a more expensive amp.
This feels and looks like a real Orange-amp. This feels and looks like a more expensive amp. And when it comes to overall quality and durability…
Quality is great in my opinion. The looks and feel of this proved to me that.
And I would expect this guitar amp to last long. Feels really durable, a real "working man's" amp in my opinion.
Features
This amp gives you all that is really needed from a practice/beginner amp.
You get:
Separate volume for both channels(makes switching between clean and dirty tones easier/faster, because you don't have to set the volume again every time)
Gain to strengthen the signal/add distortion(works with the dirty channel only)
3 band EQ to shape your tone(Treble, Middle, and Bass). Not the most effective EQ(not so versatile) on this price range, but not bad by any means
Reverb(make the sound seem to continue even after you have stopped playing, but not for so long that it's a "Delay-effect")
Chromatic tuner
Nice looking Vintage-styled channel switch(I really love the looks of this)
You can dial in all tones needed for practice with these features(at least in my opinion)
And reverb is nice to have.
Because otherwise, this amp would be too basic in my opinion. Now you have more options, and with reverb, the lead tones of this amp really shine.
I especially loved the options with fast rock/metal lead-type tones and overall rock tones.
You might think: why there is no gain for a clean channel?
And to be honest, I wonder that too… It feels alien to me.
But on my testing, this didn't limit my tones and playing, because you can get nice low-gain crunch tones with the dirty channel. That kind of tones you usually get with clean channel gain set all to way up.
With this Orange, it's just a little bit different this way… The clean channel is just for cleans. The dirty channel is for crunch and distortion.
As I said, this didn't limit the tones for me.
Overall, as a solid-state, I like the features of this.
But this doesn't have the best features in this price range….not even close! (Fender Mustang LT25 and VOX Valvetronix 20 offer a lot more.)
If you are not after an amp that gives you 15 different effects and dozens of tone presets(like Fender Mustang LT25), and don't want to spend 15min dialing the knobs before you can play, the features of this amp will fit you well!
When it comes to connections, you get:
Input for instrument cable
Aux input to jam with backing tracks and your favorite songs
Headphone output(note that it's a 1/4-output(you might need an adapter if you are using regular headphones with a 1/8 sized connector))
Plus you have the option for footswitch because of the FS-jack at the backside.
Connection-wise, all looks solid. The only thing that I would change, would be the size of the Headphone output. 1/8 sized would be a lot handier.
Usability
This amp is super easy to use!
Basic 3-band EQ, Volumes, Gain, and Reverb. Doesn't seem too confusing for me.
And the fact that you get both, Orange symbols and regular explanations for what each knob does, makes things even easier.
All is clearly presented and works smoothly. There is really not much else I can say about the usability of this Orange!
Sound
Let's tackle the clean tones first!
I'll start with not-so-good things…
The cleans of this amp are pretty basic. Not bad, but not great either.
The problem is: cleans lack brightness and crispiness a little bit. These can sound a little bit dull sometimes.
For example with Marshal lMG15FX (simple solid -state at this same price range), cleans offer you more.
But, these cleans don't suck by any means! Not bad, but not great. And with reverb, you can make the clean tones of this electric guitar amp a little bit more interesting.
Cleans for rock, punk, and metal will go just fine with this amp. For blues, it lacks some crispiness that I really value.
But stuff like, Jazz, Funk, and Country are not the best music to play with this amp in my opinion.
Crunch
With a crunch, this Orange can give some blues-groove for sure…and classic rock & rockabilly are in the comfort zone of this amp too.
For crunch, I had to use the dirty channel with low gain. And while the EQ-board is not the most effective for tone-shaping, I enjoyed the crunch that this has to offer.
I think that one of the best tones of this amp are in the gray area between crunch and distortion. These are the tones why people love Orange amps.
A little bit fuzzy, a lot of energy and attitude.
I played a lot of my own blues/rock/metal-kind of riffs with these tones. And I had a blast!
Distortion?
For most Rock-music, the distorted tones of this amp are great! Maybe my favorite rock-amp under $200.
And also for Punk, awesome tones! Again very energetic, in-your-face type-of tones. So for most rock and punk stuff, the distorted tones of this amp are great…
But can Orange Crush 20RT handle metal?
This amp can handle metal, but Crush 20RT is not a metal amp in my opinion. Especially for older metal, like Metallica's Ride The Lightning-album type tones this amp is solid.
It's starting to be a little bit too fuzzy for most metal stuff, but it's definitely not unusable. Really growly, mean, and dark metal tones are not very good with this amp. Too fuzzy.
But, the lead metal/distorted tones of this amp are awesome in my opinion. I had a lot of fun when shredding with this amp. The sound is clear and articulate, and the slight fuzzy tone didn't bother me at all.
But it's better that you listen to the sound demo I made with this amp with the best metal guitar under $200 and decide for yourself!
Here's a little graph that reveals some genres and songs that are a good fit with this amp in my opinion:
Some people have asked if this Orange is better than the Fender Champion. To me it is. But Fender Champion does offer nice Fender cleans.
Value for Money
So you get:
Basic features plus reverb effect
Great rock tones
Solid Cleans
Solid Distorted tones
Simple usability
Great looks and quality
Tuner
For this price, there is no way that I could say that value for money with this amp is bad.
You get a great bang for your buck in my opinion!
Verdict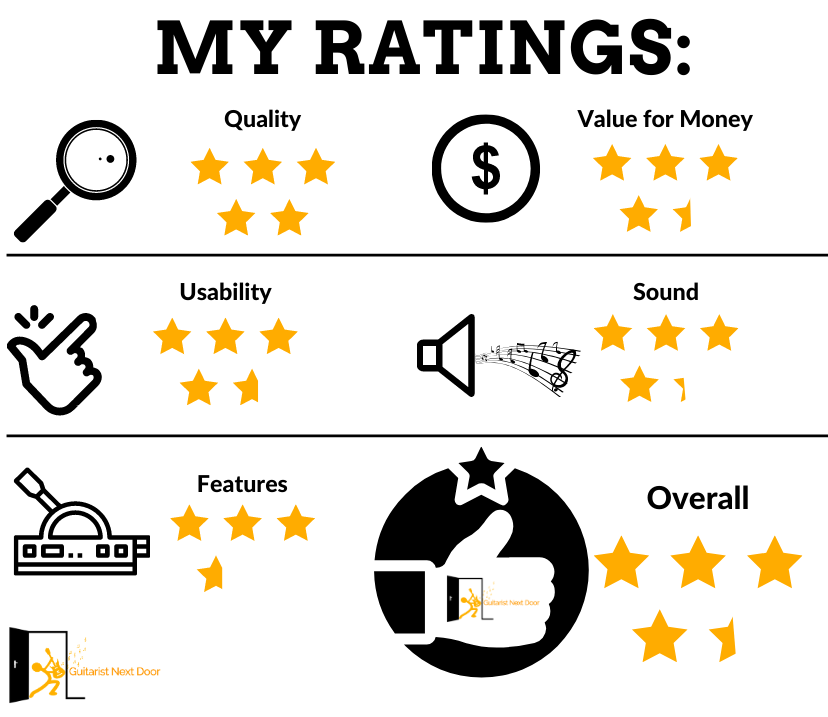 Pros
Really high quality feel and look for the price
Great rock tones
All the tones are solid
Easy to use
Gives 3-band EQ for tone shaping, plus Reverb
Offers enough loudness for sure
Works well as a practice amp
Cons
Metal tones are limited
You can get better cleans for this price
Orange Crush 20RT is a real rock-box!
From classic to modern rock, this amp is one of the best options under $200, and definitely the best solid-state rock amp under $200.
It doesn't give you a lot of features or versatility, but the quality is high and everything works and looks well.
I had a really fun time playing this!
Check Price on:
---
FAQ
Is the Orange Crush 20RT a tube amp?
No. Orange Crush 20RT is a solid-state/transistor amp.
Are Orange Crush amps good?
Orange amps are good in my opinion. They offer a unique tone that no other amp offers.
Tones are full of attitude, energy, and have a little spice of fuzz in it. Tones are great for punk, rock, and for metal.
What are Orange Amps best for?
Cheaper orange amps are not the best for really heavy stuff, but for rock and punk…just awesome!
But most orange amps are really good with metal too. After all, bands like Slipknot use Orange Amps
Where are Orange Crush amps made?
Most of the cheaper Orange amps like TH- or Crush-series are made in China.
Orange Crush 20RT is made in China. Here's the proof:
Orange Crush 20 vs 20RT
The main difference between these 2 is the tuner and reverb.
Crush 20 doesn't have a reverb and tuner, but Crush 20RT has both, reverb and tuner.
Personally, I would go with Crush 20RT. Not because of the tuner, but because of the reverb.
Reverb is used in so many songs, and you can add a lot of versatility into your playing with it.
Even though 20RT is a little bit more expensive (usually $25-$40), it's well worth the money.
---
Alternatives
Best Amp Under $200 In My Opinion – Fender Mustang LT25
Check out my Fender Mustang LT25 Review!
This amp is:
Super-versatile
Easy to use
Sounds great
Gives almost endless tone options with the Fender Tone app
The best amp under $200 really. Especially for beginners.
I would choose Orange Crush 20RT over this only
If you just like 20RT's tones more
Want an Orange Amp
Want a solid-state amp
Want super simple usability
Check the latest prices on:
---
Great Modeled Tube Tones – Vox Valvetroix VT20X
VOX VT20X gives you:
Great modeled tube tones
Looks like a more expensive amp
Sounds great
Versatility
It doesn't give
Really easy usability
Orange tones
It's a great digital amp, if you are interested in tube amp-tones, and want a lot of versatility. For beginners, Orange Crush 20RT is a better option because of its easier usability.
But I still own this amp and it's a great one, better than Orange Crush 20RT for me. Really good value for the price and I can get to know those amazing modeled tube tones.
Check the latest prices on:
---
Best Portable Under $200 – Roland Micro Cube GX
Roland Micro Cube offers amazing versatility with 7-different amp types and great tones. It's durable and portable. Plus, it's loud enough for small performances and busking in calm/quiet places.
Fender Mustang LT25 and VOX VT20X offer more versatility and better clean & crunch tones, but with distortion, Micro Cube GX can compete with these bigger amps in my opinion.
And yep, it's more versatile and better with cleans and metal-tones than Orange Crush 20RT in my opinion.
But Crush 20RT has those Orange tones and it's better with rock music.
I currently own this amp too. It's really easy to use and gives me everything I need when I practice.
This amp has only 1 con…
Micro cube has only 1 tone knob, this limits your tone shaping, but it's no deal-breaker for me.
Check the latest prices on:
---
Conclusion on Orange Crush 20RT Review
This is not the best amp under $200 in my opinion. But this is still a great one. And the best solid-state amp under $200 in my opinion.
Awesome for rock, and gives you great shred tones too. Plus, distortion and clean tones are usable too. I had a blast playing this!
Hopefully this post helped you to decide if this amp is a good option for you! If you have any questions, visit my Youtube channel and ask in the comments!
I wish you all the best and keep rocking!
You might also like:
We are sorry that this post was not useful for you!
Let us improve this post!
Tell us how we can improve this post?