Are you looking for a small, lightweight amp to take with you on the go? If so, your search might be over.
But it really comes down to "how you are going to use this?" Because this amp is not for everyone. Keep reading to find out if this Crush Mini is the right pick for you!
I bought this little amp at the start of January, and have spent several months with it.
This article will be an in-depth look into everything I have found. It's a result of 10+hours of research and me playing this little amp.
Let's get started!
Author: Teemu Suomala
Playing guitar since 2009. Mainly focused on electric guitars, although plays acoustics too. Started this blog in January 2020.
Orange Crush Mini Review
Summary(If you are in a hurry)
If you are looking for a mini-amp combo, this is not a good option in my opinion. For example, Blackstar Fly 3 is a lot better.
Only if you are a huge Orange amp fan and like almost everything that they produce, then this might be a nice pick for you. But…
If you use this as a portable amp head, everything changes. If your cabinet is at least on the "decent"- level, then you can get really nice Orange tones with this amp.
So this is definitely not for everyone, but if a portable/backup amp head with an affordable price tag sounds good, this is worth the money in my opinion.
Check Price on:
---
You can watch my full in-depth video review of Orange Crush Mini too:
Orange Crush Mini Specs and Dimensions
Orange Crush Mini is designed to be a portable amplifier, which provides Orange tones on the go.
Power: 3Watts
Amplifier-type: Solid-state
Speaker: 4″ Voice of The World- speaker
Channels: 1
Controls: Gain, Volume, Tone
Inputs: 1/4 Instrument Cable, 1/8 AUX-Cable
Outputs: 1/4 (8 ohms minimum) output for external speaker, 1/8 Headphone-output
Other Features: Tuner
Battery: 1 9V battery (It came with one out of the box.)
Battery life: 5-10h(in home-practice use)
AC to DC Adaptor Included: No (sold separately)
Weight (I measured this): 1.94lbs (0.88kg)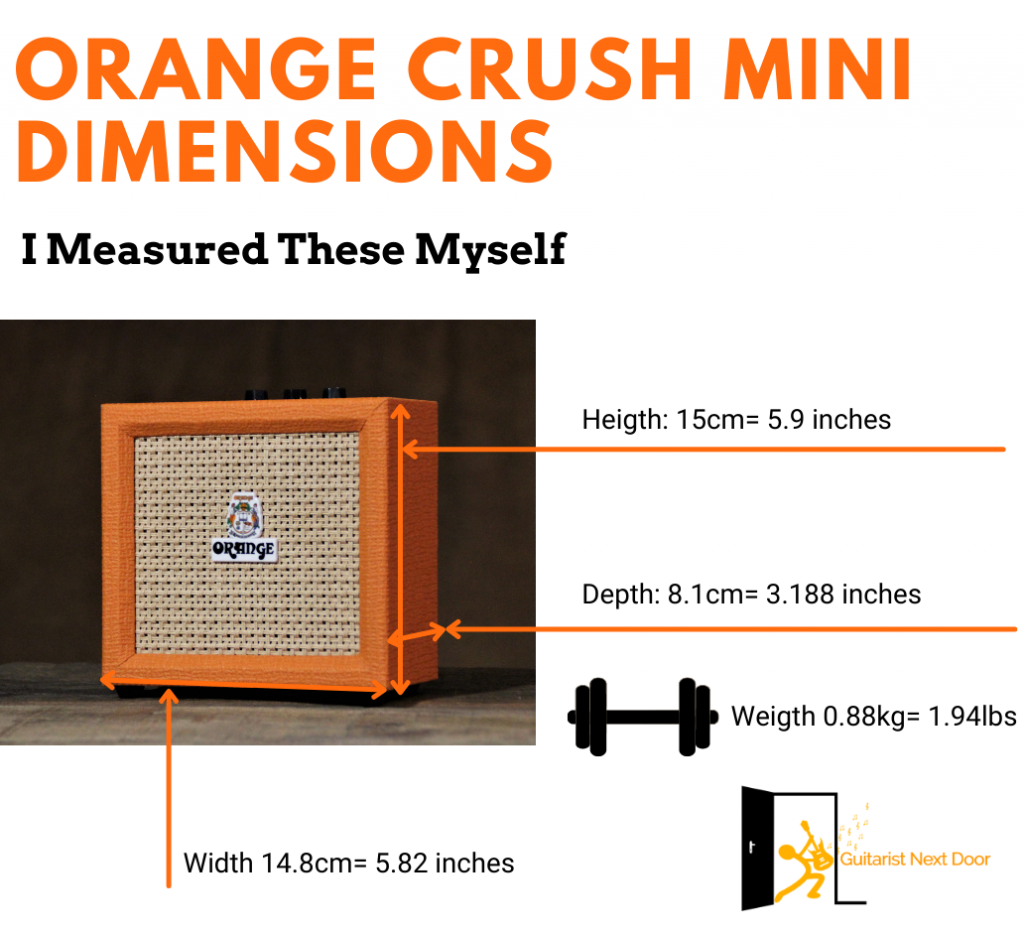 Overall Look, Feel, ad Quality
Watch the unboxing and overview of this little amp:
The looks and feel of this little amp are my favorite things about this amp. It looks and feels like an Orange amp.
I had Orange Crush 20RT in my testing at the same time, and this Micro Crush didn't really lose much to its big brother.
Everything from tone-control symbols to overall finish is pure Orange in my opinion. And the simplistic design is usually the best option, especially with these tiny amps.
So, most of this cosmetic / quality-type stuff is really good with this Crush Mini. But a couple of things missing quality are one of the most important.
Speaker is one of these. I think that it's lacking some quality.
More about its capabilities in the "Sound" section.
I'm probably going to perform a little test with this amp later this year…break this in the pieces and order a couple of speakers and test what happens when I attach the circuits of this amp to those speakers.
But otherwise, you get nice looks, feel, and quality with this little amp.
Features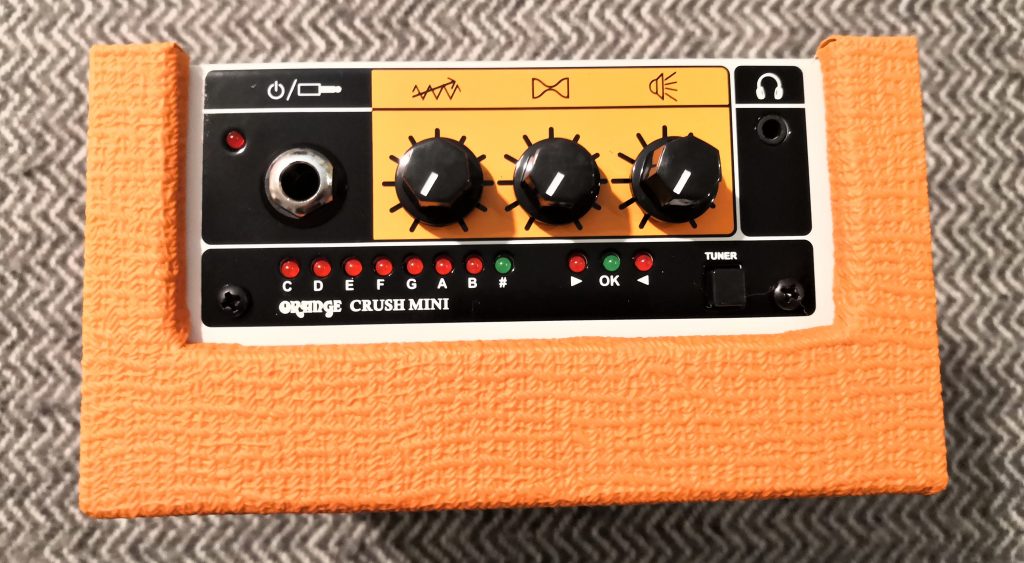 3-knobs are what you get.
Gain to overdrive the signal on the preamp -section. So basically you can add some distortion into your tone.
Tone shaping. You can either highlight treble(high-end frequencies) if you turn this clockwise, at the same time middle-frequencies are smoothened. If you turn the tone-knob anticlockwise, it does the opposite. Highlight the mids and smoothen the treble.
Volume: Increase or decrease the strength of the processed signal with this, aka. Loudness.
Simplicity is always great, especially if the fewer features mean better tones or other cool stuff. And amps this small doesn't really need anything else in my opinion. If the tones shine, this is definitely enough.
But I just went through the knobs…what about all the other stuff?
Actionable Tuner? Check
AUX-input for jamming with your favorite tracks or just listening to music? Check
Headphone output? Check
Plus there is input for 9V or 12 V center negative AC to DC-adaptor, but this is sold separately.
But easily the best feature of this amp is the Speaker-output.
And honestly, this Speaker-output is the #1 thing that made this Orange a keeper for me! More about this in the "Sound"-section.
Overall, I wouldn't say that this Orange shines in the "Features"-department, but it still gives you enough.
Usability
Here the simplicity pays off. Plus, the short Manual explained everything necessary in an easy-to-understand manner(even I understood).
It's hard to mess things up badly with just 3 knobs.
But there are a couple of things with this Orange that could confuse some people at first. Especially if you are like me and usually throw the manual into the garbage can before even opening it. "I got this"- I think…
First, you maybe noticed that there is no power button or switch. That's true.
You can turn this amp "On" or "Off" by plugging the guitar-or AUX-cable in. If you unplug the cable, the amp turns off. This saves some space and hasn't caused any problems for me.
The second thing that can cause some confusion for first-time orange users is the Orange's symbols. Traditional "Volume", "Tone", and "Gain" words are not found from this amp. You can see the symbols and their explanations from the photo below.
But after learning the meaning of these symbols, everything is smooth, and there is no way that I would call this amp "hard to use".
Sound
First the cleans.
Cleans are good in my opinion, I liked using those. A little bit thin, and there are not many options to dial in lot's of different clean tones, but I'm fine with the overall sound of these cleans.
But these cleans are really quiet. If you dial the volume all the way up with a minimum gain, the hum is present. If you decrease the volume, the amp starts to be too quiet.
With headphones, I experienced exactly the same results.
If you increase the gain, you are quickly playing with crunch, not clean tones.
Of course, you can adjust the Volume and Tone knobs of your guitar. When I decreased these both a little bit, the tones didn't distort so easily so I was able to increase the gain of the amp and still play with "cleans".
But overall cleans are still good sounding, but still limited and too quiet too often.
Then the crunch. Solid. I actually enjoyed playing the crunch riffs and leads with this amp.
Again, a little bit thin sound, but definitely not too bad.
But when I turn the tone knob clockwise over the first half, tone-quality starts to decrease in my opinion. So I got good crunch tones only with the other half of the tone knob. When the middle- is highlighted more than high-frequencies.
Otherwise, the crunch tones are too sharp and fuzzy in my opinion. The sound being too quiet was not a problem at all with the crunch tones.
And when I and my wife listened to some rock and pop music through this little amp, the sound is too thin. We both shared this opinion. It's still better than listening with the phone's speaker, but not very good as a music-listening-speaker.
Can Orange Crush Mini Handle Metal/Distortion?
With its built-in speaker…not at all.
Only when I turned the tone knob all the way anticlockwise, when high-end is almost completely smoothened out, I got some nice distorted tones.
But only a quarter clockwise and the tones start to be way too fuzzy for me.
Maybe you liked the distorted tones, but I didn't.
Again, this comes down to a low-quality speaker. How I can say that?
Because if you power a nice cabinet with this amp, you can get distortion out of this.
Check this out:
So, basically, if you use this as an amp head, it changes everything.
Distorted tones start to sound good, crunch is a lot better, and cleans are a lot better.
And this is in my opinion the right way to use Orange Crush Mini. As a portable/backup amp head.
Like this, this really offers great Orange tones for its size and price.
Remember that if you are going to power cabinet with this, you are probably going to drain the battery fast.
This review is more focused on this amp out of the box, as one product. Without cabinets or anything else. But I wanted to point out that this amp definitely has some use.
I'm going to shoot a video and test this amp again when I get a new cabinet for me and power it with this.
Overall, the tones of this amp with its speaker are not very good. Good but too quiet cleans, half of the crunch tones are nice, and a small fraction of the distorted tones are usable.
Value for Money
In my opinion, if you want and great portable amp with a good speaker, this amp doesn't offer you very good value.
But this amp is so affordable that I can't say that this amp sucks for the price.
Tones are limited. But the amp works as it should, it looks great, and has real potential if you are going to use it as an amp head.
Plus you get a tuner with it.
So, not great, but not bad either.
Verdict
This amp has some use. No question about it.
But most people are looking for a portable amp combo so that they can play wherever they want. For that use, there are many better options available.
In a matter of fact, most of the other Mini-amps are better than this. Check the "Alternative"-section to see a couple of my favorites.
If you are a huge Orange amp fan, then you might like this.
But especially if you want a portable amp head or affordable orange amp head, this really starts to be a nice option in my opinion.
But just like this, I wouldn't keep this. But I'm going to use this with a cabinet, so Orange Crush Mini is still a keeper for me.
Check Price on:
---
FAQ
How do I use my orange crush mini amp?
Plug either guitar- or AUX-cable in and the amp turns on.
Crank some volume and gain and start playing or just listen to music.
The best way to use Orange Crush Mini is to use it as an amp head. Then you don't have to listen to its low-quality speaker and you can get really nice rock tones with it. Of course, this is just my opinion.
What type of batteries Orange Crush Mini uses?
Orange Crush Mini uses one 9Volt battery. It came with one out of the box.
Does Orange Crush Mini come with a power supply?
No, it doesn't.
Some music retailers have bundled it with a power supply, but of course, then you will pay extra.
What brand of power adapter will Orange Crush Mini fit?
Orange doesn't give us direct power supply-brand recommendations. They just say what kind of adapter must be used.
"The Crush Mini can be powered by 9V or 12V DC. A regulated DC power supply fitted with a centre negative plug (2.1mm) must be used."
For example, with those specs, this should work.
I have not used this amp with a power supply, but especially if you are going to power cabinet with this, you are going to drain the battery fast.
How Long Orange Crush Mini battery-life is?
Battery life has been surprisingly long. Easily more than 5 hours with just one 9V battery in my use. But I wouldn't expect much over 10h battery life.
Alternatives
BOSS Katana Mini – Portable Metal Tones Under $100
If you want metal tones for around $100, Boss Katana-Mini is my favorite. Thick, full, and growling distorted tones of this little amp really surprised me. Also, this amp has 3-Band EQ(bass, middle, treble) and the Delay effect.
You can get better clean and crunch tones for even less money, but those not-so-heavy tones of this amp don't suck at all either.
Check latest prices on:
---
Roland Micro Cube GX – The Best Portable Amp
For me, Micro Cube GX gives everything I need from a portable practice amp. About 20hours battery life. Power supply out of the box. Tones from acoustic simulation to heavy distortion (7 different amp-types). Delay and reverb plus 5 other effects.
It's not the most beautiful amp, but the quality is still great.
It's more expensive than Boss Katana Mini or Blackstar Fly 3, but you definitely get value for your money.
Only if it's too big, expensive, or you just don't like the tones of it, it's a not good choice. Otherwise, it's definitely my favorite pick.
Check latest prices on:
---
Blackstar Fly 3 – Best Portable Cleans Under $100
Blackstar Fly 3 offers you nice clean and crunch tones, it gives you more tone-shaping options than most amps at the same price. Plus you have delay-effect, separate clean and overdrive channels, and change to increase and improve your tone with Blackstars Extension Speaker.
It's limited when it comes to distortion and has some bad design choices that make it easier to drop.
But still, if you are looking for great portable cleans and solid crunch under $100, in my opinion, there are no better options available.
Check latest prices on:
---
Conclusion
I had a fun time testing this Orange Crush Mini. And even tho that out of the box, it's definitely not my favorite amp sound-wise, when I found out that it's pretty amazing when used with a separate cabinet, it was a real "a-ha" moment for me! I really look forward to testing this amp with the cabinet.
Hopefully, you found this review helpful and if you have any questions, go to my Youtube channel and ask in the comments!
I wish you all the best!
Teemu Suomala