Last Updated on April 29, 2023 by Teemu Suomala
Well, I really like this one.
This Micro Cube is meant to be a portable, versatile, nice-sounding amp with an affordable price tag. And it does all that very well.
But of course, it's not the best option for everyone…
Let's find out if it's a good amp for you!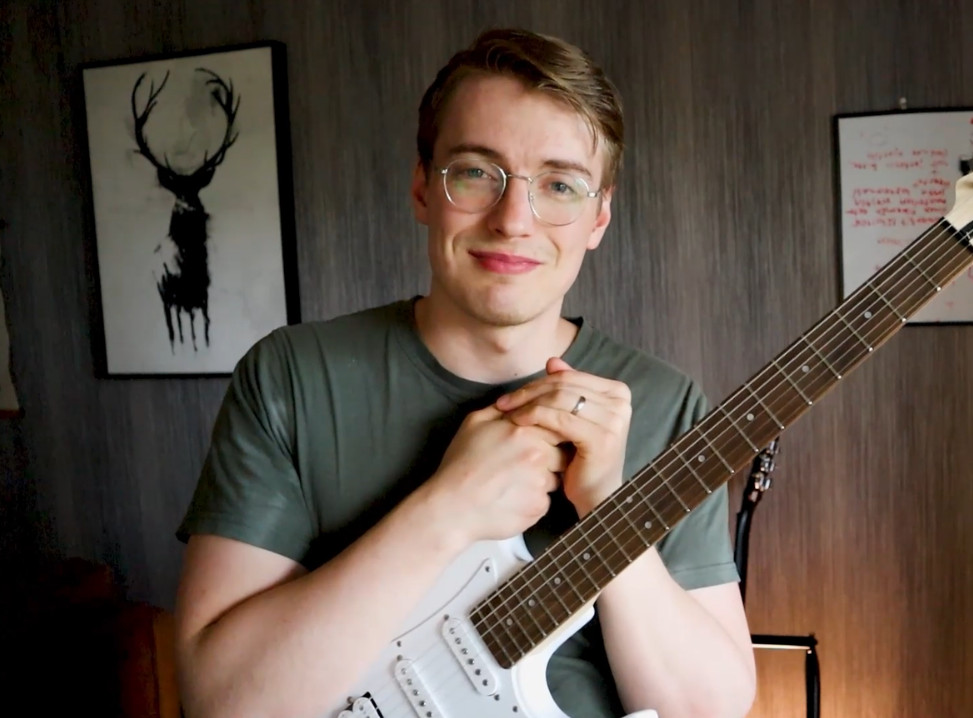 Author: Teemu Suomala
I first grabbed the guitar in 2009. I started this website in January 2020 because I couldn't do window installation anymore due to my health problems. I love guitars and have played dozens and dozens of different guitars through different amps and pedals over the years, and also, building a website interested me, so I decided to just go for it! I got lucky and managed to get awesome people to help me with my website.
I also got lucky because I have you visiting my website right now. Thank you. I do all this for you guys. If you have any recommendations, tips, or feedback, just leave a comment, I would love to chat with you. I have also been fortunate to produce content for several large guitar websites, such as Songsterr, Musicnotes, GuitarGuitar, and Ultimate Guitar.
I spend my spare time exercising and hanging out with my wife and crazy dog (I guess that went the right way…).
Hide The Rambling▲
---
Roland Micro Cube GX Review
Summary(If you are in a hurry)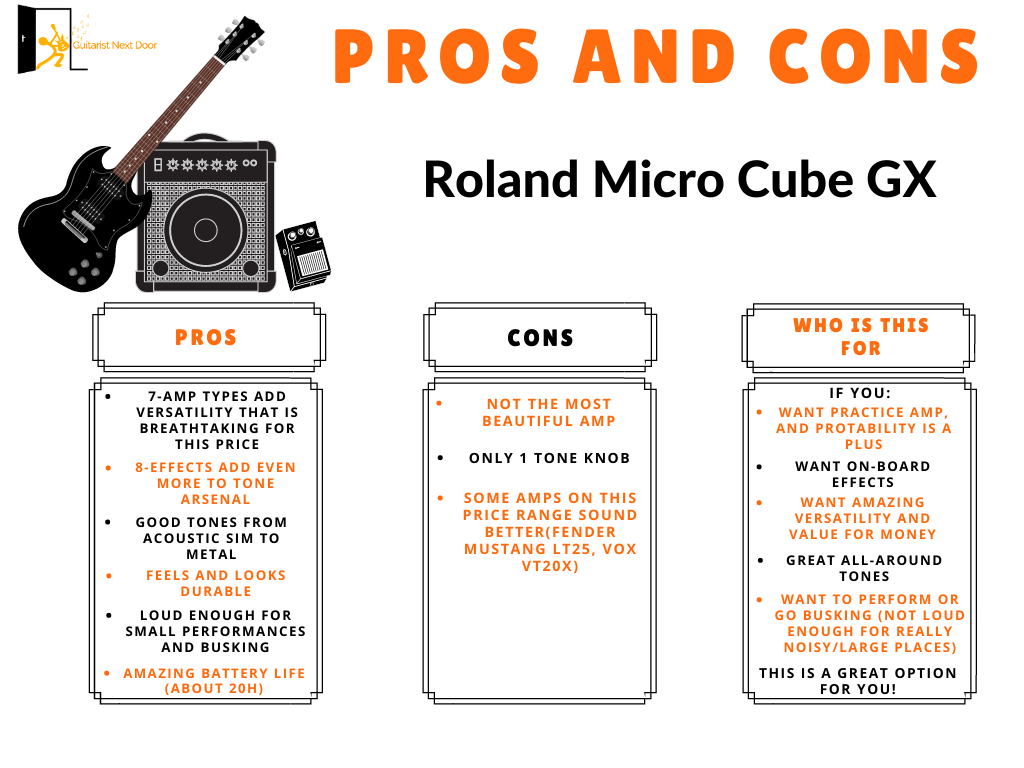 This amp just checks all the boxes for me (expect 3-band EQ and Hall Reverb). It's durable. It's portable. And it sounds good. It's my favorite practice amp.
It can also work great as a beginner amp because of its affordable price, easy usability, and versatility.
Check Today's Price on
---
Watch the full review:
---
Our Favorite Music Store in The World!
Why?
– Excellent Customer Service (4.7/5 Trustpilot Score)
– Fast & Free Shipping
– Gear is Inspected, Tested, & Ready to Play When it Arrives to You (We love this)
– Fair Prices
Visit Sweetwater:
Roland Micro Cube GX Specs and Dimensions:
| | |
| --- | --- |
| Power | 3 Watts |
| Amplifier-type | Analogue/Solid-state |
| Speaker | 5″ speaker |
| Channels | 1 |
| Amp-Types | 7 Amp types plus 1 amp type for recording |
| Effects | 8-Effects |
| Controls | Gain, Volume, Tone, Master-controls |
| Inputs | 1/4" Input, 1/8 AUX in |
| Outputs | 1/8" Headphone output/Rec Out |
| Battery | 6xAA-batteries |
| Battery life | Around 20h |
| AC Adaptor Included | Yes |
| Weight | (I measured this): 5.84lbs (2.65kg) |
---
Durability/Quality/Look
This looks like a basic electric guitar amp for sure… and I mean that it's pretty basic. Nothing unusual, it's not a one that makes your legs shake because it's so beautiful. It's just a guitar amp.
But when I look at the durability, that's one of the best things about the Micro cube. It has done great on my use, and it for sure feels durable.
I would even say that if I had to pick the most durable amp under $200 it would be this, based on the overall feel and what I have experienced with it…little bumps here and there and it holds up great!
And the corner pieces protect the amp well, it would be awesome if those pieces would be a bit softer, which would protect the amp even more, but for this price, I can't really complain.
Rubber legs also hold the balance well, wherever you decide to place this amp.
And the overall quality…it's great. Without knowing the price…I could guess that it's a more pro-oriented practice amp costing $200-250.
It doesn't feel like ultra high quality, but the quality is really nice for sure.
So Micro Cube passes with flying grades from this section. It's not the most beautiful, but its durability and overall quality are really good!
Portability
I like the leather(well, fake leather) strap. It's a bit loose so don't swing it too much. But other than that, this Cube is really nice to carry around. It fits most backpacks easily too, I tested that.
And it doesn't weirdly bounce against your lower back when you carry it in your backpack as the Yamaha THR5 did:
Note: Because of the strap, pay attention to the strap lock holes. Those can loosen during the years of use and cause the strap to slip out of the hole.
And the great durability of Micro Cube also increases the portability. You have to be careful, but not near as careful as with some other portable amps(Yamaha THR5 for example).
Micro Cube is Portable with a Huge Capital P.
Features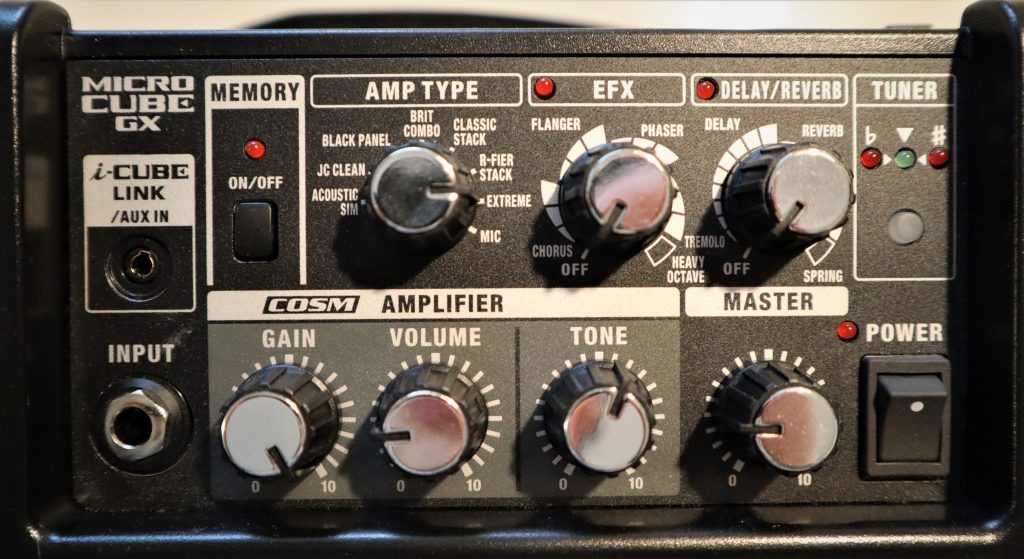 First the only real con. Micro Cube has only 1 tone knob and this limits your tone shaping for sure. It didn't really bother me too much, but it's still a con. So if 3-band EQ is a must for you, then you might need to pass this one.
Otherwise, this amp gives all that I need from a practice amp, let's check the features out!
The basic stuff. You get
With these 3 you can get really specific in terms of loudness and how much distortion you want to add.
Let's now move to not-so-basic stuff…
7 different amp types (plus MIC-type for recording) that really sound different from each other:
Acoustic sim (Acoustic tones)
JC Clean (Regular Electric Guitar Cleans)
Black Panel (Crispy Crunch)
Brit Combo (Classic Rock)
Classic Stack (From Classic Rock to Hard Rock)
R-Fier Stack (Rock and Older Metal)
Extreme (Metal, Modern Rock)
Mic(for recording)
I found myself using the
Acoustic Sim,
JC Clean,
and R-Fier Stack the most.
These amp types offer a great variety of different tones for Rock music.
And in reality, these all 7 different amp types cover all sorts of different genres from classical(Acoustic sim) to really heavy metal (Extreme) well.
For this price and size, all this feels almost too good to be true. But this is not all…
Let's jump into effects:
5 effects on FX (Chorus, Flanger, Phaser, Tremolo, and Octave)
Delay and 2 reverb (Regular and Spring) I would love if Roland would have included a hall reverb too…but for this price I'm happy.
With these 8 effects, you can spice up your playing a lot. For example…
You can add softness and build atmosphere with your cleans if you add some chorus to the mix.
Or you can make your rock solos more suitable for tapping if you add some delay.
This amp gives you a ton of different things to play with. Plus you can save your favorite presets with the ''Memory''-button.
I save one of the coolest things to last…
On Roland's website, 20 hours of battery life is promised(with 6 AA batteries). I didn't believe this when I first saw it. But I tested it…
And it's true. With my low-volume apartment jamming, I have gotten even more than 20 hours of battery life.
This kind of battery life is amazing. For example…
with Yamaha THR5 and 8 AA batteries I only got 6 hours of playing time
and with Boss Katana Mini and 6 AA batteries, I only got 7-8 hours.
So, if you are searching for long battery life…after my testing I can say that Roland Micro Cube is the best pick!
Plus Power adaptor comes with this, so that's pretty cool too. You don't have to drain batteries when playing at home.
You also get a build-in tuner with this amp.
To recap features of Roland Micro Cube GX: There is only 1 con: 1 Tone knob. Other than that, features are really top-grade material.
Usability
This amp is as easy to use as possible with its 7 amp types (plus "mic" for recording). 7 simple knobs, and it's clear what every one of these does.
Plus 1 button for the tuner and 1 for the ''Memory''-button(save presets). This amp has been a pleasure to use and play for me.
The only con I can think of is that when dialing for full tremolo (EFX-knob) for example, the knob can slip to the heavy octave accidentally if all is done fast. Also, With heavy octave and Spring reverb, there is not much room for adjustments.
These are not huge issues, but honing for perfect muscle memory to operate "oops-free" can take some time.
Sound
Check the full playthrough:
To me, it checks all the boxes. It has all that I need from a portable practice amp.
Nice cleans with enough effects and tone shaping.
Cleans have a great balance of lows and highs, and that's what I like in an amp. The tone is not overly muddy or too bright. This balance makes cleans of Roland suitable for many different situations.
Crunchy crunch.
Crunch tones are really all-around solid. You can easily get down to some mildly overdriven blues tones and to some a bit more aggressive classic rock tones.
Sweet rock tones.
I especially like the R-Fier Stack. It brings so nice rock tones to the table that it's my most used amp type. It handles everything from classic rock to metal.
Full and mean distortion.
You can get really nice dirty tones out of this amp. This little guy can really compete with bigger guitar amps at this price range and is a stellar little metal machine.
From all the portable amps I have tested….
this Roland definitely takes the edge.
There are some amps in the under $200 category that do sound better for sure. Fender Mustang LT25 and VOX Valvetronix 20 for example.
But keeping in mind that this is a portable amp, what this does for this price…it's really great!
Also, the Micro Cube has a surprisingly good amount of low end in its tone. And you know what is probably the reason:
Micro Cube has Ported speaker design. So basically it has a hole in its cabinet. This enables the speaker to get more air and move looser, which increases its bass response. That's why Micro Cube is surprisingly boomy. I like this design choice and its results.
To recap: You don't have much tonal control with Micro Cube. But it still manages to be a really versatile and good-sounding portable electric guitar amp.
Value For The Money
So you get:
Portability
7 different amp-types(versatile)
MIC "amp-type" for recording
Durability
Nice Quality
Tuner
You can save presets
8 Different effects
20 hour battery life
Good all-around tones
Honestly, all this is pretty amazing for this price.
Who Is This For?
If you want and portable amp that offers really high value for money. And also sounds good with cleans, crunch, and distortion…
Roland Micro Cube GX is my favorite. It's most likely one of the best options for you too.
The only real con is the just 1 tone knob. If 3-band EQ is just a must for you, then you might have to look for some other option. But other than that, Micro Cube is the answer.
Or maybe you just like how for example Yamaha THR 5 sounds. You dig it. Then go for it.
But my favorite is the Micro Cube GX.
Also, this amp can surely work as a beginner amp because it's so easy to use, affordable and versatile. And as a bonus, it sounds really good too!
Can You Go Busking with Roland Micro Cube GX?
Also, if you want to go busking for example, this Roland Micro Cube for sure is one of the best picks. It's portable, sounds good, it's versatile and the battery life is really great(around 20h). Plus it can get surprisingly loud too.
Verdict
Roland Micro Cube GX is one of the most durable amps for under $200. Also, it sounds good and has a ton of different tones to choose from. It handles tones from classical to metal.
Check latest prices on:
---
What other's have said?
I went through a whole bunch of user reviews and here are the things that many users agreed on…
What other guitar players have loved:
It's really portable
Good quality electronics
Can work for busking
It sounds surprisingly good
Durable
Great bang for the buck
What's not so great:
Tone shaping is very limited
Dry, fuzzy, and tinny sounding
You can't really adjust spring reverb and heavy octave much
---
Alternatives
Boss Katana Mini
If you want metal tones for under $100, Boss Katana-Mini is my favorite.
Thick, full, and growling distorted tones of this little amp really surprised me. Also, this amp has 3-Band EQ(bass, middle, treble) and the Delay effect too.
You can get better clean and crunch tones for even less money, but not-so-heavy tones of this amp don't suck at all either.
Check latest prices on:
---
Yamaha THR5
The looks and variety of different cleans this amp can offer are great. With its cleans and crunch, it can actually compete against the Roland Micro Cube GX…
But its distorted tones fall short. Distorted tones are boxed, muddy, and overall sound like playing underwater. So this is not my go-to rock- and metal machine.
But for classic rock, it does the job well. Plus, this bad boy has a hall reverb!
Check latest prices on:
---
Blackstar Fly 3
This little amp has the best clean tones on a compact amp under $100.
The richness and clarity are there. And even though it's not as loud as some other amps, I still find it a better option when it comes to portability.
You won't get the mean distorted leads of the Roland Micro Cube GX and Katana Mini, but for clean and crunch tones, the Blackstar is the best in its price range(well under $100).
So, if you need solid cleans for blues, rock, jazz, and great crunch tones for classic rock & blues, this is the best bang-for-the-buck option.
Check latest prices on:
---
FAQ's
How many watts is the Micro Cube GX?
3 Watts.
Where is Roland Micro Cube GX made?
The backside of the amp says ''Made in China''.
Does Roland Micro Cube GX Come With Power Supply?
Yes, it usually does. At least mine did.
---
Conclusion on Roland Micro Cube GX Review
Roland Micro Cube GX is one of my favorite amps and my #1 favorite portable amp for under $200. It just has it all for me(expect 3-band EQ and Hall Reverb).
Hopefully this review helped you out! If you have any questions, just leave a comment.
I wish you all the best and keep rocking!
You might also like:
We are sorry that this post was not useful for you!
Let us improve this post!
Tell us how we can improve this post?