Last Updated on April 29, 2023 by Teemu Suomala
We all know that thin plastic covering pickups, it's there when we take a new electric guitar out of the box. But should you leave those out-of-the-box plastic pickup covers on so that your pups are better protected? And do those plastic covers affect the tone?
In this post, I'll answer those questions and reveal my "do plastic stock pickup covers affect the tones" -test results.
Let's get started with a story that reveals why I even tested this kind of silly stuff…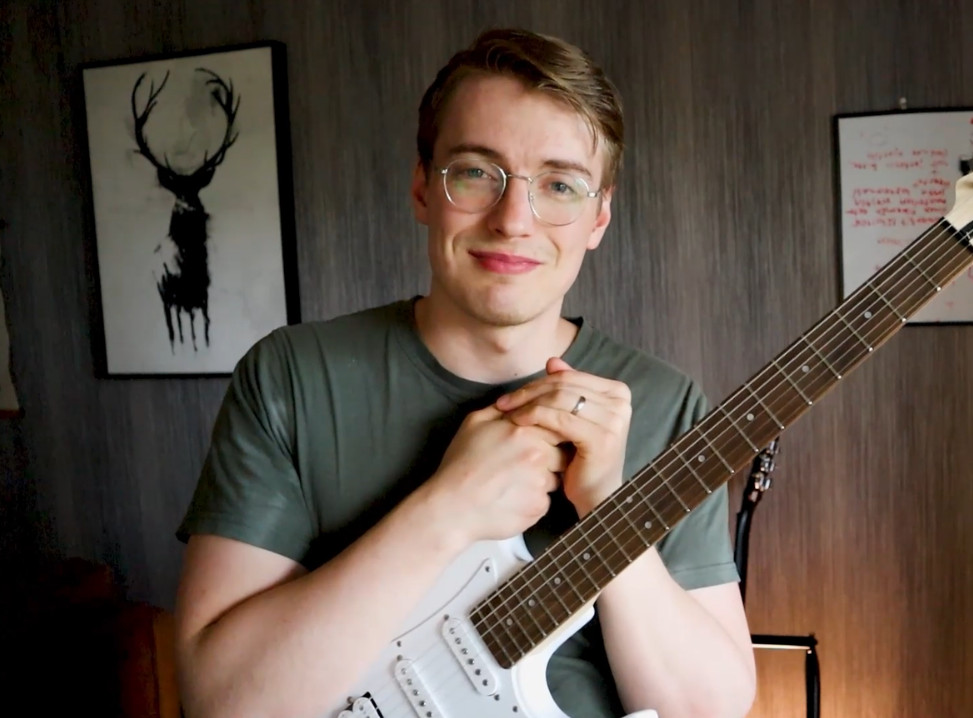 Author: Teemu Suomala
I first grabbed the guitar in 2009. I started this website in January 2020 because I couldn't do window installation anymore due to my health problems. I also noticed that most guitar websites don't do a really good job, so I decided to just go for it! I got lucky and managed to get awesome people to help me with my website. I also got lucky because I have you visiting my website right now. Thank you. I do all this for you guys. If you have any recommendations, tips, or feedback, just leave a comment, I would love to chat with you. I have been fortunate to produce content for several large guitar websites, such as Songsterr, Musicnotes, GuitarGuitar, and Ultimate Guitar. I spend my spare time exercising and hanging out with my wife and crazy dog(I guess that went the right way…).
---
Should I Take The Plastic Off My Pickups? – Quick Answer
Do you want to be extra careful and you don't want to scratch your pickups? Then these covers will help a little. Does leaving these affect the tone? It could affect just a little bit, especially with cleans (less bright). But most of the time we are not going to notice it.
Personally, I'm always going to take the plastic off my pickups. There's just no good reason for me to leave those on.
Why I Did This Test? – Fun Plastic Stock Pickup Cover Story
At the start of 2021, I did something crazy. I decide to provide better and more authentic reviews for guitar players. So I spend $2k and ordered 5 guitars and 11 amps to my home testing.
About 95% of guitar bloggers never do this. They just scan product reviews and then produce their own review of the product. Nothing against that, but going the extra mail is way better.
So, January and February were super-busy months. And in that hurry, I made a mistake. A mistake that I thought would give me a ton of hate especially on Youtube. "You suck" and "idiot"- type of comments…What was the mistake?
I left the plastic cover on to bridge pickup of the ESP LTD EC-10. You can see it in this sound demo:
It doesn't sound that bad, even with the plastic pickup cover on the bridge pickup. And after 1 year, there's only one comment about this pointing out this mistake and it was nothing mean:
So this little mistake led me to this path, and now it's time to find out what I have learned!
Does This Plastic Protect Your Pickups?
Yes. That's why they are placed to cover the pickups in the factory. So if the guitar moves and shakes inside the box a little, the pickups are still covered.
They cover the plastic part and more importantly the magnetic poles at the center of the pickups. This plastic mainly covers them from scratches.
Theory: I could even argue that they are put on when the actual pickups are made. So they are mainly there the protect pickups when it moves from pickup manufacturing onto the guitar. And they are just left on when the guitar moves from the factory to the store and to the customer.
And when I think about it, pickups are usually not under heavy pressure, especially after the guitar is placed in the box at the factory. I would be way more worried about sharp headstocks getting dings.
So these covers are there to protect your guitar, but pickups are usually not the thing that takes the most damage when you bump your guitar against the wall for example.
Our Favorite Music Store in The World!
Why?
– Excellent Customer Service (4.7/5 Trustpilot Score)
– Fast & Free Shipping
– Gear is Inspected, Tested, & Ready to Play When it Arrives to You (We love this)
– Fair Prices
Visit Sweetwater:
Does This Plastic Affect The Tone of Your Guitar?
So if you leave these covers on, do they affect the tone of your guitar? I made a test video about this, check it out:
I also run voting on Youtube:
0% voted that these covers affected tone a lot.
46% voted that covers affect tone just a little bit.
54% voted that covers don't affect the tone at all.
My opinion? I think that with distortion, there was no difference at all. But with cleans, the tone was a little bit less bright when the pickup was covered. My strumming and posture could affect this too, but I tried to do everything the same way each time.
So these plastic stock covers could potentially affect tone just a little bit, but most of the time, we are not going to be able to notice the difference.
Verdict – Should You Take The Plastic Off?
If you wanna be super-extra-careful or just don't care, you can leave those on. They will protect pickups from scratches, but note that it's very unlikely that you are going to scratch your pickups badly. Also, the tone will be affected just a little bit or not at all. Even after my test, people were divided by these 2 options (it affects tone a bit or it doesn't).
Personally, I'm going to always take this plastic off my pickups. No reason to keep it there. I don't mind my pickup getting a little scratch (which is really unlikely to happen anyway). Also, I think that it can affect the tone just a little bit, so off these plastics will go!
Conclusion on Should I Take The Plastic Off My Pickups
This was a super fun test. And as I said, I will and would recommend that you just take that plastic off, no reasons to leave those on. But by any means, build your own case and decide whether to leave them or not. This article has all the needed info for you to make a decision.
If you have any questions, leave a comment down below. I wish you all the best and keep rocking!
Teemu
---
You might also like:
We are sorry that this post was not useful for you!
Let us improve this post!
Tell us how we can improve this post?