Last Updated on April 29, 2023 by Teemu Suomala
In 2021, Fender Musical Instruments Co. is turning 75 years old—so what better time to check out a Strat, right?
If you don't have the fortune to put toward one of their new anniversary electric guitar models, you can still get the feel of a Fender guitar with a low-cost Squier. For this series, I've been checking out the best electric guitars under $200. This time I'll reveal to you my in-depth Squier Bullet Stratocaster Review.
So let's find out if the Squier Bullet Strat is any good!
Note: I also recommend that you check out my results after testing the 5 Best Electric Guitars under $200, this Squier is featured there too!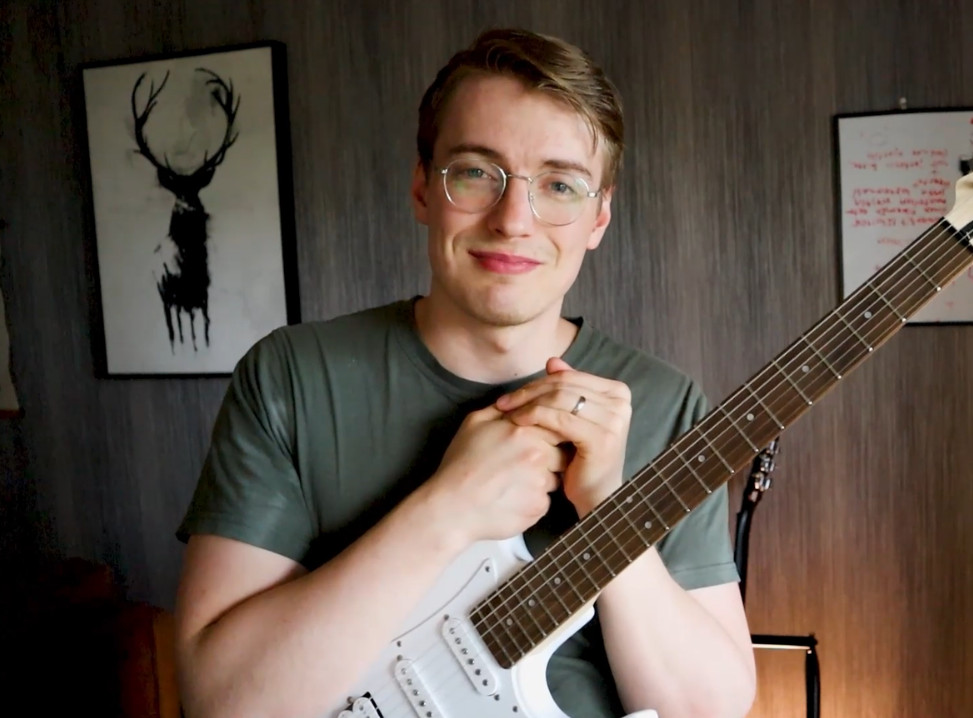 Author: Teemu Suomala
I first grabbed the guitar in 2009. I started this website in January 2020 because I couldn't do window installation anymore due to my health problems. I also noticed that most guitar websites don't do a really good job, so I decided to just go for it! I got lucky and managed to get awesome people to help me with my website. I also got lucky because I have you visiting my website right now. Thank you. I do all this for you guys. If you have any recommendations, tips, or feedback, just leave a comment, I would love to chat with you. I have been fortunate to produce content for several large guitar websites, such as Songsterr, Musicnotes, GuitarGuitar, and Ultimate Guitar. I spend my spare time exercising and hanging out with my wife and crazy dog(I guess that went the right way…).
---
Squier Bullet Stratocaster HSS Review
Summary (if you are in a hurry)
Check Today's Price on:
*Consider all links in this post to be affiliate links. If you purchase, at no additional cost to you, we may earn a small commission. It helps us to keep the lights on, thanks! 🙂
---
You can also watch my full in-depth video review of this Bullet Strat!
---
About Squier
I know a lot of guitarists can have a bad opinion about "cheap" guitar brands like Squier—I used to be one of them.
I think the fact is that if these starter guitar companies really sucked, they wouldn't be succeeding today. Fender (Squier's parent company, if you didn't know) reported record sales last year, and the trend doesn't seem to be stopping now.
So let me ask you to set aside any negative preconceptions you have about Squier. I approached the Bullet Strat with an open mind, and all in all, I think it's a nice guitar under $200.
If you just want to see what it's like to play a Stratocaster but need to keep costs low, this is a great option. The Bullet Strat HSS is a pretty versatile axe that gives decent tones considering its price.
It's comfortable to play for beginners, but if you're planning to play shows anytime soon you might want a better guitar. It sounds and plays good for the cost, though it's definitely not a professional guitar.
Personally, I think there are some better options for guitars under $200, like the Ibanez Gio for example.
But if you want that classic Fender Stratocaster feel and don't have much to spend, the Squier Bullet Stratocaster HSS is the way to go.
Our Favorite Music Store in The World!
Why?
– Excellent Customer Service (4.7/5 Trustpilot Score)
– Fast & Free Shipping
– Gear is Inspected, Tested, & Ready to Play When it Arrives to You (We love this)
– Fair Prices
Visit Sweetwater:
Squier Bullet Stratocaster HSS specs:
Body type
Solidbody
Body shape

Stratocaster

Body wood

Poplar

Neck wood
Maple
Neck shape

"C" shape

Scale length
25.5 inches
Nut width

1.650 inches (42mm)

Nut
"Synthetic Bone" = Basically Plastic
Fretboard material

Indian Laurel

Fretboard radius

9.5 inches (241mm)

Number of frets

21

Medium Jumbo
Pickups

Bridge- Standard Humbucking; Neck- Standard Single-Coil Strat; Middle- Standard Single-Coil Strat

Bridge

6-saddle Tremolo Bridge

Controls
Master volume and tone, 3-way switch
Tuners

Square Standard Die-Cast (Round Standard Die-Cast on some models)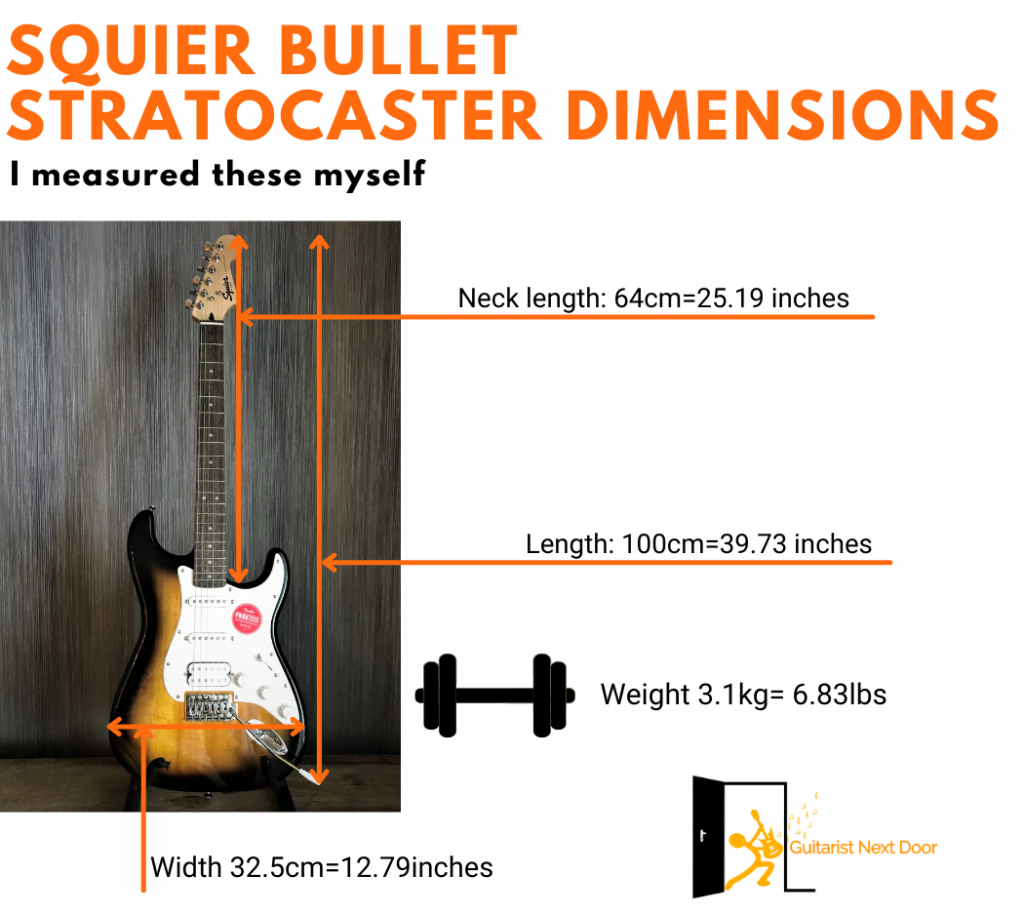 ---
Things to Consider Before Buying a Squier Bullet Stratocaster HSS
If you're ready to rock out with the Bullet Strat, there's one very important thing you should know.
There are several versions of the Bullet series guitars. The one I'm playing is the Bullet Stratocaster Tremolo HSS.
But there are even different versions of this specific model!
To get the same guitar as in the demo—which in my opinion is the best of the Bullet Strats—look for the ROUND tuning machines instead of the square ones.
The other differences that set it apart are that the headstock is the original small Strat look versus the 60s version found on some Bullets. The decal is different as well, and on my model just says "Stratocaster" rather than "Bullet Strat".
So just pay attention to the guitar you're actually buying when you make your order to make sure you get the Bullet Strat that you want!
---
Looks
It's kinda hard to beat classic Fender Stratocaster looks, and the Bullet comes pretty close to the original.
The finish of the body is just about flawless overall. I might not be the biggest fan of Brown Sunburst, but at least it's well-executed.
I do like the smaller Strat headstock style, and the dark brown laurel fingerboard pairs nicely with the neck.
In general, it looks like how a Stratocaster is supposed to look. If you love that vintage Fender vibe, you'll probably dig the Bullet Strat.
Hardware
The hardware in starter guitars can be one of the worst components—thankfully Squier doesn't cheap out here.
Sure, the Standard Die-Cast tuning machines could be better (you won't stay in tune forever, especially when using the tremolo bar). But I'd say they're more stable than many guitars at this price.
The tremolo itself works really well. I found it responsive and really easy to use to add some funky bends to my playing.
Find more solid guitars with whammy bars here.
One thing I'd change about the Bullet Strat is its nut, which already looks like it's about to break.
It's made of "synthetic bone" which is actually a plastic called melamine. You shouldn't confuse this synthetic bone with the higher-quality Bone or NuBone nuts. It's really just a basic hard plastic used in making kitchenware, flooring, whiteboards, and obviously guitar nuts.
I doubt every Bullet Strat has such a rough-looking nut, but mine looks heavily worn already. This will definitely need to be replaced sooner or later.
Electronics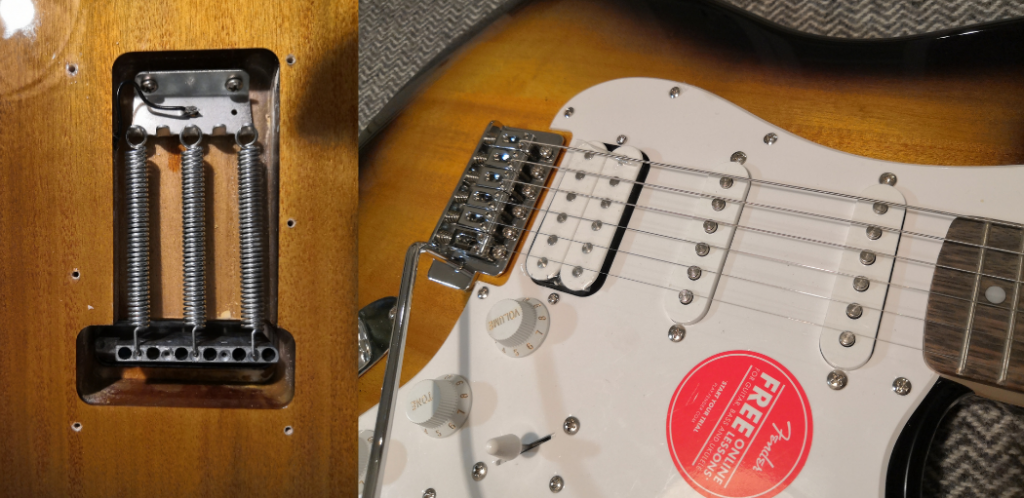 Although the poor nut quality slipped past Squier's quality control team, they didn't miss anything in the electronics department.
When budget guitars include a lot of tone controls like the Bullet Strat does, there can be a lot of issues. Surprisingly, I couldn't find a single flaw in this Strat's wiring.
I think a tone control for the humbucker would have been a good addition, but what it has already gives you a lot of tonal versatility.
You do get a tone control for each of the single-coil pups, and the real treat is the 5-way pickup selector switch.
Fender started as an electronics company, so it's no surprise that the Bullet Strat continues the legacy with high-quality electronics for the price; for sure one of this axe's best features.
Build
One of the things that made Fender a successful company from the start was its rapid assembly processes.
Their original design with a one-piece bolt-on neck and simple body template meant they could be put together fast.
This assembly-line style manufacturing is still how Squier guitars are made today, and for the most part that's no problem.
The overall build of this Bullet Strat was fine. No loose pieces or rattling bolts or any obvious construction flaws. A few rough or uneven frets, but nothing major.
But, this specific guitar I demoed had quite a lot of cosmetic damage. There were no huge gashes in the finish, but there were visible minor scratches along the neck and on the tuning machines.
The worst thing about the build was the nut installation. Honestly, it's so bad it's almost a dealbreaker for me.
When they set the nut, I guess there was too much glue, so the excess leaked out onto the fretboard.
You can see the glue in the fretboard and worn nut here.
It not only looks bad but could affect your playability if you get up real close to the nut. And I'd bet that extra glue dampens sustain a bit too…
So factoring in all the little scratches and this sloppy nut installation, I can't say this Bullet Strat gets a passing grade in build quality.
Here you can watch the unboxing of this axe and how it looks out of the box!
Playability
I think the Bullet Stratocaster's playability makes it a great guitar for beginners. There are many reasons for this, but to say it simply: it's just a really comfortable guitar to play.
Strats aren't really made for heavy metal chugs—these axes were first used for country and are perfect for strumming full chords.
That's why, even though the action isn't super low, I think it plays nice. You can strum hard and heavy with no fret buzz while still having decent shredability.
It's hard to complain about a C-shaped neck. Sure, some metal axes have even faster neck profiles, but you can still tear through some rockin' blues solos on the Bullet Strat.
As a fingerpicker, I can appreciate the slightly wider string spacing—and although I prefer a flatter fretboard, the 9.5-inch radius here is fine.
The only real problems with the playability are a few slightly sharp fret edges and a barely tacky feel to the neck.
These are easy to overlook considering all the other pros of this guitar's playability, so I've gotta give the Bullet Strat high marks in this field.
Sound
Watch the full not-talk sound demo:
Without a doubt, the Bullet Strat outranks most other guitars at this price point in versatility.
It can't do everything, but the HSS pickup configuration gives you a lot of wiggle room for changing your sound.
You can play with almost any pickup combination, only excluding bridge + neck.
Otherwise, you've got these options to choose from for a wide range of tones: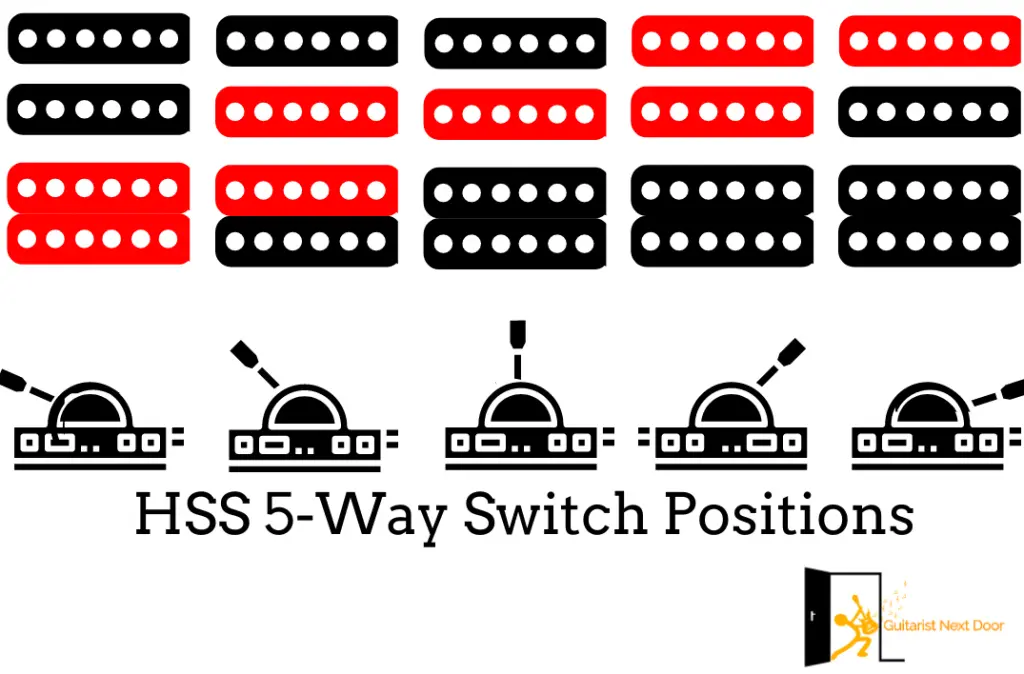 Position 1: Bridge Pickup

Position 2: Bridge + Middle Pickup

Position 3: Middle Pickup

Position 4: Middle + Neck Pickup

Position 5: Neck Pickup
I think this guitar shines beautifully in its clean voice. With the humbucker engaged, you can get really thick, creamy cleans that are almost acoustic-like.
Now everything changes once you add some gain to that humbucker.
You don't get the same metal growl that a dual-bucker axe delivers, but the meaty punch of the Bullet Strat is surprisingly powerful. I just don't typically expect this much snarl out of a Squier.
Of course, the Bullet is great for the sounds that made Fender famous: country, blues, rock, funk, etc. Kick in the neck pickup, and you get a super-spanky bite for singing out strong, clear leads.
And, as I said before, it's awesome for lush open chords.
To sum it up, the Bullet Strat is an all-rounder. You can do a lot with it, so if you play in (or want to learn) many styles, chances are this guitar is up for the task.
What this Squier can handle:
Tones that the pickups offer in my opinion:
Tones that the tonewoods offer in my opinion:
Final Verdict
Pros
Versatile tones because of the HSS pickup configuration
Classic strat looks
Decent hardware
Gives you a taste of Fender magic at a bargain price
Soft and crisp clean tones for blues, jazz, and country
Comfortable to play
Stable tuners (at least on this version of the Bullet Strat I tested)
Cons
In my copy, worn-looking synthetic bone nut with faulty installation (glue all over the place)
Can have issues in the finish and overall construction
Even more versatile options are available for under $200 (Ibanez GRX70QA)
To be honest, the Bullet Strat isn't my favorite of these electric guitars under $200.
Sure, it's fun to play and has a taste of that signature Fender tone—but its poor build quality bothers me.
Don't get me wrong though! It's not a bad guitar (and certainly ranks high above First Act axes).
If you're looking for your very first electric, it makes a great beginner guitar. Even if you've got years of experience, you can still have a good time with it, especially if you're a Fender fan.
It's just important for me to say that the Bullet Strat isn't for everyone—especially if you care a lot about your guitar's build quality like I do.
Another thing: the Bullet's HSS pickups perform well in rock and funk, but they can't handle super heavy distortion. So if you're a metalhead that wants to play with hard overdrive, you'll probably prefer a guitar made for metal like the Jackson JS22 Dinky.
Aside from those few shortcomings, the Squier Bullet Stratocaster is a solid electric guitar in most ways.
I'd recommend it to anyone wanting a low-cost Fender axe or to beginners who want that rock-ready Strat spank.
Check Price on:
---
What Others Are Saying
It seems I'm not the only one a bit disappointed with Squier's quality control.
Other buyers report many of the same issues, including glue stains, rough fret edges, and poor finish application.
These seem to ship rough pretty often, so I would say be sure you buy from a place that lets you make returns. That way if you get a defective model, you don't have to settle and can send it back.
But still, most players are happy with their purchase!
---
FAQ
What's the Difference Between a Strat and a Bullet Strat?
The clearest difference is the quality.
Bullet Strat is the most affordable version of the Strat's that Fender produces with their Squier brand. So The Bullet Strats are the lowest in quality too, but this doesn't mean that they are bad.
Besides obvious quality differences between a true Fender Strat and this Bullet, there are a few traits that make the Bullet its own thing.
For one, Bullet Strats have slightly thinner bodies than standard Stratocasters. It's a really small difference of only a few millimeters, but it makes the Bullet a lighter guitar.
The biggest difference between this specific guitar and regular strat is the pickup configuration. Where the original Stratocaster is traditionally set up with an SSS configuration, this Squier Bullet Strat sports HSS pickups.
What Does HSS Mean?
HSS is the guitar's pickup configuration, or simply, what types of pickups it has.
H stands for Humbucker, which you probably know is a double-coil pickup.
S stands for Single-coil.
So HSS means this guitar has one humbucker pickup and two single-coil pickups.
The most common Strat pickup configuration is SSS, which means 3x single-coils.
Most guitars will have SS, HH, SSS, HSS, or HSH configurations.
But there are many different pickup combos in the guitar world, and you never know when you'll run into something strange like Music Man's HSSH setup!
How Does the Squier Bullet Stratocaster HSS Compare to Similar Guitars?
Squier Bullet Stratocaster HSS vs. Squier Affinity Stratocaster HSS
The Squier Affinity Strat is really similar to this Bullet, but it's got some key differences.
The woods are all the same, and they share the same pickup configuration.
The Affinity's nut is a bit more narrow, for starters. It's maybe better for smaller hands but kind of takes away from the authentic Strat feel.
With the Bullet, you get the traditional Strat headstock, while the Affinity is fit with the Large '60s style head.
Perhaps the key differences between the two are in the finish and hardware. The Affinity's finish and detail-work are much better quality than the Bullet. The frets are fit better, the finish is smoother, and the overall construction seems better.
It's probably this general improvement in build quality that adds $70 to the Affinity Strat's price tag. In my opinion, I think that extra cost would be worth it.
Check Price on:
---
Squier Bullet Stratocaster HSS vs. Ibanez Gio GRX70QA
While both have a 1.65" nut width, the Gio's neck is thinner and faster-playing (it is an Ibanez, after all).
The Gio's pickups, two humbuckers, are fairly powerful pups that work well in many styles. They're not quite as bright and cheery as the Bullet Strat's, but in my opinion, they sound better overall.
Part of this improvement in sound could be the quilted maple cap on the Gio's body.
Whatever the real reason for the tonal differences, I think the slightly higher price of the Gio is worth paying for this better guitar.
Check my full review of this Ibanez here.
Check Price of Ibanez on:
---
Alternatives
ESP LTD EC-10
If you're more of a hard rocker than a classic rocker, you might prefer the ESP LTD EC-10 over the Bullet Stratocaster.
The EC-10's got dual humbuckers and a black single-cut body built for high-gain. Although it shreds well and rocks out hard, the ESP's cleans fall far short of the Bullet's.
You can read my review of this axe here.
Check Price on:
---
Jackson JS22 Dinky
The JS22 Dinky is my top recommendation for tight budget metal guitars. It can take a lot more crunch than even the EC-10 and is truly designed for playing face-melting heavy metal.
Its build quality is much better compared to the Squier Bullet's, but the Strat can arguably do more overall.
Frankly, you'd look (and sound) a bit silly trying to play country or jazz on the Jackson Dinky, whereas the Squier's built for that kind of stuff.
You can read my review of this axe here.
Check Price on:
---
Epiphone Les Paul Special VE
Here we come to the classic debate that's been raging since the 50s: Fender or Gibson?
Only now it's Squier or Epiphone, and it's a real close call between the Bullet Strat and the Les Paul Special VE.
Both are great beginner guitars with a lot to offer. They're both pretty versatile tonally, with the Epiphone sounding warmer and the Squier leaning into brightness.
I can't really say whether one is better than the other, and would definitely recommend you consider their general differences in tone and playability before making your choice.
You can read my review of this axe here.
Check Price on:
---
Conclusion on Squier Bullet Stratocaster HSS Review
Although the Squier Bullet Stratocaster HSS might not be the absolute best guitar under $200, it's by all measures a great beginner guitar.
All it takes is a few minutes of playing to see why Fender is still going so strong even in their 75th year. Strats are fun, snappy-sounding axes that will probably always have a solid fanbase.
If you're a Strat fan yourself or have just always wanted to own a piece of Fender magic, you can't go wrong with the Squier Bullet Strat. It's a nice axe for a beginner guitar player.
I hope this article helped you out, and maybe you even decided to get one of the guitars featured. If you have any questions, leave a comment, I and the GND team are here for you.
Now go, my son, and Rock!
You might also like:
We are sorry that this post was not useful for you!
Let us improve this post!
Tell us how we can improve this post?