Last Updated on April 29, 2023 by Teemu Suomala
Squier Mini Strat – The Best 3/4 Sized Electric Guitar
Sound
Playability
Overall Quality
Value for Money
Summary
Pros
-Bright Stratocaster sounds
-Comfortable and easy to play
-The neck is narrow and thin(great for small hands and kids)
-Quality is great for the price most of the time
-Usually stays in tune well (in my use at least)

Cons
-Little bit fuzzy tone with the distortion
-If you spend more, you get higher quality
-Finish and build issues can be present
-Sometimes tuners are unstable

Mini Strat is built on a foundation like this:

-3 Single-coils,
-legendary looks,
-and easy playability.

This is why Squier Mini Strat is the best 3/4-sized electric guitar for me.

It also has smaller frets which makes playing chords(especially barre-chords) easier than with other models. Plus the quality is the best I have experienced with 3/4 electric guitars.

For Parents
I would choose this guitar for my kid(don't have one tho). Quality is most consistent from 3/4 smaller-sized guitars due to my experience and research. The tones and playability shine too.

Only if your kid is a true metalhead and doesn't care much about any other genres, then Ibanez GRGM21 Mikro is a better option.
How Mini Strat sounds:
Check Today's Price on:
*Consider all links in this post to be affiliate links. If you purchase, at no additional cost to you, we may earn a small commission. It helps us to keep the lights on, thanks! 🙂
---
Now it's time to reveal if this Mini Strat is any good. And most of all, is it worth your hard-earned money?
Squier Mini Strat specs:
Body type: Solidbody
Body wood: Poplar
Neck wood: Maple
Scale length: 22.75"
Truss rod: Yes
Fretboard material: Indian Laurel
Fretboard radius: 9.5"
Number of frets: 20 Medium frets
Nut width: 1.6" (40,6mm)
Pickups: 3 Standard Single-Coil Strat
Pickup switch: 5-way
Bridge: 6-Saddle Hardtail
My childhood friend owned this axe back in the day, and I spend a lot of time with this cute axe back then. I have also played this guitar in music stores recently.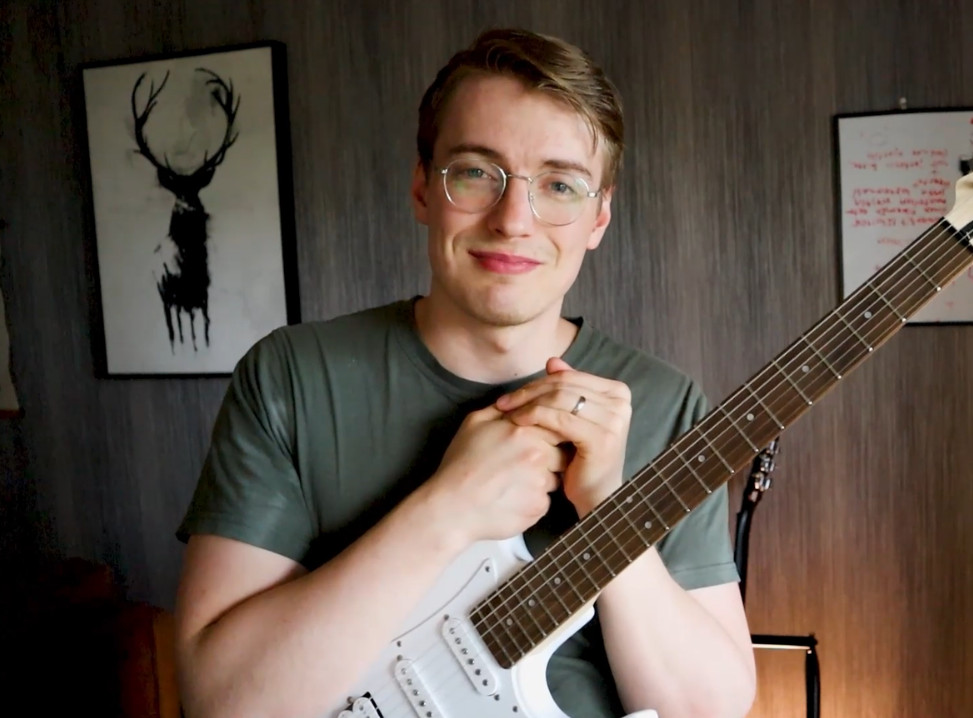 Author: Teemu Suomala
I first grabbed the guitar in 2009. I started this website in January 2020 because I couldn't do window installation anymore due to my health problems. I love guitars and have played dozens and dozens of different guitars through different amps and pedals over the years, and also, building a website interested me, so I decided to just go for it! I got lucky and managed to get awesome people to help me with my website.
I also got lucky because I have you visiting my website right now. Thank you. I do all this for you guys. If you have any recommendations, tips, or feedback, just leave a comment, I would love to chat with you. I have also been fortunate to produce content for several large guitar websites, such as Songsterr, Musicnotes, GuitarGuitar, and Ultimate Guitar.
I spend my spare time exercising and hanging out with my wife and crazy dog (I guess that went the right way…).
Hide The Rambling▲
---
Our Favorite Music Store in The World!
Why?
– Excellent Customer Service (4.7/5 Trustpilot Score)
– Fast & Free Shipping
– Gear is Inspected, Tested, & Ready to Play When it Arrives to You (We love this)
– Fair Prices
Visit Sweetwater:
Squier Mini Stratocaster

Review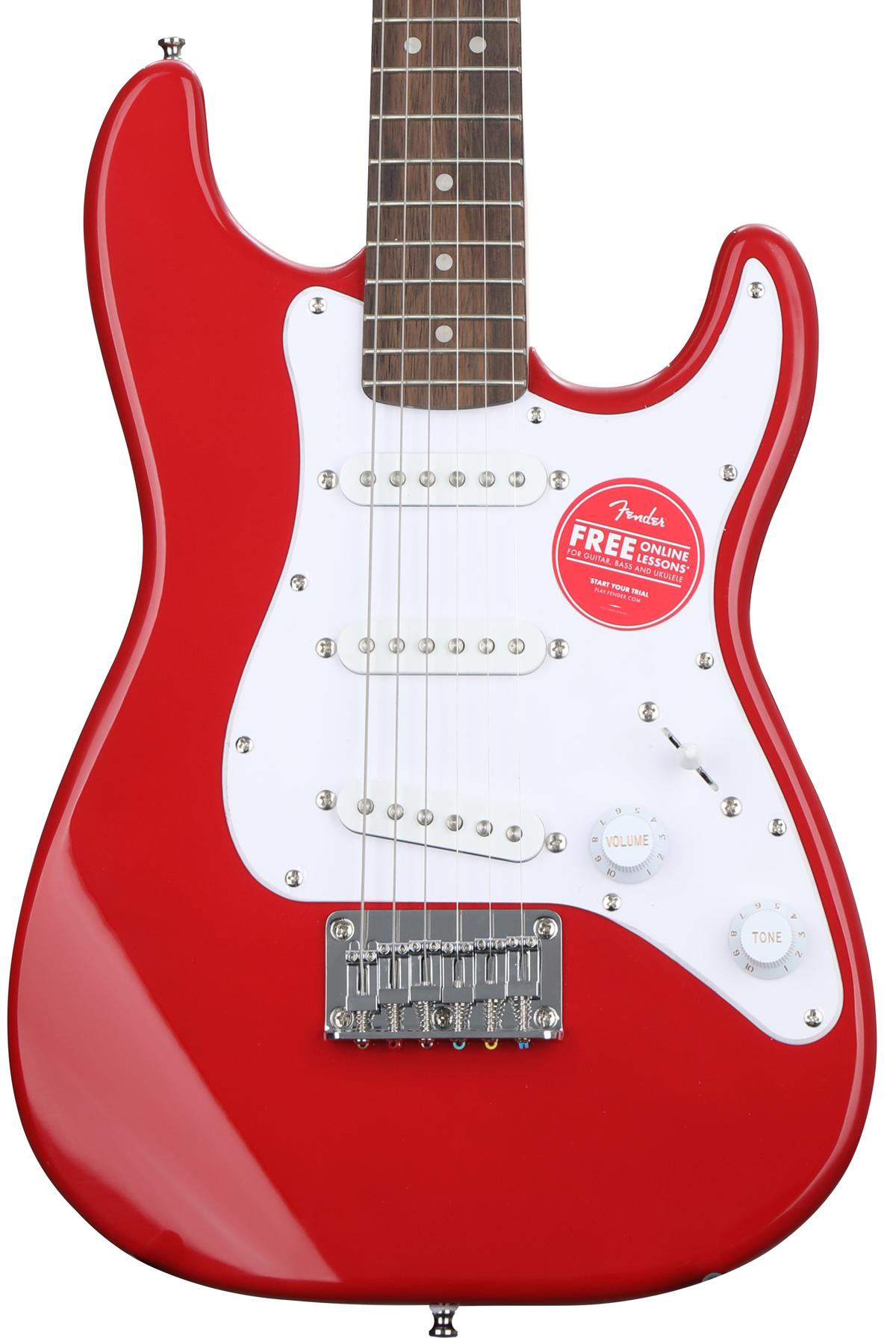 You have several different color options to choose from with Squier Mini Stratocaster.
Sound
Some might think that because this guitar is so small and most adults buy these only for kids, the tones of this guitar kind of suck. Well, this is true at all in my opinion!
This axe comes with 3 Standard Single-Coil Strat pickups(just like The Original Stratocasters(of course these are budget-stock pickups)), which provide you bright and sparkling tones. Clean tones are clear and dirty ones have plenty of attack.
Overall, I really like the tones of this guitar. Underrated in my opinion.
But if you play really heavy stuff, the tones can be a little bit fuzzy. This guitar is not built metalheads in mind, and it handles rock, jazz, and blues really well.
If you want to play metal, Ibanez GRGM21 Mikro might be a little bit better option for you because of its 2 humbuckers.
But overall this Mini Strat sounds excellent for the price and gets beginner guitarists started with a great variety of different tones.
Also, this Mini Strat has a 5-way switch. This gives you tones of different tone possibilities from dull and gentle to bright and aggressive.
I would rate the tones different pickups settings like this:
Neck pickup. Good for cleans and rhythm. 3.5/5
Neck and Middle. Too dull for me, some cleans sound nice. 2/5
Middle. I don't find myself using this too much. "Snow" and other stuff by Red Hot Chili Peppers sound solid with this 3/5.
Middle and Bridge. Gentle, but has night spice of brightness. Rock rhythms sound good. 3/5.
Bridge. My fav. Really nice rock tones with both riffs and leads. 4/5
Here's another teaser sound demo for you:
Playability
The nut width is only 1.6"(40,6m), so the neck is really narrow. This and the C-shaped neck make this axe really easy to play, even for kids and adults with really small hands.
Of course, if you have large hands, this guitar is probably not the best for you. Especially frets near the body are tiny.
And the short scale length of 22.75" makes things even easier. Because of this, strings have less tension and are a lot easier to press down. And due to this less finger strength is required if you want to rock with this guitar. And for beginners and especially for kids, this is a huge advantage!
The fretboard radius is 9.5", this number reveals how much curve the fretboard has and this affects the playability too.
9.5" is standard for Fender guitars, and you are probably not going to face any issues with it.
So the fretboard of the Mini Strat has some curve, and this especially makes playing chords quite smooth. And at the same time, fast-playing, riffs, and solos are comfortable for beginners due to not so die-hard curve (some Telecasters have 7.25"radius, that's too much for beginners in my opinion).
The satin neck feels surprisingly good for the price, this axes doesn't lose to Squier Bullet or Affinity Starts at all when it comes to the feel of the neck.
When the playability of this guitar is compared to its strongest 3/4 sized competitor Ibanez GRGM21 Mikro, this Squier is more versatile and better with chords and riffs. But the Ibanez is better for shredding and for fast playing in general.
Quality
When I have played a Mini Strat, the quality has been really good for the price.
Of course the overall finish is not so detailed as with the more expensive guitar, but it's still good and nothing bad is sticking out.
Tuners are kind of standard for this price. But 1 thing is for sure, you can do a lot worse…for example, beginner Epiphones had annoying tuning issues on my testing recently(solid guitars otherwise too).
But every time I have played a Squier Mini Strat, I have not been bothered by annoying tuning issues.
Those were my experiences, but some owners have said things like:
this guitar doesn't stay in tune
frets are sharp
frett buzz is present
poor setup.
So all the budget guitar issues can happen with this Mini Strat too. But as I said, this guitar has the most consistent quality from 3/4 sized electric guitars due to my experience and research.
Looks
If you like iconic Stratocaster looks, you'll like this one too… I do. Stunning little guitar.
All the color options, pink, black, and red look great, and the headstock of the guitar fits well into the 3/4 size.
Summary
Pros
Bright Stratocaster sounds
Comfortable and easy to play
The neck is narrow and thin(great for small hands and kids)
Quality is great for the price most of the time
Usually stays in tune well (at least on my use)
Cons
Little bit fuzzy tone with the distortion
If you spend more, you get higher quality
Finish and build issues can be present
Sometimes tuning-stability issues can happen
If you have really small hands, you are a small person, or you are buying this for a kid, this is(in my opinion), the best 3/4 sized electric guitar option out there.
With Squier Mini Stratocaster, you get a comfortable guitar that provides a great variety of tones. It's good for rock, blues, jazz, and handles other genres too. If these things sound good to you, this axe is worth the money and a great option for you!
Compare prices:
---
What Others Have Been Saying?
The things above were mostly my experiences and opinions. But what owners around the world have been saying?
I went through Youtube reviews and reviews posted on the most popular music store-sites. Here are common things that I found:
Pros
Easy to play
Can feel really weird after playing regular-sized guitars
Perfect for beginners
Warmer, less harsh tone than normal-sized Strats
Great practice guitar
Good fit for children
Cons
The sound is dark and muddy
Bad setup
Can feel really weird after playing regular-sized guitars
Frets had to be polished
Doesn't stay in tune
Overall, major quality issues are rare. But bad setup overall, poor intonation, and high action are the most common complaints. All these are relatively easy to fix by yourself, and it shouldn't be too expensive to let professionals handle the fixing either.
---
Alternatives
Better With Distortion –

Ibanez GRGM21 Mikro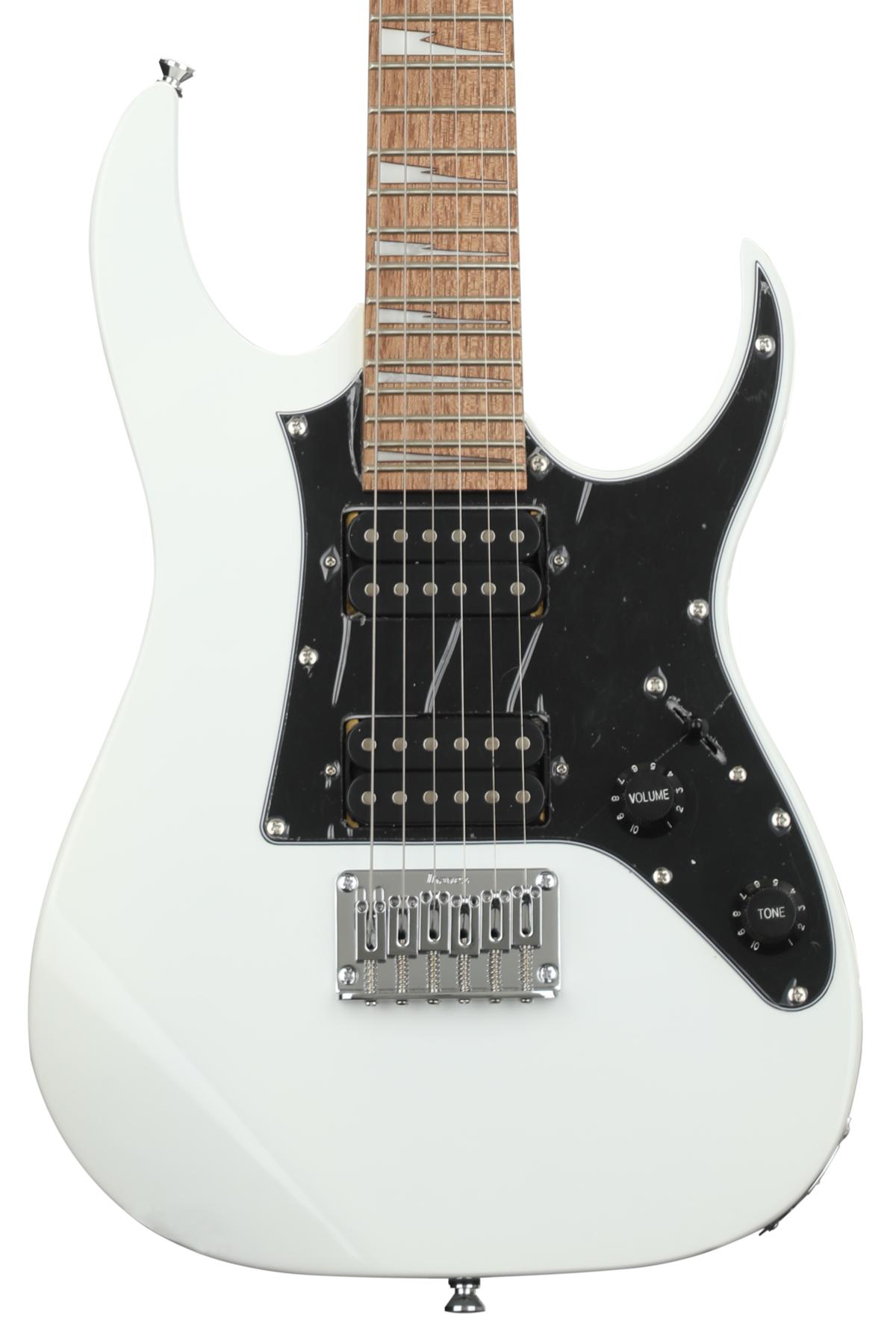 If you mostly want to play heavier stuff, you might want to consider this axe too. It comes with 2 humbucker pickups, so it provides warmer, darker, and thicker tones for you. It's a versatile guitar with a budget price too, but with the metal, it does a better job than Squier Mini Strat.
But in quality(tuning issues), and versatility it loses to Mini Strat, but for the price, it's still a solid choice. A great option for kids too.
You can read my full review of this guitar here: Ibanez GRGM21 Mikro Review 2022 – Before You Buy.
---
Regular-Sized Option –

Squier Bullet Stratocaster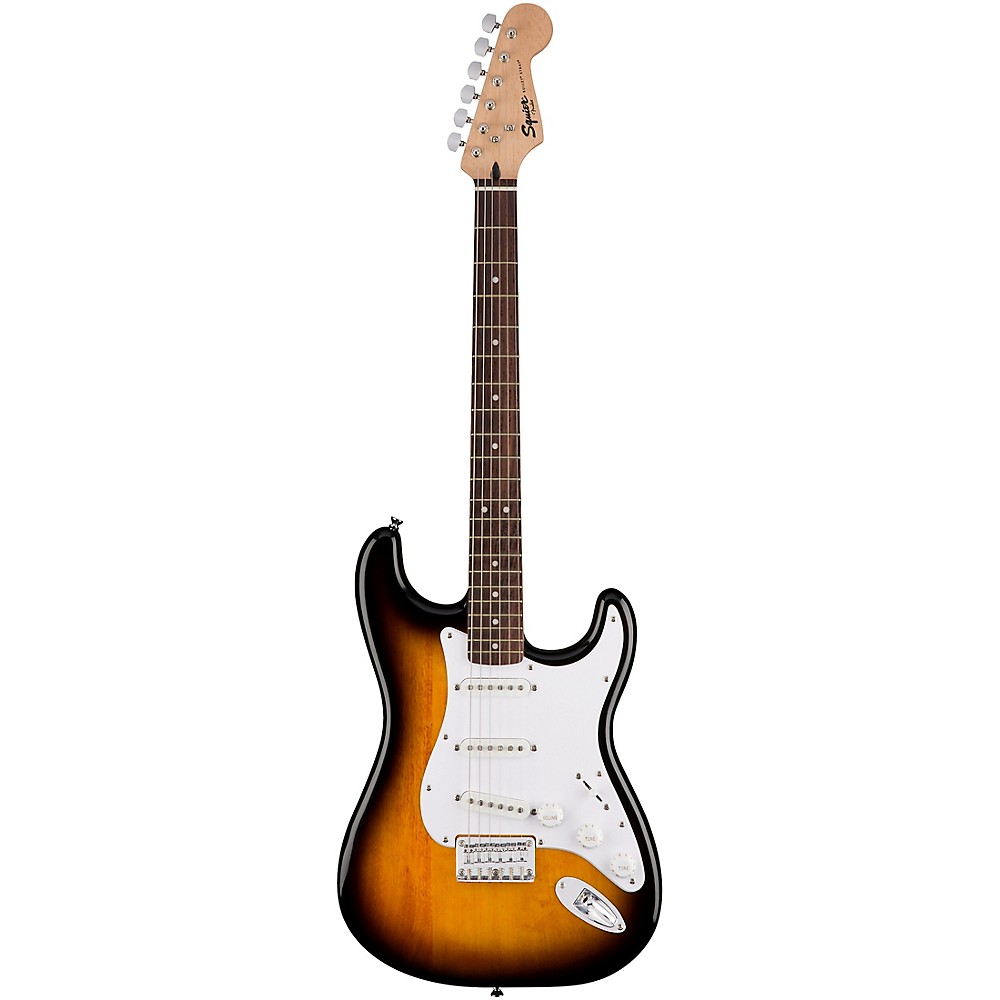 I bought this guitar at the start of 2021 and I have soo much fun with it. The tones of this Strat are super underrated in my opinion.
Some finish issues bother this guitar, but overall it's Fender magic with beginner prices.
Read my full review of this Squier: Squier Bullet Stratocaster HSS Review
---
Best Guitar For Small Hands –

Fender Mustang 90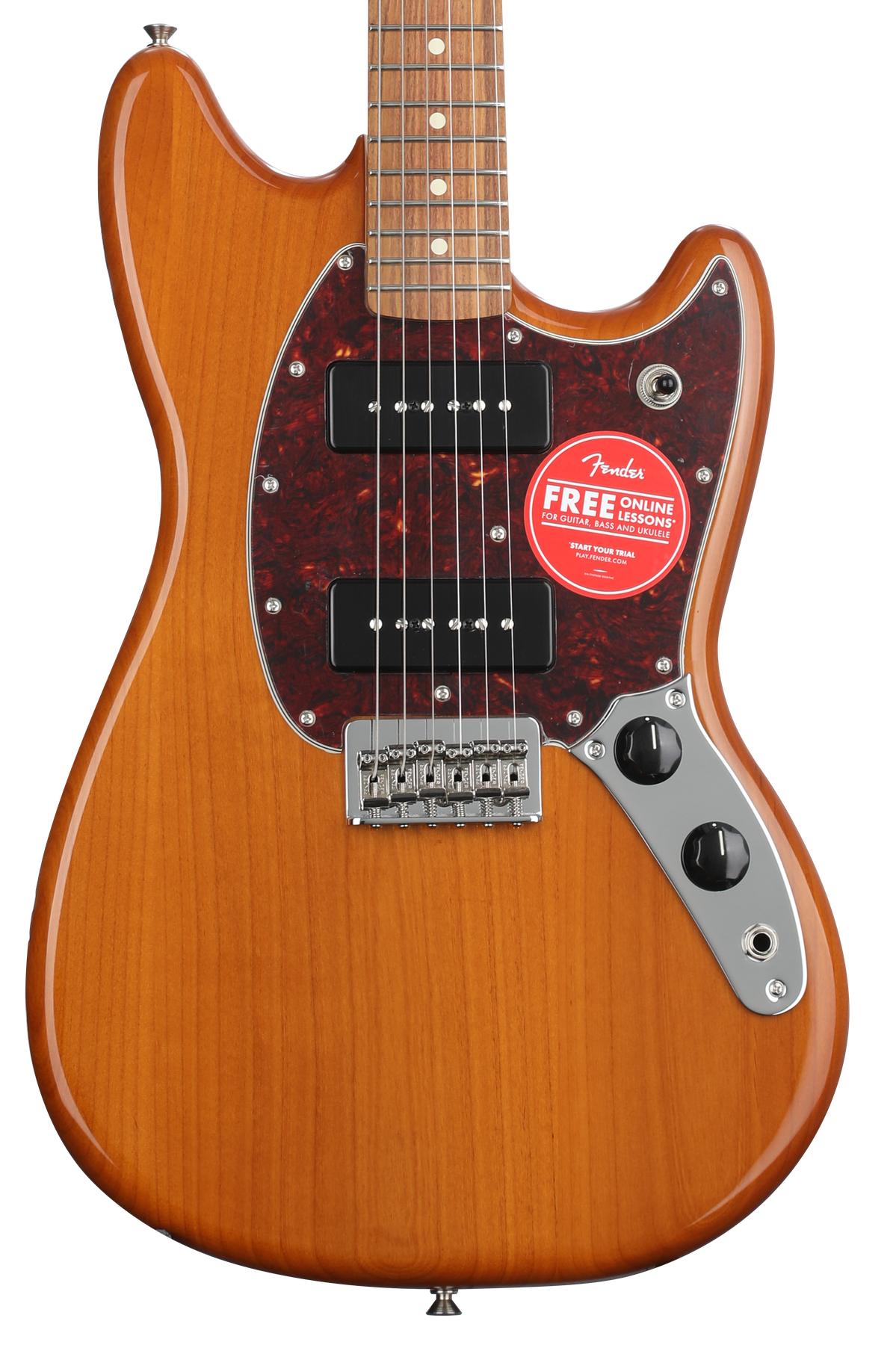 Fender Mustang 90 is an excellent instrument in my opinion. It offers you different looks and tones, and that's why you either like it or don't. Personally, I like it. A great option, especially if you love punk.
And if you have small hands, this axe is the best option in my opinion. It has a comfortable, narrow, and thin C-shaped neck. It also has a shorter scale length (24") than most regular-sized electric guitars, this lowers the string tension and makes strings easier to press down. This is my favorite electric guitar for small hands.
You can read my full review of this guitar here: Fender Mustang 90 Review 2022 – Before You Buy.
---
FAQ
How Big Is A Squier Mini Strat?
It's 3/4 size of a regular-sized guitar. The scale length (length from nut to the saddle) is 22.75 inches(57,8cm).
The overall length from the tip of the headstock to the end of the body is around 34.5inches(88mm).
The width of the body from the widest point is 12 inches(30cm).
The thickness of the body is 1.5 inches (3.8cm).
The weight of the guitar is around 5.8lbs(2.6kg)
Nut width(width of the neck from close to the nut) is 1.6 inches (40,6mm).
Where Squier Mini Stratocasters Are Made?
At the back of the headstock "Crafted in Indonesia" is stated.
---
Conclusion on Squier Mini Stratocaster Review
Squier Mini Strat is in my opinion the best 3/4-sized guitar on the market. When I played it at a younger age, playing was comfortable, even with my small hands. The tones were definitely enough for a beginner and the guitar looked cool.
Nothing has changed since then, and this guitar is still a great choice for folks looking for a great 3/4 sized guitar.
Note: I recommend that you check out the alternative options I mentioned above.
I hope that this review helped you out! If you have any questions, leave a comment down below. Feel free to share this post too.
I wish you all the best and keep rocking!
You might also like:
We are sorry that this post was not useful for you!
Let us improve this post!
Tell us how we can improve this post?