Last Updated on September 15, 2023 by Justin Thomas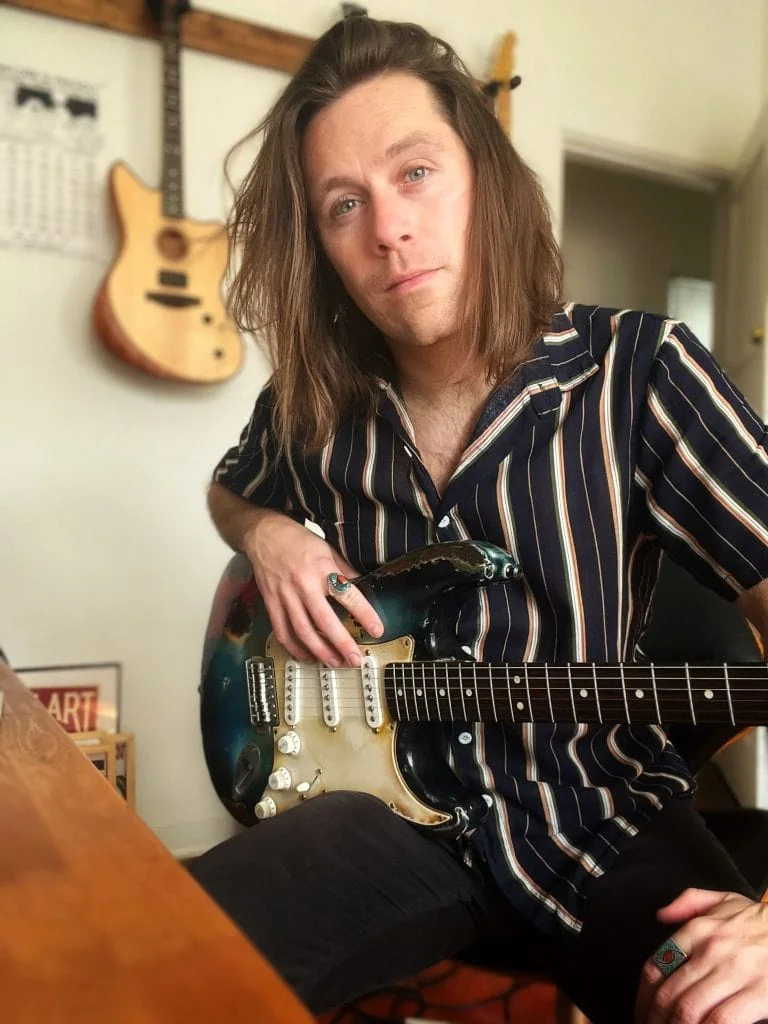 Author: Tyler Connaghan
Tyler Connaghan is a guitarist, singer, producer, composer & engineer based in Los Angeles, California. Tyler has been playing the guitar since 2007. In between writing for guitar publications, he produces music for film and television. His favorite axe is his custom Pelham Blue Fender Stratocaster.
Expertise: music industry, producing, acoustic & electric guitars, songwriting
Bachelor of Science in Music Industry Studies, Music Industry
Hide The Rambling▲
Editor: Edward Bond
Edward has been playing the guitar since 2002. So Edward has over 20 years of experience as a guitarist, has authored 15 guitar books, has written for renowned music blogs, and spent a decade teaching music. He began merging his passion for writing and music in 2020 and has written for big guitar websites such as Guitar Head Publishing and KillerGuitarRigs.com.
Originally from Seattle, Edward moved to Norway in 2021 for a master's in music. He's studied at the Jazz Institute Berlin and Conservatorium van Amsterdam, and currently resides in Trondheim. His education includes a European Jazz Master's, a diploma in Film and Game Scoring from Sofia, and a Bachelor's in Jazz from University of Oregon.
Edward has played in numerous bands and currently, Edward works on his own project Starship Infinity
Hide The Rambling▲
---
Fender is one of the most popular electric guitar brands in the world, and the Fender Stratocaster and Fender Telecaster are two of the best Fender guitars in the lineup. Though each of them falls under the Fender umbrella, they have a number of distinct differences and similarities. As a longtime Fender player myself, there are few debates that ignite my inner guitar nerd quite like the rivalry between these two classics.
If you're looking for the perfect axe, I want to help guide you through the ins and outs of these two choices, from the tone to the playability, so you can choose the perfect one for your needs.
Without further ado, let's dive into the Stratocaster vs. Telecaster guide.
---
Summary (for those in a hurry)
History of the Telecaster and Stratocaster
The idea of the Telecaster was born in Fullerton, California, in 1949 at the hands of Leo Fender. By 1950, he released the Esquire edition, which was a single-pickup version of the initial iteration. Soon after, he released the two-pickup Broadcaster. By 1952, after a long battle with the team at Gretsch, Fender completed what we now know as the classic Telecaster.
The Stratocaster didn't come into play until 1954. Though the Tele was a huge hit, some customers wanted to tweak a few of the guitar's specs, including adding a vibrato unit, a more ergonomic contoured body style, and, of course, the third pickup. Instead of trying to reinvent the Telecaster, Leo and the team went to work on a brand new model, the Stratocaster.
Similarities
Bolt-On Neck: Both of these legendary guitars feature easily replaceable bolt-on necks.
Single-Coil Pickups: Both of these guitars traditionally come with single-coil pickups, even though there are humbucker variations of each model.
Legacy: Both of these models are known for their exceptional sound and craftsmanship.
Differences
Body Shape: The Stratocaster is a double-cutaway guitar, while the Telecaster is a single-cutaway.
Pickup Configuration: Most traditional Stratocasters feature three single-coil pickups (neck, middle, and bridge), while Telecasters typically have two pickups (neck and bridge).
Tremolo System: Strats typically come with a tremolo or vibrato bridge, while Teles often have fixed bridges.
Basic Specs – Fender Player Stratocaster
Alder body.
Maple neck.
22 medium jumbo frets.
Three Alnico 5 Strat single-coil pickups.
2-point synchronized tremolo bridge.
5-way toggle switch
Basic Specs – Fender Player Telecaster
Alder body.
Maple neck.
22 medium jumbo frets.
Two Alnico 5 Tele single-coil pickups.
6-saddle string-through-body ashtray bridge.
3-way toggle switch
When You Should Choose Telecaster Over Stratocaster
While there are many variables that would go into this answer, I would generally say that if you enjoy playing leads and want a super versatile guitar, go for a Stratocaster. On the other hand, if you like simplicity and want a twangy tone that's perfect for country and rockabilly, a Telecaster is the move.
Continue reading to take a deeper dive into the different facets of these two guitars to learn more about their tones, personalities, and playability.
---
Sound
Before we dive into the anatomy of each of these guitars, let's talk tone.
Fender Stratocaster
The Fender Stratocaster uses three single-coil pickups and a five-way pickup switch, giving you access to a wide range of tones. From the twangy bite on the bridge pickup to the sparkly, warm cleans on the neck pickup, it's one of the most tonally versatile guitars on the market.
From blues to pop to rock to funk, Stratocasters are great for almost all genres and playing styles. Equip them with humbuckers, and you can even get some metal personality out of them.
Fender Telecaster
The Fender Telecaster has two single-coil pickups on the neck and bridge, and though it has a decent range of tones, it is more known for its bright, twangy sound. You get a three-way pickup selector switch and individual volume and tone controls.
While you can certainly get some warmth out of the neck pickup, which is great for blues or jazz, the spanky twang you can get from the bridge pickup makes it a staple for country music. It's also worth noting that with a higher coil winding number than Strats, Telecasters often have a higher output and a gritter tone.
What I really love is that you can pair these guitars with just about any style of amplifier and get a solid sound from them. With that said, I really prefer a Fender guitar with a classic Fender or Musicman amp, such as a Fender Twin Reverb or Music Man 212-HD, as they offer crystal-clean tones that allow the foundational sound of these guitars to shine through.
---
Playability
While both of these guitars have solid playability, there are a few notable differences.
Fender Telecasters are often lighter than Strats, which can make them a bit more comfortable during live performances or long playing sessions. They often use "C" or "U" shaped neck profiles, which are solid for playing chords or chicken pickin'. I personally love them for rhythm guitar work, as they have a nice chunky sound, especially when equipped with humbuckers.
Fender Stratocasters have contoured bodies, making them super comfortable to play, especially when sitting down. You also get easy access to the higher frets, making it easy to play and solo in higher rangers. Most Strats will use "C" or "Modern C" neck profiles, which are comfortable for lead playing. Beyond tonal versatility, this overall comfort might just be one of the reasons so many players swear by them for lead playing.
Which Is Easier to Play, Telecaster or Stratocaster?
While both of these guitars are very playable, no matter your skill level, I personally find Telecasters easier to play, thanks to the fact that they have fewer controls and a fixed bridge that minimizes tuning issues.
---
Hardware
Bridges
One of the main differences between these two guitars is the bridge.
Stratocasters often feature tremolo bridges with a floating design, allowing for pitch modulation and effects like divebombs.
Telecasters use fixed bridges, sometimes called hardtail bridges, which provide a bit of extra tuning stability without pitch modulation access.
In terms of how these bridges impact playability, the floating bridge can make the playing experience feel much more fluid, though if you're someone who likes to get aggressive with your trem use, you might find that tuning stability can be an issue.
If precise tuning is what you're after, the fixed bridge on the Tele will do you well.
Check out our bridge type guide to learn more about how bridges can impact your playing.
Tuners
Next, we have tuners. Depending on the model of Stratocaster or Telecaster you get, the tuners will differ. Higher-end models often use better or more stable tuning machines. The main difference that you'll notice is how the tuning machines are arranged on the headstock, as Fender Strats traditionally have larger headstocks.
Even so, this slight change doesn't really impact the tone or playability.
There are numerous ways to upgrade your hardware to increase its playability and stability. For example, if you have a Fender Stratocaster, you might consider upgrading to a locking tremolo system, as they're great for keeping your guitar in tune if you use the whammy bar pretty heavily.
Both of these guitars can also benefit from locking tuner upgrades, especially if you have a lower-end model with sub-par tuners.
---
Body Shape and Design
Fender Stratocasters have sleek, contoured double-cutaway body shapes, which is one of the reasons they're so comfortable to play. They come in a wide range of finish options, from more classic cherry red metallic finishes to classic sunburst. As for the materials, most Strat bodies use either ash or alder.
Ash is a great choice if you want a bit more sustain or top-end, though alder will do most players just fine, thanks to the fact that it has a nice, balanced tone.
Fender Telecasters have single-cutaway body designs with more defined edges, rather than the smoother curled edges you'd find on Stratocasters. Even though they don't have the same contoured body you'd find on Strats, they're still very comfortable, in my humble opinion.
Similar to Strats, they come in a wide range of finishes, from solid colors to sunburst. My personal favorite is the natural wood finish, as it has that classic aesthetic that makes the Tele so lovable in the first place. You'll also find ash and alder tonewoods on Teles, too, each of which can have an impact on the overall tone.
Fender Player Stratocaster Dimensions
Body Shape: Double-cutaway
Weight: Typically around 7-8 pounds
Scale Length: 25.5"
Fender Player Telecaster Dimensions
Body Shape: Single-cutaway
Weight: Typically around 7-8 pounds
Scale Length: 25.5"
---
Neck and Fretboard
Now, let's talk about the neck and fretboards of each of these axes. It's worth noting that both modern bolt-on neck Strats and Teles largely have the same neck profile, fretboard width, and fretboard radius, so beyond the different neck shapes, they'll feel pretty similar in terms of how they play.
Stratocaster
Neck Shape: Strats often feature "C" or "Modern C" shape neck profile, which is uber comfortable in the hands.
Neck Length: If you get a standard Stratocaster, it'll be 25.5" in scale length. This gives the guitar a firmer, snappier feel.
Neck Width: Standard Strat necks are typically around 1.650 inches wide at the nut.
Fretboard: Most Stratocasters either come with maple or rosewood fretboards, each of which can have distinct tonal impacts.
Telecaster
Neck Shape: Most Teles use either "C" or "U" shape neck profiles, giving them a much chunkier feel than Strats.
Neck Length: Just like Strats, standard Telecasters have a 25.5" scale length.
Neck Width: Surprise, surprise — the neck width is also the same at 1.650" around the nut.
Fretboard: And, if you couldn't already guess, Telecasters also often use either maple or rosewood fretboards
How Do These Features Affect the Guitars
One of the most important factors that'll impact how any guitar will feel in your hand is the neck shape. The "C" neck profile, which is found on Stratocasters, is one of my favorites, as it's super comfortable in the hand.
If you have bigger hands or enjoy a "chunky" feel for heavier rhythm playing, the "U" neck profiles found on some Telecasters might be more suitable.
It's also worth noting that the neck profile and width can impact the action or string height. I enjoy faster, buttery playing, which is why I often opt for thinner necks with flatter fretboards, as they allow you to set the action super low.
Then, we have the tone, which has a lot to do with the tonewood used on the fretboard. For the most part, maple fretboards tend to lean toward a brighter, snappier sound, while rosewood fretboards are a bit warmer and mellower.
Find out more about the tonal impact of rosewood vs maple fretboards!
How Can Different Neck Options Suit Different Playing Styles
There are plenty of unique neck shapes out there, but for the sake of this article, let's keep the focus on the "C" and "U" shapes.
Classic "C" shape: Great for players who like to hop back and forth between lead and rhythm playing. It's got a nice, fluid feel, making it easier to traverse across the fretboard from top to bottom. Whether you're performing consistent string bends in blues or getting some wrist action in with Nile Rodgers-style funk, the "C" neck performs well.
Classic "U" Shape: These necks are more substantial and are better for more precise playing, especially when it comes to heavy blues bends. Similarly, heavier necks promote cleaner chord work, especially if your style is rhythmic and heavy-handed.
---
Pricing & Value
When you start comparing the prices of different Stratocaster and Telecaster models, you'll quickly realize that they pretty much even out. Let's look at the average prices of these models.
| Guitar | Price |
| --- | --- |
| Fender American Ultra Luxe | $2,700 |
| Fender American Vintage II | $2,200 |
| Fender American Original | $2,200 |
| Fender American Ultra | $2,150 |
| Fender American Professional II | $1,700 |
| Fender American Performer | $1,400 |
| Fender Player Plus | $1,100 |
| Fender Vintera | $880 |
| Fender Player | $680 |
| Squier Classic Vibe | $430 |
| Squier Affinity | $250 |
| Squier Bullet | $160 |
Looking At These Guitars from a Value Perspective
The great thing about the Fender lineup is that even those with slight budget restraints can find a guitar to suit their needs, as the company manufactures everything from ultra-high-end guitars with top-of-the-line hardware and electronics to beginner-friendly axes with simplified designs for those just getting their feet wet.
I would recommend that if you're an intermediate player or advanced player, go for an American-made Strat or Tele, as they're much better long-term investments and will likely become more valuable over time if taken care of.
---
Famous Guitarists Using Stratocasters and Telecasters
Famous Guitarists Using Fender Stratocasters
Eric Johnson
Jimi Hendrix
Tom Morello
Jeff Beck
Stevie Ray Vaughan
Mark Knopfler
Richie Blackmore
David Gilmour
Famous Guitarists Using Fender Telecasters
Brad Paisley
Keith Richards
Jimmy Page
Chris Shiflett
Jim Root
Muddy Waters
Bruce Springsteen
Jonny Greenwood
Albert Collins
---
My Favorite Stratocasters and Telecasters
Best Overall Stratocaster – Fender American Performer Stratocaster
If you're looking for a high-end, versatile, and classic-looking Fender Stratocaster, I highly recommend going for the Fender American Performer Strat. It hits the middle mark between budget-friendly and high-end, giving you plenty of value for your money.
Plus, you can squeeze just about any sound out of this bad boy.
Best Budget Stratocaster – Squier Affinity Series Stratocaster
If you want the classic look, feel, and tone of a Stratocaster without breaking the bank, get yourself a Squier Affinity Series Strat. It's got decent-sounding pickups and plays way better than most guitars aimed at the beginner player. The build quality isn't nearly as good, but it can still hold up for regular playing.
Best Overall Telecaster – Fender American Ultra Telecaster
With locking tuners, S-1 switching, ultra-noiseless pickups, and some of the best finishes I've ever seen in a Fender guitar, the Fender American Ultra Tele is one of the best Telecasters on the market today.
Best Budget Telecaster – Squier Affinity Series Telecaster
Again, when it comes to getting the same classic tones and look as an actual Fender guitar, look to the Squier Affinity Series. You get plenty of value for the money, and this thing sounds absolutely fantastic!
*Consider all links in this post to be affiliate links. If you purchase, at no additional cost to you, we may earn a small commission. It helps us to keep the lights on, thanks! 🙂
Explore the best Squier guitars on the market today!
---
Conclusion on Stratocaster vs Telecaster
I'm convinced that the Stratocaster vs. Telecaster debate will never end, as both of these iconic guitars are incredible in their own right. With that in mind, picking between the two means getting a bird's eye view of their strengths and weaknesses.
The Fender Stratocaster is a versatile workhorse guitar, offering a wide range of tones, and an ultra-comfortable playing experience, and the cherry on top is the tremolo bridge. On the downside, the wide range of tonal options can be a bit overwhelming for beginner players, and the lack of tuning stability with the floating bridge can be a bit of a nuisance.
The Fender Telecaster, on the other hand, has been a long-time favorite for its simple, classic, no-frills design. You get a distinct twang and killer tuning stability, especially on the new models. However, the limited tonal range is why many players find themselves leaning toward Strats.
With that said, the choice between the two, as with any guitar, is a deeply personal one. The best thing you can do is head down to your local guitar shop and test out a few different models until you find one that sings to you.
---
FAQ
When Was Stratocaster Invented?
The Fender Stratocaster was born in 1954 in Fullerton, California, as a successor to the popular Tele and Esquire solid-body models.
When Was the Telecaster Invented?
The Fender Telecaster was invented in 1950 and was the first commercially successful electric guitar in the Fender lineup.
Is Telecaster Good for Metal?
A Fender Telecaster would not be my first choice as a metal guitar, as it uses traditional single-coil pickups that are ultra-noisy and don't provide the necessary 'oomph' for heavily distorted drop-tuned chords and riffs.
Is Stratocaster Good for Metal?
While Fender Stratocasters are ultra-versatile guitars, they're not the best for metal, thanks to the single-coil pickup configuration. I'd recommend looking at a Gibson guitar if you want something for heavier playing.
Which Is Better for Beginners, Stratocaster or Telecaster?
While both of these guitars are excellent beginner options, I'd recommend the Fender Telecaster for beginners solely based on the simplified pickup consideration. Having fewer pickups and controls to worry about can make the learning experience far less overwhelming.
We are sorry that this post was not useful for you!
Let us improve this post!
Tell us how we can improve this post?