Meet The Expert: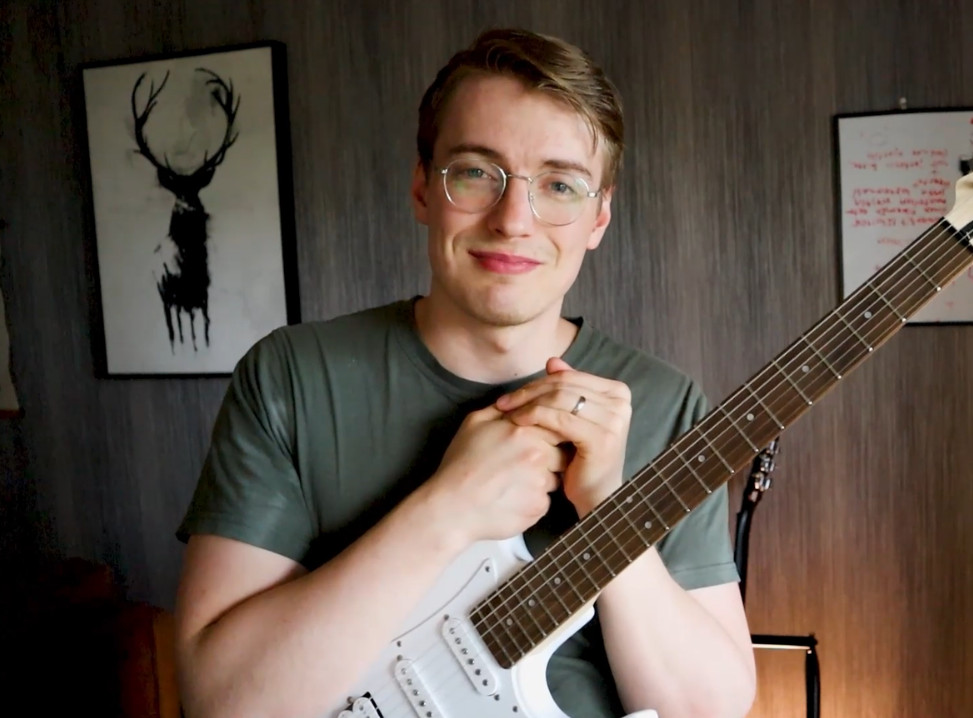 Teemu Suomala
Founder, Editor, & Gear Testings
Playing guitar since 2009. Mainly focused on electric guitars, although plays acoustics too. Has played dozens and dozens of different guitars through different amps and pedals over the years. That's why he started this blog in January 2020 and started sharing his experience. Has written for many big guitar websites, such as Songsterr, Musicnotes, GuitarGuitar, and Ultimate Guitar.
---
Latest Articles From Teemu Suomala
Story of The Guitaristnextdoor.com and Its Founder
My name is Teemu Suomala. I'm a Finnish guy who started guitar playing 13 years ago. Here you can see me with my first axe(Greg Bennet Stratocaster) in 2009:
I have always loved the music that includes guitar, and the idea that I could play my favorite songs really got me started.
First I learned some riffs on my friend's guitar and after a year of borrowing friend's guitar a little bit too often, my dad bought me my first axe.
It was actually a guitar pack that included a Greg Bennet Stratocaster and Ibanez Toneblaster X 15W amp. I was soo excited back then, and when we got back home I immediately played a couple of my favorite riffs with it.
In case you are curious, those riffs were Wake Me Up When September Ends- opening riff from Green Day and the main riff of The Kids Aren't Alright from The Offspring.
I liked my first guitar. It definitely wasn't the easiest to play, especially with my small beginner hands, but with practice, I started to get the hang of it.
In 2011 it was time for acoustic. I really didn't have any idea of what kind of acoustic I wanted or need, so when I walked into the music store, the owner just sold me Yamaha C40 classical guitar.
Here it is: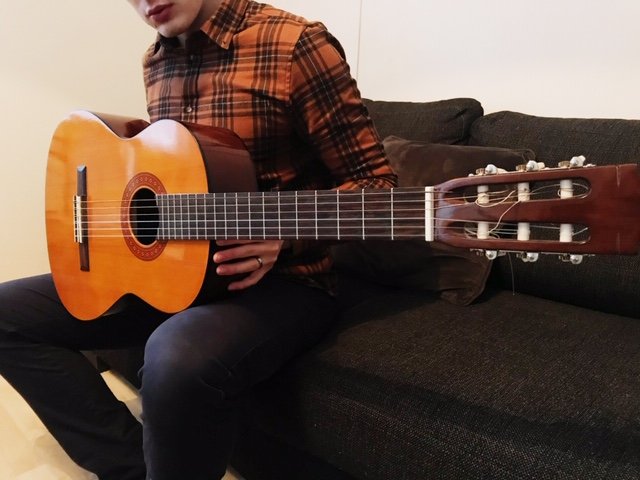 I was really looking for a steel-string acoustic back then, but I really didn't know anything about guitars in 2011 so, the music store owner successfully sold me a nylon-strings classical guitar.
But I'm happy with the C40 tho. This wide and thick neck classical has improved my guitar skills and especially the reach over the fretboard more than any steel-string acoustic could.
In 2013, it was time for a new electric guitar. After long research, I decided to buy ESP LTD MH-400 online without even trying it.
Here is this axe: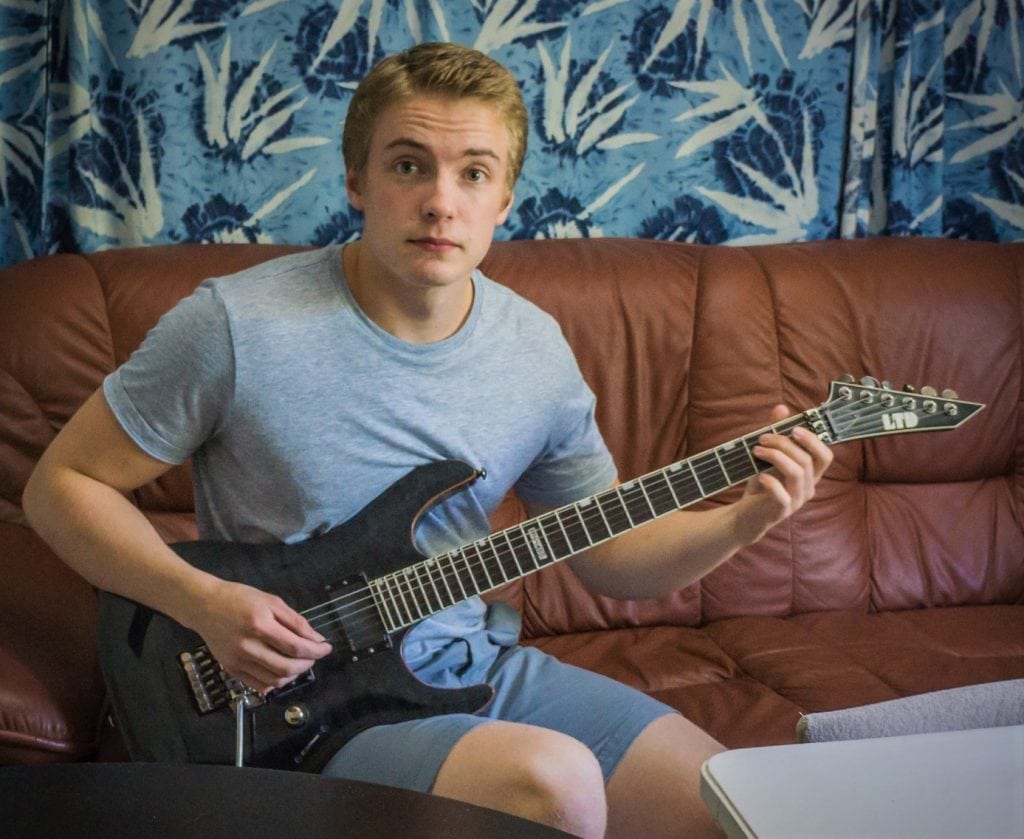 This purchase was great! This is why my opinion is that you really need to do great research before buying a new guitar, but you don't necessarily need to try it out before buying. It's a plus, but not a requirement.
I had a lot of fun during my guitar journey, and it's absolutely still continuing. But, there are a couple of things that didn't go so well…
1. I didn't have any real guidance
I tried to find help from the internet in 2009, but I really didn't find anything that gave me real guidance. Of course, I found tabulatures that helped me learn my favorite songs, but I really didn't know what I should learn first or next…I just bounced around, I didn't have a direction. All this caused me to lose my motivation a little bit too often…
2. When I started I didn't have any idea what kind of gear I needed.
My first guitar choices were not terrible, but learning could have been a lot easier for me if I would have had help with gear choosing. I really didn't know anything about guitars, I just walked into the music store and the staff or the owner could sell me almost anything.
These 2 are the main reasons why I started this website. Here's what I want to do with my work:
I want to help beginners to get started with the guitar easily and for free(of course, you need to buy the guitar:D).
I want to help beginners to maintain their motivation.
I want to provide guitar players info about guitar gear, based on my own and teams experience and extensive online research.
Also, when I searched the internet in late 2019 I found out that many guitar websites which offer reviews are not doing a good job. In many cases reviewers don't even seem to be playing guitar themselves, they are just some outsourced writers that site owners hire work for them cheaply.
And sometimes these reviews won't reveal any cons. There are rarely any perfect guitars out there. But do you know why some sites do this? They want you to buy that product through their affiliate link. There is nothing wrong with being an affiliate. I'm too. But when people make reviews they should be transparent and reveal all the cons too. They should not just praise the products.
These are the reasons why I started this website (guitaristnextdoor.com).
Our mission is to help you to get started with guitar playing and make real progress with your hobby.
And I want to do all of this in an easy-to-understand manner. You know, like you asked advice from the friendly neighbor… the guitarist next door.
Our Reviews
We review guitars and guitar gear on this site. 85% of the time, I or some from my team has tested that specific guitar or gear. After that, we also do research online and then we craft our own reviews.
We reveal both, the pros and cons which we found. And then you can make your own decision based on our expertise and research.
Let us help you with your guitar needs, whatever it is…
guitar review,
free tutorial,
helping you to not give up,
answering a specific guitar question, etc…
we'll be your helpful Guitarist Next Door.
So without further to do, play the guitar, use this site, shoot a message if you need any help, via the contact page or Youtube.
Keep rocking my friend!
Teemu Suomala
PS. If you want to get started with guitar playing fast, check this guide!