Telecasters are stunning guitars, plus it's so much fun to play one. But sometimes we crave something thicker and meatier when it comes to tone…
That's when Telecasters equipped with humbuckers step into the picture. And the great thing is that there is an abundance of different options to choose from. So you are definitely not forced to get a just Single-Coil Tele.
This article will give you:
33 Telecasters with humbucker(s) (aka. H or HH Telecaster).
11 Telecasters with only 1 Humbucker plus single-coil pickups
I reveal my 5 favorite Telecasters with humbuckers for different situations.
You get answers to some frequently asked questions
Let's get started!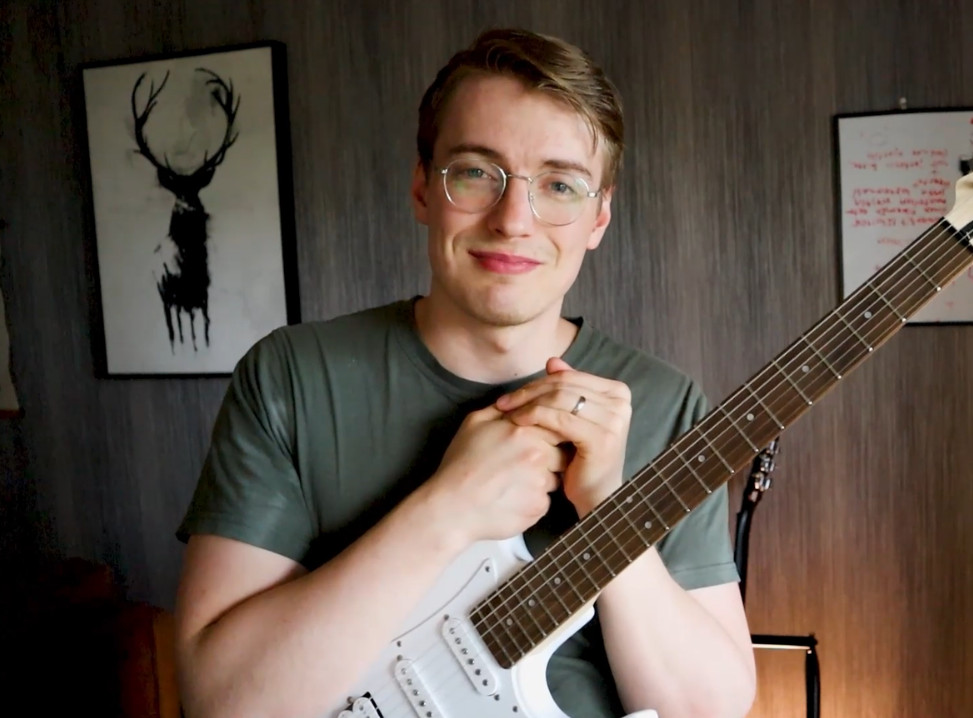 Author: Teemu Suomala
I first grabbed the guitar in 2009. I started this website in January 2020 because I couldn't do window installation anymore due to my health problems. I also noticed that most guitar websites don't do a really good job, so I decided to just go for it! I got lucky and managed to get awesome people to help me with my website. I also got lucky because I have you visiting my website right now. Thank you. I do all this for you guys. If you have any recommendations, tips, or feedback, just leave a comment, I would love to chat with you. I have been fortunate to produce content for several large guitar websites, such as Songsterr, Musicnotes, GuitarGuitar, and Ultimate Guitar. I spend my spare time exercising and hanging out with my wife and crazy dog(I guess that went the right way…).
---
Most Common Electric Guitar Pickups
---
33 Telecasters With Humbuckers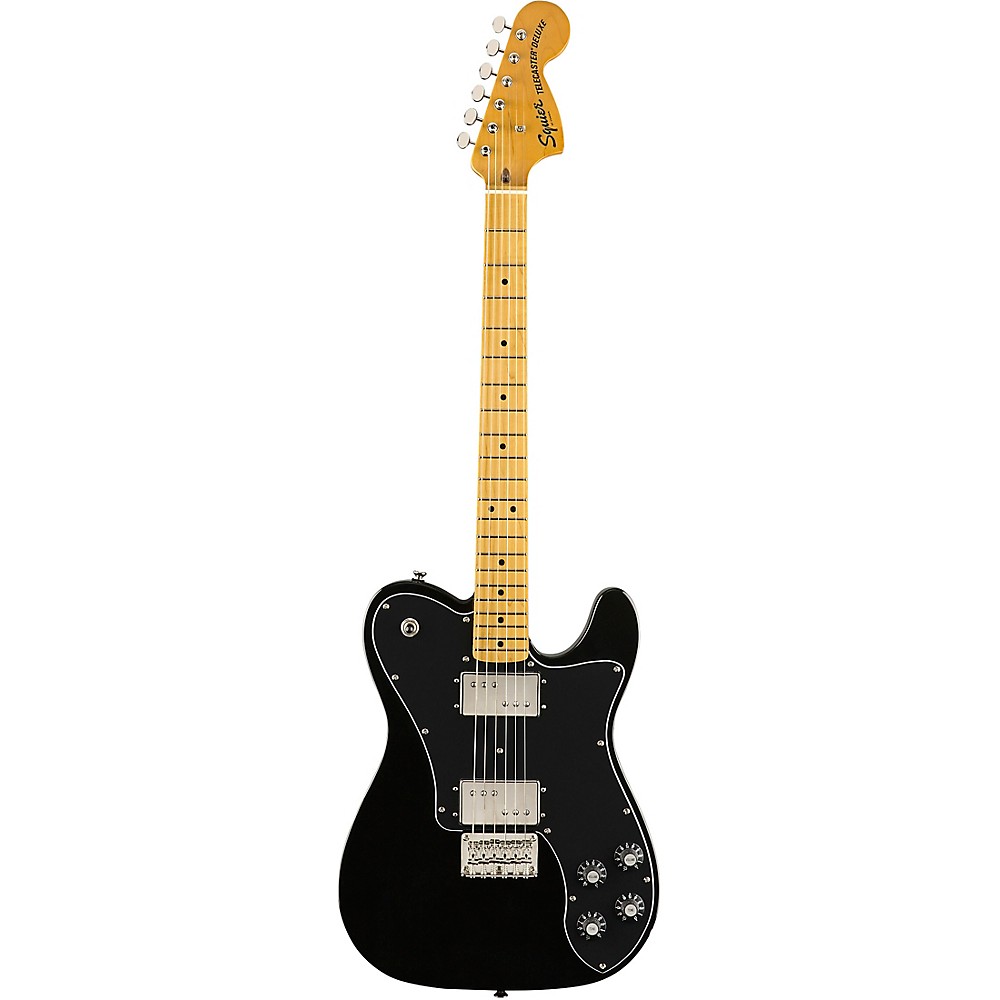 Guitars like Squier Classic Vibe '70s Telecaster Deluxe offer thick humbucker tones and really high value for the money.
Price Range Icon Meanings:
$= $100-250
$$= $251-399
$$$= $400-850
$$$$= $851-1599
$$$$$= $1600-
---
Our Favorite Music Store in The World!
Why?
– Excellent Customer Service (4.7/5 Trustpilot Score)
– Fast & Free Shipping
– Gear is Inspected, Tested, & Ready to Play When it Arrives to You (We love this)
– Fair Prices
Visit Sweetwater:
11 Telecasters With Humbuckers and Single-Coil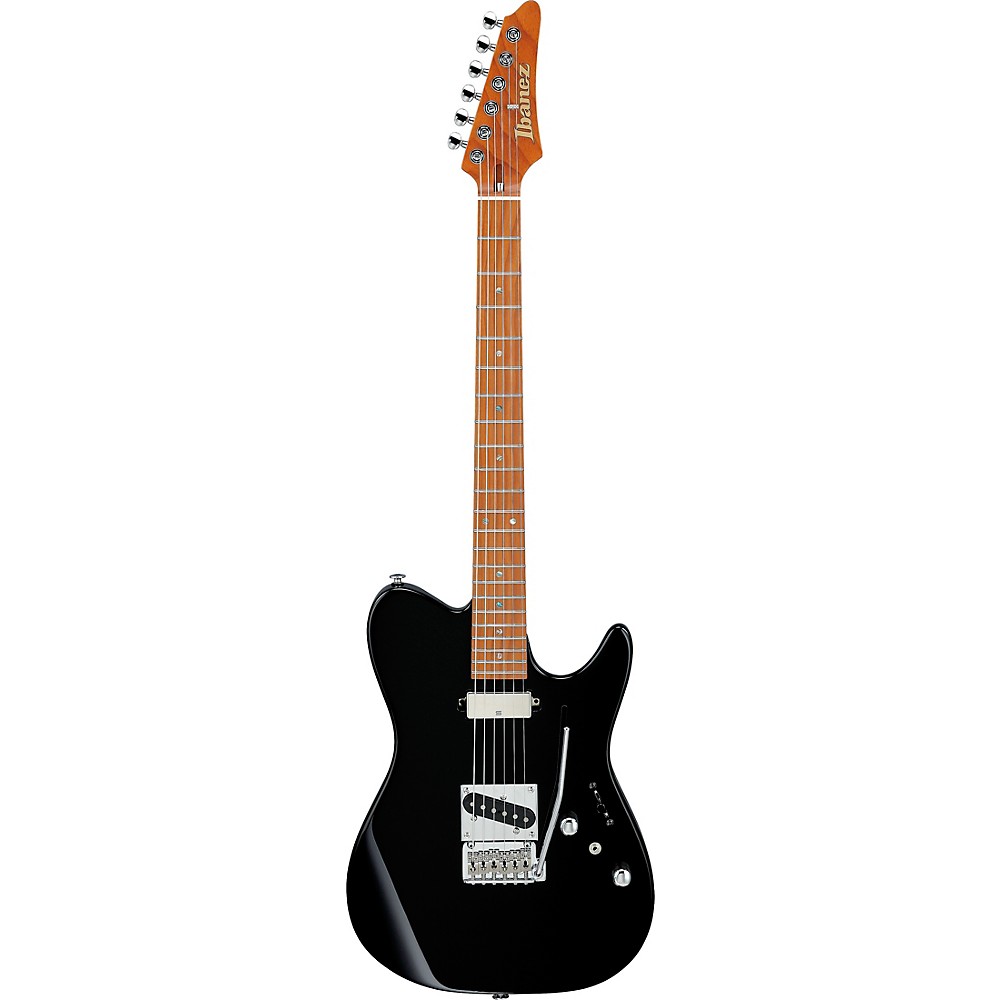 I love Ibanez guitars. And this Tele-inspired AZ is a really interesting guitar with a mini-humbucker at the neck and single-coil at the bridge. It throws something totally different onto the table. So unique when it comes to tone. Guitars like this make me want to play more.
---
5 Best Telecasters With Humbuckers – My Favorites
Best Budget – Squier Affinity Tele Deluxe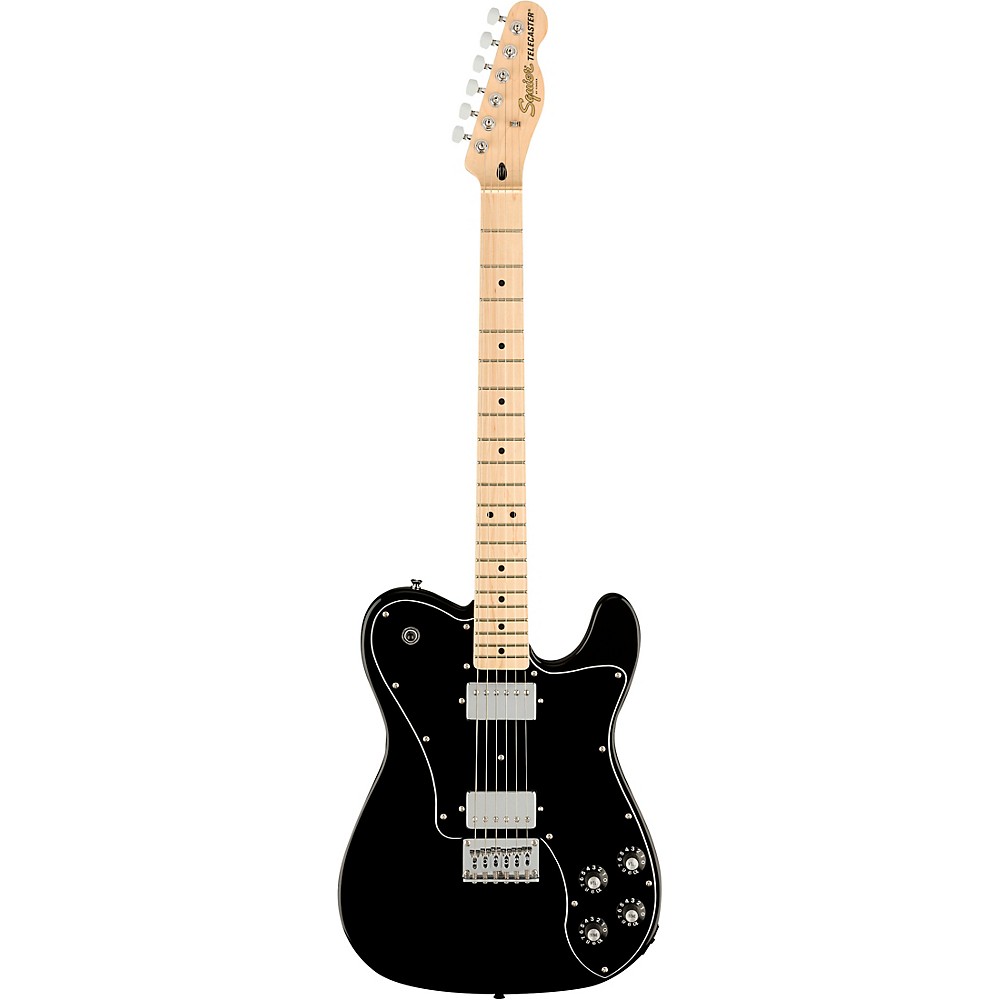 What I like
Offers solid all-around tones (versatile tonally)
Separate volume and tone controls for both humbuckers
Smooth neck
High value for the money
What I don't like
I would prefer alnico humbuckers instead of ceramics
Sometimes a bit rough fret edges
Who is it for?
This guitar offers great bang for the buck for beginners and budget-minded guitar players.
Check Today's Price on
---
Best All-Arounder – Fender Player Telecaster HH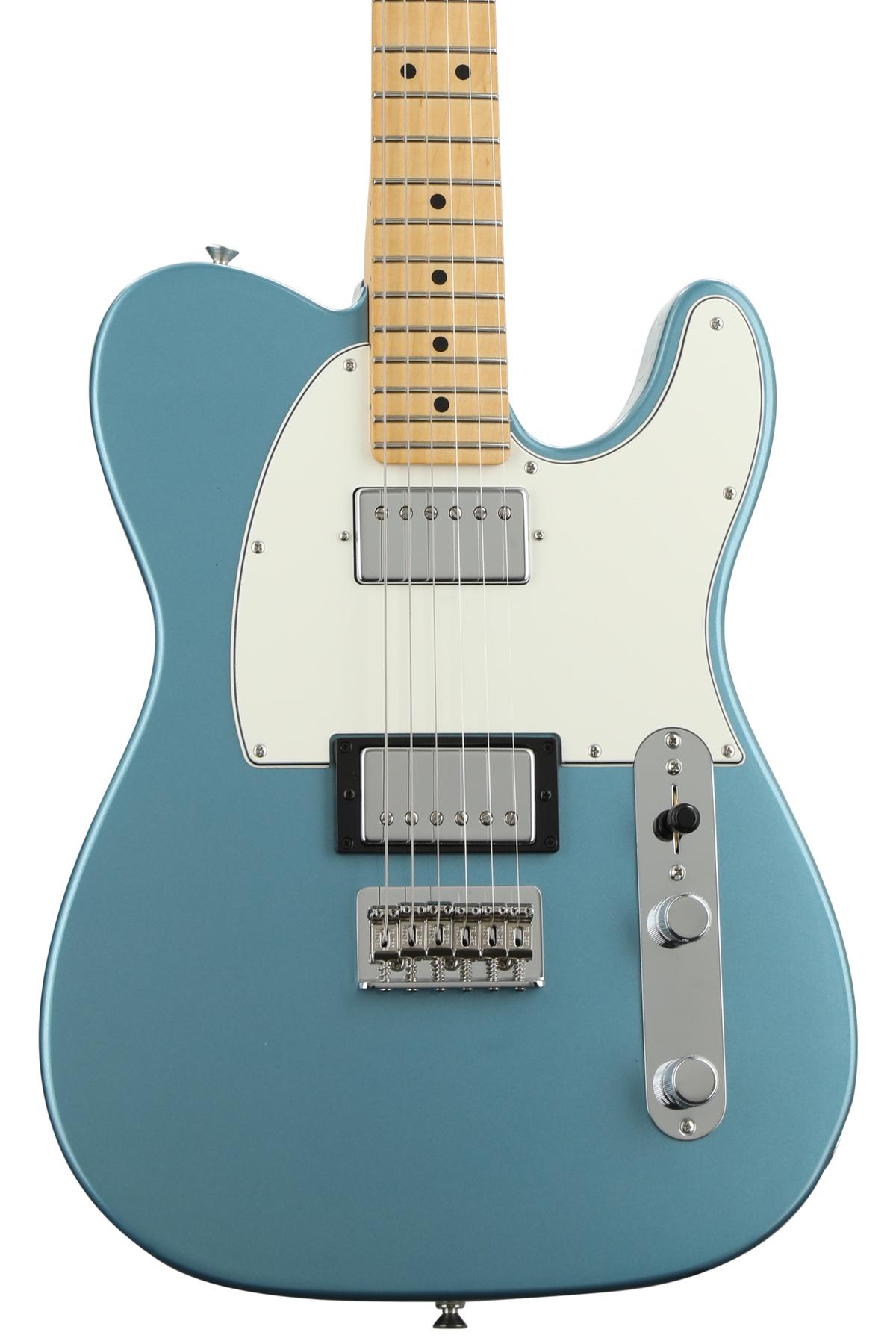 What I like
Super-versatile, a wide variety of different sounds
Great tones with coil-split
Comfortable to play
Stays in tune well
Great all-around quality
What I don't like
Edges of the fretboard are a little bit rough sometimes
Out of the box action is too high for some players(for me)
Who is it for?
Excellent all-rounder with one of the best split-coil sounds I have heard at this price range. There is definitely no reason to feel sorry about buying this over higher-priced Telecasters. A great option for intermediate players looking for an upgrade or just for anyone looking for an HH Tele.
You can read my full review of this guitar here: Fender Player Telecaster HH Review 2022
Check Today's Price on
---
Best for Small Hands Stunning – Fender Special Edition Custom Telecaster HH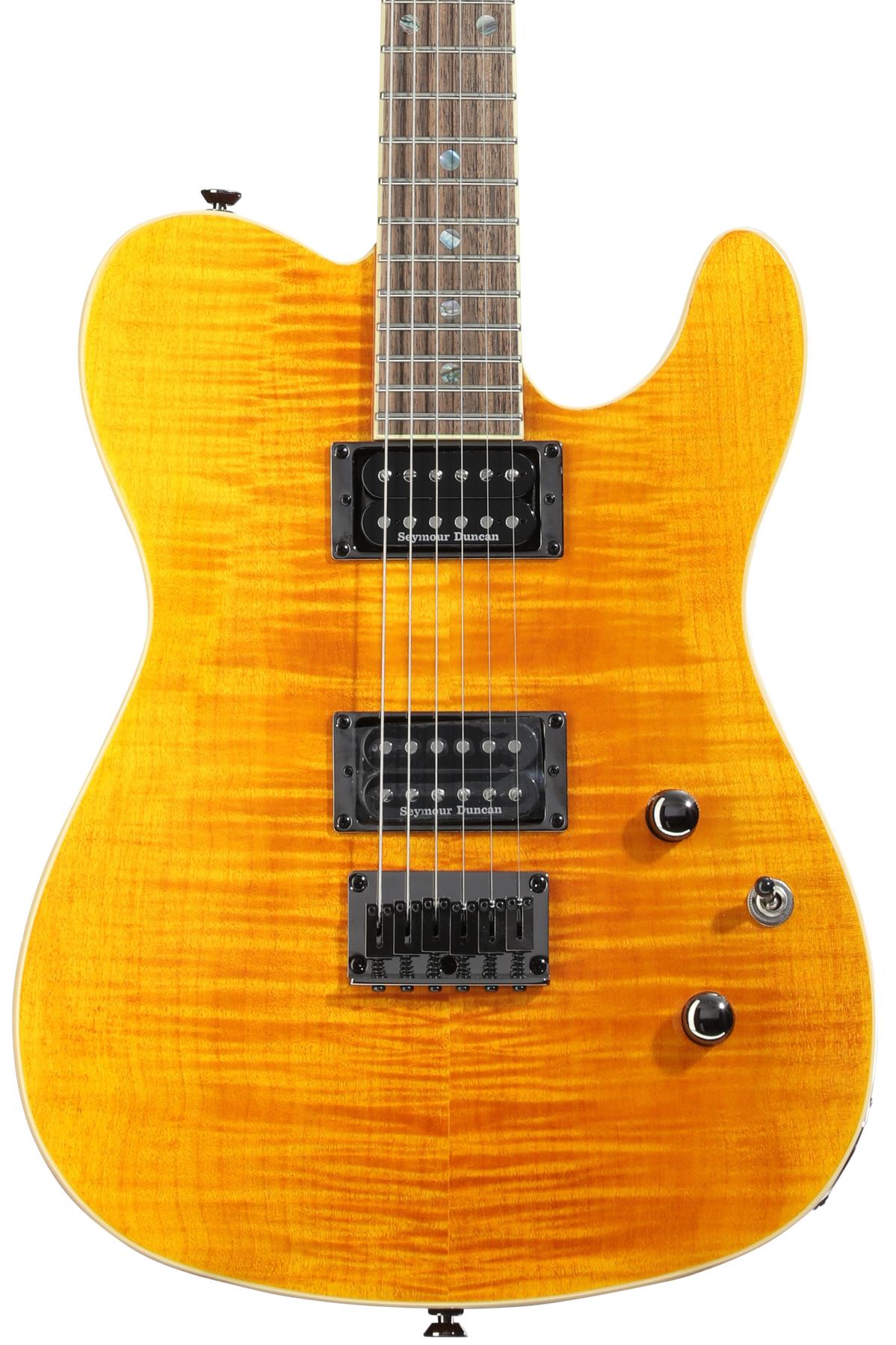 What I like
Narrow neck. (1.62" = 41.3 mm nut). This slim playability fits small hands well.
Stunning looks
Fast playability
Versatile. Can handle metal too
Coil-split
What I don't like
Sometimes poor setup and finish quality out of the box
Might be even too slim/thin for some players
Who is it for?
Really slim body and playability, versatile tones, beautiful looks, and great value for money. One of my favorite guitars for versatility and small hands right now. If you value these qualities this is a great option. Works well for both intermediate and more experienced players.
Check Today's Price on
---
Best for Metal – Fender Jim Root Telecaster HH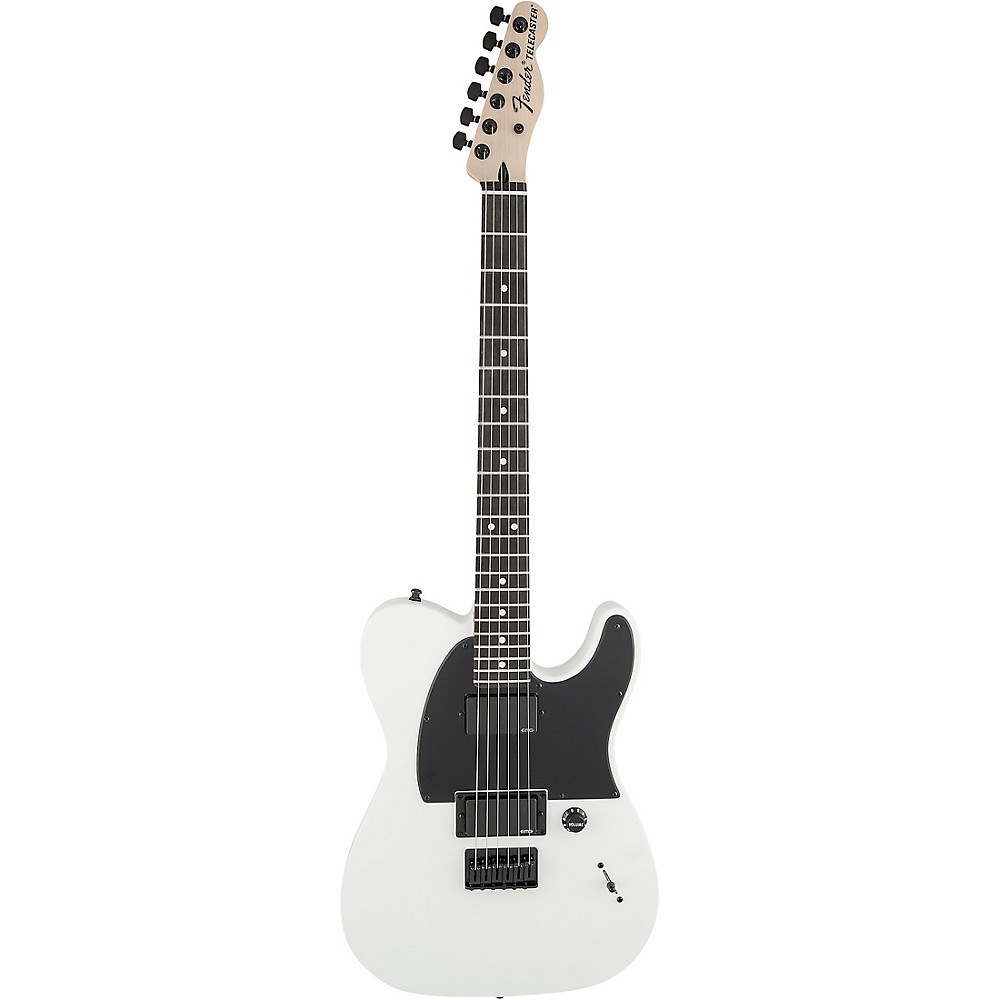 What I like
Active EMG 60 (neck) and EMG 81 (bridge) offer mean easily distorting tones
At the same time classy and mean looks
Locking tuners keep everything in tune
Familiar and comfortable Tele playability
What I don't like
For this price, we should get a real bone or at least Tusq nut
The tone of active pickups might sound too compressed for some players
Who is it for?
If you have some extra room in your budget and want active humbuckers with mean tones. If the price is too high, check ESP LTD TE-200.
Check Today's Price on
---
Best Premium – Fender American Professional II Telecaster Deluxe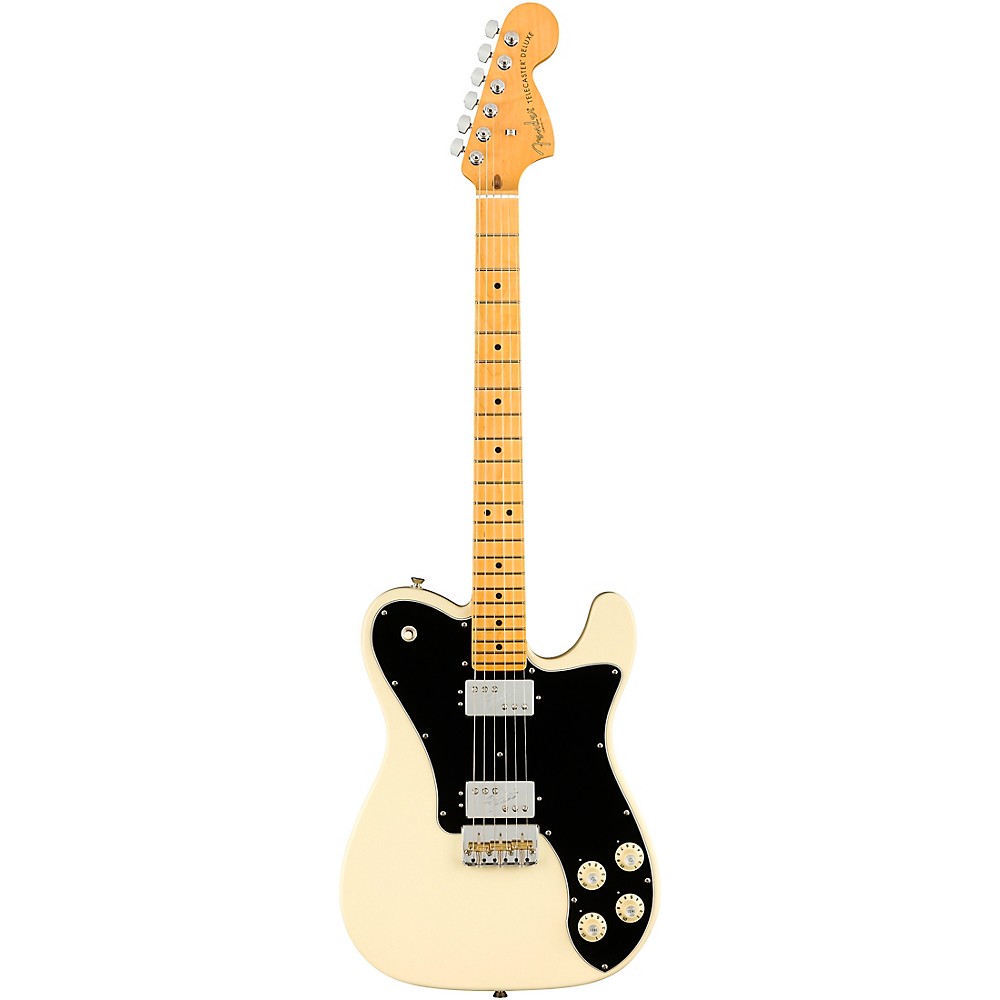 What I like
Really balanced and versatile humbucker tones
With coil-split you are able to get surprisingly twangy tones out of this
Plays like a breeze
A real bone nut for improved sustain and tone
Deep C neck shape and 1.685″ nut width fit larger hands well
What I don't like
Price is too much for most players
Who is it for?
These are sometimes called dad's guitars, probably because it usually takes until "dad-years" to get the money together for this kind of instrument. But all-in-all this is a great guitar for advanced and professional level players who are ready to pay for the premium quality.
Check Today's Price on
---
Which Pickups You Should Choose With Your Telecaster
It comes down to your taste.
Do you want really meaty tones that are great with metal (Double Humbuckers)
Do you want Bluesy, Eric Clapton like tones (Single-Coils)
Do you want versatility (HSS or HSH pickup configuration will offer that)
So get clear on what you want.
Here's an image that highlights which kind of tonal characteristics different pups offer:
A combination of hot and thick tones is usually great for metal, while a combo of bright and cold tones fit well with blues and funk. But please, get a guitar that allows you to play the music you love.
What Music Telecaster With Humbuckers Can Handle?
Usually, we see Telecasters equipped with Humbuckers associated with metal. For example Jim Root sometimes shreds with HH Telecaster. Check this guy riffing with Jim Root's Signature Telecaster with double humbuckers:
And there's no denying that the hot, warm, and thick tones of humbuckers combo is an awesome fit for mean distortion. But it's not the only use for humbucker Tele's.
For example, you might like a blues that includes warm, calm, and balanced-sounding guitar. If you are after this kind of tone, double-humbuckers will serve you well.
Also, in country music, the calm tone of humbuckers is usually a great option. Especially for rhythm guitar.
But overall, Telecaster with Humbuckers can handle almost any kind of music. And sometimes you get a coil-split feature with these Tele's too. This ensures ultimate versatility for you. With coil-split, you can split the coils of the humbucker and get solid single-coil tones out of your guitar too. It's not the same thing as playing an actually single-coils, but it's still an awesome option to have.
Active vs.Passive
With active pickups, you have your guitar equipped with a battery. This battery strengthens the signal coming from your guitar before it even gets to the preamplification section of your guitar amp.
This makes the tone of your pickups even hotter and that's why active pickups are almost exclusively used with metal.
There are a ton of metal guitarist who uses passive pickups too, it comes to the guitar players' own preference when it's time to choose between Active and Passive pups.
Active pickups offer a tone that's hotter and distorts easier. It can sound a bit compressed sometimes. Active pickups are usually a bit more expensive and require a battery.
Passive pickups don't distort so easily and offer a more balanced tone.
Compare how Active and Passive pickups sound:
Other Pickup Options for Your Telecaster
HH configuration is not your only choice, here are a couple of other pickups/pickup configurations that fit Telecasters well.
P90's
P90 is a single-coil pickup that has more wraps of wire around the coil than regular single-coils. This makes them sound hotter and more humbucker-like. That's why P90's are a great middle-ground between Single-coils and Humbuckers.
P90's are commonly used in Punk and Rock music. But also some older metal was recorded with these pups. Here are a couple guitarists who have used guitars with P90's:
Billie Joe Armstrong (Green Day)
Tony Iommi (Black Sabbath)
John Lennon (The Beatles)
Matt Bellamy (Muse)
HSS-Configuration
There are a not lot of Telecasters available with this configuration, but there are some. For example the Fender Brent Mason Tele MN.
With this configuration, you get the single-coil twang, but you have warm and thick tone options too because of the bridge humbucker. This is a great option for versatility and fits rock music really well. The bridge humbucker can usually handle some metal tones too.
Here are a couple of guitarists who have frequently used guitars with HSS pickup configuration (not that popular btw):
Adrian Smith (Iron Maiden)
Ian D'sa (Billy Talent)
Kirk Hammett (Metallica)
Andy Timmons (Danger Danger)
---
Conclusion
Clearly, there is a ton of different options to choose from. We guitarists are spoiled nowadays…
But get clear on what you want from your tele. What do you want to play with it? Are you into warm, hot, and thick tones of humbuckers? Or do you prefer the twangy, cold, and bright tone of single-coils? Or something in between, like P90's?
As I always say, get a guitar that allows you to play the music you love. That will satisfy your guitar needs and make you want to play more.
Hopefully this post helped you out, if you have any questions, just leave a comment. I wish you all the best and keep rocking!
Teemu