Last Updated on April 28, 2023 by Teemu Suomala
This article gathers together the best of the best gear we have tested. I shortly highlight why the specific piece of gear is so good and who it is for. Have fun checking out the best gear!
Gear picked by: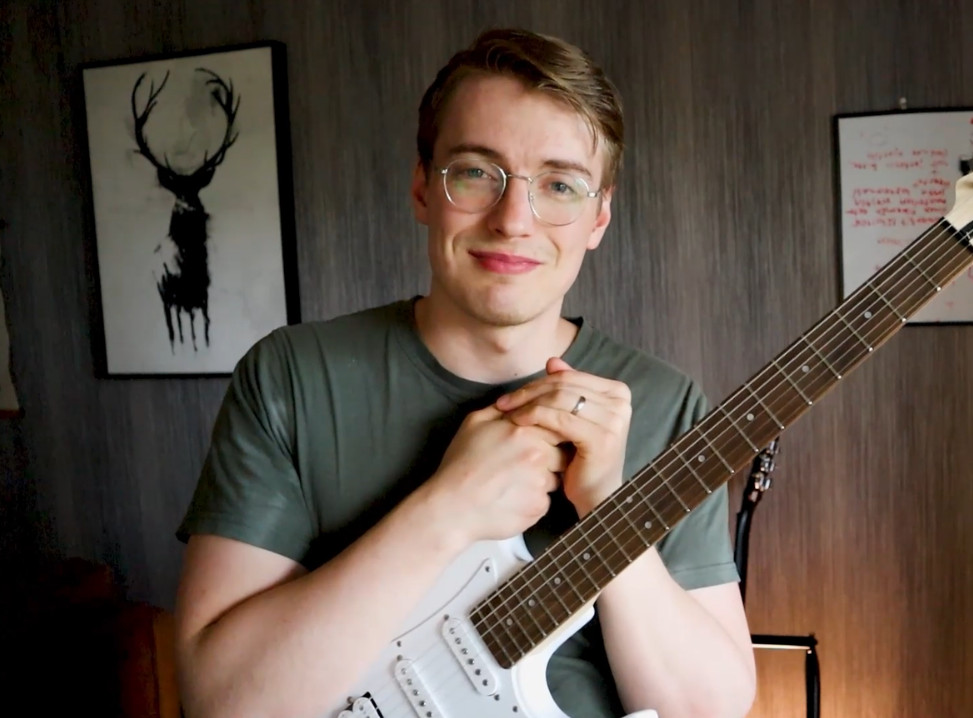 Electric guitars and amps: Teemu Suomala
I first grabbed guitar in 2009. I started this website in January 2020 because I couldn't do window installation anymore due to my health problems. I also noticed that most guitar websites don't do a really good job, so I decided to just go for it! I got lucky and managed to get awesome people to help me with my website. I also got lucky because I have you visiting my website right now. Thank you. I do all this for you guys. If you have any recommendations, tips, or feedback, just leave a comment, I would love to chat with you. I have been fortunate to produce content for several large guitar websites, such as Songsterr, Musicnotes, GuitarGuitar, and Ultimate Guitar. I spend my spare time exercising and hanging out with my wife and crazy dog(I guess that went the right way…).
Acoustic & classical guitars and amps: Tommy Tompkins
Playing guitar since 2004. Primarily an acoustic guitarist who plays and writes traditional American folk music, with a background in melodic metal and a solid foundation as a bassist.
Acoustic guitars: DL Shepherd
Darren has been playing guitar for over 23 years. He fronted the metal band Suddenly Silence in the early 2000's, and also achieved recognition as an award-winning bluegrass guitarist.
A native of southwestern Virginia, and has shared the stage with many big-name acts from various genres. When he is not playing one of his many guitars, he can be found riding his Harley through the mountains of Virginia.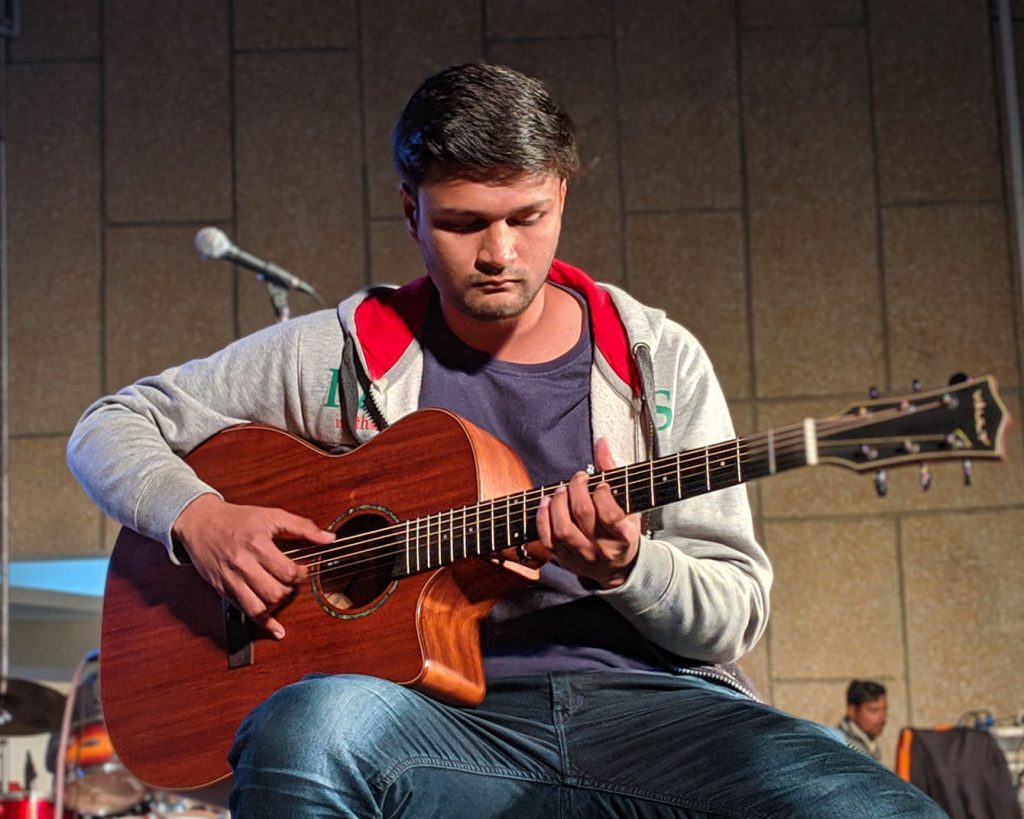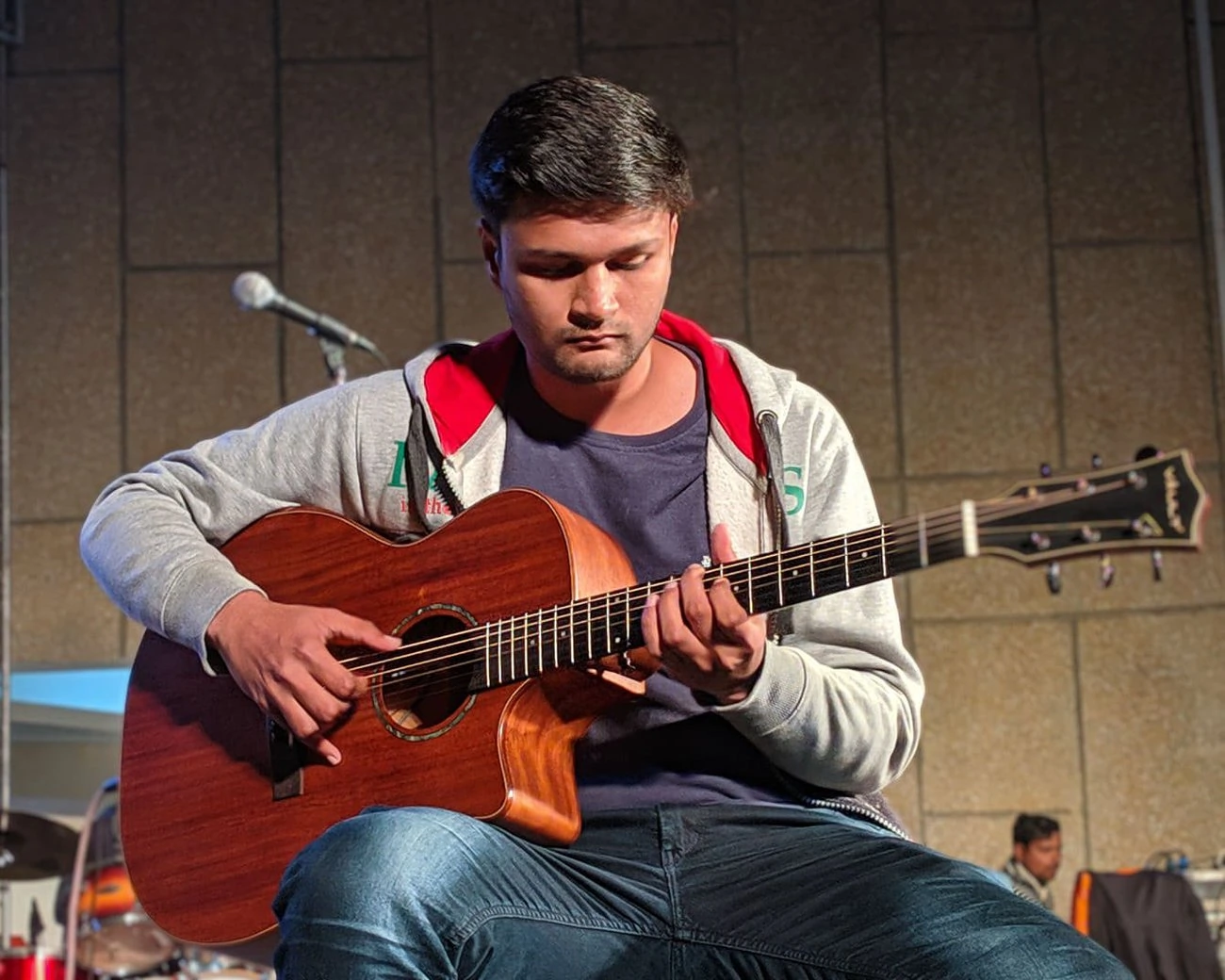 Acoustic guitars: Pranshu Nigam
Pranshu has been playing guitar since 2014, after having played the piano for 10 years.
He's all about acoustic & classical guitars and jamming around with unusual tunings. He mixes modern percussive fingerstyle technique and Flamenco music into his own playing. Pranshu also runs his own guitar website, Harmonyvine. Check Pranshu playing here!
---
Best Electric Guitars
Under 200 Electric
Best Overall – Ibanez GRX70QA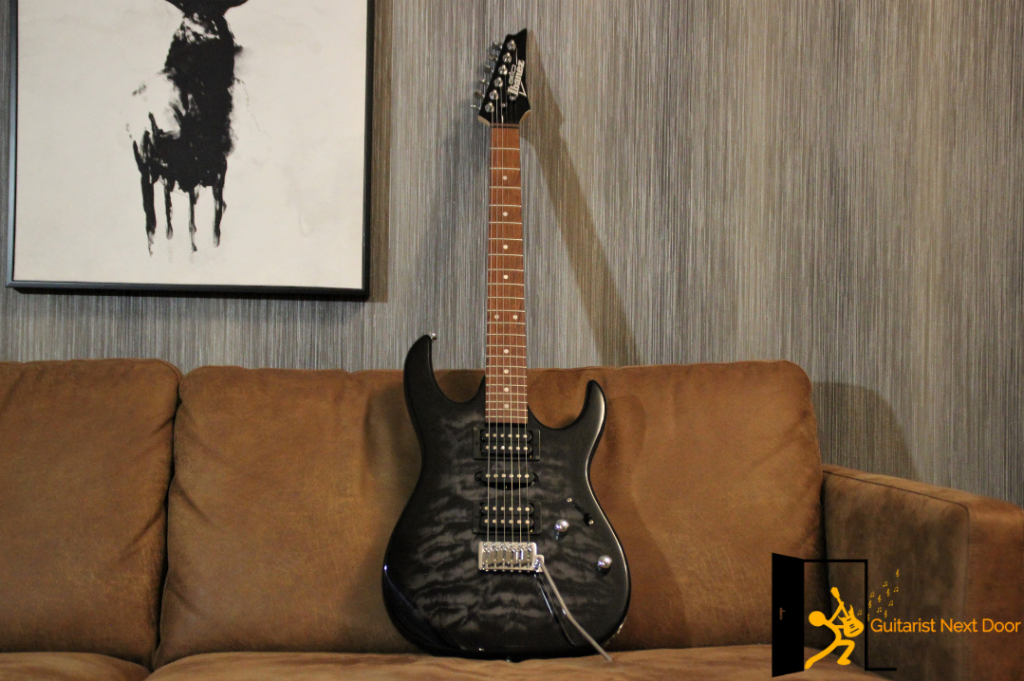 In 2021, I bought or rented 7 different guitars from under $200 price range. And I was blown away. I think that most people don't realize how good guitars you can get cheaply.
Sure, cheap guitars don't always have the perfect out-of-the-box setup or finish, but for the money, most of them were just awesome. And to me, the best one was the Ibanez GRX 70QA.
Pros
Super-versatile…
…and also sounds good!
Really effortless to play
Really high value for the money
5-way switch and tremolo arm add a tons of different options
Solid tuners and hardware
Cons
Some rough fret edges
Not the most attractive option for under $200 (subjective)
Not the best tuners under $200
Fret buzz out of the box
If you want to explore lots of different genres with your budget guitar and still sound great, plus you want easy playability under $200, there is no better option available than this Ibanez GRX70QA.
This is the best guitar overall under $200 for me. It's not perfect, it had some buzz/uneven frets, sharp fret edges and you can get better tuners for this price, but the playability and tone-wise this is hard to beat.
It's just so versatile, the slim "Wizard-like" neck is easy to play, and with the right amp, you can make this guitar sound really good.
More about budget guitars in these articles:
Check Today's Price on:
*Consider all links in this post to be affiliate links. If you purchase, at no additional cost to you, we may earn a small commission. It helps us to keep the lights on, thanks! 🙂
---
Best for Metal – Jackson JS22 Dinky
Pros
More versatile than other low-cost metal guitars
Stellar hardcore looks
High-quality hardware
Powerful crunch and grind – Great metal tones
Great cost-to-value ratio
Comfortable and fast playing
Stable tuning machines hold pitch
Cons
Flaws can be present in the finish or overall construction
Neck shape and width add some difficulty to low-end barre chords
Best suited for heavy genres; not extremely versatile
Better options for different styles in the same price range
This is a great guitar for all you metalheads out there. Its playability and sound are both super solid for their intended purpose—which, again, is metal.
You can put the JS22 to use in basically every hard genre and expect a good outcome. Even for your clean pieces in the middle of a metal thrasher, the Jackson High-Output humbuckers come through.
But even though this is perhaps the best electric guitar for metal under $200, its lack of versatility might not make it the first choice for every player (check Ibanez GRX70QA or Yamaha Pacifica 012 for versatility).
I've said it before and I'll say it again, the secret to choosing the best guitar is to pick the guitar that lets you play the music you love.
If you love heavy metal, Jackson's JS22 Dinky is one of the best budget guitars out there.
More about beginner metal guitars in this article: 5 Best Metal Guitars for Beginners
Check Today's Price on:
---
Under 500 Electric
Best Overall – Squier Classic Vibe '70s Telecaster Custom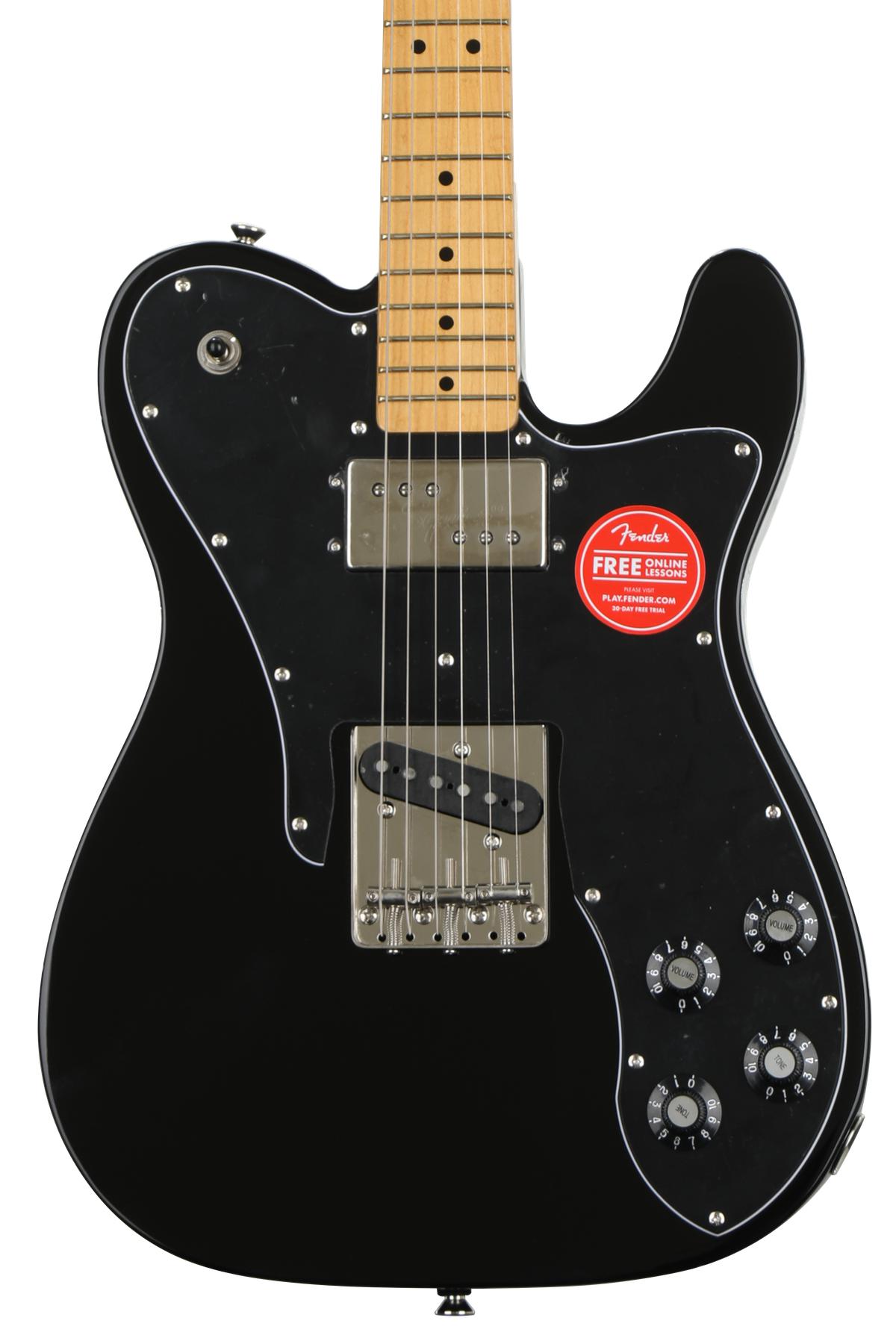 Pros
Bone nut increases sustain
A thin neck (1.650″ nut) paired with a C neck shape is easy to play
Surprisingly versatile
Both warm & thick humbucker tones and snappy single coil sound are available
Ashtray bridge gives the guitar a nice vintage look
High value for the money
Cons
Edges of the fretboard are a little bit rough sometimes (gladly not usually)
If you are after versatile all-rounder budget guitar with easy playability and a vintage vibe, Squier Classic Vibe '70s Telecaster Custom is a great choice. Usually it's flawless out of the box, but sometimes rough fret edges or other small finish & quality issues can happen (as with any guitar).
But for under the $500 price point, this Tele really stands out. Its versatile (but rare) HS pickup configuration provides really versatile and good tones, and the playability is spot on. For me, this guitar is really hard to ignore.
Check Today's Price on
---
Best for Metal – Schecter Omen 6
Pros:
Pickups are excellent for the price
Warm tones with enough brightness in it
Thin C-shape and narrow neck makes this easy to play and made for fast playing
Out of the box action is great
Handles every kind of metal well
Cons:
Sometimes fret buzz in the long run(with some bridge/truss rod adjustments, this should be an easy fix)
The sound could be more detailed
Some high notes with thicker strings are hard to reach aka. upper fret access is a bit limited (not too bad)
Body can feel bulky
I would recommend this for any type of metal, but especially for modern metal with fast riffs and solos. It has a comfortable and fast-playing Thin C neck and it offers mean tones.
This Schecter is in my opinion, the best metal guitar under 500 (that I know of). It has some minor flaws, but for the price, it's hard to beat this one.
More about budget metal gear here:
Check Today's Price on:
---
Under 1000 Electric
Best Overall – Ibanez Genesis RG550
Pros
Super-versatile pickups (HSH)
Smooth & slim Super Wizard neck shape
Great quality Gotoh tuners
Smooth to use and durable Ibanez Edge tremolo bridge
Excellent playability
Cons
If you are after extreme versatility, comfortable playability, and great value for the money, Ibanez Genesis Collection RG550 is one of the best options. It's an all-around workhorse that will serve you well and faithfully in every situation. Plus it features an Ibanez Edge bridge. Some people swear by the name of it and prefer it over Original Floyd Rose.
The extremely good hardware, versatility, and great tones you can get out of this axe make Ibanez Genesis RG550 the best electric guitar under $1000.
Check Today's Price on
---
Under 2000 Electric
Best Overall – Ibanez Prestige AZS2200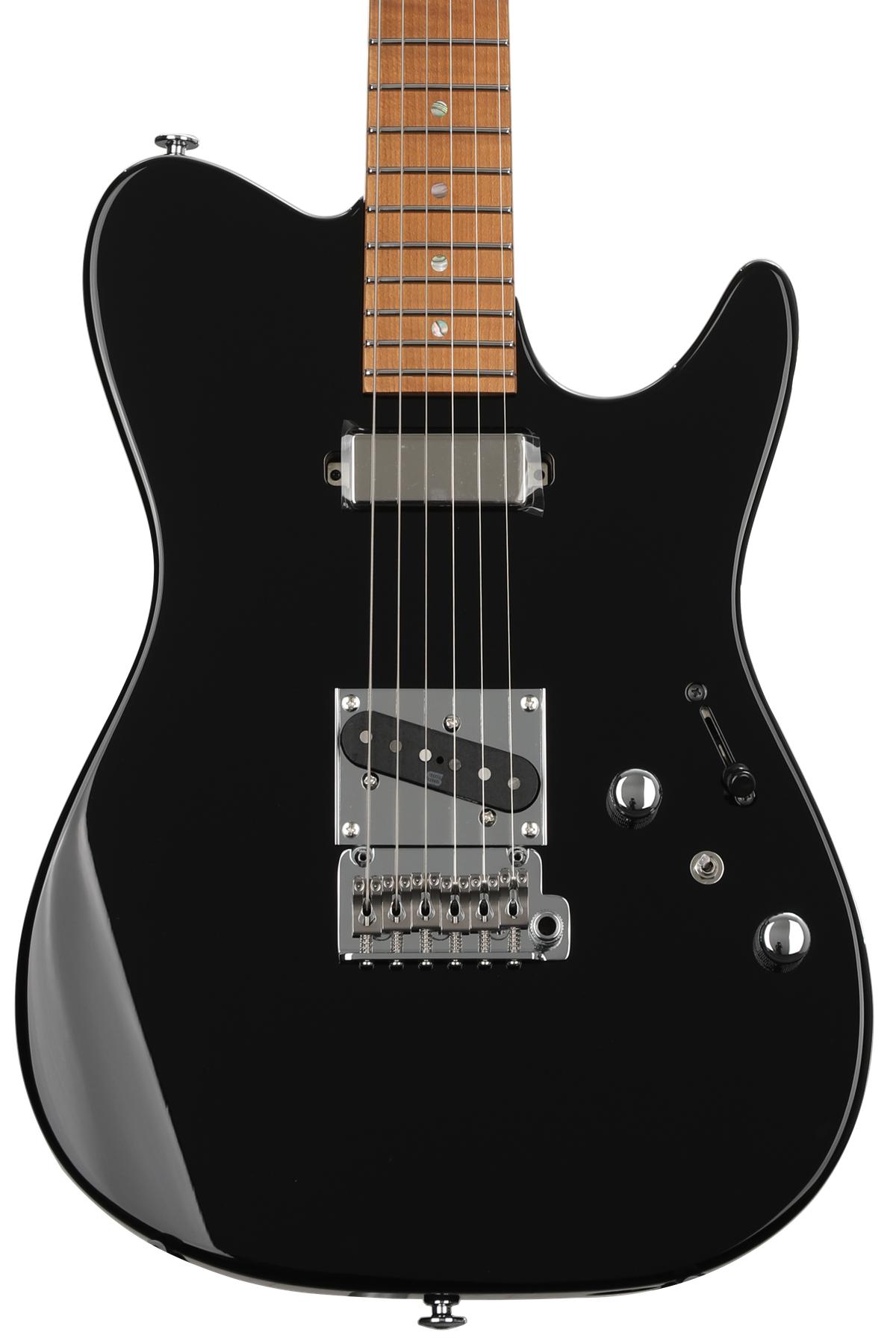 Pros
Extremely smooth and comfortable playability
Spot-on sound
Surprisingly versatile
Alter switch enables connecting single-coil pickup and another coil of the humbucker in series to create different humbucker-like tones
Great hardware (Gotoh Locking tuners, Gotoh tremolo bridge, and bone nut)
Could cost a lot more
Cons
Premium quality means a premium price
I don't like to call myself a fanboy. But if I had to choose just 1 brand to be a fanboy of, it would be Ibanez. And this AZ Prestige is a great one. It features
Seymour Duncan Magic Touch-mini Humbucker
Seymour Duncan Alnico II Pro Custom Single-coil
Gotoh F1802 Tremolo Bridge
2-way mini alter switch & 5-way blade pickup switch
Gotoh Magnum Locking tuners
Stunning looks
Smooth playability
And still, it costs under 2k. The money you have to throw in order to get this Ibanez is still a big chunk, I know, but still, the value for the money is outstanding. The best under $2K electric guitar to me.
Check Today's Price on
---
Best Acoustic Guitars
Under 250 Acoustic
Best Overall – Yamaha FG800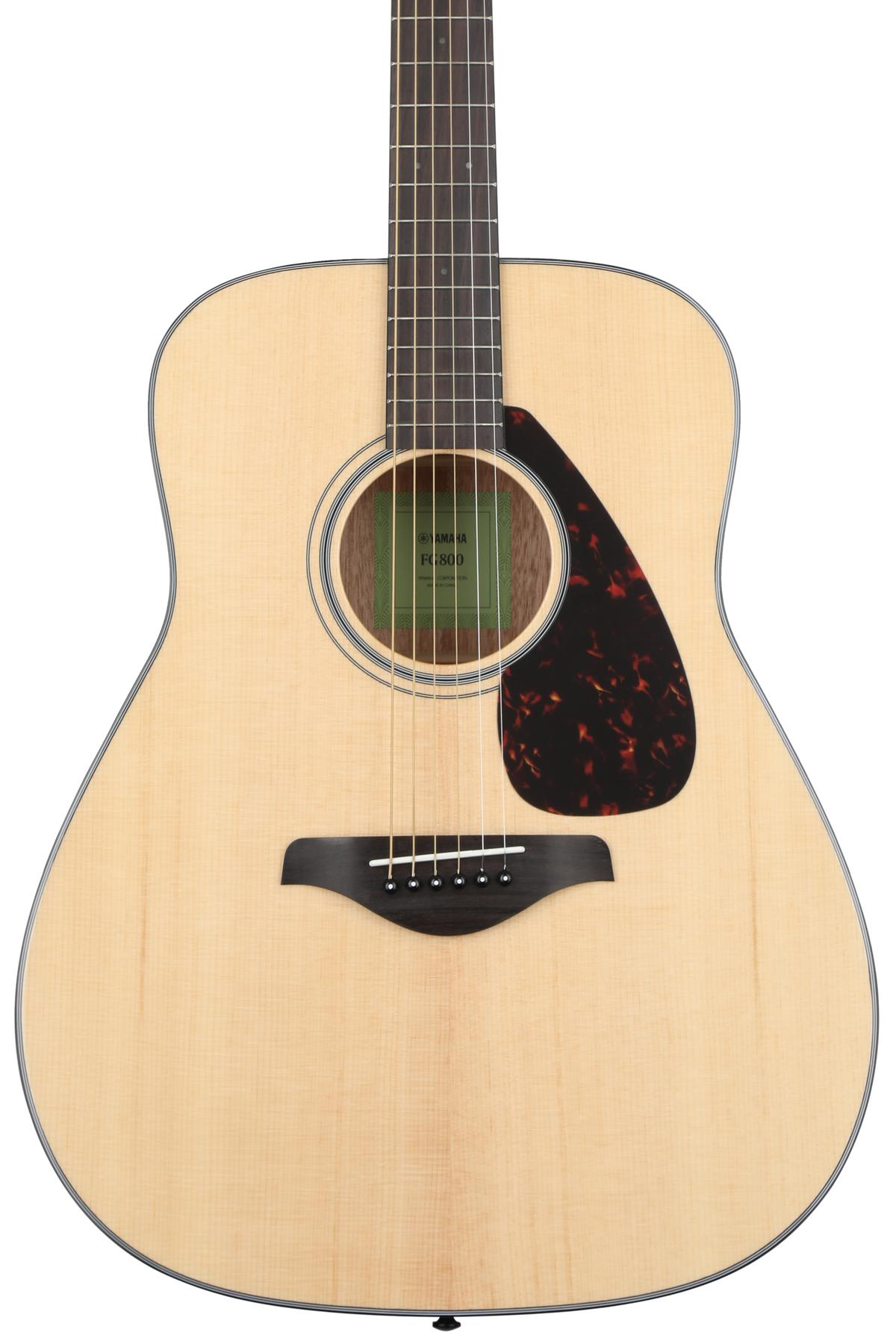 Pros:
Solid spruce tone provides rich and warm tones
Lived-in dreadnought look
Stays in tune for a long time
Comes with an optional guitar bundle with gig bag, case, and more
For basic acoustic guitar playing, playability is great
Cons:
No cutaway, which makes accessing upper frets harder, so fast acoustic solos down the fretboard can be tricky
Why do we like this…
Easy playability….CHECK
Solid top for durability and good tones as the guitar ages….CHECK
Great tones…CHECK
Affordable….CHECK
Versatility…CHECK
This is why the FG800 is the best beginner/cheap acoustic guitar out there. It's not perfect but for the price, it gets pretty close.
Check Today's Price on
---
Under 500 Acoustic
Best Overall – Gretsch G5024E Rancher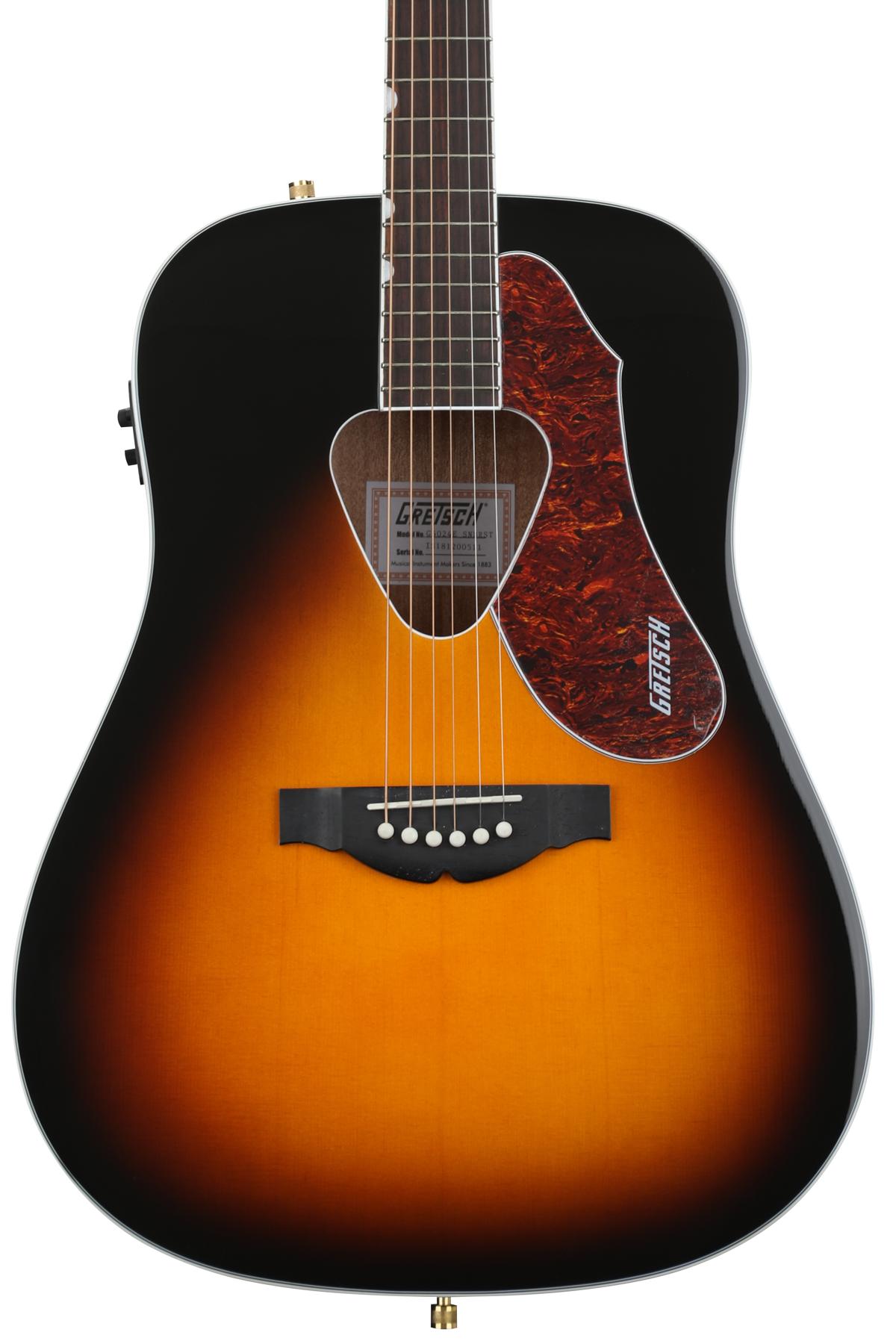 Pros
The unusual triangle-shaped soundhole is unique and eye-catching
A powerful, rich voice from an arch back design
Vintage-style frets let your fingers feel the fretboard
Great acoustic tone with a decent electronic system
Stunning looks paired with superior construction and sound
Comfortable and slim neck
Cons
Non-cutaway acoustic-electric limits high fret access
Synthetic bone nut and saddle
Check our picks for the best acoustic guitars under $500 here.
With its unique triangular soundhole and chunky knurled strap buttons, the Gretsch G5024E stands out from the crowd.
This Gretsch is a great choice for anyone who is looking for a full and articulate-sounding acoustic guitar. Also, if you value a slim and smooth neck with overall comfortable playability and don't mind Rancher being a non-cutaway, this is a great option.
Even though it's available at close to beginner prices, the Rancher sounds and plays so well I'd take it both on stage and in the studio.
Whatever your style, this is an undeniably great acoustic.
Check Today's Price on
---
Under 1000 Acoustic
Best Overall – Seagull S6 Original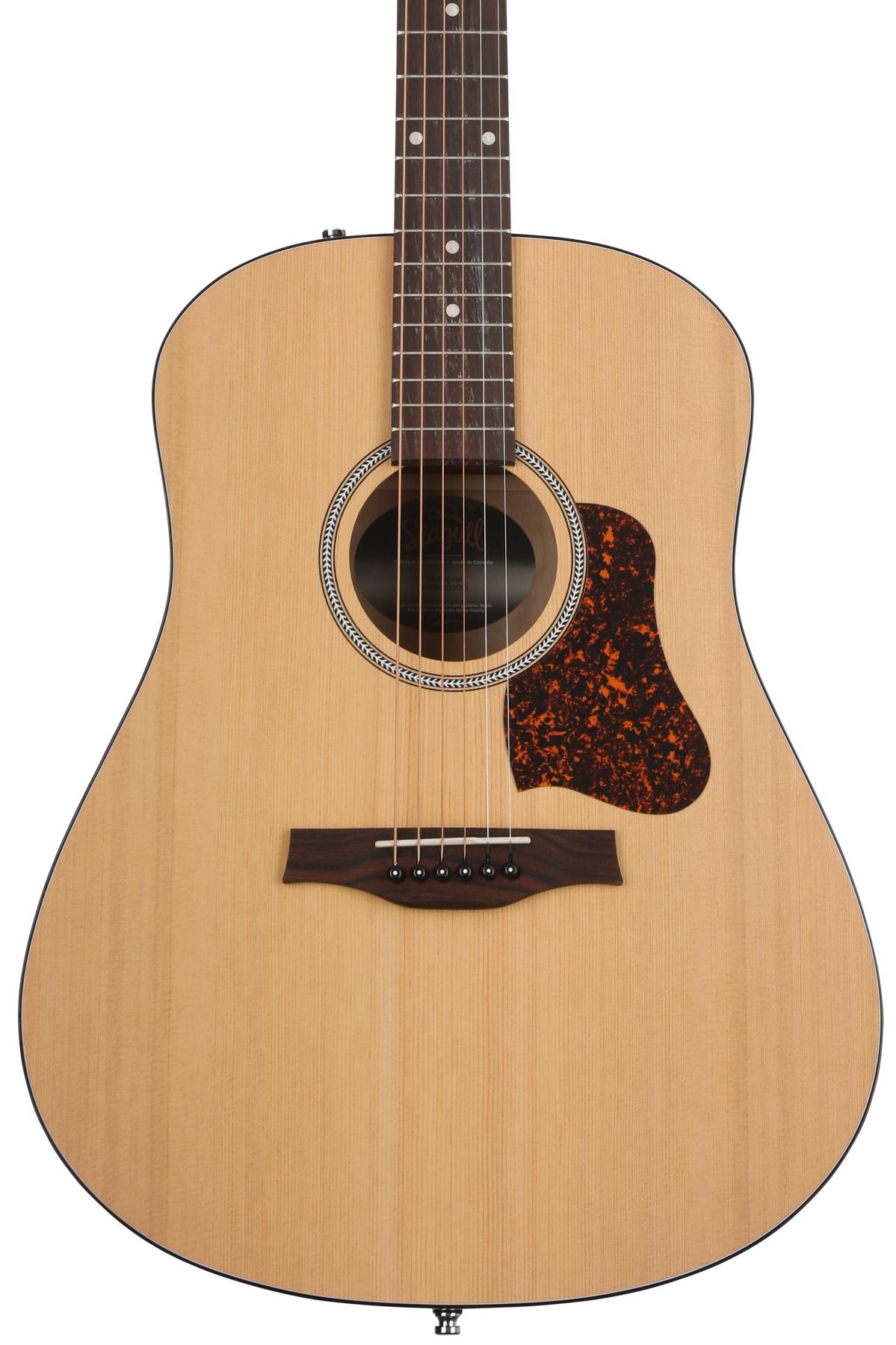 Pros
High-quality craftsmanship using hand-selected tonewoods
Tapered headstock improves tuning stability and intonation
Wide nut width for accurate, easy fingerpicking
Overall comfortable playability
Excellent tones for the money
Gives us a bit wider string spacing than average acoustic(more room for fingerpicking)
Cons
Cedar is not as crisp as spruce at high volumes(not a con for everyone)
Check our fresh 2023 picks for the best acoustic guitars under $1000.
The Seagull S6 is one of my favorite acoustic guitars. Even though it's sometimes marketed as an entry-level or budget guitar, I'd recommend this to anyone honestly. You can play smooth and soft for flowing earthy melodies or go full-force with a pick when you want to crank out some harder tunes.
It's affordable enough for beginners but produces pro-level sounds with superb playability, making it my number one choice for under $1000 guitar.
It's a great choice for anyone looking for a versatile, high-value instrument that sounds good. And on top of that, the playability is really comfortable for both fingerpicking and picking.
Check Today's Price on
---
Under 2000 Acoustic
Best Overall – Yamaha AC5R ARE Concert Cutaway
Pros:
Built strongly with quality woods and materials
A.R.E technology creates a vintage-like tone
Very loud for a concert guitar
SRT2 pickup produces a rich and authentic sound
Uses AA batteries
Tusq nut and saddle
Cons:
The AC5R is one guitar that all guitarists will love, but it's primarily designed for gigging musicians and singer-songwriters.
With its all-solid construction, high-quality hardware, smooth-playing neck, and premium electronics, it's a worthy guitar if you need a deluxe acoustic without shelling out $3000 in cash. It's the best acoustic guitar for under $2000.
Check Today's Price on
---
Best Budget Classical Guitar – Yamaha CG122MS
Pros
Solid top at budget prices
Full classical playability
Innovative bracing pattern for increased sustain and projection
Affordable price
Delivers great tones (especially for this price)
Cons
Extra-wide nut can be hard to play with small hands
Give me enough time and I can find something to complain about in just about every guitar, but the best I could do for the Yamaha CG122MSH is a wish for a better body wood.
By all considerations, this is an excellent axe and is in fact my #1 recommendation for budget classical guitars. It sounds superb, plays beautifully, and offers real classical playability.
Whether you're a beginner, intermediate, or pro, the CG122S offers you the best budget classical guitar playability and tones.
You can find more budget classical guitars here: 5 Best Budget Classical Guitars
Check Today's Price on
---
Best Classical Guitar – Cordoba C9 Crossover
Pros:
Narrower and thinner neck than in regular-sized classical guitars usually (a good fit for small hands)
Comfortable and easy to play
Sounds really good (rich and full)
Amazing value for the money
Setup is usually spot-on (low action and spot-on intonation)
The truss rod makes neck adjustments easy
Cons:
Sometimes small adjustments to action are needed(depends on your playstyle)
The sound could be just a little bit warmer in my opinion
Cordoba C9 Crossover is the best classical guitar I know of. And for small hands, it's definitely the best Classical guitar.
If you can afford it, it's a great choice. It will offer you comfortable playability and great tones for years to come, even if you have tiny hands.
Check Today's Price on
---
Best Guitar Amplifiers
Under 200 Amplifier
Best Overall – Fender Mustang LT25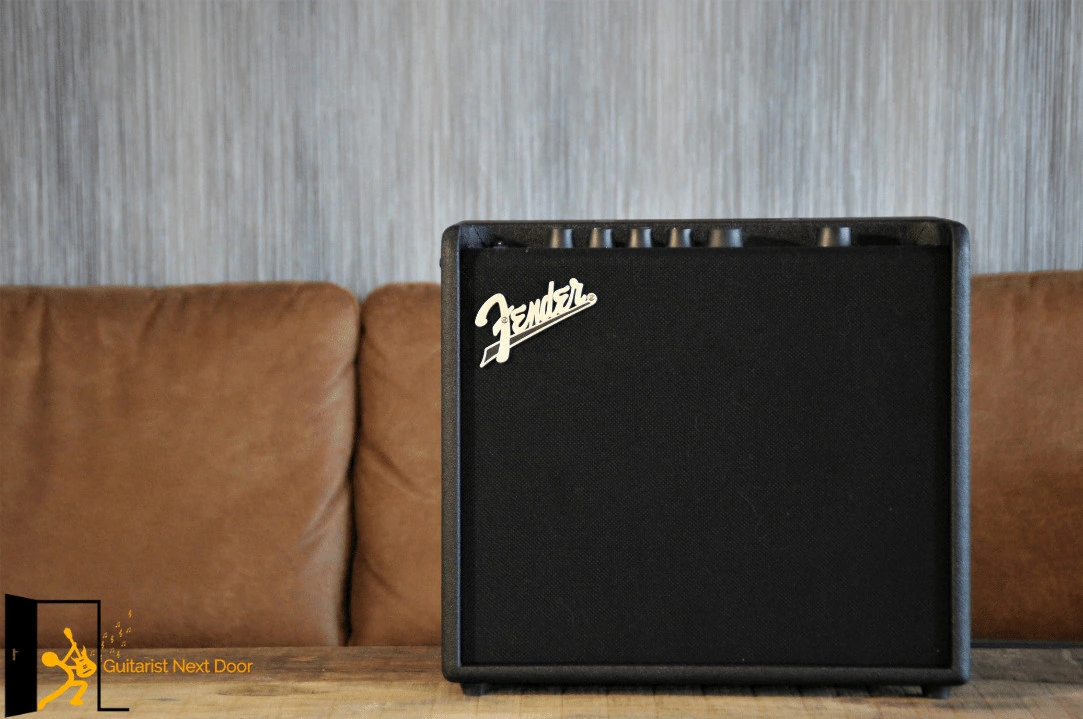 Pros
Super-versatile
Still simple to use
Great price:value ratio
Sounds great
Almost endless tone possibilities with Fender Tone-app
Especially clean and rock tones are great
Offers enough loudness for sure
Cons
No "middle" knob on the control panel
Accessing "reverb" and "delay" would be easier with control-knobs
Some folks don't like modeling amps
The handle is more or less useless
Basically, there is NO WAY, that I could say that this amp is not good.
It has qualities like:
Endless tone possibilities
Great and versatile tones
Easy to use
Looks are not the best
Usually, when the looks are the worst thing about the amp, it's otherwise pretty great. And this Fender is no exception.
If:
the digital amp is not a problem for you
if you are looking for an amp under $200
if you are looking for a versatile amp
if you are looking for a practice or beginner amp
This is a great option for you!
More about budget amps in these articles:
Check Today's Price on
---
Under 500 Amplifier
Best Overall – Blackstar Silverline Standard 1×10″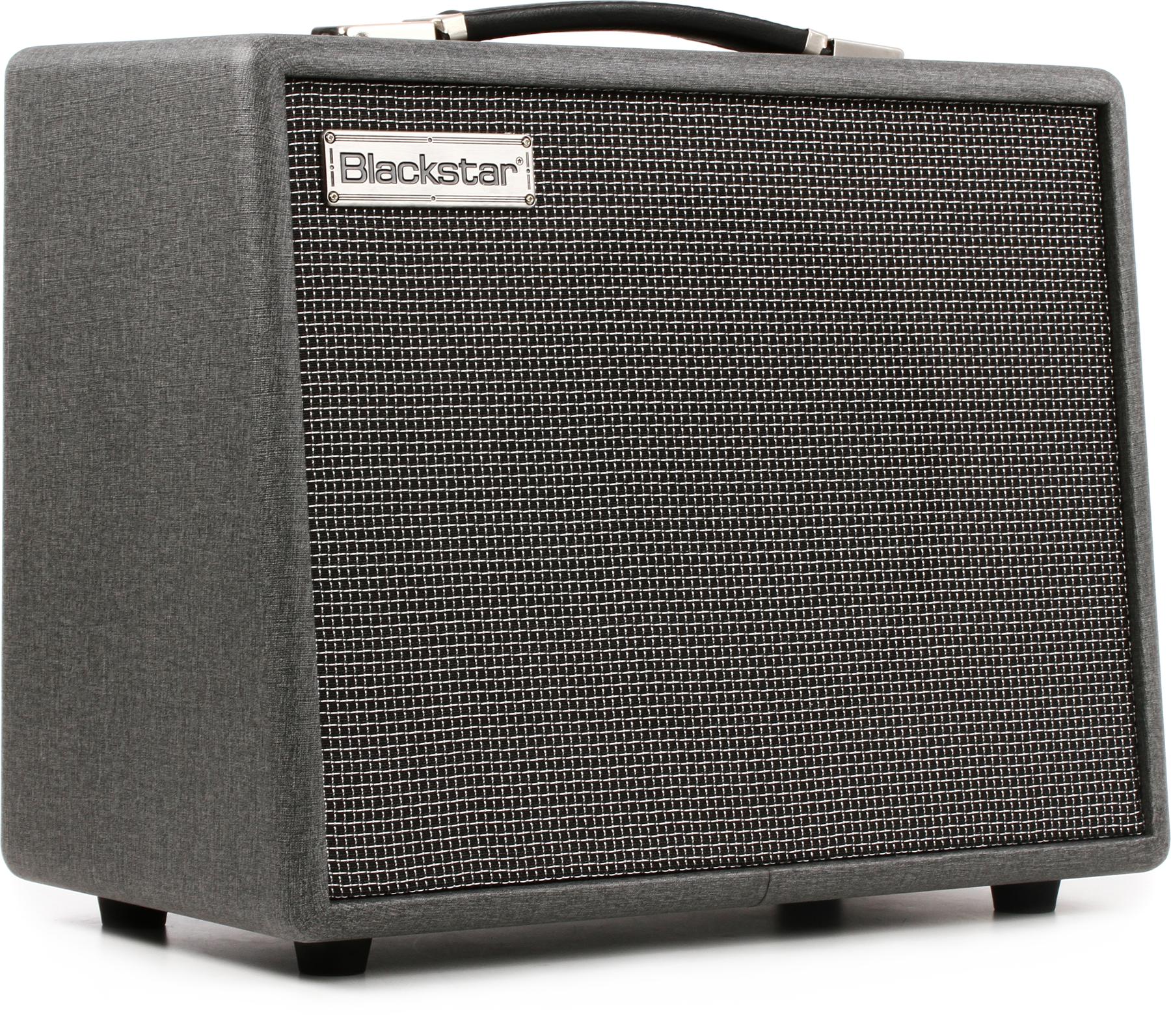 Pros
User-friendly interface makes changing tones simple
Various tube emulations to choose from
Preset modeled tones give you easy versatility
Powerful 1×10 Celestion V speaker
Cons
Some tube effects lack warmth
A bit slow response; not the most articulate
The Blackstar Silverline Standard puts 6 pre-programmed amp models right at your fingertips- or at the tips of your toes if you opt for the footswitch.
These digital emulators include a clean vintage classic rock sound, a bright clean jazz tone, two classic British rock amps, and two hard-driven models for modern rock and metal.
I love the presets of this amp and think it's great for any guitarist looking for great all-around tones for under $500. There's not a single bad sound onboard, and it's a lot of fun to play with a wide range of effects.
Check Today's Price on
---
Under 1000 Amplifier
Best Overall – Blackstar HT20R MKII 1×12″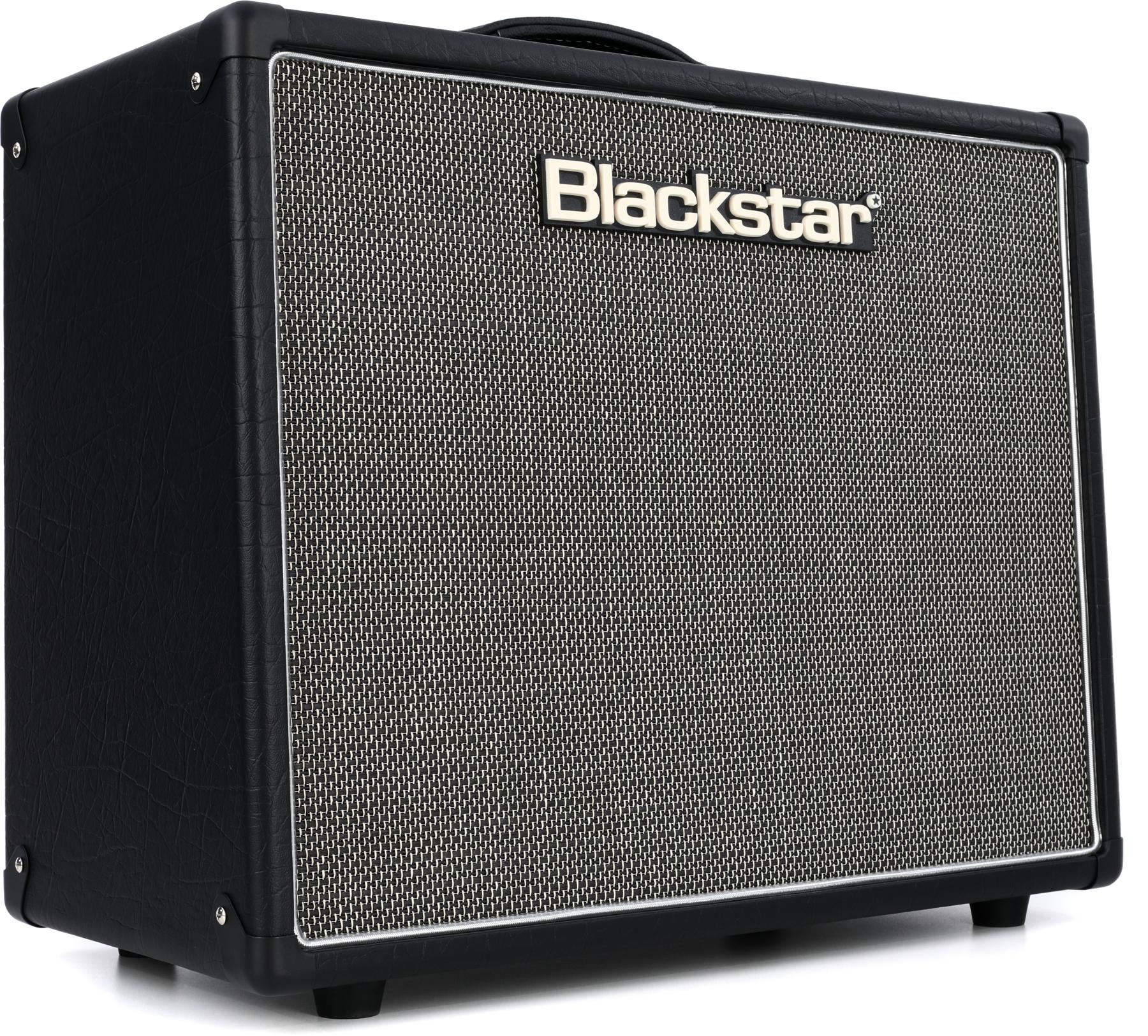 Pros
Very clean, clear, sparkling, and articulate sound
Excellent for classic rock
With pedals can provide amazing distorted/overdriven tones (MXR M193 GT-OD is an excellent choice)
Easy to use
Can choose between 2W and 20W power (can be played pretty quietly)
Cons
Requires pedal for heavier stuff
I have done an in-depth test for this Blackstar in a music store. I mainly used a budget ESP LTD EC-256, and the sound you get out of this amp with a cheap guitar…oh boy. From crystal clear cleans to crunchy rock riffs, this Blackstar delivers.
But what about heavier stuff? It's true that this amp requires a pedal for really mean riffs, but the sound you can get with a pedal…it's outstanding. Blackstar HT20R is the best guitar amp under $1000 to me. It also has a Reverb and you can decrease the power to 2W in order to keep your neighbors happy.
Check Today's Price on
---
Under 2000 Amplifier
Best Overall – Orange Rocker 32 2×10″
Pros
Half Power mode for reduced volume, great for in-home playing
2×10 speaker layout with stereo effects capabilities
Two channels: clean and dirty
Super-versatile — jazz, rockabilly, blues, country, rock, metal, etc.
Can be very loud, up to 101dB
Cons
No EQ on the clean channel
Pictograms designating each control knob; no words — takes getting used to
Orange has kept the average player in mind in this design and added an amazingly useful Half-Power switch. This takes your power output from 30 watts down to 15 watts, allowing you to play at home with the flick of a switch.
The Rocker 32 has two channels, a clean and a dirty. The clean channel is crystalline, with glimmering highs and sultry lows. Though it lacks an EQ, it's pre-dialed to provide sonic clarity for any guitar.
On the dirty side, the gain is highly malleable. You can play with slight to moderate fuzz for blues, country, and classic rock, or really crank it up to overdrive, pushing the tubes into deathly distortion well-suited for killer metal riffs.
Definitely one of the best smaller tube amps out there. Handles a great variety of genres well and is a good choice for guitar players who are looking for a versatile amp. Also, The Rocker takes pedals really well.
Find more great tube amps here: 5 Best 30 Watt Tube Guitar Amps
Check Today's Price on
---
Best Acoustic Guitar Amp – Fishman Loudbox Mini BT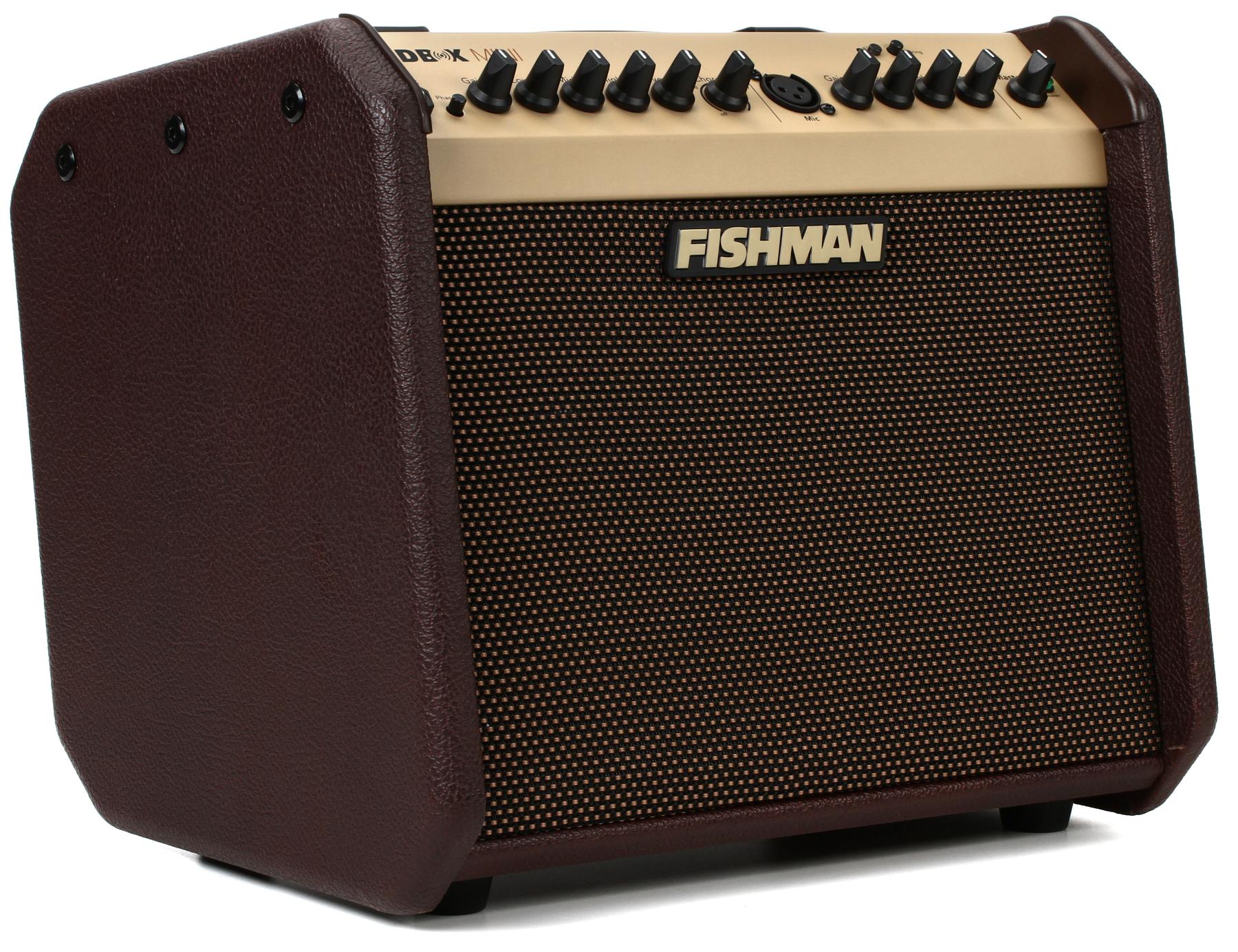 Pros
Great balanced acoustic tone driven by 60 watts of power
EQ on both instrument and microphone channels
Big voice in a small package
Bluetooth, XLR DI, and AUX connectivity
Cons
More expensive than most other acoustic amps
All things considered, the Fishman Loudbox Bluetooth Mini is one of the most versatile, most powerful, and most professional acoustic guitar amplifiers.
It costs quite a lot for a small guitar amp, but its big, clear voice and connection capabilities give it the value of much larger amps at a similar price point.
Find more great acoustic guitar amps from these articles:
Check Today's Price on
---
You might also like:
We are sorry that this post was not useful for you!
Let us improve this post!
Tell us how we can improve this post?