Last Updated on April 29, 2023 by Teemu Suomala
So far I've tested around half a dozen $100 amps from brands like Boss, Fender, and Blackstar to name a few. Most of them were pretty good, but none perfect.
When I heard that Vox also makes an entry-level analog amp and it's an open-back one, I decided to give it a try!
After 4 weeks of rigorous testing and comparing the Vox Pathfinder 10 to other budget guitar amps I've tested before, I can easily say that I like it a lot!
To find out why, just read my in-depth Vox Pathfinder 10 review…it will help you to decide if the Pathfinder is the right amp for you.
Let's begin!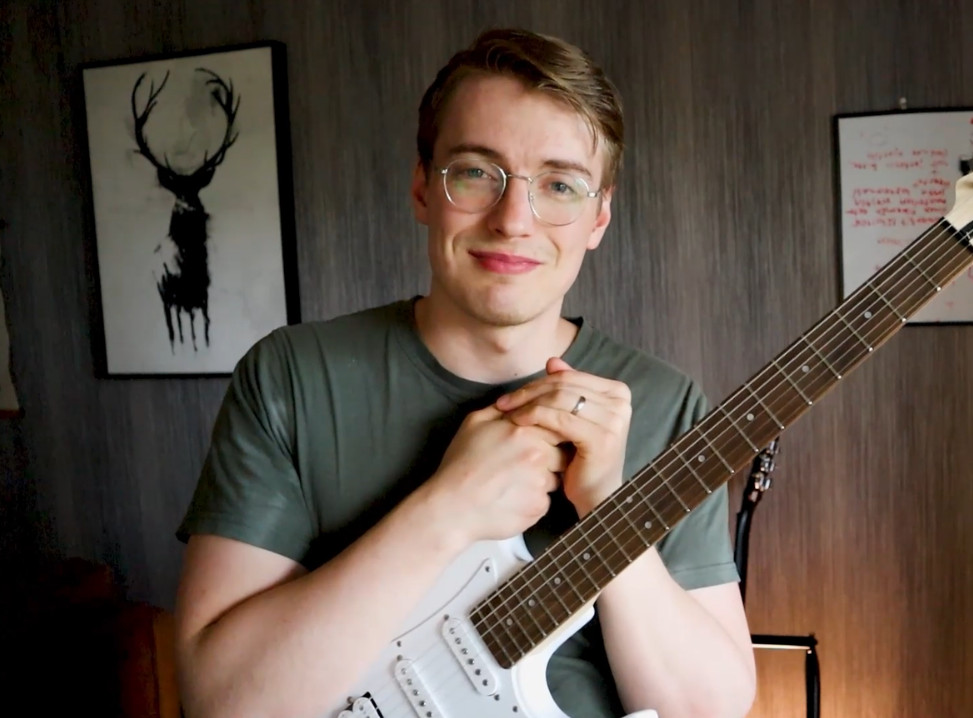 Author: Teemu Suomala
I first grabbed the guitar in 2009. I started this website in January 2020 because I couldn't do window installation anymore due to my health problems. I love guitars and have played dozens and dozens of different guitars through different amps and pedals over the years, and also, building a website interested me, so I decided to just go for it! I got lucky and managed to get awesome people to help me with my website.
I also got lucky because I have you visiting my website right now. Thank you. I do all this for you guys. If you have any recommendations, tips, or feedback, just leave a comment, I would love to chat with you. I have also been fortunate to produce content for several large guitar websites, such as Songsterr, Musicnotes, GuitarGuitar, and Ultimate Guitar.
I spend my spare time exercising and hanging out with my wife and crazy dog (I guess that went the right way…).
Hide The Rambling▲
---
VOX Pathfinder 10 Review
Summary (If you are in a hurry)
The Vox Pathfinder 10 is the largest of all the $100 amps I've tested, but the massive gains in the overall sound quality are well worth the small compromise in portability.
I loved the room-filling open-back tones and the looks of it. Although not a very feature-rich amp, it has enough to fulfill the needs of any beginner.
The only lacking aspect of this amp is that overdrive channel. It's usable but some of the distorted tones are too fuzzy and meh overall!
In short, this amp is great for:
Beginner guitarists looking for their first practice amp
People who need versatile clean and crunch(classic rock) tones
Performing in small venues or coffee shops
People who want open back tones on a budget
Check Today's Price on
*Consider all links in this post to be affiliate links. If you purchase, at no additional cost to you, we may earn a small commission. It helps us to keep the lights on, thanks! 🙂
---
Watch the full review:
---
Our Favorite Music Store in The World!
Why?
– Excellent Customer Service (4.7/5 Trustpilot Score)
– Fast & Free Shipping
– Gear is Inspected, Tested, & Ready to Play When it Arrives to You (We love this)
– Fair Prices
Visit Sweetwater:
VOX Pathfinder 10 Specs and Dimensions
| | |
| --- | --- |
| Power | 10 Watts |
| Amplifier-type | Solid-state |
| Speaker | 6.5" Vox Bulldog |
| Channels | 1 |
| Controls | Gain, Clean/Overdrive Switch, Treble, Bass, Volume |
| Inputs | 1 x 1/4″ Input Jack |
| Outputs | 1 x 1/4″ Headphone/Line out Jack |
| Weight | 11.31lbs (5.15kg) |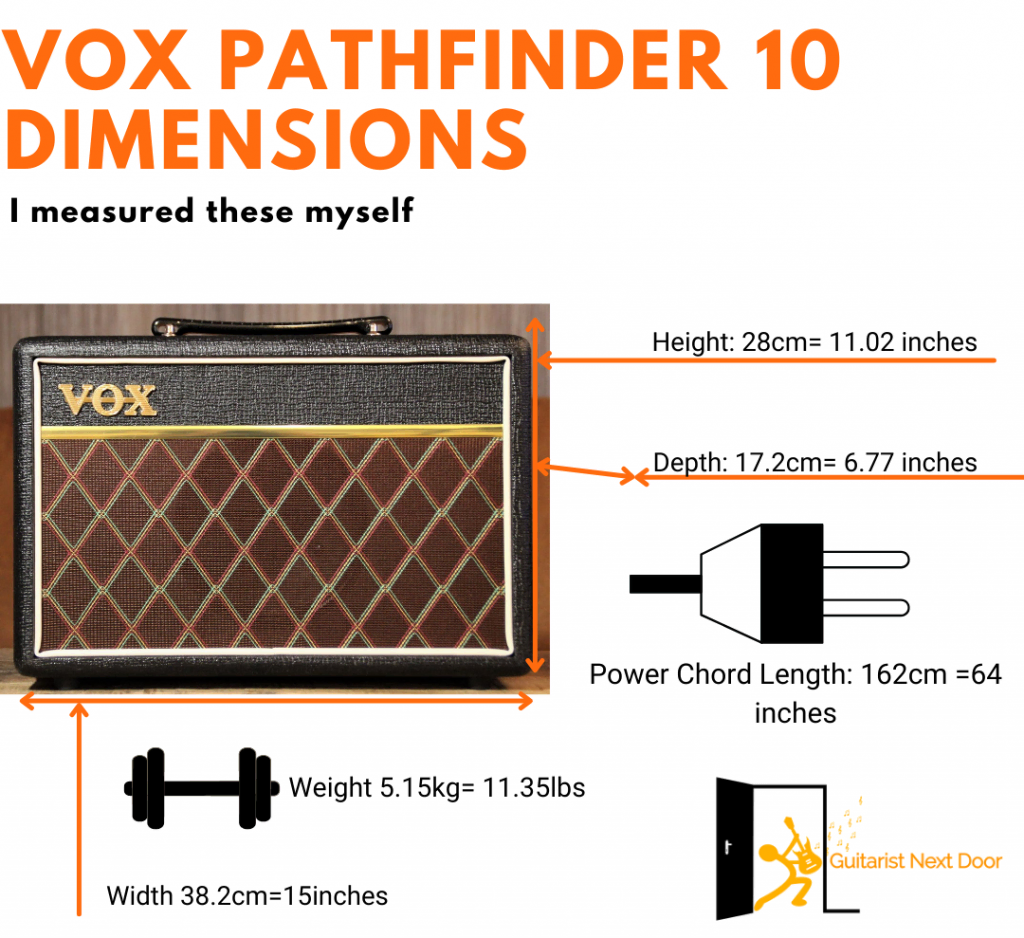 ---
Look, Feel, and Build Quality
I've always liked VOX amps for their looks and construction quality and I must say this particular model is no different.
This entry-level amp feels much more expensive than its meager price tag.
Of course, at $100 you shouldn't be leaving it lying around the floor of your house and expect it to survive major scuffles. But for what it's worth, it seems well-built.
The Pathfinder 10 follows the design features of other budget VOX amps:
Black leather-textured vinyl
Golden "VOX" Logo
Metallic silver accents on different parts of the amp
Overall, I really liked how this amp looks.
A minor flaw that I've noticed is that there's very little space beneath the handle for your hands. It can annoy you if your use case demands carrying the amp around all day. But the handle itself looks pretty durable.
Turn the amp to the back and you see that open back design which is quite a rarity in this price segment. Inside you'll see the single 6.5" Vox speaker peeking through.
Having an open back sure does impact sound quite a bit, but more on that in the "Sound" section later.
Features
The VOX Pathfinder 10 is designed as a basic beginner amp so you won't find fancy effects or stuff like built-in looper on this one.
What you do get is a barebones control panel akin to many other entry-level amps I've covered on my website. In fact, the feature-set is exactly the same as with the Fender Frontman 10G minus the aux input.
On the top panel you'll find a standard 1/4″ instrument input jack followed by:
Gain knob which works regardless of the overdrive/clean switch position
Overdrive-clean push button toggle
2-band EQ (Treble and Bass knobs)
Master Volume knob at the end of the signal chain
Besides that, the 1/4″ Line Out and Power switch are also placed on the control panel itself.
There's NO 3.5mm jack for plugging in your headphones. Be prepared to purchase an adapter if you want to do that.
No aux input can be a con for a few people, especially for those who like to jam along with their favorite tracks.
That's it as far as the features are concerned.
Leaving aside the aux input which can be found in some other cheap guitar amps, I think the Pathfinder offers enough for any beginner. Of course, having at least a basic delay or reverb would've been nice but Vox had other plans for this one.
Portability and Usability
Most of the amps I've tested under $100 come in tiny super-portable form factors. This one in comparison is definitely on the bigger and heftier side. But it's not too huge either.
At just around 5 kg (11 lbs), you won't be tossing it into your backpack on a quick commute, but for most solo performers or buskers, the amp is fairly manageable.
The only problem is that the handle fits too snugly to the body, so if you have bigger hands, it might feel uncomfortable to hold for long periods of time.
Like I mentioned before, the amp looks like it can survive a few knocks or nudges, but it's not made for super-rugged usage.
The Pathfinder 10 is clearly designed keeping a newbie in mind. The usability cannot be simpler than this and yet the features are enough for most beginner guitarists.
Sound
Check a sound demo:
Let's start with Clean tones first
The cleans are quite amazing on this one. Bright and crisp. Probably my favorite on any sub-$100 amp. Fairly balanced sound that responds well to treble and bass changes.
Turn the gain knob up on the clean channel and it brings it into the crunch territory. Great crunch tones for classic rock and rhythm blues as well.
I may be biased thanks to classic rock being my bread-and-butter, but the clean and crunch sounds from this amp are seriously impressive.
Now the Distorted tone
I must say that the 6.5" Vox Bulldog speaker packs some serious punch. It's plenty powerful for its size, but honestly, the amp's not made for super-heavy distortion.
All you need is to turn the treble a little too high for the sound to go from perfectly usable to too fuzzy. Particularly with metal leads and solos the sound loses its character and is mediocre at best.
Also, given that there is absolutely zero FX provided to embellish the sound, you might find it difficult to dial in the tones that you like.
I even paired this amp with a Behringer UM-300 but the results were not much better. Some metal tones were clearly better with this combo but it gets too fuzzy very easily.
Check how Pathfinder performed with the distortion pedal:
Overall, the amp is excellent for rock, blues, jazz, and even hard rock. Not that good for any heavier stuff.
If you really need a cheap metal amp I highly suggest checking out the Boss Katana Mini.
About that open-back design…
The open-back design is obviously a big feature of the Pathfinder. And based on my usage I definitely felt a difference in sound and bass response.
Since there's no restriction in air movement, the speaker can output deeper and fuller bass in a 360-degree fashion. This is what gives you that room-filling sound not found in most other entry-level amps.
Overall, I am pretty happy with the sound you can get with this amp. Unless you're a metalhead, I can easily count this as one of the best electric guitar amps for clean and classic rock tones under $100.
Here's a graph that reveals what this amp can handle in my opinion: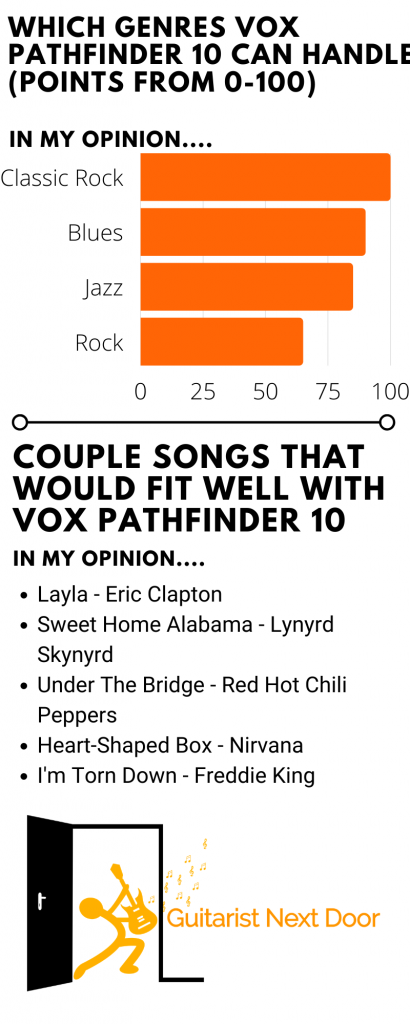 Value for Money
This electric guitar amp is all about one thing – squeezing as much quality as possible into an analog amp that costs around $100.
There is no digital modeling to bother with, no fancy presets or effects of any kind, and no components that haven't been tried and tested on other Vox amps.
But for a beginner who just needs an easy-to-use amp with minimal investment, the Pathfinder 10 is a great bang-for-the-buck option.
It's also surprisingly well-built for a price where you'd expect makeshift components and flimsy construction.
Surely there are some compromises like missing aux input or fewer features, but this amp can sound so good that you still get great value for the money with the Pathfinder.
Verdict
The Pathfinder 10 gives you some of the best clean and crunch tones of any $100 amp. Plus the open back design is a stand-out feature at this price.
It's not for feature cravers though. There's not a lot in the Pathfinder 10 to shape your sound – just treble/bass controls and a gain knob.
But sometimes you just need to quickly get down and compose ideas without worrying about any setup or processing. This is the perfect amp for that purpose.
The only cons are the lack of aux input and mediocre metal tones. Other than that, it's a solid amp.
Check Price on:
---
What Others Are Saying?
While crafting any review I like to refer to what other users have said about the product. That's also the reason why I try to include the experiences and opinions of real-life users around the world.
Here's what I found on various guitar forums and communities regarding the Vox Pathfinder 10:
Pros:
Users praised the vintage low-profile vibe of the amp, comparing it with the old-school Vox practice amps.
The amp was plenty loud for most people.
Almost everyone liked how simple to use it is and the plug-and-play nature of the amp.
Purchasers generally loved the response and sound of the Pathfinder 10, even comparing it with the legendary Vox sound from the '60s.
People who used it with effect pedals such as delay and modulation were impressed by the results. It's safe to say that the amp takes pedals well.
Cons:
Some users had their amp develop a crackling buzz sound after a while. Replacement fixed it for most but for others it might be a quality control issue.
The overdrive channel had a mixed response. Some people found it perfectly usable while others clearly warned us to abstain from using it.
Lack of any reverb or delay was the only major pain point.
---
FAQs
Is Vox Pathfinder 10 a good amp for me?
The Pathfinder 10 is definitely a great practice amp for the price. You're getting awesome room-filling open-back tones and great build quality.
I can recommend it to any beginner who needs a simple-to-use amp with versatile clean and crunch sound.
But if you need a more portable amp or you're a metalhead, then there are better options available for both.
Is Vox Pathfinder 10 a Tube Amp?
No. The Vox Pathfinder 10 is a Solid State/Transistor amp with an open-back design.
So it uses electronic transistors to amplify the sound instead of vacuum tubes like a tube amp.
Is an Open Back Amp Good for me?
Open-back amps sound different than closed-back ones. As there's technically unlimited space for the speaker to suck in air, these amps have that room-filling and ambient quality.
They also sound more natural and have a 360-degree presence instead of a tighter and more direct sound of a closed-back amp.
Whether you need a closed back or open back amp depends upon your use-cases. I already have an article published regarding applications of open-back amps which I suggest checking out.
The sound preference is subjective in the end – more ambient & natural open-back sound or punchier "in your face" type of sound from a closed-back amp.
---
Alternatives
Fender Frontman 10G – Best Alternative to the Vox
The Fender Frontman 10G is almost identical in terms of features to the Pathfinder 10. Plus it has an aux input which is a very basic feature in all these amps.
It's not particularly good at distorted tones either. But if you need Fender cleans on a budget, this is the amp that'll give you that.
Appearance-wise and build-wise it's not as good as the Vox, but it's decent for the price.
I would only prefer this over the Pathfinder if you specifically need Fender cleans and are willing to give up on some looks and build quality.
Check Price on:
---
VOX Valvetronix VT20X – Most Feature-rich option
A little more expensive pick, but well worth the price in my opinion.
The thing that makes it special is the Vox Tone Room software and the endless sound modding possibilities that come with it.
33 preset models, 20 amp types (with the software), and plenty of effects to choose from – It might even get a bit confusing for beginners.
But if you're after those tube-like tones and tons of presets, the Valvetronix VT20X can be a good deal.
Check Price on:
---
Blackstar Fly 3 – Best Portable Option
Now if you liked the cleans of the Vox a lot but are held back by its large size, the Blackstar Fly 3 is a more compact alternative.
There's no handle but the minuscule size and weight are enough to make it super-portable.
Not the most durable or powerful amp at this price, but if you need clear & crisp clean tones and great classic rock tones in a tiny form factor, this is my favorite option for that.
But I wouldn't get this for metal or high-gain distortion in general.
Check Price on:
---
Conclusion on VOX Pathfinder 10 Review
I really enjoyed testing this amp, and I hope you liked reading this Vox Pathfinder 10 review just as much.
The clean channel was a true winner for me. You can also use Pathfinder to get some spicy crunch tones for rock, blues, and funk. I wished it had a better high-gain sound, it would've been a perfect $100 amp then.
But even without that, I think it's an amazing value for money if you need an inexpensive no-frills practice amp.
If you have any questions, just leave a comment.
Thanks for reading!
You might also like:
We are sorry that this post was not useful for you!
Let us improve this post!
Tell us how we can improve this post?