Last Updated on April 29, 2023 by Teemu Suomala
When I took this guitar amp out of the box, I immediately noticed its stunning looks and a control panel that has a lot going on (I thought that only people flying rockets can handle an amp like this).
But now I have owned this for over a year, and I can say that I like this amp a lot. It does a solid job at modeling tube tones for this price and has a ton of different tones to offer. But is it worth the money overall (its price has gone up a quite bit since I bought it), and is it a good option for you?
I will reveal all I have learned after a year with this electric guitar amp…Let's get started!
I compared this Vox to its competitors in this article.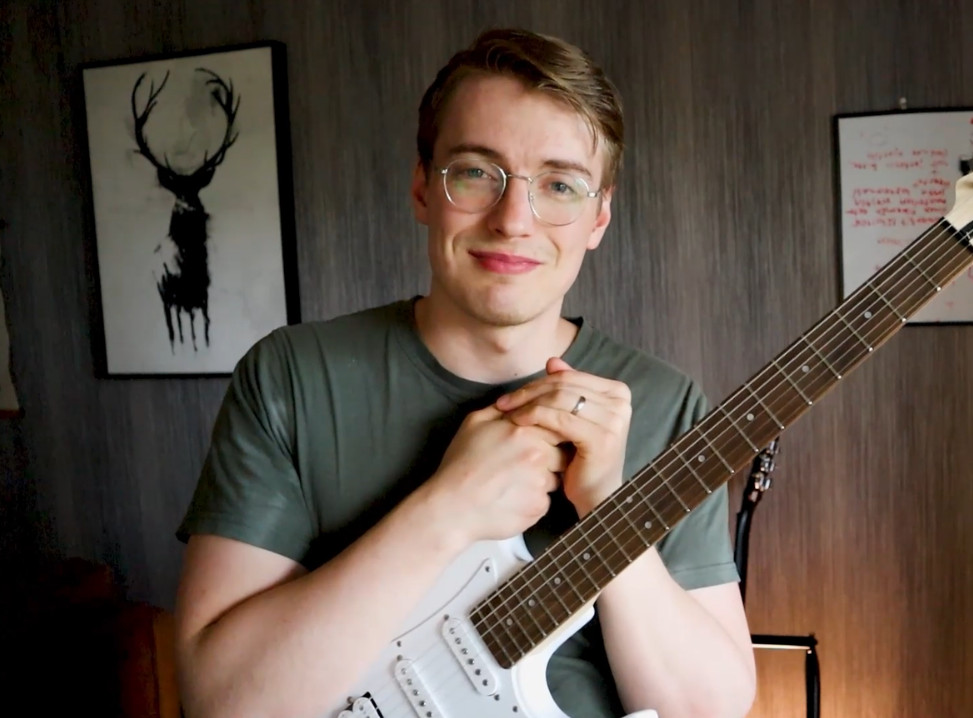 Author: Teemu Suomala
I first grabbed the guitar in 2009. I started this website in January 2020 because I couldn't do window installation anymore due to my health problems. I love guitars and have played dozens and dozens of different guitars through different amps and pedals over the years, and also, building a website interested me, so I decided to just go for it! I got lucky and managed to get awesome people to help me with my website.
I also got lucky because I have you visiting my website right now. Thank you. I do all this for you guys. If you have any recommendations, tips, or feedback, just leave a comment, I would love to chat with you. I have also been fortunate to produce content for several large guitar websites, such as Songsterr, Musicnotes, GuitarGuitar, and Ultimate Guitar.
I spend my spare time exercising and hanging out with my wife and crazy dog (I guess that went the right way…).
Hide The Rambling▲
---
VOX Valvetronix VT20X Review
Summary(If you are in a hurry)
This VOX is a great practice buddy that got's you covered in all sorts of different situations. It's not the best for modern really "edgy" metal stuff, but other than that it's great.
It has a steeper learning curve than most electric guitar amps, but when you get comfortable with it, it's really fun to play with things.
This guitar amp is a great option for people looking for versatility and who like to get solid modeled tube tones out of their amplifier. Not the best option for beginners because of the complex usability, but not a no-no either.
Check Today's Price on
*Consider all links in this post to be affiliate links. If you purchase, at no additional cost to you, we may earn a small commission. It helps us to keep the lights on, thanks! 🙂
---
Check the full video review:
---
Our Favorite Music Store in The World!
Why?
– Excellent Customer Service (4.7/5 Trustpilot Score)
– Fast & Free Shipping
– Gear is Inspected, Tested, & Ready to Play When it Arrives to You (We love this)
– Fair Prices
Visit Sweetwater:
VOX Valvetronix VT20X Specs and Dimensions
| | |
| --- | --- |
| Power: | 20 Watts |
| Amplifier-type: | Solid State/Digital/Modeling |
| Speaker: | 8″ |
| Channels: | 4 |
| Tuner: | Yes |
| Tube: | 12AX7 vacuum tube inside preamp section |
| Controls: | Gain, Overdrive Select Switch, Volume, Power Level, Volume, Gain, Bass, Middle, Treble, Amp Model Selector, 5 x User Defined Selectors, 3 x Effects Selectors, 2 x User Defined Value Knobs, Bias Shift, Class Selector |
| Effects: | 12 effects (overdrive, reverb, delay etc.) |
| Inputs: | 1/4 Instrument Cable, 1/4 Foot Switch jack, 1/8 Aux Input jack, USB (type B) Mini Port |
| Outputs: | 1/8 Headphone-output |
| Weight (I measured this): | 15.87lbs (7.2kg) |
---
Portability
The handle of this amp is sturdy and fits most hands well. But as you can see from the image above, this is no tiny amp. You can easily move it around your home, but it's not very suitable for traveling and constant going.
---
Overall Look, Feel, ad Quality
What a stunning amp! Vintage-looking "VOX" and "Valvetronix" logo paired with a beautiful canvas design on the speaker cover fit my living room like a glove. I also like the looks of the chicken head knobs!
When it comes to quality, after a year of use I can say that it's great for the price. Amp still feels like a more expensive amp (even tho the price has gone up), and everything holds up great.
The surface of the amplifier itself can show some wear if you put this amp under rugged use. I managed to wear out the amp a little. This is a small con, guitar amps like Roland Micro Cube, Vox Pathfinder 10, Boss Katana 50Mkii have not shown any wear and tear after even longer use.
But overall, this amp passes with flying grades when it comes to looks, feel, and quality.
Unboxing
---
Features
We got a ton of stuff to cover because this amp is packed with features!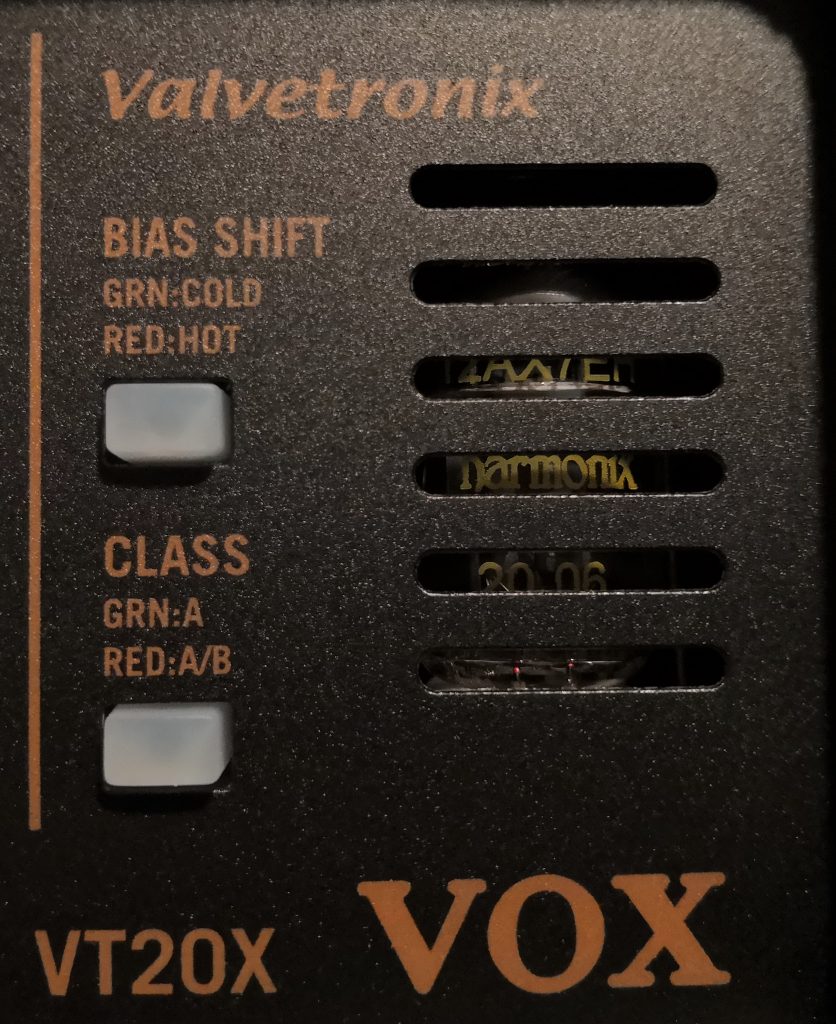 First, this bad boy got an 12AX7 (12V) tube inside the preamp section, it should give the tone a more tube-amp-like response and characteristics(more about this in the sound section).
Next to it, we have "BIAS SHIFT" and "CLASS" Buttons. What do these do?
BIAS SHIFT= With this you can change the DC voltage that flows to the tube. In guitarist use, this changes the sound of the distortion.
CLASS= You can change how the power amp section conducts current(signal). You have 2 options.

Class A (Green) = One Transistor in the power amp section uses 100% signal. This creates a balanced response.
Class AB (Red) = Other side of the signal goes through transistor 1 and the other goes through transistor 2. This creates compression and crossover distortion for you.
I found myself using the "CLASS" switch more. It alters your tone nicely, and you can quickly shift between different options with a flick of the switch.
Here's an image that reveals all the out of the box amp types:
My favorites:
Tweed 4×10 = It provides really smooth cleans and when you crank up the gain a notch, the tone is really crisp. Great for cleans in general and for blues and classic rock.
Brit 800 = Wonderful for old-school rock and metal. Just like in the '80s.
This image reveals all out of the box effects:
I used the most:
Overdrive=Provides really nice rock tones. The distortion effect was too fuzzy in most cases.
Delay=Basic delay, but I like to use it with leads. A lot.
Hall reverb=Gives a great ambiance to tone. Works great with distorted leads and with cleans overall.
You can also adjust different aspects of the specific effects with TAP(works only with some effects), VALUE 1, and VALUE 2 knobs. For example with the Overdrive effect, you can adjust the Gain with VALUE 1 and Tone with VALUE 2. Manual explains all these in detail.
And with the Preset Program button, you can switch preset programs. There are 3 of them:
Percent program mode. With the amp model knob, you can switch between different done for you presets. When you adjust settings, only then the tone will change.
Manual mode. Acts like a normal guitar amp. You still have different amp types, but the value of each knob always determines the sound, even when you change between amp types.
Use program mode. You can recall saved user presets with this mode.
You also get:
4 channels
Ability to save own presets
Access to VOX Toneroom app via cable (works with PC, MAC, and with tablets and phones too). There are literally 100's of tone options, I will publish a separate blog post about that soon.
Gain and Volume Controls
3-band EQ
Power Level knob. You can adjust the output of the power amp while keeping the gain level the same.
Aux-in (⅛), headphones-out(⅛), Foot Switch Jack(1/4), and normal instrument cable input(1/4).
So you have an abundance of options and settings to play with. That's guaranteed.
Usability
Well, this Vox doesn't pass with flying grades in this category. It has so much going on. But could it be made easier to use? I think so.
The "Preset Programs"- button is probably the most confusing. It makes saving and selecting different saved presets a little bit confusing. You have to hit that couple of times, then press the "Bank"- button, and then choose the right "Channel". Doable? Yes. Smooth and simple. No.
Also, one thing that User Manual fails to communicate well is the actual functions of the Tube and The "BIAS" and "CHANNEL" switch. What do these really do for you, and why and how it affects your tone. It gives us only vague explanations. I tried to explain those above, hopefully that clarified things.
But can anyone learn how to use this? Absolutely. I'm not a Valvetronix master, but I'm pretty comfortable with it. If I can learn how to use it, so can you. And the User Manual is your friend.
As I said before, be ready for a little bit steeper learning curve with this amp.
---
Sound
This amp is really versatile. Tone-machine. From gentle cleans to mean distortion, it got you covered. Only that really modern "edgy" djent metal stuff is not so good with this amp in my opinion.
And where does this shine the most? With old-school stuff. Before 90's music. Old-school metal, rock, hard rock, blues, etc. The tones of this amp fit that kind of music really well. Match made in heaven.
I have no need to describe every tone of this amp separately, you can listen to those if you watch my full review of this amp or the sound demo(note that on the sound demo, I used my old USB mic, it didn't always provide the best one)
But a couple of things…does that preamp tube relay bring you closer to real tube tones? Honestly, I don't think so. I have tested other electric guitar amps modeling tube tones and they sound equally good without and preamp tube (Yamaha THR30 for example).
So to me, this tube is a cool little extra feature, but I don't believe that it's a game-changer in any way. Probably not even necessary. But I can't deny that it looks cool and with the "BIAS" switch, you can adjust your tone just that extra bit more.
And about tube modeling…this amp does a solid job with that. But this is not a real tube amp, and it doesn't sound exactly like one. And its response is definitely not like a tube amp, not even close. But I think that for the price, this amp models a real valve amp pretty well. And I like the tones of this guitar amp a lot.
Note: some users have stated that the amp hums a lot. Even so much that it bothers the playing. My journey with this has been almost completely hum-free. So this issue didn't bother me. If you face a terrible hum, first make sure that it's not your guitar or cable, if the hum continues, contact the seller and see if you can return the amp as a faulty product. One reason for this issue could be that you have a power cable that's missing a grounding plug, you can check if you can find a replacement for that. But most of the time, there's no hum.
Value for Money
So let's stack the value together:
Solid modeled tube amp tones
Tons of different features
11 out of the box amp types and 12 effects
Great looks and quality
Access to Vox Tone Room
Versatility
Good tones
Cool looking preamp tube (don't believe it changes the tone or response much)
"BIAS" and "CLASs" buttons give you some extra tone options
You can save your own presets
Tuner
A great amount of loudness
That's a great stack. And even though the price of this Vox has gone up, I still think it offers really great value for the money.
Verdict
I like this amp a lot. It's not going to replace real tube amps and preamp tube is not a game-changer either. Also, this amp is not simple to use.
But the features of it, versatility, and solid modeled tube tones make this an amp that is hard to hate. I like how it sounds. Also, it has served me well with everything I have thrown at it, but especially with all the old-school stuff.
It's a great option for feature cravers and for those who want great value for the money. It's also a solid introduction to tube tones.
Compare prices:
---
What Other Users Have Said?
After going through dozens of user reviews, here's what I found:
Good
Sounds great
Tons of features
Looks stunning
Great value for the money
Bad
Hum (check if the power chord has a grounding plug)
Not very easy to use
Volume can get loud when changing presets
---
FAQ
Is Vox Valvetronix VT20X A Tube Amp?
Technically yes, but not really.
It has a 12AX7 tube inside the preamp section. So the amp has a tube inside of it. But it's not a real tube amp. There are no tubes inside the power amp section(these would have a bigger impact on your tone). It's just normal transistor technology there.
It models tube tones but doesn't sound or respond to your playing the same way as a real tube amp either.
Are Vox Valvetronix Amps Good?
They are
versatile
have a ton of features in them
offer great value for the money
do a solid job with modeling tube amp tones
sound good overall
If you value these, then yes, Valvetronix amps are good.
Where Are Vox Valvetronix Amps Made?
At the backside of the amp, the label says "Made in Vietnam". Here's proof:
Does the Vox Valvetronix VT20X Have Bluetooth?
No. But you can connect a tablet or phone to it via USB.
Can you use pedals with Vox Valvetronix VT20X?
For sure you can. It has already a ton of effects in it, but if you crave more, go ahead. But note that it doesn't have an FX-loop, so using a Looper to its best potential with Valvetronix 20 is not possible.
---
Alternatives
Best for Under $200 – Fender Mustang LT25
If you want a more affordable amp with easier usability, a better and more fun-to-use app(Fender Tone), with almost equally good tones, and don't necessarily need that tube focus, then Fener Mustang LT25 is a great option.
You can read my full review of this amp here.
Compare prices:
---
Real Tube Amp – Bugera V5 Infinium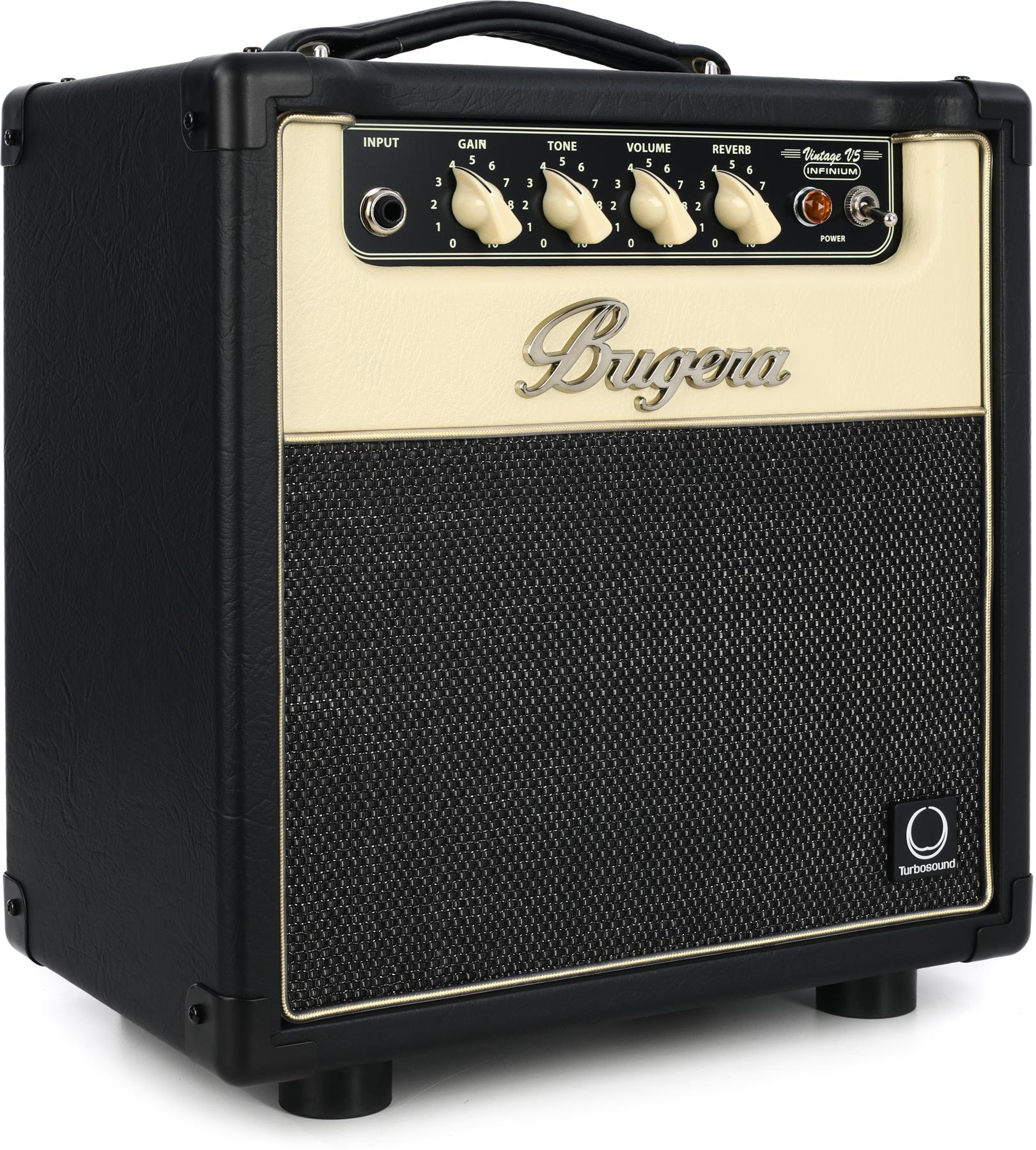 Do you know that you can get a real tube amp for pretty much the same price as Vox Valvetronix 20?
Enter: Bugera V5 Infinium.
It's equipped with "Reverb". Other than that you have to buy effects separately. But it does sound like a real tube amp and has all the features needed to get you started with your "real-tube"-journey. Still, there is no denying that the Valvetronix offers way better features than this amp.
---
Great Solid-State Rock Amp – Orange Crush 20RT
If this review made you want to get just a regular amp without any bells and whistles, this Orange is a great option. It doesn't overwhelm you with different settings and still sounds good. I found it to be a really good option for rock music.
It does lose to Valvetronix in sound quality and versatility a bit, but this Orange still offers great value for the money. And it has some of that Orange-amp magic in it!
You can read my full review of this amp here.
Compare prices:
---
Conclusion on VOX Valvetronix VT20X Review
This amp is a gem to me. I'm so happy I bought it. But I understand that it's not for everyone. If you love simplicity, get some other amp. Also, the preamp tube didn't really deliver anything special. Still, this amp sounds good, has a ton of fun features, and is a beauty!
Hopefully this review helped you out. If you have any questions, just leave a comment. I wish you all the best and keep rocking!
Teemu
You might also like:
We are sorry that this post was not useful for you!
Let us improve this post!
Tell us how we can improve this post?