Last Updated on April 29, 2023 by Teemu Suomala
Yamaha FG-TA Transacoustic
Sound
Playability
Overall Quality
Value For Money
Build
Summary
FG-TA gives you dreadnought sounds that don't lose to any other acoustic in its price range. But on top of that…

It gives you unplugged effects using a specially designed actuator to vibrate your guitar's top. So you're able to play with a lush chorus and resonant reverb without bothering to run through an amp!

So be ready to hear comments like "how your playing sound so much better than others" and "are you using a playback?"

Pros
-Solid spruce + mahogany combo provides classic six-string tones
-Specially designed actuator gives you effects with no extra equipment
-Amazing travel potential; fill out your sound with kinetically-driven chorus and reverb
-SRT zero impact passive pickup faithfully transfers guitar's natural tone
-Narrow neck improves overall playability

Cons
-Requires an external preamp module for recording
-No onboard EQ means level adjustments must be done on amp

This is the acoustic that can get your playing and tone onto a new level. And the reason for that is: it motivates you and makes you want to play more.
How Yamaha FG-TA sounds:
Check Today's Price on
*Consider all links in this post to be affiliate links. If you purchase, at no additional cost to you, we may earn a small commission. It helps us to keep the lights on, thanks! 🙂
---
Are you shopping for your very first acoustic? Has your beginner guitar lost its charm? Are you ready to upgrade your acoustic to a model that truly excites you?
I think that no matter the stage in your musical journey you're at, the Yamaha FG-TA Transacoustic is a model that offers an incredible creative opportunity. Why? Let's take a look…welcome to our Yamaha FG-TA Transacoustic Review!
Yamaha FG-TA Transacoustic specs:
Body type: Traditional Western
Top wood: Solid Spruce
Body wood: Mahogany
Neck wood: Nato
Neck shape: Traditional C
Scale length: 25 9/16 " (650 mm)
Truss rod: YES
Fretboard material: Rosewood
Fretboard radius: 15 3/4 " (R400 mm)
Number of frets: 20
Nut width: 1.69″ (43 mm)
Pickups: SYSTEM70 TransAcoustic + SRT Piezo Pickup
Bridge: Rosewood
Who crafted this Review:
Author: Tommy Tompkins
Playing guitar since 2004. Primarily an acoustic guitarist who plays and writes traditional American folk music, with a background in melodic metal and a solid foundation as a bassist.
Hide The Rambling▲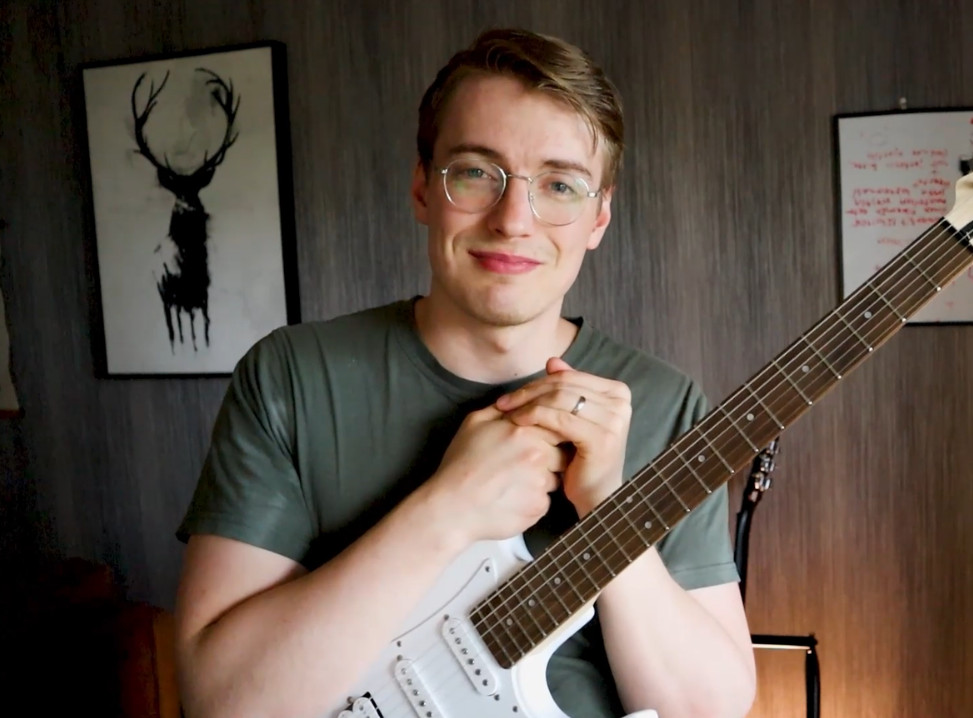 Editing & Research: Teemu Suomala
I first grabbed the guitar in 2009. I started this website in January 2020 because I couldn't do window installation anymore due to my health problems. I love guitars and have played dozens and dozens of different guitars through different amps and pedals over the years, and also, building a website interested me, so I decided to just go for it! I got lucky and managed to get awesome people to help me with my website.
I also got lucky because I have you visiting my website right now. Thank you. I do all this for you guys. If you have any recommendations, tips, or feedback, just leave a comment, I would love to chat with you. I have also been fortunate to produce content for several large guitar websites, such as Songsterr, Musicnotes, GuitarGuitar, and Ultimate Guitar.
I spend my spare time exercising and hanging out with my wife and crazy dog (I guess that went the right way…).
Hide The Rambling▲
---
Yamaha FG-TA was also selected as the Best Yamaha Guitar of 2022 by our Yamaha Expert Pranshu Nigam.
Our Favorite Music Store in The World!
Why?
– Excellent Customer Service (4.7/5 Trustpilot Score)
– Fast & Free Shipping
– Gear is Inspected, Tested, & Ready to Play When it Arrives to You (We love this)
– Fair Prices
Visit Sweetwater:
Yamaha FG-TA Transacoust

ic

Review
Yamaha's FG-TA is unlike any guitar I've seen before. That's because this acoustic-electric, besides its overall quality build, gives you unplugged effects.
Using a specially designed actuator to vibrate your guitar's top, you're able to play with lush chorus and resonant reverb without bothering to run through an acoustic guitar amp.
If you're lost, that's understandable—I was too the first time I read about the FG-TA. It sounds just about impossible to have effects without pedals or at least an amp, right?
But, with the Transacoustic, you really can simply turn a knob or two on the guitar to imbue your sound with some really sweet sonic alterations.
It's as great choice for singer-songwriters who need to add some depth to their sound as it is for gigging pros who are looking for a reliable six-string to run through the PA.
Things to Consider Before Buying a Yamaha FG-TA
Owing to its prime specs, which include a solid spruce top and beautiful mahogany back and sides, the FG-TA Transacoustic is a strong sounding guitar at the most basic level.
Add to this the revolutionary acoustic-powered effects, and this is an acoustic guitar is on a whole other level.
You can play unplugged with the standard dreadnought sound.

Then, you can turn on the TA system for genuine reverb and chorus, both adjustable to your desired levels.

Or, you can plug it in for a power boost, knowing that the SRT pickup will flawlessly carry your guitar's true voice.
As a singer-songwriter myself—and one who's often halfway up a mountain trail—I'm blown away by the prospect of having effects independent of a power source.
This makes the FG Transacoustic an awesome choice for guitarists who like to live on the wild side and take their music into nature.
But you don't have to be a backpacker to enjoy the Transacoustic's vibe. Its sultry reverb and chorus can fill a room with sweet sounds that you'd hardly believe are coming straight from the guitar.
Truly, no matter your setting, the Yamaha FG-TA is an excellent dreadnought in every regard.
I will offer a small word of warning—if you're looking for a guitar you can record with straightaway, you'll need to keep in mind that this model doesn't have a built-in preamp.
The SRT pickup isn't weak, but you will need an external preamp device to boost your signal in the studio. Before you make up your mind on the FG-TA, you should know that its mass-produced build quality simply can't rival handmade models like high-end Martins.
It's a great acoustic for beginners and intermediate players, but if you're a true pro who's playing for packed concert halls, you might find its laminate back and sides to be below the standard you'd like.
How Are The Key Qualities?
Sound
To everyone but the most particular acoustic connoisseurs, the Yamaha FG-TA Transacoustic will sound sublime.
I've played for just under two decades, and it's one of the finest sounding acoustics I've ever had the pleasure to hear.
Unplugged, it might sound a bit basic. Spruce and mahogany are an altogether common tonewood combo that sounds about as you'd expect any acoustic to. However, it is loud thanks to its dreadnought shape and scalloped X-bracing.
It's when you activate that sweet TA system that the Transacoustic really shines.
With no digital processing, the reverb and chorus it produces are authentic and truly heavenly to hear. I just love how this sounds.
They're effects produced in the truest way—simply vibrations caused by your own playing, responding to each nuance of your style in pure form. And, while the chorus is adjustable by presence, the reverb actually has two settings, both a room and a hall effect.
The FG-TA Transacoustic sounds great plugged in, too! Yamaha's SRT pickup system uses a separate piezo element for each string, so the fullest range of tone and harmonics is transferred through the final sound source.
Hear how this guitar sounds:
Playability
I'll give it to you straight here—the Transacoustic really have much special going for it in the playability dimension. Does that mean it's bad? Absolutely not!
If you can get down with the playing feel of a dreadnought acoustic, this guitar will be a fine match for you.
It's got a traditional western style body and a straightforward C-shaped neck that feel just like every other standard acoustic.
With a rosewood fretboard, you've ensured a silky smooth playing surface that's soft and responsive beneath your fingertips. But FG-TA has one big advantage when compared to other similar-sized acoustic guitars… it has a slightly narrower nut width(1.69″ (43 mm)).
This improves overall playability, and if you have small hands or short fingers, this is definitely great news for you, because frets are pretty easy to access with a narrow neck. Plus, this is great news for electric guitarists.
And if you adjust the action according to your own preference, this axe will probably be a pleasure to play.
Quality
On the surface, the Yamaha FG-TA is a pretty standard mid-range guitar. It's made with the basic components of most acoustics around the $500 range, although it is put together with solid, dependable construction.
The real virtue of the FG-TA acoustic guitar is its effect capabilities. There's nothing else like the Transacoustic series in their ability to let you play with beautiful chorus and reverb using nothing but the instrument in your hands.
Looks
I think one of the things I like the most about the FG Transacoustic guitar is that it doesn't try to show off. From the outside, it's just your basic dreadnought—no frills or fancy inlays—simply utilitarian.
That being said, it does come with different finish options, including (my favorite) vintage tint, brown sunburst, and ruby red.
Summary
Pros
Solid spruce + mahogany combo provides classic six-string tones

Specially designed actuator gives you effects with no extra equipment

Amazing travel potential; fill out your sound with kinetically-driven chorus and reverb

SRT zero impact passive pickup faithfully transfers the guitar's natural tone

Narrow neck improves overall playability
Cons
Requires an external preamp module for recording

No onboard EQ means level adjustments must be done on amp
For me, this guitar is like a dream in every way. I love the traditional acoustic sound found in your standard western guitar, and adding these effects to the mix just elevates it to a realm I hadn't thought possible.
Situations where this Yamaha is a nice option:
Beginners with a decent budget to drop on a first acoustic will find none better than the FG Transacoustic. Its conventional playability and common dreadnought body shape will set you up in the best way to learn all the basics.

If you've been playing a while but are bored of plain old six-string tones, the Yamaha FG-TA can add spice to your sound wherever you go.

For pros, this is a great travel instrument that can keep your private jams interesting, but it's not limited to bedroom noodling. With a proper preamp, you can use the FG-TA for all your professional playing needs.
Check Price on:
---
FAQ
Where Is the Yamaha FG-TA Transacoustic Made?
What some might consider a blemish on its otherwise near-flawless quality, the FG-TA is made in China.
Considering Yamaha makes a huge array of fantastic instruments, the bulk of which are manufactured in China, this is really nothing to fret about.
If you want to learn more about where Yamaha guitars are made, check this article.
What's the Difference Between the Yamaha FS-TA and FG-TA?
In all tonewood specs, the Yamaha FS-TA and the FG-TA are identical. They also share the same Transacoustic effects system and SRT pickup.
The difference between the two models is their shape and size.
The FG-TA is a standard dreadnought—traditional western—body style.

Its FS-TA sibling is a smaller concert-style acoustic. As such, it's not quite as loud or booming as the FG-TA, but you might find it more comfortable to play if dreadnoughts are a bit too big for you.

The FS-TA has a slightly shorter scale length and is almost a half-inch more shallow than the FG, so its string tension is a tad lighter and you can hug it just a little closer to your body.
What Owners Have Been Saying
In all the reviews online, the worst I can find about the FG Transacoustic is that some people forget to turn off the effects system and drain the guitar's battery. Because of this, they assume the electronics have died, but it's really as simply silly as needing a fresh battery.
Otherwise, reviewers rave about the Transacoustic series. It's prized for its beautiful effects just as much as its strong unaltered voice.
Alternatives
Best for Folk Music – Yamaha FS850, Mahogany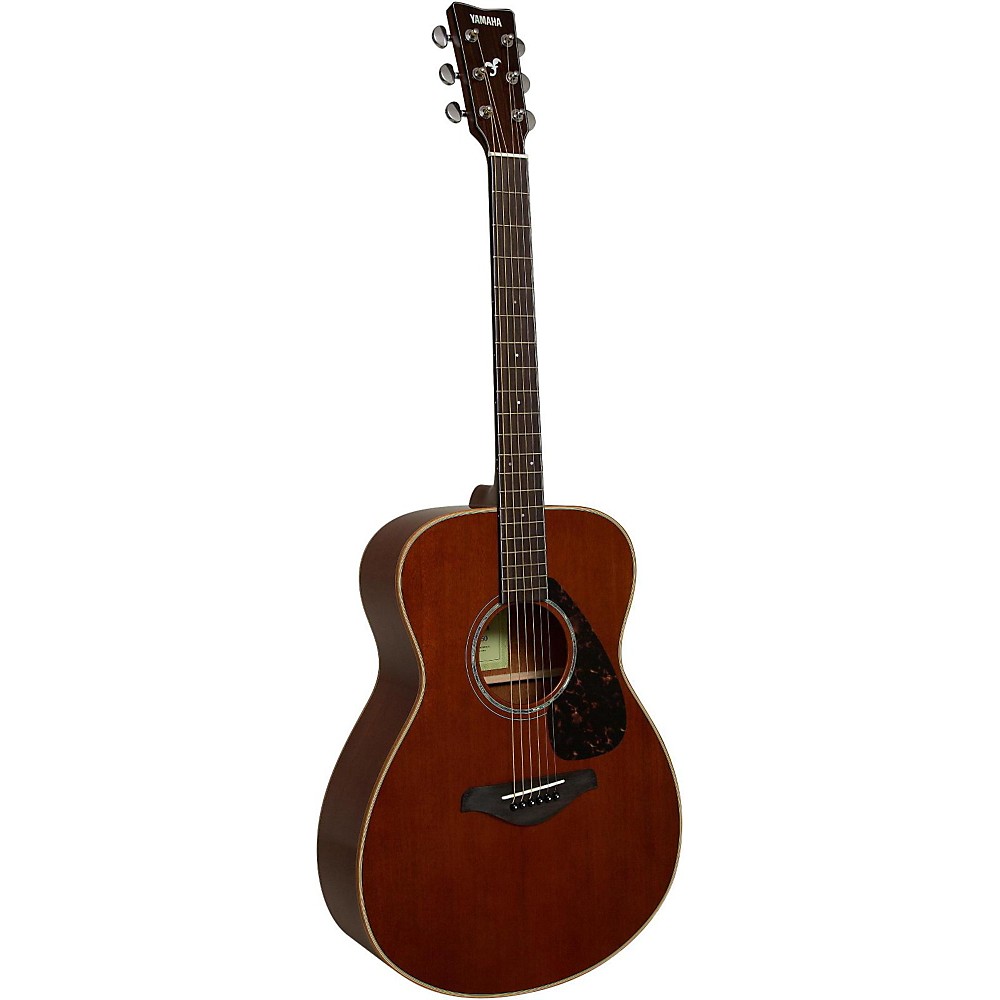 When you're looking for the dark, warm tones of fingerpicked folk, you might want to consider an all-mahogany guitar.
The Yamaha FS850 acoustic offers you a solid mahogany top paired with mahogany back and sides to bring your dreams of folk fingerstyle to life.
Bundled together in a cozy concert body that sports volume-projecting scalloped bracing, the FS850 is a fine choice for players wanting to connect to acoustic roots.
Find more great Yamaha acoustic guitars here.
---
Best for Small Hands – Taylor GS Mini Rosewood – Natural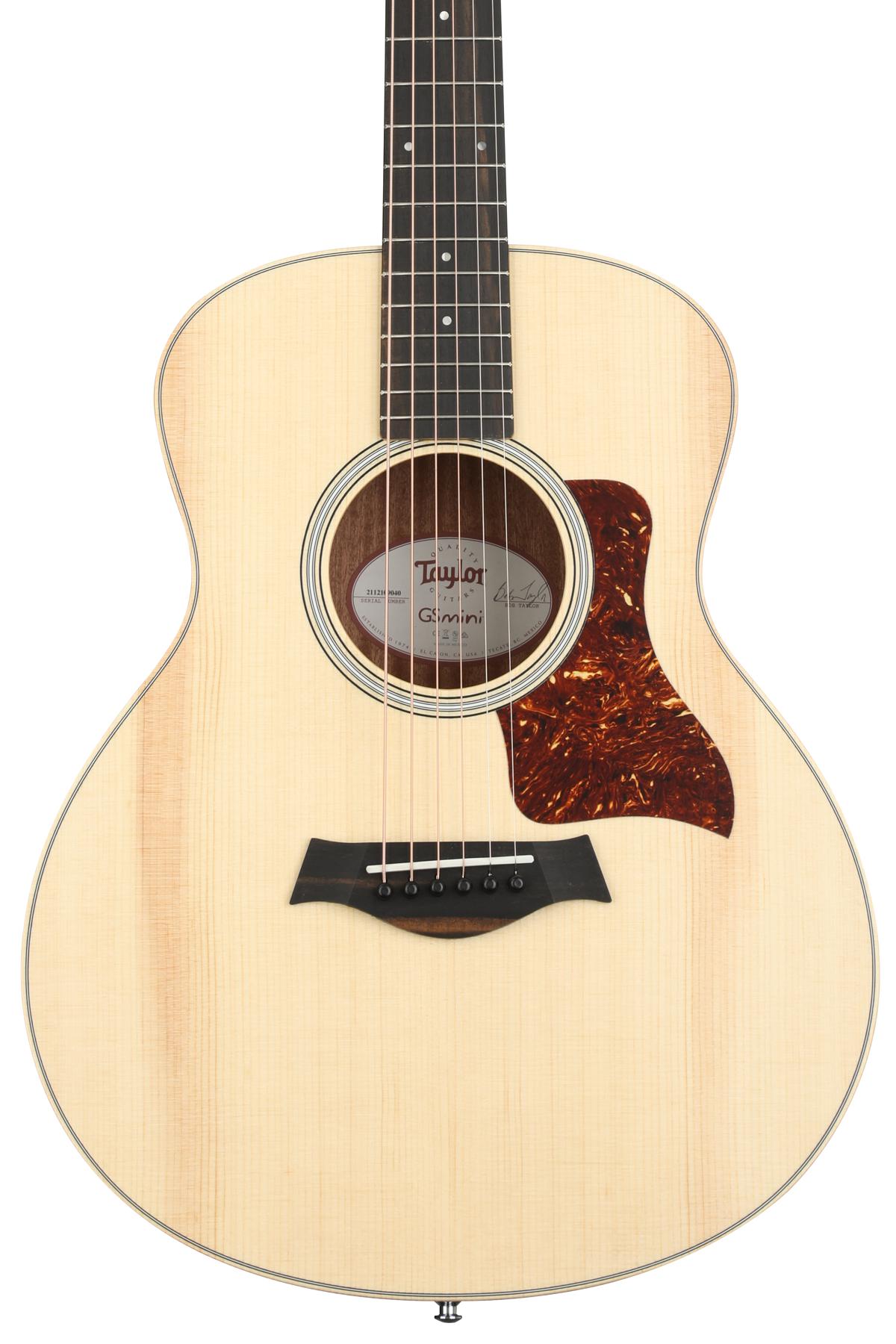 In a great offering from Taylor, the GS Mini Rosewood combines a solid spruce top with a rosewood body in a tight little package that's great for small players.
With a scale length of only 23.5 inches, the GS Mini Rosewood acoustic guitar plays at a low tension that goes a long way in reducing hand strain and finger pain.
About the size of a parlor guitar but packing a surprisingly powerful voice, the Taylor GS Mini is a great acoustic for players put off by beefy dreadnoughts.
Find more great Taylor guitars here.
Check Price on:
---
Budget Pick – Yamaha APX600 BL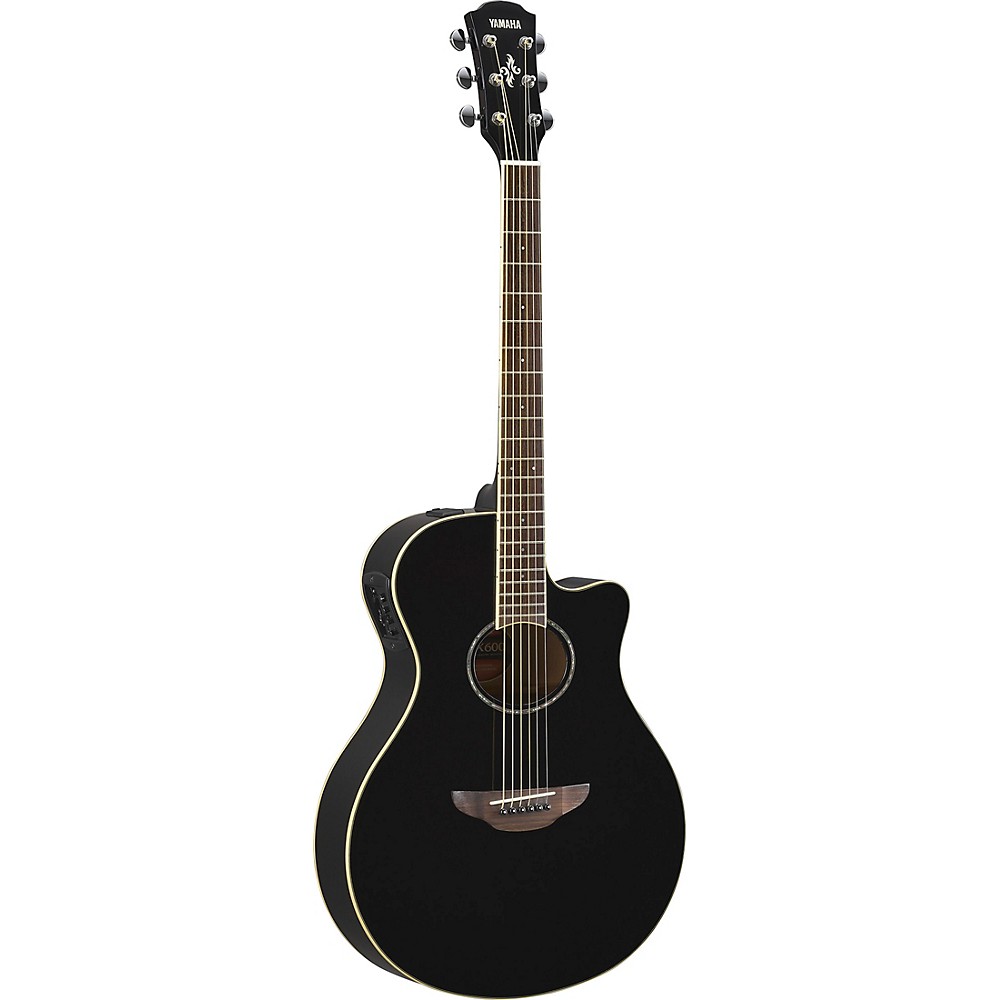 If you simply need an acoustic-electric but don't have the bucks to blow on a high-end model, Yamaha's APX600 might just meet your needs.
Though it lacks a solid top which cuts down on its tonal worth, it's got some selling points that can't be overlooked.
These include Yamaha's reliable System65A preamp/pickup combo, a thin body that fits comfortably in the lap, and a smooth cutaway for hitting those hard-to-reach high notes.
It's a low-cost acoustic-electric that's perfect for beginners eager to hit the stage.
Check Price on:
---
Conclusion on Yamaha FG-TA Transacoustic Review
My next instrument purchase will almost surely be the Yamaha FG-TA Transacoustic. I'm honestly a little bummed I didn't know about it sooner, as I'm sure it would add a depth to my playing I've never experienced before.
Despite not being a boutique high-end model, the FG-TA is easily one of the best acoustics I've come across.
Whether you're a beginner, intermediate, or professional, there's a lot to appreciate about this guitar.
Give it a chance, turn on that Transacoustic reverb/chorus system, and I think you'll fall in love just like I have.
You might also like:
We are sorry that this post was not useful for you!
Let us improve this post!
Tell us how we can improve this post?