Yamaha GigMaker Electric Guitar Pack Review 2021 – Best Starter Pack
Sound
Playability
Amp
Accessories
Quality
Value for Money
Summary
Pros
-Really high value for the price.
-Guitar sounds great
-Guitar feels comfortable and easy to play
-Good sounding amp with nice features
-Instructional DVD gets you started
-Almost everything is good in this pack, the only exception is….
Cons
-…the guitar cable. It's not so good.
-Not the best option for really heavy distortion stuff

The overall quality of this pack is high. In my opinion, it's the best beginner electric guitar pack. The reason for this is an excellent price-quality ratio, great guitar, and amp.

The only really weak aspect of this pack is the guitar cable. And maybe, if you want to play heavy stuff and love the warm and thick sound, Epiphone Les Paul pack with 2 humbuckers is the better option…

This guitar pack has been available for 10 years. The reason is this: they got it right for the first time. It has been a high-quality pack since then. My favorite electric guitar pack for beginner
How Yamaha GigMaker Electric Guitar Pack Sounds:
Compare Prices:
---
Yamaha GigMaker Electric Guitar Pack has been around for years, and many beginners have decided to start their guitar journey with it. But is that a good choice? Is GigMaker pack worth your money?
Yamaha GigMaker Electric Guitar Pack includes:
Yamaha PAC012 Pacifica guitar(with whammy bar)

2-channel Drive guitar amp, Yamaha GA 15 II

gig bag

Digital chromatic tuner

Cable

Instruction DVD

Strap

extra strings

Picks
Reviewer: Teemu Suomala
Playing guitar since 2009. Mainly focused on electric guitars, although plays acoustics too. Started this blog in January 2020.
Use the table of content to jump to the section you want:
Yamaha GigMaker Electric Guitar Pack

Review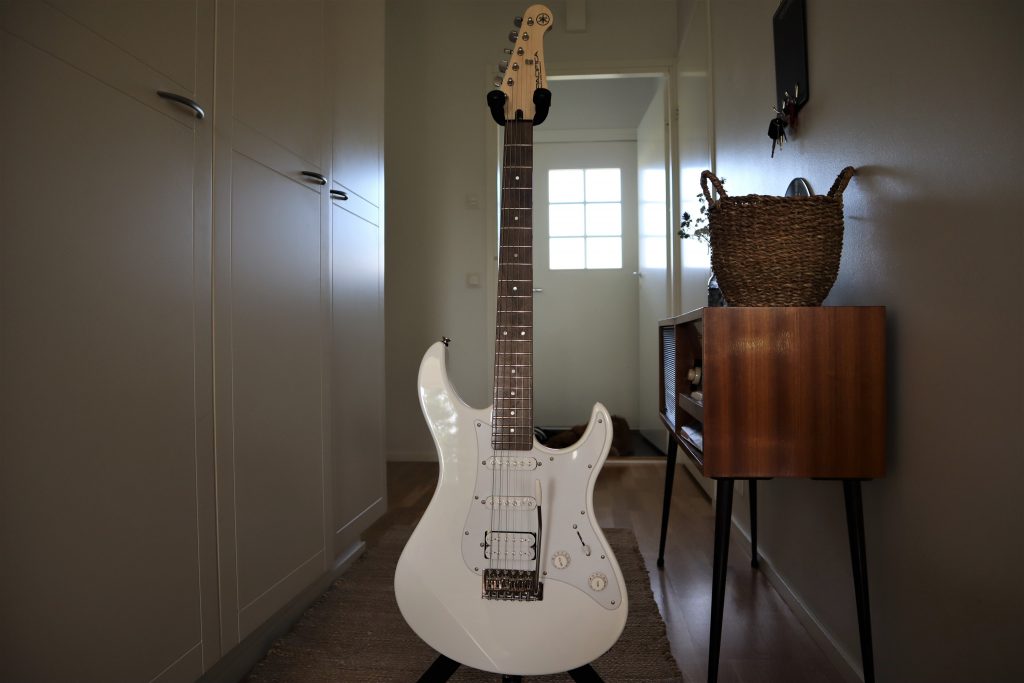 Sound
With two single-coils and humbucker, this guitar can produce a lot of different tones. From spanky blues to the fast hard rock. If you want to play really heavy stuff this guitar slightly loses for most of the two humbucker beginner guitars. Still, this guitar is really versatile, you're definitely not going to be stuck inside one genre with this guitar.
I did not have any problems with sound(listened to a lot of sound demos). Yamaha can surely make a good sounding guitar. Single-coil spanky sound is noticeable, I like it, but some people don't. But gladly this guitar has that humbucker too, in case you want to rock with some thick and warm tones.
Someone(I didn't) can notice a little buzz in a sound. But the reason for that is probably the guitar cable which comes with the guitar(it's not good).
I rented the guitar (Yamaha Pacifica 012) that this pack includes recently and made several videos about it. Here you can check the in-depth review:
If you want to see more videos, just go to Youtube, and search: "Guitarist next door Yamaha Pacifica 012", and enjoy!
Playability
Out of to box action(distance between strings and fretboard) is pretty low. This makes this guitar easy to get started with. And with a truss rod, you can adjust the action according to your liking easily.
The fretboard radius is 13 3/4″ (350mm), so it doesn't have much curve at all. This makes moving your hand around the fretboard easy.
Nut width is only 1.614″(41mm), so the neck is narrow, and this is one reason why this guitar is some easy to play and beginner-friendly. Great for kids and teens too. But if you are buying a guitar for a really small kid, smaller 3/4 sized guitar might still be a better choice.
The neck is also really comfortable. Edges and frets are not too sharp and the guitar feels comfortable to play. The back of the neck feels smooth and the upper fret access is really solid too.
This is also not the heaviest beginner guitar. And because of this, I would recommend this for a kid who wants to start rocking too.
Quality
My experiences with Yamaha guitar have always been good. For example, my C40 Classical guitar still plays like a charm after 9 years. But what about this PAC012?
When doing research, I found out that some people even buy used Yamaha PAC012 Pacifica guitars. These bad boys are that durable.
The overall finish is excellent for the price, and I'm pretty sure that you can't find better quality when buying a beginner guitar.
I can't find any major flaws from this guitar, when I look at it from the beginner standpoint. But I can find one minor flaw: staying tune is only OK, some other models do a better job with this (for example Rogue Rocketeer), but PAC012 is still one of the best beginner guitars overall. And I'm glad that this Pacifica is really easy to tune.
Looks
PAC012 looks similar to the original Stratocaster. This has slightly bigger curves. Personally I like the looks of the original Stratocaster more, but this is no game-breaker.
I also think that some colors just don't fit this body shape so well(white). Black is my favorite color for this guitar, although these are only my personal opinions.
Amp
The pack comes with Yamaha's own 15-watt, 2-channel Drive guitar amp. And this amp gets points from me. I'm so glad that Yamaha included a decent amp to this pack.
Amp performs well with both channels and gives you all that you need from a beginner guitar amp. It includes nice equalization features for beginners, so you can dial the tones according to your preferences easily.
Some say that the amp has a slight buzzing sound in it. But there is a high chance that the guitar cable that comes with the pack is the reason for that.
You can plug headphones to this amp too. AMP also has AUX input, so you can easily jam with your favorite songs.
If you want to hear how this amp sounds, watch this video(note that in this video, a different guitar is used. You still get a good idea how the amp sounds tho):
Accessories
Picks=decent. These will get you started, but I personally can't imagine myself playing with any other pick than Dunlop Max-Grip Nylon Jazz III. I recommend that you try out those at some point.
The Gigbag could be a little more protective, but it's not too bad either. It got you covered against small bumps and dust.
Tuner handles the job. Not major problems with it. The same applies to the guitar strap. Of course, it's not the most comfortable, but it is not weak like in some packs.
The instructional DVD will get you started. It's great for beginners, but it should be time for Yamaha to upgrade for a digital guide.
Also, I think that this post does an even better job of kickstarting your guitar career: How to Play Guitar? Get Started Fast and Free!
Extra string is nice plus too, although the strings are not the best in quality or feel.
Guitar cable is pretty bad. It's definitely the worst aspect of this guitar pack. It can cause some buzzing sound and I recommend that you replace the cable as soon as possible. This post helps you with that: Best Guitar Cable Under $20 in 2020 – Buyer's Guide.
Summary
Pros
Really high value for the price.

Guitar sounds great

Guitar feels comfortable and easy to play

Good sounding amp with nice features
Instructional DVD gets you started

Almost everything is good in this pack, the only exception is….
Cons
…the guitar cable. It's not so good.

Not the best option for really heavy distortion stuff
The overall quality of this pack is high. In my opinion, it's the best beginner electric guitar pack. The reason for this is an excellent price-quality ratio, great guitar, and amp.
The only really weak aspect of this pack is the guitar cable. And maybe, if you want to play heavy stuff and love the warm and thick sound, Epiphone Les Paul pack with 2 humbuckers is the better option…
This guitar pack has been available for 10 years. The reason is this: they got it right for the first time. At it has been a high-quality pack since then. I strongly recommend this for a beginner.
---
Alternatives
Runner-Up –
Squier Affinity Stratocaster Beginner Pack
If you are more of an original Stratocaster guy or gal, this fender pack is also a solid option.
Fender is known for its great guitars that are a pleasure to play. And for a beginner, this Squier pack offers some of that Fender magic. Great sounding and easy to play guitar, solid amp and 3-months Fender play learning for free.
You can read my full review of this guitar pack here: Squier Affinity Stratocaster Beginner Pack Review 2020 – Before You Buy.
Yamaha GigMaker pack is better in my opinion because it offers more value for money. This Squier pack is around 70 bucks more expensive. But this pack is still a good choice.
---
Best Les Paul Pack – Epiphone Les Paul Electric Guitar Player Pack
If you are into heavier stuff, or you just love Les Paul- type guitars, this is a solid choice. The guitar is easy to play, and sounds great. You should still note that upper fret access is a little bit worse with Les Paul-type guitars, and this is no exception. But still, crunchy riffs and rock solos are made for this guitar.
An amplifier that comes with this guitar is slightly worse than amps coming with Fender and Yamaha packs, but this pack is still a great option for Les Paul and metal lovers.
You can read my full review of this guitar pack here: Epiphone Les Paul Electric Guitar Player Pack Review 2020 – Before You Buy.
---
Conclusion
There is no way around it, Yamaha GigMaker is my favorite beginner guitar pack. If I were a beginner and looking for a starter pack, this would be my pick. But those 2 alternative packs I mentioned are also great choices.
Starter packs are a really good option for beginners. If you want to learn more about starter packs, check out these posts I made:
If you want to kickstart your guitar journey with the "post I wish I had when I started", check this guide I made: How to Play Guitar? Get Started Fast and Free!
I hope that this post helped you out! If you have any questions, leave a comment down below and feel free to share this post too.
I wish you all the best and keep rocking!
Teemu Suomala