Last Updated on June 13, 2023 by Teemu Suomala
The Pacifica 012 is a great electric guitar! I wish that I've had a guitar like this when starting out…
It's not the best option for everyone tho. And that's why I recommend going through this review. It gives you a clear picture of who this Pacifica 012 is for.
For this article, I spent almost 30 hours with this budget axe, testing the sound, comparing it with other guitars I've reviewed earlier, and reading dozens of comments from other fellow purchasers on various online platforms.
I'll share what I found and my thoughts on this guitar here.
And believe me, I have good news for you. But for that, keep reading my Yamaha Pacifica 012 review.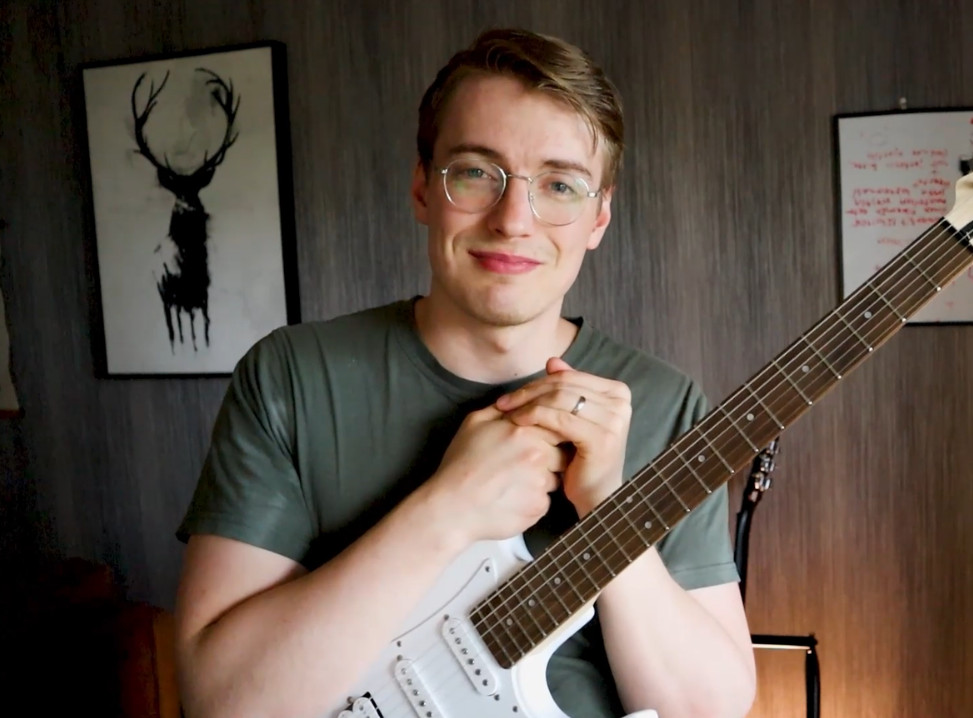 Author: Teemu Suomala
I first grabbed the guitar in 2009. I started this website in January 2020 because I couldn't do window installation anymore due to my health problems. I love guitars and have played dozens and dozens of different guitars through different amps and pedals over the years, and also, building a website interested me, so I decided to just go for it! I got lucky and managed to get awesome people to help me with my website.
I also got lucky because I have you visiting my website right now. Thank you. I do all this for you guys. If you have any recommendations, tips, or feedback, just leave a comment, I would love to chat with you. I have also been fortunate to produce content for several large guitar websites, such as Songsterr, Musicnotes, GuitarGuitar, and Ultimate Guitar.
I spend my spare time exercising and hanging out with my wife and crazy dog (I guess that went the right way…).
Hide The Rambling▲
---
Yamaha Pacifica 012 Review
Summary (If you're in a hurry)
One of my favorite guitars under $200 for sure. The playability is next to none. My fingers had a fun time cruising around the fast neck, while my ears absolutely rejoiced in the tones that this guitar produced.
The Yamaha Pacifica 012 is THE budget rock guitar to buy.
With a super versatile HSS pickup design and an excellent tremolo bridge system, the Pacifica is one guitar that I can recommend to almost every person – EXCEPT if you're particularly looking for a heavy distortion metal sound.
Yes, hardcore metalheads look elsewhere. But for all other genres, the Pacifica is perfect.
Well, no guitar is actually perfect. You will see that's the case here too in the review that follows!
Check Today's Price on
---
Feel free to check my in-depth video review of this guitar:
Our Favorite Music Store in The World!
Why?
– Excellent Customer Service (4.7/5 Trustpilot Score)
– Fast & Free Shipping
– Gear is Inspected, Tested, & Ready to Play When it Arrives to You (We love this)
– Fair Prices
Visit Sweetwater:
Yamaha Pacifica 012 Specs
| | |
| --- | --- |
| Body type: | Solidbody |
| Construction: | Bolt-On |
| Body wood: | Mahogany (Agathis?) |
| Neck wood: | Maple |
| Neck shape: | C-shape |
| Scale length: | 25.5" |
| Nut width: | 1.614" (41mm) |
| Nut | Urea |
| Fretboard material: | Rosewood or Walnut |
| Fretboard radius: | 13.75" (350mm) |
| Number of frets: | 22 |
| Pickups: | Bridge – Yamaha Ceramic Humbucker; Neck – Yamaha Ceramic Single-coil; Middle – Yamaha Ceramic Single-coil |
| Bridge: | Vintage-style Tremolo |
| Controls: | Volume, Tone, 5-way blade pickup switch |
| Tuners: | Sealed (Closed back tuners) |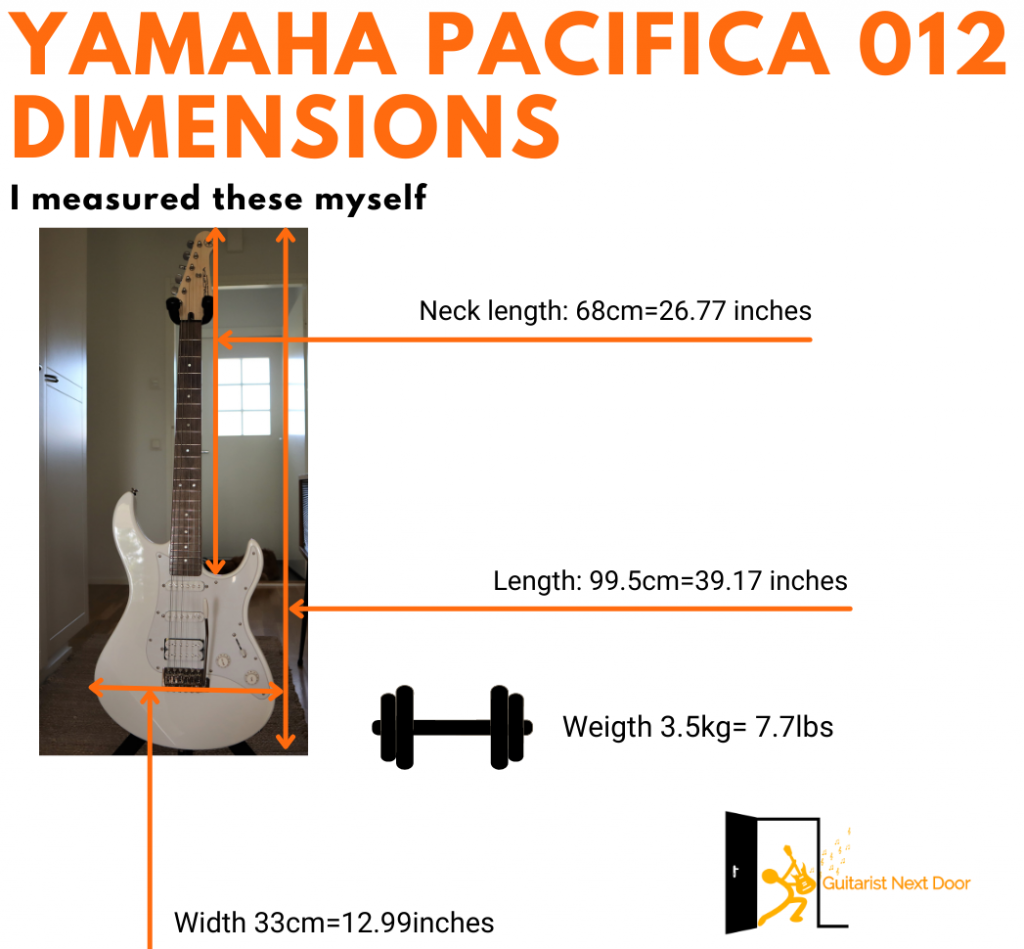 ---
Looks, Build, and Finish
I also reviewed Pacifica 112V recently, check that review out too!
I'll start by saying that you get an overall well-built guitar for the price you're paying.
But it's not flawless! Let's see why.
Looks-wise, the Pacifica 012 keeps it simple but appealing. No fancy inlays or attractive burst finishes here. What you get is a nice poly-finished agathis body in a standard Pacifica design.
The superstar body does look appealing to my eyes. My unit had a flawless finish on the body, at the back of the neck, and on the headstock.
Speaking of which, the headstock is probably my least favorite aspect of this design. I much prefer the headstock on the original Strat.
Of course, you should always keep in mind that this is a mass-produced budget electric guitar. This brings me to some of the issues with the finish, including:
My particular unit had some minor scratches and spots on the fretboard. Although that's barely noticeable and I won't consider this a downside. Your guitar will likely have much more of those within a few months of playing anyway.
Some uneven frets – Particularly the 3rd, 4th, and 11th fret were a little lower than the rest. But I was surprised to find absolutely zero fret buzz, even with very low action.
But besides that, everything looks solid!
The agathis body feels sturdy, and the maple neck has a smooth satin finish. Another thing that I liked is that the frets are nicely crowned, so no sore fingers after a long playing session.
My favorite detail about this design is the contour they've added to the top of the body, which acts like an armrest. It makes it extra comfortable for your picking hand.
Keeping the minor finish issues aside, I'll surely put it among the most well-built and nice-looking guitars at this price.
Hardware
The choice of materials is interesting here.
Firstly, they've put urea (provides similar sustain to plastic) nut and saddle on the guitar which I strongly suggest replacing with a real bone nut. This small upgrade alone will increase the sustain and enhance the tone of your guitar.
Secondly, Yamaha mentions the body wood to be Mahogany. But I'm confident that my unit has an Agathis body. Besides that, some online stores write the body wood to be Agathis itself.
These are clearly cheaper appointments, but I would not expect premium materials from a $200 guitar.
Open the backplate and you'll find dual springs attached to the tremolo plate. This is a typical setup and works fine in most cases, but you might need to add a third spring if you want to use heavier strings.
But, overall, I'm impressed with the quality of hardware.
Everything including-
Tuners
Tremolo bridge
Volume and Tone knobs
Pickup switch
…feels reliable and works very well.
There are a few budget guitars that check most of the right boxes when it comes to hardware, and the Pacifica 012 is up there.
Electronics
Unfortunately, I didn't get the time to open the front plate. But I did spend ample time playing with the different configurations and all the controls.
Judging by my testing and the performance I got, I would expect the internals to be just fine.
No complaints here!
The Yamaha ceramic pickups sound good across the board.
Keep in mind that these are entry-level pickups from Yamaha, so don't expect the most phenomenal output from them (I bet this guitar would sound phenomenal with better pickups installed).
But they do the job quite well, and I hope they are durable enough.
I also measured the pickup resistances. The humbucker comes close to the Fender Bullet Strat. Although it's a little colder than the Ibanez GRX70QA that I reviewed. The single coil resistances, however, are higher on the Pacifica, which gives you a warmer and fuller sound.
I'll give an in-depth overview of how these sound in the "Sound" section below.
I measured the resistance of these pickups too. This gives us an indication of the output of the pickups(how "hot" or "cold the pickups are).
Here's how these outputs compare to other similar guitars on this price range:
Playability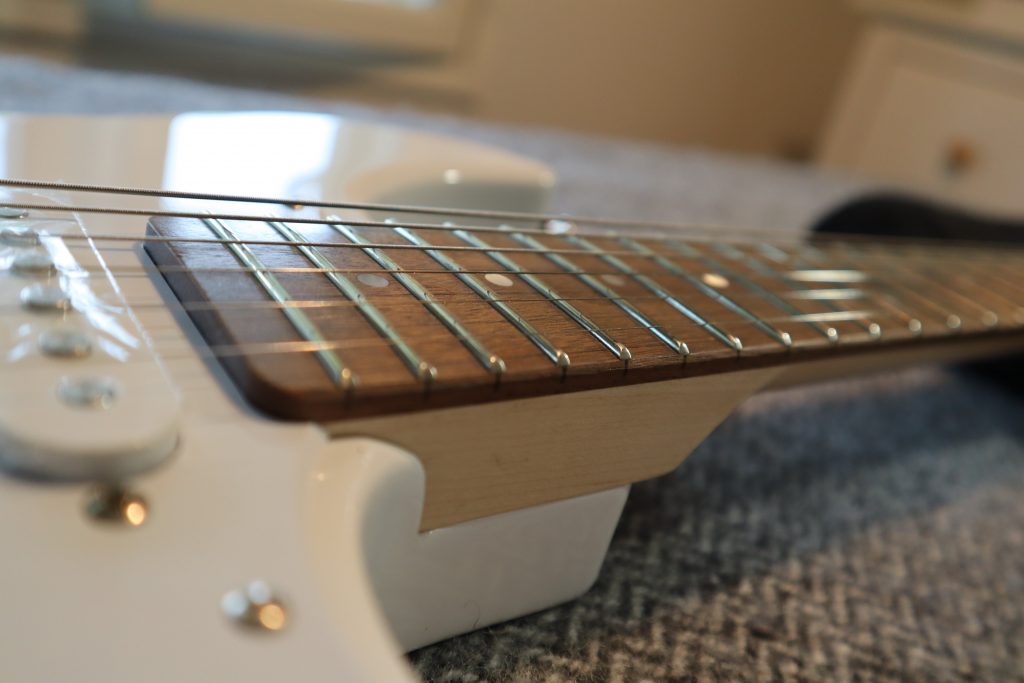 Right off the bat, I can say that the Pacifica 012 scores very high in terms of playability.
Here's why:
The armrest contour makes it one of the most (if not THE most) comfortable guitars that I've played under $200. You'll never feel that you're playing a budget guitar.
The C-shaped neck on this guitar is a little thicker than I'm used to. But at the same time, it's pretty narrow (1.61" at the nut) so hitting those nasty chord stretches is a little easier.
Also, the satin finish on the back is ultra smooth. This makes playing fast licks or doing complex chord changes effortless.
This guitar also has a modified bridge design from earlier Pacifica models. It's more discrete than the block-style design from before.
And all I can say is that this new design is definitely an improvement. It supports and anchors your picking hand better so you can be more confident while picking.
To be honest, I was surprised at how good this guitar is in terms of its playing feel. It definitely feels like a more premium guitar, which is a big plus.
Sound
Let's get to the most important aspect – Sound!
Check the sound demo I shooted:
I think that the HSS configuration on this Pacifica is very versatile. That's the best thing you can ask for in a budget guitar in my opinion.
The bridge humbucker reminds me very much of the Squier Bullet and Affinity Strats. It handles genres like blues and hard rock well and even some metal.
But I wouldn't say this can be your next hardcore metal guitar. It's not as powerful as some other guitars I've tested.
If you need a guitar solely for metal, I've got some great alternatives for you down below.
Single coil tones are really good on this one. Although they're a bit warmer and not as bright and twangy like the Squier models.
You will notice some softness in the upper frequencies, and that's likely due to the cheaper wood used. But that's not a big issue, as this in turn makes this Pacifica a great fit for some mellow jazz or classic rock.
The spankiness of the Squier Strats is what makes them solid for genres like blues and funk. Here you get crisper and warmer tones, which make it spot-on for some articulate lead-playing or fingerpicking.
It's still great with blues and funk, just not as good as the Squiers.
I particularly liked the two combo pickup configurations (humbucker coil + middle coil and middle coil + neck pickup). Those really give you that full and balanced sound that can fit any genre (Check the sound demo for all the samples).
Here's a little graph that reveals you more about the songs, music, and genres this Yamaha can handle:
Overall, the Pacifica 012 will handle anything you throw at it – but particularly classic rock and hard rock. This is the best rock guitar under $200 in my opinion.
Again, I really enjoyed playing this guitar, be it any rhythmic sections or fast solos. Not only does it sound great, but I found it super comfortable as well which adds to the overall experience.
Here's a graph that compares the pickup tone versatility against the other electric guitars in this price range (around $200):
Tonewoods doesn't have a huge effect on electric guitar tones, but some still. Here's a graph that highlights tonewood tunes:
Value for Money
The Yamaha Pacifica 012 is an incredible value for the money electric guitar, no doubt!
For just 200 bucks, you get:
A nice looking and feeling design.
Versatile sound and electronics.
Really good playability.
Sturdy and reliable tuners keep the guitar in tune for a long time.
The build quality is excellent too, apart from the minor finish issues (which no budget guitar is devoid of).
It definitely feels like a more expensive guitar than it really is, especially the smooth satin neck – super-fast, comfy, and no sharp fret edges.
Personally, I think this would be a terrific guitar with some upgrades. I didn't try that myself but I'm sure you can make it sound like a guitar twice or thrice the cost with basic pickup and nut upgrades.
But even without that, the Pacifica really excels at price-to-performance.
Final Verdict
The Ibanez GRX70QA has a new competitor, and it's a tough one!
If you want good looks, great playability, balanced sound, or simply put a fantastic all-round beginner guitar under $200, look no further than the Yamaha Pacifica 012.
With the right setup, the Yamaha Pacifica 012 is hard-to-beat in terms of playability and versatility.
Unless you really need to dive into those high-gain territories, this guitar should be among the top of your priorities.
Of course, no guitar is perfect. We do have minor imperfections in the finish and some cheaper hardware appointments (like the nut), but it does seem to keep up with everything you throw at it.
Overall, the Pacifica 012 is an easy recommendation for beginners or rock enthusiasts.
Check Price on:
---
What Others Are Saying?
Don't just take my opinion on the instrument, take a look at what other customers are saying about this axe (based on various guitar forums and online stores):
Pros:
Users generally praised the construction and quality of the guitar, including the body finish, frets, and tuners.
People liked the tuning stability, although some had to give it a little time to settle in.
Almost everyone loved the sound of it. Some even compared it to Mexican Strat or Les Paul.
One guy was overjoyed when he could sound really close to Nirvana.
A lot of positive comments regarding the packaging of the instrument.
Cons:
Sometimes the guitar required a little setup out of the box.
People suggested changing the stock strings for better sound.
Some reports of finish issues, including wood chipping and scratches.
---
Compared to Similar Models
Yamaha Pacifica 112J
These two are very similar guitars, both in terms of features and pricing. For 20 bucks extra on the 112J, you get:
Alder body wood, which is a slight upgrade from Agathis (a bit crispier tone)
Die-cast tuners (tuners on the 012 are still great)
More finish options
Is that worth the extra cost? For me, it is. After all, it's only a marginal difference in price.
But I wouldn't fret too much between these two, as they're mostly identical guitars. Just get the one that fits in your budget or is available in your region.
Check The Price of Pac 112J on:
---
Squier Affinity Strat HSS
With the Squier Affinity Strat, the differences are more clear. While the difference in price remains around $20 – $30, the upgrades seem to be worthwhile.
The Affinity Strat has:
A poplar body, which is an improvement over the agathis on the Yamaha.
Die-cast tuners, which are more durable.
Slightly larger frets (Medium Jumbo vs Medium on the Pacifica), although this is subjective.
More curved fretboard.
Besides that, you get a conventional Strat design and tone with the Fender, whereas it's a different look and warmer sound with the 012.
So if you want that classic Fender design and a brighter, spankier tone, go for the Fender. But the Pacifica is not much behind either.
Check Price Squier Affinity on:
---
Alternatives
Ibanez GRX70QA – Another Best Electric Guitar under $200
Listen PAC012 and this Ibanez played back to back:
The Ibanez GRX70QA is another of my favorites under $200.
You get just as good playability and sound quality as the Pacifica, although the focus here seems to be mainly on rock and metal tones.
The quality of hardware is even on both the guitars. Pickups, body construction, bridge, are all on the same level.
The only place where the Pacifica takes the edge are the tuners.
Sound-wise, the Ibanez is slightly warmer and fuller in some situations, especially with the neck humbucker. Whereas the Pacifica clearly wins in the single coil tones – brighter and more balanced sound here.
So which one should you get?
If you need your guitar to handle metal well while still being versatile, go with the Ibanez.
But for rock, blues, and funk where you need brighter single coil tones, I'd pick up the Yamaha.
You can read & my full review of this guitar by clicking this.
Check Price on:
---
Jackson JS22 Dinky – Best Metal Guitar Under $200
The Jackson JS22 Dinky is the best metal guitar under $200 out of all that I've tested.
Why?
It has got everything you need to nail those heavy, high-gain performances.
The body contours, neck profile, compound radius, pickups, all feel like they're made for lightning-fast metal. And the guitar has got the hardware to withstand all of that.
So, if you love metal, the JS22 Dinky is for you!
But when it comes to other genres, especially softer or low-gain ones like country, pop, blues or softer rock, the Pacifica or even the Ibanez are clearly better choices.
You can read & my full review of this guitar by clicking this.
Check Price on:
---
Squier Bullet Stratocaster HSS – Brighter & Spankier Tone
Now if you want a bright and snappy sound from your guitar, or are just all about that classic Strat vibe, then you may consider the Squier Bullet Strat.
Where the Squier really shines are cleans and low-to-moderate distortion tones. The HSS pickup configuration is almost as versatile as the Pacifica. It won't handle super heavy distortion though.
It isn't my favorite guitar in this segment, as you can find better alternatives for pretty much any style. The build quality is also mediocre at best.
But if those issues don't bother you, or you need Fender magic on a modest budget, this is a great option.
You can read & my full review of this guitar by clicking this.
Check Price on:
---
FAQs
Is Pacifica 012 a good guitar?
Yes. The Yamaha Pacifica 012 is a solid guitar for most beginners, and even intermediate players looking for a backup option.
You get decent build quality (one of the best under $200), great electronics, and a very comfortable design, all of which make it a solid choice for a budget electric guitar.
Is the Yamaha Pacifica good for beginners?
Definitely! The Pacifica series is among the most popular electric guitars among beginners due to its impressive quality and value for money.
Yamaha really takes care of the overall quality even in their budget guitars, and this reflects on the Pacifica too.
The quality of the hardware is as good as it gets at this price. Besides, its tuners are pretty reliable as well, so you can spend most of your time playing rather than tuning the guitar.
Beginners also want that extra versatility to try out various genres or just play around with different sounds, and the Pacifica 012 is a great fit for that.
Can you play metal on a Yamaha Pacifica?
You can play metal on any guitar for that matter. The real question is how good is the Yamaha Pacifica for metal?
As discussed in the review above, metal tones are okay but not amazing on the Pacifica 012. Its pickups are not as powerful as say the Jackson JS22 Dinky, which is the benchmark for metal in this category.
But it can definitely handle some metal and hard rock. The single coils & bridge humbucker pack enough punch for some heavy chugging.
Where Are Yamaha Pacificas made?
Yamaha Pacifica guitars are designed by Yamaha Japan and were initially manufactured in Taiwan.
However, these days the Pacifica series is manufactured in Indonesia, like their many other affordable models. I did in-depth research and it seems that all Yamaha electric guitars currently available are made in Indonesia.
This Yamaha Pacifica 012 I had was made in Indonesia.
---
Conclusion on Yamaha Pacifica 012 Review
The Yamaha Pacifica 012 might not be perfect, but it's still a damn impressive axe for the money.
I've reviewed several other electric guitars around a similar price range, the reviews for all of which you'll find on this website and my YouTube channel.
And all things considered, the Pacifica is undoubtedly among my top picks under $200.
If you decide to grab one for yourself, don't forget to share your thoughts on my YouTube channel.
Thanks for reading!
You might also like:
We are sorry that this post was not useful for you!
Let us improve this post!
Tell us how we can improve this post?