Last Updated on November 22, 2023 by Teemu Suomala
Remember those times when entry-level guitars meant a plywood body made from an old lump of a tree?
Fast forward to today, where you can get solid alder for $300…with good hardware and quality pickups.
When I first saw the Pacifica 112V, I knew it'd be a good guitar for the price. But just how good was the question? So I decided to test it myself.
I spent almost 30 hours with the guitar, testing its pickups and overall quality. I also sought the opinions of other Pacifica 112V users on forums and other guitar communities.
After all the research and testing, here's my detailed Yamaha Pacifica 112V review that'll help you decide if this budget guitar is the right option for you!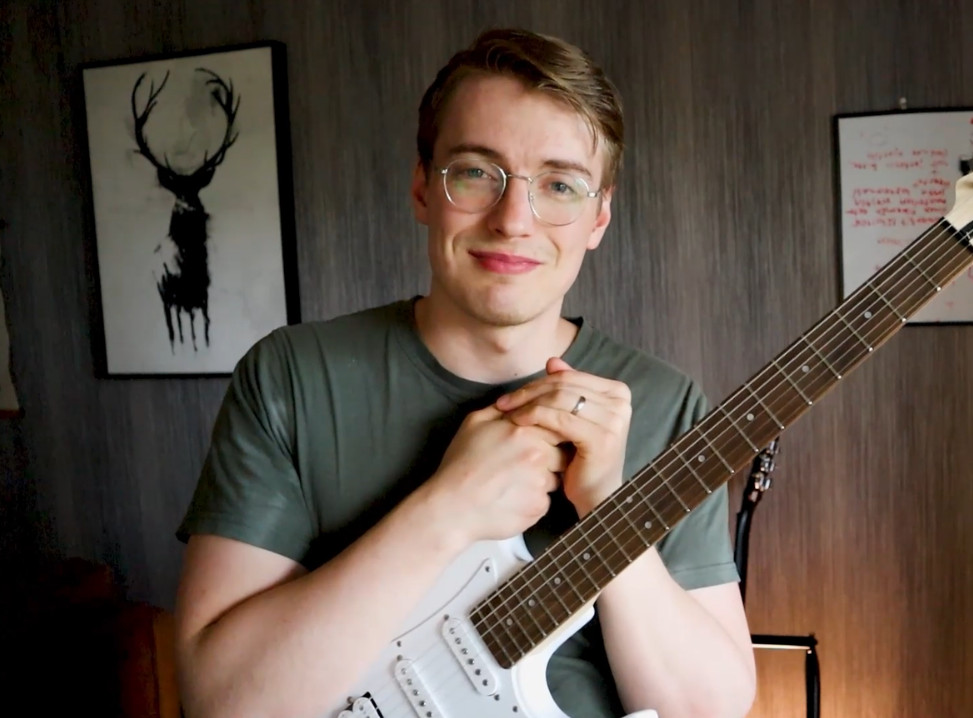 Author: Teemu Suomala
I first grabbed the guitar in 2009. I started this website in January 2020 because I couldn't do window installation anymore due to my health problems. I love guitars and have played dozens and dozens of different guitars through different amps and pedals over the years, and also, building a website interested me, so I decided to just go for it! I got lucky and managed to get awesome people to help me with my website.
I also got lucky because I have you visiting my website right now. Thank you. I do all this for you guys. If you have any recommendations, tips, or feedback, just leave a comment, I would love to chat with you. I have also been fortunate to produce content for several large guitar websites, such as Songsterr, Musicnotes, GuitarGuitar, and Ultimate Guitar.
I spend my spare time exercising and hanging out with my wife and crazy dog (I guess that went the right way…).
Hide The Rambling▲
---
The Review
Summary (If you're in a hurry)
The Yamaha Pacifica 112V exceeded my expectations. If I were given this guitar as a beginner I would've practiced more often, haha.
It's such a well-built guitar that sounds amazing AND plays like a more expensive instrument.
And with HSS pickups + humbucker coil-split setup, this guitar can handle pretty much any music out there from soul and folk to hard rock and heavy metal.
Even at such a modest asking price, Yamaha has ensured that you get quality hardware and a flawless finish.
To learn more about the Pacifica 112V and its build, looks, sound, and electronics, keep on reading this review of the Yamaha Pacifica 112V.
Check Today's Price on
---
Feel free to check my in-depth video review of this guitar too:
---
Our Favorite Music Store in The World!
Why?
– Excellent Customer Service (4.7/5 Trustpilot Score)
– Fast & Free Shipping
– Gear is Inspected, Tested, & Ready to Play When it Arrives to You (We love this)
– Fair Prices
Visit Sweetwater:
---
Yamaha Pacifica 112V Specs
| | |
| --- | --- |
| Body type: | Solidbody |
| Construction: | Bolt-On |
| Body wood: | Alder |
| Neck wood: | Maple |
| Neck shape: | C-shape |
| Scale length: | 25.5" (648mm) |
| Nut width: | 1.614" (41mm) |
| Fretboard material: | Rosewood |
| Fretboard radius: | 13.75" (350mm) |
| Number of frets: | 22 |
| Pickups: | Bridge – Humbucker/Alnico; Neck – Single-coil/Alnico; Middle – Single-coil/Alnico |
| Bridge: | Vintage-style Tremolo |
| Controls: | Volume, Tone, 5-way blade pickup switch, coil-split on bridge humbucker |
| Tuners: | Yamaha Sealed Tuners |
| Weight: | 7.7lbs = 3.5kg |
---
Looks, Build, and Finish
If you've ever seen any of the Pacifica models, this one looks and feels very similar:
Standard Pacifica headstock
Yamaha closed-back tuners
A strat-inspired double cutaway body
And my favorite, that armrest contour which makes a huge difference while playing
Also, Yamaha is quite clear about the materials used on the Pacifica 112V: Alder body, Rosewood fretboard, and Maple neck, unlike the 012 where materials may vary depending upon the region.
I've already reviewed the Pacifica 012 which is the cheaper cousin of the 112V. Now if you read that article (or saw the video), you might remember it had a few imperfections with the finish, particularly on the fingerboard.
The finish on this one is sort of flawless on the body, neck, and fretboard, at least for my unit. But it's also $100 more expensive than PAC 012.
I prefer a basic design with a perfect finish any day over a fancy design with poor finishing.
I also opened the backplate and although the soldering and wiring seemed pretty good, there was quite a bit of dust on my seemingly fresh unit.
That didn't seem to affect the performance, but it might cause trouble if more dust gets accumulated in the compartment or if the dust gets inside the blade switch.
Yes, it's easy to clean but I expected Yamaha to have done that before shipping.
Other than that, I have no complaints about the construction and quality of the hardware.
Overall, the guitar is fairly decent appearance-wise, but there are definitely better-looking guitars for the same price.
I much prefer the design of the original Strat, especially the headstock design. The Pacifica is not bad by any means, just maybe not my favorite-looking guitar.
Hardware
The Yamaha Pacifica 112V gets a few upgrades over the entry-level Pacifica 012.
The knobs and pickups are clearly made of better materials. Alder for the body is also a better option than Agathis.
Tuners on the 112V are of the same quality as the Pacifica 012, but they look slightly different. These are round capped and more compact in size.
Yamaha uses three springs for the tremolo block (Pacifica 012 had two springs). I found this setup a little too tight for me. You can always remove the middle spring to get it to be less tight if that bothers you.
But apart from that, the 6-saddle bridge, tremolo block, and tremolo arm work perfectly – smooth and easy-to-adjust.
In the hardware department, the 112V delivers everything you'd expect from a $300 axe.
Check the unboxing:
Electronics
Just like the 012, the Pacifica 112V comes with HSS pickup configuration, but with a few add-ons.
Firstly, these are Alnico pickups which are certainly a better choice than ceramic.
Secondly, you get the coil-split feature via a single push/pull tone knob. This makes it fun and simple when you want to quickly switch from a thick humbucker sound to clean & crisp single-coil tones.
I did measure the pickup resistances as well. Both single-coil and humbucker pickups here are definitely harder as compared to the cheaper Pacificas.
This simply means that you'll get more power and fullness from the output, which is good to have. Here are the results:
You can compare these to Yamaha Pacifica 012's Pickup Resistances:
You can see that Pacifica 112V gives us hotter tones.
As I mentioned, there was some dust accumulated in my guitar's back compartment. If this is a design flaw, then it could cause problems with the electronics, but if you clean that up, I would expect everything to go smoothly.
But apart from that, the pickups and the electronics work as advertised.
Playability
If there's one thing that matters the most for any beginner guitarist, it's comfort and ease of use. You won't feel like going back to a guitar that gives you sores or finger pain, no matter how good it sounds.
So how does the Yamaha Pacifica 112V fare in this department?
I'll start this discussion with the guitar's neck.
You get a C-shaped neck profile that's common on many beginner guitars, however, I found the neck to be slightly on the thicker side on this Pacifica.
It's not unplayable, but if you're a newbie or have really small hands, it might feel a bit meaty at first. The good news is that the fretboard is 1.41" at the nut, which makes it up for folks like me who have smaller hands.
Check our favorite electric guitars for small hands here.
The best part about the neck is the rosewood fretboard. It feels super-nice and smooth to play whether you're playing fast riffs, fingerpicking, or tapping.
There is no fret buzzing, even with super-low action. No sharp fret edges too.
Now coming to the body.
If you read my Pacifica 012 review, you'd know how much I loved that double-sided contour on the upper body of the guitar. It's the same case here.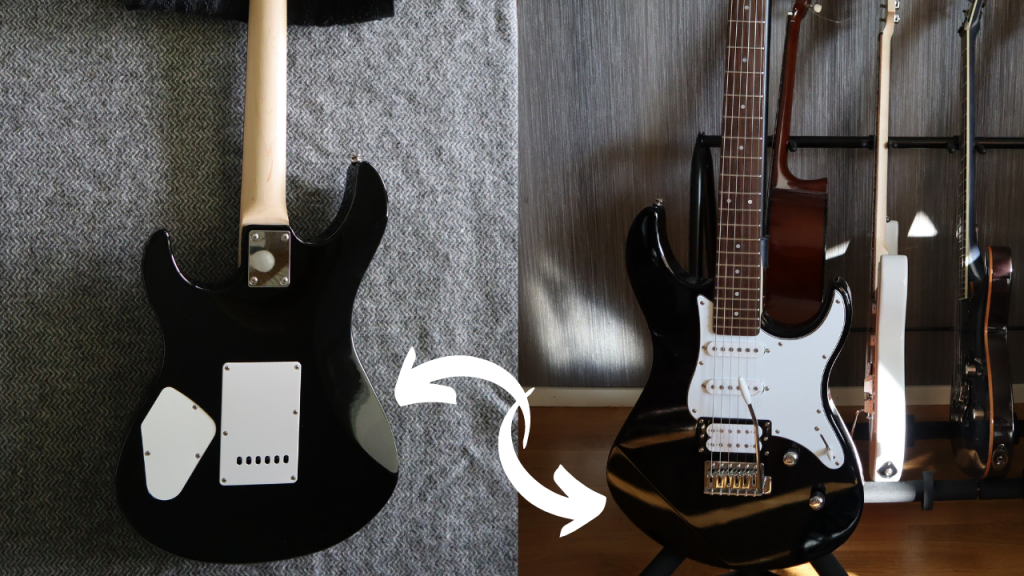 Thanks to that armrest profile not only does the guitar sit nicely against your chest, but your picking hand rests in the most natural position possible.
The Pacifica 112V has a typical 6-saddle bridge design. I really liked the more discrete bridge design of the Pacifica 012, but this tremolo bridge is nice to play as well.
It's safe to say that you won't face any real problems regarding comfort and playability.
Sound
Hear how Pacifica 112V sounds:
I can easily say this is one of the most versatile-sounding $300 guitars I've tested.
The Pacifica 112V handled everything I could throw at it:
Cleans
Rock tones
High-gain distortion
I liked the neck pickup and bridge humbucker pickups the most. I could get some of my favorite tones from these.
The humbucker sounds full and energetic – perfect for lead playing or power chords. It can deal with a variety of distorted tones from classic rock to heavy metal tones.
However, it's not perfect!
As good as the humbucker is, it won't keep up with the darkest, meanest metal sounds. But I think it still packs plenty of punch.
The humbucker split-coil is a nice add-on for sure, but after playing with it for a while, I didn't find the sound extraordinary. The sound from it isn't as bright and full of attack I would want from a bridge single-coil. I didn't get much use from me.
Note! this guitar isn't as bright as the Squier Affinity Strats or even the Pacifica 012. This one has a more balanced sound across the board. So if you're looking for a really bright or spanky sound, this is maybe not the best option.
Overall, leaving aside the spankiest cleans of the Squier Strats and the extreme distortion tones, the Pacifica 112V sounds really good.
If you're a beginner, you'll love the possibility to dive into pretty much any musical genre with this guitar.
Here's how 112V stacks against other similar guitars when it comes to tone:
Tonewoods doesn't have a huge effect on electric guitar tones, but some still. Here's a graph that highlights tonewood tunes:
Value for Money
Let's see:
Good quality pickups and hardware
Flawless fit & finish
Super-versatile HSS pickups
Excellent playability especially the fingerboard
All of this for $300 definitely makes this Yamaha Pacifica a great bang-for-your-buck electric guitar.
In fact, the guitar feels and sounds more expensive than it is. I especially love that armrest contour, it really makes a huge difference in terms of comfort.
Also, the HSS configuration along with the coil-split is one of the best electronic setups you can get for this price.
I'm sure you'll agree with my 5/5 value-for-money rating for the 112V.
Final Verdict
Let's evaluate the pros and cons of this axe and see if it's the right guitar for you.
I'll start with the good things:
The build and construction are done really well. The Pacifica 112V feels like a guitar that's built to last.
There aren't many budget guitars that nail both clean and heavy distorted tones. I could get both although you could say the guitar struggled in the most extreme metal territory.
It plays like a much more expensive guitar. That fretboard responds really well to rapid hand movement.
As far as any cons are concerned, I didn't find any major downside with this guitar. But if it comes to nitpicking, I'll point out that:
The split-coil doesn't sound the most powerful or crisp. I don't think it's the best choice for blues or rock soloing.
Some people might find the neck slightly thick. It's a minor problem for me but smaller players might find it harder to play bar chords etc.
The bridge design is not the most comfortable either. Pacifica 012 had a more forgiving bridge.
To summarize, the guitar gets the sound, comfort, versatility, and pricing right. That's really all that you need in a $300 guitar.
Do I recommend this Yamaha to beginners or intermediate players?
Absolutely!
If you want a sturdy design and all-rounder sound, this is a solid electric guitar. You'd really appreciate the coil-split feature to quickly switch to an SSS-like configuration.
If you need a guitar specifically for metal, this probably is NOT the right option(check the alternatives section down below). It can handle hard rock and even high-gain tones well, but don't expect the most extreme and darkest metal sounds.
Check Prices on:
---
What Others Are Saying?
I always suggest taking the opinion of several people before purchasing your first instrument. That's why I share experiences of real players around the world along with my personal reviews.
And here's what the guitar community (on various online stores and forums) has to say about the Pacifica 112V:
Pros:
Most users were satisfied with the craftsmanship of this guitar. They appreciated how the guitar feels good in hand and stays in tune for a long time.
People liked the HSS configuration for versatile sound options.
Quite a few comments regarding the smooth neck and smooth frets and fretboard.
Users said that the stock pickups were good enough and warranted no immediate upgrades.
Most people received their guitars with decent out-of-the-box setup and flawless fit & finish.
Cons:
Some negative reviews stated were regarding the electronic setup. Some people received guitars with loose pots, poor soldering, etc.
Some users had to do a basic setup upon receiving – changing stock strings, lowering string action, filing the nut & frets etc.
Few purchasers didn't like the packaging of the instrument.
---
Compared to Similar Models
Yamaha Pacifica 112J
The Yamaha Pacifica 112J is the middle-ground model between the 012 and the 112V.
The 112V and 112J are similar in a lot of aspects, but there are two main differences between them:
Alnico pickups on the 112V vs. Ceramic pickups on the 112J: The pickups on the 112J are not bad, but I think the alnico pickups definitely sound better. Plus, the 112V also has a coil-split feature.
Playability: To me the 112V feels a lot nicer to play than the 112J, especially when playing fast across the neck.
The price difference between the 112J and 112V is around $80. I think the extra price is justified with the 112V, but at the same time, the 112J (and even the 012) is not a bad option if you're tight on cash.
Check Price of Pac 112J on:
---
Squier Classic Vibe '70s HSS Strat
Bright and spanky tones typical of Squier Strats, plus the timeless design – the perfect combination if you're about that classic Strat vibe.
The feel is quite different between these two:
Slightly wider neck on the Squier
Narrow frets on the Squier whereas Medium frets on the Pacifica (I like the medium frets more)
The fretboard has a shorter radius (more rounded) on the Squier
You also get more controls on the Squier Strat – two tone knobs and a master volume. Although the Pacifica does have a coil split to compensate for that.
Both guitars are great in their price range. The Pacifica 112V does distorted tones better than the Squier, while the latter has better materials and that classic rock sound.
If you're willing to invest a little more, or maybe you need a more premium feeling guitar, then the Squier '70s Vibe Strat is a solid option.
Check the Price of Classic Vibe '70s HSS Strat on:
---
Alternatives
Ibanez AZES HSS – Fast Ibanez Playability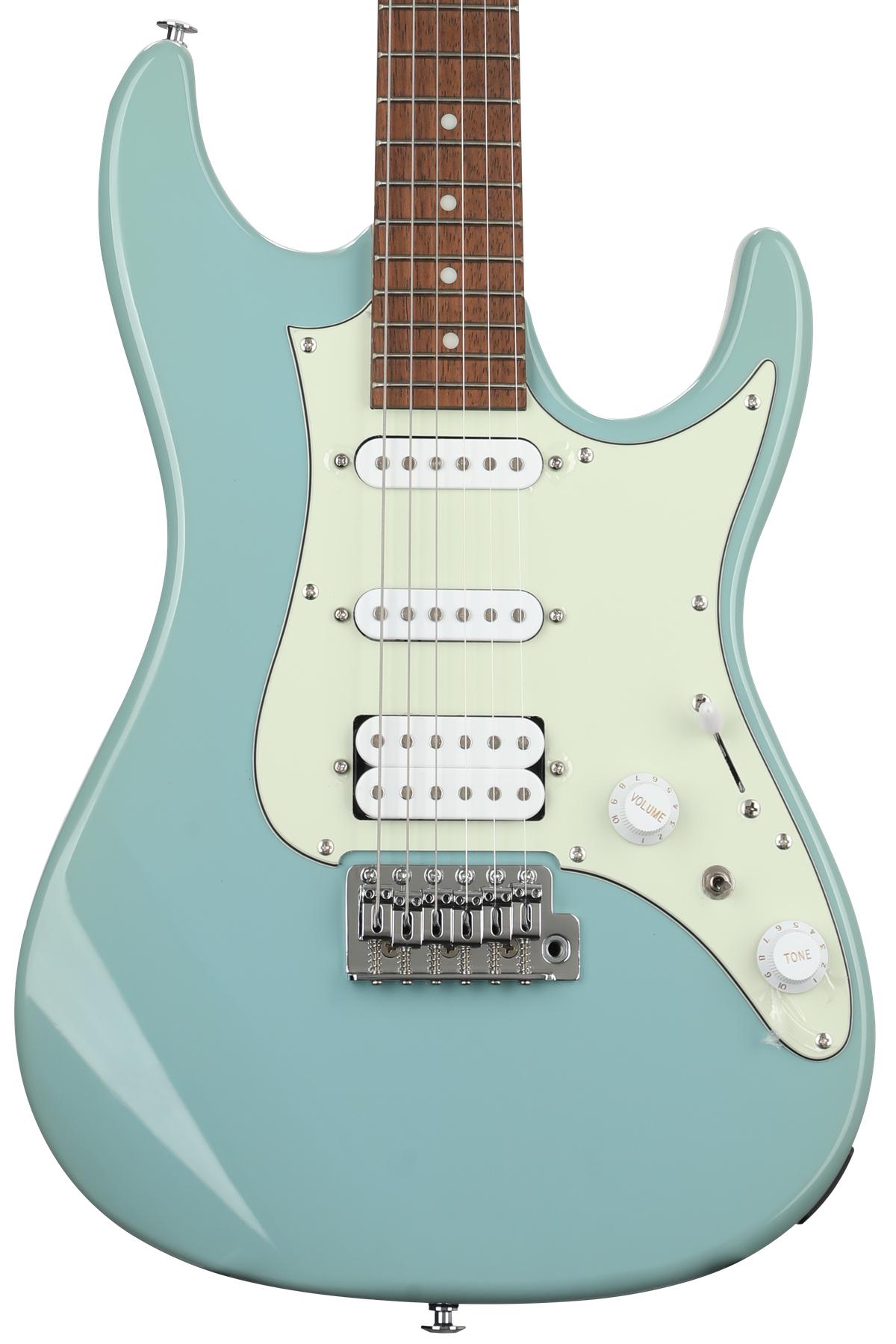 Ibanez AZES comes with a similar HSS configuration and 5-way blade switch. The controls are also the same – a master volume and master tone. But, Ibanez Azes guitars also have an alter switch that allows you to access 4 different pickup configurations on top of the regular 5. For example, 1 of the options with the alter switch allows you to connect single coils in series and achieve humbucker-like tones with the neck and middle pickups.
Other differences are: the Ibanez has a poplar body and a much shorter fingerboard radius of 10". It also has a 1.65" nut, so fairly standard specs that are similar to most Squier Strats.
The Ibanez AZES will cost you about $40 more than the Pacifica 112V. Between these two I'd choose based on the neck profile and whether you need the coil-split on the humbucker with the Pacifica or the alter switch of the Azes.
Check Price of Ibanez Azes on:
---
Squier Affinity Series Stratocaster HSS – Fender Magic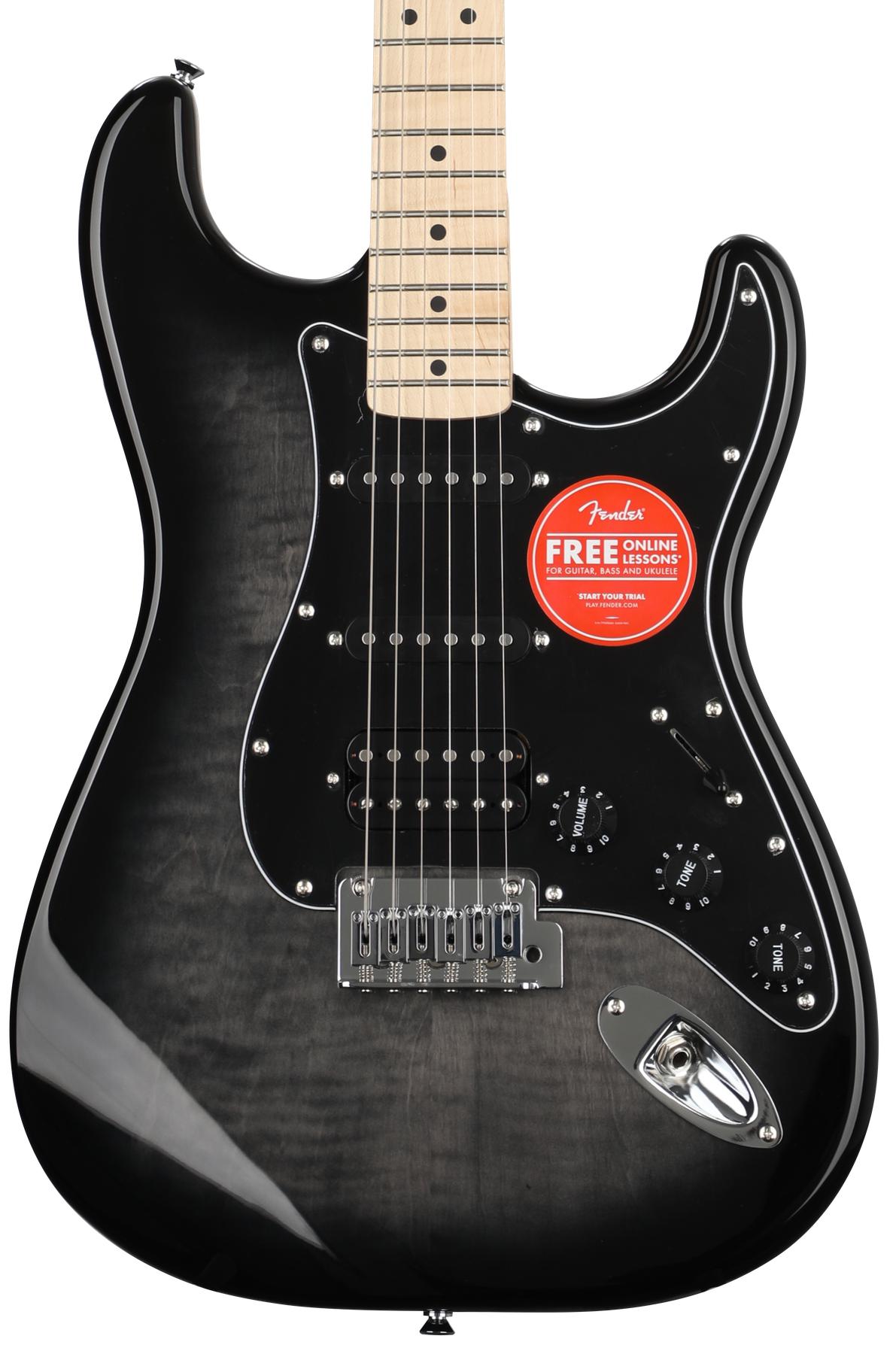 The Affinity Strat is one of the most popular electric guitars in the $300 segment. It has:
Classic Strat design
Bright tone akin to vintage rock and blues
Larger frets (medium jumbo)
Rounder fretboard (9.5" radius)
You can go for the Squier Affinity Strat if you want as close to a Fender Strat experience. It costs almost the same as this Pacifica.
The quality is very similar too, although the Squier would probably be better suited for upgrades if you want to do that in the future.
Squier lacks the coil-split, but has two tone knobs. The output jack location is also different on the two guitars(the one on the 112V is handier for me).
Check Price of Affinity Stratocaster HSS on:
---
Ibanez RGA42FM – For Metal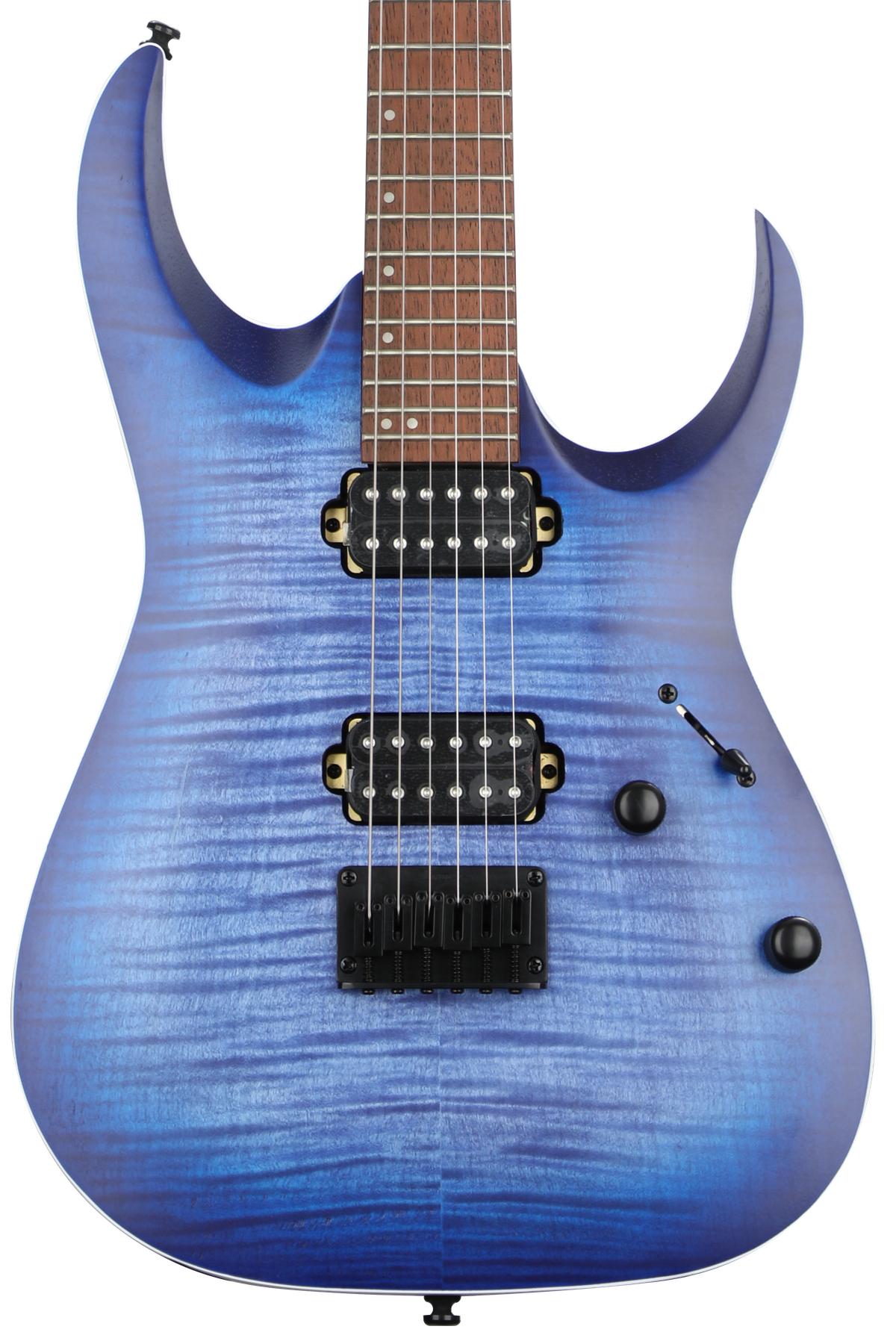 If you want something totally opposite to the Pacifica 112V, the Ibanez comes into play with its massive 1.692" width at the nut topped with a super-flat 15.7" fingerboard radius. Rightly termed as the "Wizard III" neck!
This guitar is made for fast and heavy playing. With its dual humbucker setup, the RGA42FM is suitable for heavier styles from hard rock to thrash to grindcore.
It's a little more expensive at $400, but the quality is also a step up from most beginner guitars.
Check Price of RGA42FM on:
---
FAQs
Is the Yamaha Pacifica 112V a good beginner guitar?
Yes. The Pacifica 112V is an excellent option for beginners. It has everything you need in a beginner guitar:
-versatile sound,
-super-smooth playability
-and durable build quality.
Plus it only costs $300, which I think is an ideal bracket for most beginners who need a reliable instrument without stumping up the cash.
What is the Difference Between Yamaha Pacifica 112J and 112V?
The Pacifica 112V is an upgraded version of the 112J, and there's a price difference of $80 between the two.
In terms of upgrades, the 112V comes with alnico pickups which are much better both in quality and sound output as compared to ceramic pickups on the 112J. The 112J also lacks coil-split which is a nice feature on the 112V.
Besides that, I also found the 112V to be much nicer to play and that's a major reason why I'd always go for the V model if your budget allows that.
Is the Yamaha Pacifica 112V good for metal?
The Yamaha Pacifica 112V is good for a wide variety of metal music. This bridge humbucker can handle low-to-moderate gain distortion easily and even some range of heavy distortion.
Maybe not thrash or death metal, but I wouldn't expect a single guitar to perform well in every single musical style. So Pacifica 112V is not a metal guitar for me.
Unless you specifically need a metal guitar, I can recommend the 112V to you. Plus, it will allow you to be more flexible with clean and low-distorted tones.
Where is Yamaha Pacifica 112V Made?
---
Conclusion
I'm sure by now you're aware of how much I liked the Pacifica 112V.
If you've never played the guitar before and need a reliable instrument at a modest price, the 112V is a step in the right direction.
This is an entry-level guitar that won't give you entry-level problems like cheap hardware, unstable tuning, mediocre sound.
If you feel like the guitar cannot keep up with your progress, you can always upgrade the pickups or hardware. You'll save hundreds of dollars that way.
Thank you for reading, if you have any questions, just leave a comment!
---
You might also like:
We are sorry that this post was not useful for you!
Let us improve this post!
Tell us how we can improve this post?