Last Updated on April 29, 2023 by Teemu Suomala
"Hey Ben! Why do you have an old radio over there?"
"It's not a radio, Teemu. It's the good ol' Yamaha THR5 desktop amp. You wanna check it out?"
And that's how my journey with this little guitar amp began…
I brought it home and spent several weeks testing it, and honestly, I have mixed opinions about this old radio.
Read my Yamaha THR5 review to know why!
Check the results of my under $200 electric guitar amplifier test here.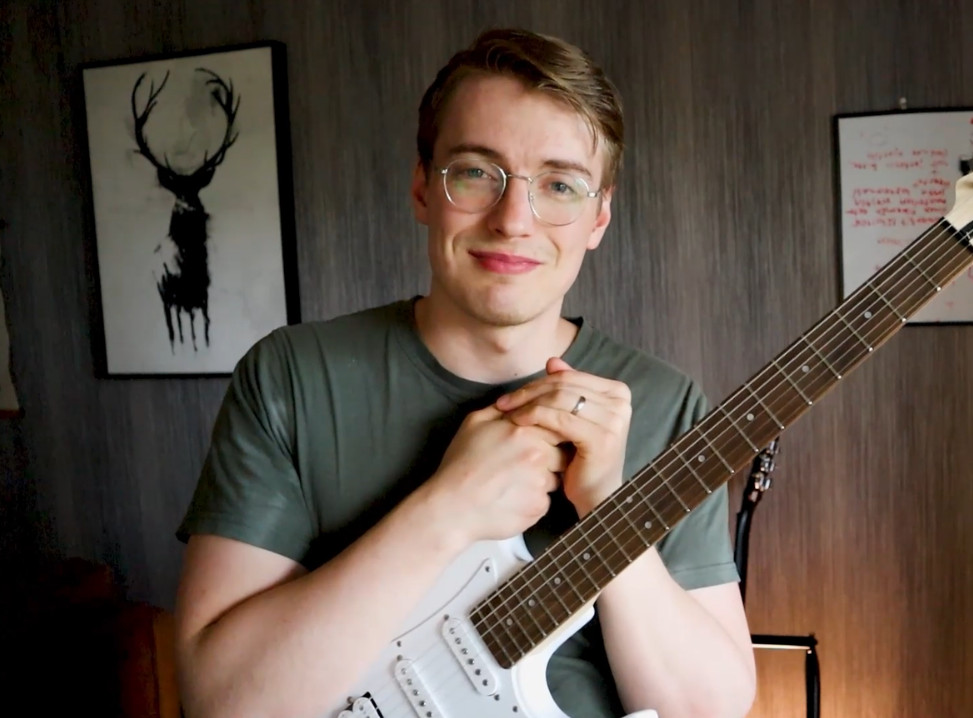 Author: Teemu Suomala
I first grabbed the guitar in 2009. I started this website in January 2020 because I couldn't do window installation anymore due to my health problems. I love guitars and have played dozens and dozens of different guitars through different amps and pedals over the years, and also, building a website interested me, so I decided to just go for it! I got lucky and managed to get awesome people to help me with my website.
I also got lucky because I have you visiting my website right now. Thank you. I do all this for you guys. If you have any recommendations, tips, or feedback, just leave a comment, I would love to chat with you. I have also been fortunate to produce content for several large guitar websites, such as Songsterr, Musicnotes, GuitarGuitar, and Ultimate Guitar.
I spend my spare time exercising and hanging out with my wife and crazy dog (I guess that went the right way…).
Hide The Rambling▲
---
Yamaha THR5 Review
Summary (If you are in a hurry)
The Yamaha THR5 is a great modeling amp for beginners or busy travelers who need great sound and features on the go.
It can be hooked up to your computer or smartphone and double up as a high-fidelity speaker.
It sounds surprisingly loud for a tiny box, with particularly good clean and crunch tones for blues, jazz, and rock.
Overall, the THR5 is a solid choice for people who need out-of-the-box recording capability, small size, and a pretty look. And there is no way that I could call this a bad amp.
Check Today's Price on
*Consider all links in this post to be affiliate links. If you purchase, at no additional cost to you, we may earn a small commission. It helps us to keep the lights on, thanks! 🙂
---
You can watch my full in-depth video review of Yamaha THR5 too:
Our Favorite Music Store in The World!
Why?
– Excellent Customer Service (4.7/5 Trustpilot Score)
– Fast & Free Shipping
– Gear is Inspected, Tested, & Ready to Play When it Arrives to You (We love this)
– Fair Prices
Visit Sweetwater:
Yamaha THR5 Specs and Dimensions
| | |
| --- | --- |
| Power: | 10 Watts |
| Amplifier-type: | Solid-State |
| Speaker: | 2 x 3.15″ Speakers |
| Channels: | 5 (Clean, Crunch, Lead, Brit Hi, and Modern) |
| Controls: | Amp selection, Gain, Master, Volume, Effect, Delay/Reverb, Tap-Time & Digital Tuner |
| Effects: | Chorus, Phaser, Flanger, Tremolo, Delay, and Reverb |
| Inputs: | 1/4″ Instrument Cable, 1 x 1/8″ (Stereo) |
| Outputs: | 1/4″ Headphone-output |
| Weight (I measured this): | 4.91lbs (2.23kg) |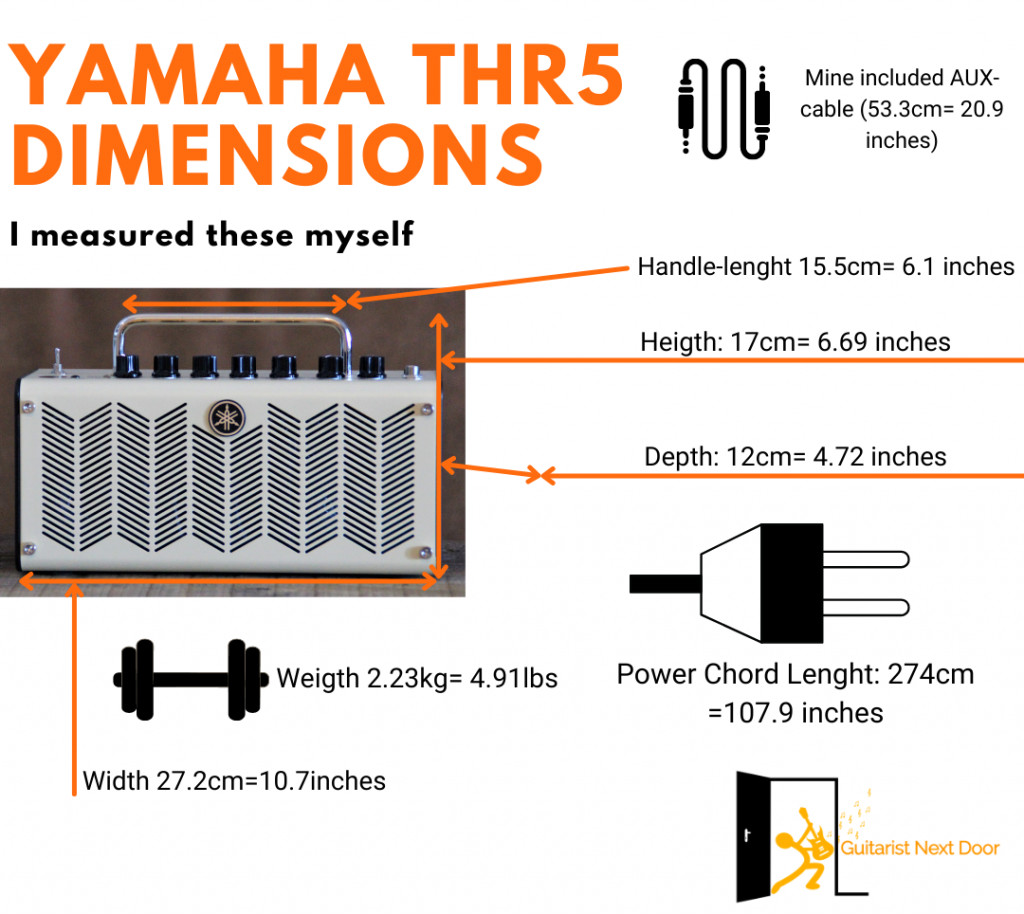 ---
Look, Feel, and Build Quality
A first glance at the Yamaha THR5 shows that it means business. This amp looks amazing with its vintage-style design and the analog power switch.
And let me tell you about those lights in the cabinet. I'm a sucker for that vintage tube-like glow when you turn those lights on.
This is the type of amp that blends in any environment you use it in – Apartments, small venues, your working table, and alongside your laptop.
But, alas, every rose has its thorn.
Where it cuts corners is build quality. You'll clearly notice the $200 price tag when you pick it up. It feels like plastic to me, but it might be cheap thin metal. Either way, it doesn't feel very promising.
It's not bad by any means. It's what you may expect at this price. But I've definitely seen (and reviewed) better-built amps under $200.
So, where it can adorn any practice setup or an exquisite setting, it does not feel like it's ready for some rugged use.
But overall, I really liked the retro-styling and the fancy lighting touches. I'm not complaining about the quality, just that it could've been better.
Features
Let's start with the signal chain:
Firstly, we have the Amp knob. You get 5 different amp types on this one. We'll discuss each of them when we get to the "Sound" section.
A Gain knob to adjust the levels before the signal hits the preamp.
Master Volume and Tone knobs for the amp signal
Next, we have the Effect knob. This contains 4 built-in effects: Chorus, Flanger, Phaser, and Tremolo.
Here's an interesting one! Besides the Effect knob, you have a separate Delay-Reverb combo knob to choose between delay, spring reverb, hall reverb, as well as a blend of delay & reverb. There's also a tap-tempo button for the delay, which doubles as the button for the tuner.
An output volume knob sits at the end of the chain.
Of course, there's headphone input. A 3.5mm jack would have been better but I have no issues with a 1/4″ input as well. Finally, there's an aux input above the headphone jack. And as you have dual speakers on this, you can get the benefits of stereo output right off the bat.
This is great when you want to plug it into your PC or smartphone to use as stereo speakers.
The best part is Yamaha provides an aux cable and a copy of Cubase AI to get started with recording with no extra investment.
You can literally have a full-fledged recording setup with just this electric guitar amplifier, and EVERYTHING is included!
As far as downsides are concerned, I wished Yamaha provided a 3-band EQ. There's just a single tone knob, and nothing else to shape the sound really.
This might be nitpicking, but you don't have the option to save your presets, not a huge issue, but worth mentioning. Otherwise, the features are on par with most of the competition in this category.
Portability and Battery-Life
The THR5 is supposed to be a portable amp, but the handle they've provided tells a different story. I mean, it might be just me, but I don't feel the firmness when I grab the thin metal rod they've provided.
The amp flops around when you carry it in your hand, a lot.
Same thing when you carry it in your backpack!
The amp sits in the lower portion of your bag, and bounces around awkwardly. At under 5 lbs, it's lightweight enough not to give you too many troubles while traveling, but I really wished it had a typical wide-strap handle.
Talk about being portable – The THR5 also has the option to run on batteries!
Regarding the battery situation, it uses 8 x AA batteries, which definitely gives it positive points for portability. You can take it along when you plan to go on a vacation and not have to worry about power sockets. But the downside is the actual battery life itself.
I like when a company promises real-world numbers instead of highly-inflated claims, but 6 HOURS? That's less than my smartphone, Yamaha!
That number seems bad because when compared to Roland Micro Cube GX that I like a lot. It costs about $50 less, sounds better to me, and has a battery life of 20h.
I'd seriously suggest you use rechargeable batteries if you'd be using it on battery power a lot.
The good thing is, Yamaha provides the DC Adapter with this amp. So you don't have to deal with all the battery hassles if you plan to only practice at home.
Sound
Check a sound demo:
You get five amp types ranging from clean to crunch to heavy distortion.
There's no acoustic sim setting like some of its competitors. For example, the Roland Micro Cube has that. But that's not a dealbreaker.
Each speaker is churning out 5 Watts of output, so it's sufficiently loud for home practice.
But what I noticed across the board with the sound is that the amp has an overall treble-heavy sound signature.
That's partly because of the digital modeling used, and partly because of the small size of the speakers. There's just not enough room for a deep low-end. But let's talk about how all the amp models sound.
Clean Tones
Clean tones are great on this one. You won't get a very thick sound, but the clarity and sparkling highs make it perfect for some jazz and rock.
I really like how the cleans sound when I give them some hall reverb. It's probably my favorite effect on this amp, and just gives the sound another dimension.
In my opinion, you can get more great-sounding clean tones from this amp than distorted tones from all of the remaining settings combined.
Crunch and Lead
The Crunch setting is perfect for bright bluesy leads or rhythm rock parts.
For crunch, I prefer to use more gain and less tone, or the amp becomes too bright and spanky.
This, along with cleans, are what I think is where this guitar amp really shines!
Also, I don't understand why manufacturers have to give separate channels when there's not much difference between them sound-wise.
In this case, I found the lead amp to be really similar to the crunch.
You can use the lead setting for rock, jazz, and blues lead parts. Again, I like to use higher gain and some effects with leads on this one.
Brit Hi and Modern
The Brit Hi setting is where you get the best distorted tones out of this amp. It's perfect for classic rock, hard rock, and some OG metal stuff.
I also found it to be more transparent than the Modern setting, which adds more fuzz than a distortion.
The Modern channel is supposed to give you those high-gain metal tones. But it just lacks the energy.
There's some bass, although not much clarity in the sound. And it becomes muddy when you crank the gain beyond a certain point.
Turning up the tone knob all the way up gives it a little more clarity, but you quickly realize that it's not meant for metal.
I would say this amp can pull off some sweet Master of Puppets tone on its own. If you use pedals, you can possibly get superb distorted tones with it, but I didn't need that.
Overall, I find the cleans and crunch to be perfectly usable, and they really complement the effects provided. You are, however, very limited on the distorted tones.
Here's a graph that reveals what this amp can handle in my opinion:
Value for Money
I wouldn't say the THR5 offers the most bang for your buck when you can surely get better sounding, better featured, and better-built amps in the same price segment.
It's slightly on the pricier end of portable amps with similar feature sets. But that doesn't mean it's not value for money. There's just no "wow factor" that I get with amps like the Fender Mustang and the Roland Micro Cube.
It can be a perfect purchase if you care about the aesthetics or don't have a lot of space. It's undoubtedly the best desktop amp under $200.
Anything more than that, there are better options available.
Verdict
The Yamaha THR5 is a gorgeous tiny package that gives you 5 different amp models and the convenience of connecting directly to your PC via USB.
But is that enough to justify its price?
If you want these features, then, by all means, go for it!
As a beginner guitar amplifier, the THR5 does okay. It's lightweight and has good features for bedroom practicing or even recording. It does fall a bit short on the actual sound quality.
It lacks that low-end thump that you get with some other amps like the VOX Valvetronix 20 or even Roland Micro Cube GX. The lack of a 3-band EQ is also something I missed.
If you think you want more than what the THR5 has to offer, definitely check out some alternatives given below.
Check the latest prices on:
---
FAQs
Is the Yamaha THR5 worth it?
The Yamaha THR5 certainly has a lot going for the price, especially when you consider the included Cubase AI and support for THR Software out-of-the-box.
But all these software features and fancy retro aesthetics indeed add up to the pricing. If you don't need all those amenities, I found the Yamaha THR5 to be slightly expensive.
Is THR5 a tube amp?
No. The Yamaha THR5 is a digital modeling amp, which means it uses digital circuitry to emulate tube-like tones.
Does Yamaha THR5 have Bluetooth?
No. You won't get Bluetooth on the THR5, only aux and USB connections for connecting it to your smartphone or PC. The higher-end THR-II models do have Bluetooth, though.
---
Alternatives
Roland Micro Cube GX – Best Portable Amp Under $200
If there had to be a battle of the portable guitar amps – Roland Micro Cube GX will win hands down!
It's easier to lift and carry around (even though it's bigger than the Yamaha), thanks to the large strap handle.
Roland simply has the better sound – Fatter and fuller, unlike the treble-heavy sound on the THR5.
More amp settings (7 versus Yamaha's 5), including an acoustic sim setting, which sounds fantastic.
In my opinion, both the cleans and distorted tones sound way better on the Roland.
If you're in the market for a well-built and versatile portable amp, I would seriously consider the Micro Cube.
I also have a full comparison video about these:
Check the latest prices on:
---
Fender Mustang LT25 – Best Overall Under $200
Fender Mustang LT25 is the best all-around guitar amp you can find under $200, in my opinion.
Don't believe me? Check this out:
Most versatile tones I've heard at this price
Simple usability for beginners
30 done-for-you presets and many more when you use the Fender Tone app on your PC
25 digital effects/pedals
Enough loudness for any medium setting
Now try to find all of that in one amp under $200.
The only place where it cannot beat the above amps is, of course, portability.
If you want to learn more about this amp, I've already published a full review here.
Check the latest prices on:
---
Boss Katana Mini – Best Portable Amp Under $100
Last but not least, the Boss Katana Mini is a solid option for metal and hard rock on a budget.
Honestly, this amp is surprisingly loud for its size and has plenty of features that make it a complete beginner package.
I love the distorted tones you can achieve with it. Plus, you get 3 channels on this one, along with a 3-band EQ to shape the tone as you like (It costs about half the price of this Yamaha).
The clean and crunch tones are not very impressive on this one, but for a rock or metal aficionado, the Katana Mini is a dream come true!
Check full Boss Katana Mini Review here.
Check the latest prices on:
---
Conclusion on Yamaha THR5 Review
So, that was my take on the Yamaha THR5 digital guitar amp.
It's a great portable option for under $200. Not the best one you can find, but certainly suitable for some people.
Particularly if you need an awesome-looking desktop amp to adorn your working table or living room, this is great for you. Or, if you need PC connectivity and recording support with bundled software, then this should be a no-brainer.
But if you're like me and want excellent sound quality as the main priority, you're better off with the alternatives I discussed.
And as always, thanks for reading!
You might also like:
We are sorry that this post was not useful for you!
Let us improve this post!
Tell us how we can improve this post?